Hakeem Kae-Kazim, Mbong Amata & Raz Adoti team up with Vivica Fox & Eric Roberts for Jeta Amata's new movie "Black Gold – Struggle for the Niger Delta"
Posted on Monday, January 10th, 2011 at 6:10 PM
By BellaNaija.com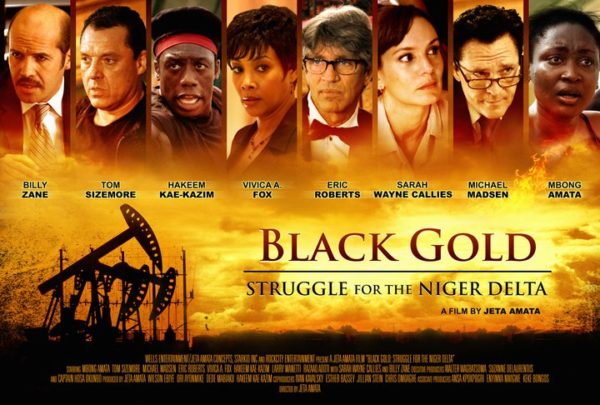 They hope to tell the story from the perspective of people who have lived through it.
The people who have seen their land and rivers polluted by oil, the people that are struggling.
Jeta Amata Concepts/Wells Entertainment, Starkid Inc and Rock City Entertainment have just concluded shooting of "Black Gold – Struggle for the Niger Delta".
The movie is described as a political suspense drama;
A powerful story of greed, murder and corruption in the murky waters of the volatile oil-rich Niger Delta region of Nigeria, Black Gold is an epic film about environmental justice and the fight over the control of the scarce oil resources that the world runs on. The line between good and evil is blurred as corrupt government officials, greedy oil companies and violent rebels go on a war path over oil spills and degradation of the land, caused by oil exploration.
Black Gold features a Nollywood meets Hollywood cast, including Tom Sizemore (Saving Private Ryan, Black Hawk Down, Heat), Vivica A. Fox (Independence Day, Kill Bill), Michael Madsen (Reservoir Dogs, Donnie Brasco, Kill Bill), Eric Roberts (The Dark Knight, The Expendables), Billy Zane (Titanic), Sarah Wayne Callies (Prison Break), Hakeem Kae-Kazim (Pirates of the Carribean, Hotel Rwanda), Razaaq Adoti (Black Hawk Down, Resident Evil: Apocalypse) and Mbong Amata (Inale, Amazing Grace).
Black Gold is currently in post production and according to the producers, "this movie is especially significant and will be of great interest as it is the first time a production of this calibre has ever been attempted in Africa. Usually, in movies like Hotel Rwanda and Blood Diamond, Hollywood comes in to tell the story, but in this case, the story of the Niger Delta is being told and produced for the screen by a group of film makers from the Niger Delta. There is no better time to showcase this project, as it deals with all the pertinent issues being faced in the region like oil spills, kidnappings and corruption."
The movie's executive producers are Walter Wagbatsoma and Suzanne Delaurentiis. "Black Gold – Struggle for the Niger Delta" was written and directed by acclaimed African filmmaker Jeta Amata and produced by Ori Ayonmike and Wilson Ebiye. Plans are in motion for the movie to premiere in Lagos and Abuja during the first quarter of 2011. Black Gold will be released in movie theaters across Africa and in select cinemas worldwide.
This is definitely an ambitious project and we are looking forward to viewing how the vision translates on screen. However, this is an absolutely fantastic way for our African film industry to start the year. We often complain when "our story"" is misrepresented by international filmmakers. It is time for us to take the reins. We are looking forward to seeing this!
Watch the preliminary theatrical trailer for "Black Gold – Struggle for the Niger Delta"

Tags: Hakeem Kae Kazim, Jeta Amata, mbong amata, Raz Adoti
Custom Search