You're Cordially Invited to the "Konica Minolta Digital Print Solutions Expo 2013″ – Wednesday 23rd & Thursday 24th January 2013
Posted on Monday, January 21st, 2013 at 2:07 PM
By Adeola Adeyemo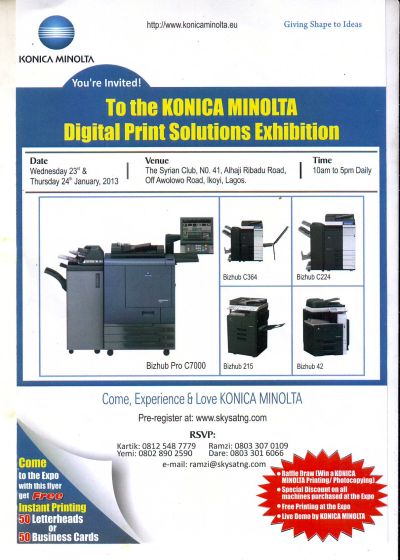 Konica Minolta, a leading digital print solution expert in Nigeria is giving you a chance to be a part of their exhibition tagged "Digital Printing, Possibilities and Profitability".
The event slated for Wednesday 23rd & Thursday 24th January, 2013 is set to hold at The Syrian Club, Ikoyi.
There will be lots of exciting attractions at the exhibition including a special discount on any machine bought at the venue PLUS a free sample brochure printing at the venue.
You also stand the chance to win a Konica Minolta Printing Machine with each purchase.
Konica Minolta is represented in Nigeria by Skysat Technologies Ltd.
Date: Wednesday 23rd – Thursday 24th January 2013
Time: 10 AM – 5 PM Daily
Venue: The Syrian Club, No 41 Alhaji Ribadu Road, off Awolowo Road Ikoyi, Lagos
Registration Details: To register for the event, please visit www.skysatng.com
Contact: For more information and general enquiries, please visit www.konicaminolta.eu
__________________________________________________________________________________________
Sponsored Content
Tags: Konica Minolta, Konica Minolta Digital Print Solutions Expo 2013, Konica Minolta Printing Machine, Skysat Technologies Ltd.
Custom Search