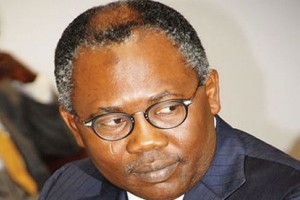 After much feet-dragging and wide-spread debate, the Minister of Justice and Attorney General of the Federation, Mohammed Adoke has assured Nigerians that he will prosecute all those who are found culpable in the subsidy report made available to the Presidency.
Mr Adoke, who disclosed this yesterday while speaking at the Presidential Villa after receiving the report from the Presidency, said he is taking the report to the Economic and Financial Crimes Commission (EFCC).
He however reiterated his earlier position that the cases will be properly investigated, to ensure that all loose ends are covered.
He said that the assignment will be carried out without sentiments and that whosoever is found culpable will be arraigned before a court of law. He said that there will be no sacred cow and that government will not witch hunt anybody.
According to the report, those to be probed by anti-graft agencies are 121 oil marketers as follows:
1. 17 marketers that did not obtain FOREX but claimed to have imported petroleum products.
2. 15 marketers who obtained FOREX but did not import petroleum products.
3. 71 oil marketers to face probe and refund N230.1billion
4. 18 oil marketers committed other infractions.
Other issues for probe by the EFCC are:
How 3.171billion litres of Premium Motor Spirit (PMS) got missing. The 3.171 litres of PMS allegedly subsidised were not supplied to the Nigerian market.
Ex-PPPRA Executive Secretaries A. Ibikunle (August 2009 to February 2011) and Goddy Egbuji (February to August 2011) for further probe and trial.
Others are PPPRA's GM Field Services, ACDO/Supervisor-Ullage Team 1 and ACDO/Supervisor-Ullage Team 2.
Ex-PPPRA Chairman Ahmadu Ali and board members reprimanded.
NNPC should be probed to determine solvency.
Those indicted in NNPC management and board between 2009 and 2011 should be prosecuted.
The report said: "The Committee identified that the marketers were often awarded superfluous quantities of products to supply but often did not meet the target.
"In 2009, PPPRA approved a supply of 11,341,507,500 litres of PMS for the marketers. However PPPRA confirmed the marketers discharged only 5,085, 206, 983 litres or 55.16 per cent under-discharge.
"Despite being aware of the under-performance by the marketers in 2009 or the defect in its procurement process and management, PPPRA increased the 2010 Approved Deliverables to 12,410,955, 000 litres. The marketers delivered only 6,226,586,543 that is 49.8 per cent under performance. In spite of the underperformance, there were no crises of product availability throughout 2011.
"This same ugly trend was maintained by PPPRA in 2011 during which it increased its approved quantity to 13,589,510,000 litres but however confirmed a delivery of 9,317,145,231 litres, an under performance by 31.4 per cent.
"(i) By PPPRA's representation, the marketers received N680.982billion as subsidy for supplying 9,317,145,275 litres of PMS in 2011.
(ii) Curiously, PPPRA made another presentation that the marketers were paid N975.896billion for supplying 12,488,789,611 litres of PMS in 2011.
"Between (i) and (ii) above, PPPRA has confirmed that the sum of N294, 914billion was paid on 3,171,644,336 litres of PMS that might not have been supplied to the Nigerian market.
"The anomaly is hereby referred to the relevant anti-corruption agencies for further investigation."
The President of Nigeria, Goodluck Jonathan has come under pressure over the last few weeks to prosecute those who were alleged to be involved in the fuel subsidy scam. Some civil rights groups across the country had even threatened to start mass street protests if those accused were not prosecuted.
Reading the content of the report and seeing all the billions looted by the PPPRA, NNPC and oil marketers just makes my skin crawl. How could Nigerians do this to themselves? Why should a few people steal funds meant for millions? This, to me, seems like blood money. Innocent lives were lost in the nationwide protests against the removal of fuel subsidy earlier this year. It is sad to see how the funds were mismanaged.
How do you feel about the contents of the report? Do you think justice would prevail in the end?
Please share your thoughts.
News Source: Channels TV