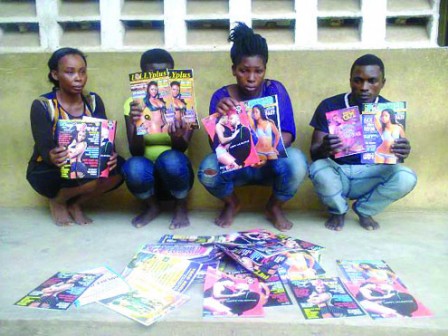 Just days after the Lagos state government clamped down on street beggars with some arrests, it has turned its lights on distributors and sellers of pornographic materials.
On Tuesday, four distributors of pornographic materials were arrested at Cele Bus Stop on Oshodi-Apapa Expressway by the Lagos State Taskforce on Environmental and Special Offences (Enforcement) Unit. Those arrested, Yinka Dada (25) Udoh Nne (29) Sylvester Obodoe (18) and Poopola Bamidele (18) will be arraigned before the Special Offences Court at the taskforce yard and prosecuted for selling obscene materials.
The Lagos state government had earlier banned the selling or distribution of pornographic materials in the state.
PM News reports that the Taskforce Chairman, Bayo Sulaiman, said the arrest was made because there had been complaints by the residents of the resurgence of pornographic materials on the streets of Lagos.
"We got complaints from the residents that pornographic materials were sold in some parts of the state. We had cleared the materials off the streets of Lagos before but the traders are back to business again. We have to arrest the situation again. We are going to charge those arrested to court to serve as deterrent to others," he was quoted as saying.
According to him, displaying pornographic materials on the streets where youngsters could see them has negative influence on the children.
"Whenever you see pornographic materials being displayed, you always see children viewing or looking at them. It influences them negatively. We have a culture in Yoruba land which we must abide with. We are not infringing on their rights to sell, but they are infringing on the rights of these children by exposing such obscene materials to them."
The culprits admitted to PM News that they knew selling pornographic materials is prohibited in any part of the state. One of them, Obodoe, said he knew the act was outlawed in the state but resorted to hawking pornographic materials to make a living.