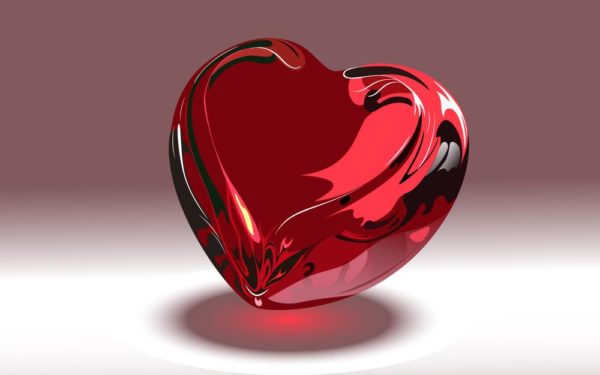 Happy Valentine's Day!
Good Afternoon BellaNaijarians, the day that so many lovers have been waiting for is finally here. It is Thursday and as you know it's time for this week's listing of all the most buzzed about events and places of interests to be spotted this weekend.
For this lovers day season, BN Events searched high and low, near and far and we found lots of events in Lagos, Abuja, Enugu and Port Harcourt. So sit back, relax and see for yourself where you and your loved ones need to be seen.
Have a fun Valentine's day, be sure to share all your stories with us.
See you all next week
Ciao!
SmartMark Limited presents NIKE 50% Sale
SmartMark Limited, the exclusive distributor of the NIKE brand in Nigeria has announced a 50% price slash on selected NIKE merchandise from now till Sunday 10th March 2013 at all FastForward stores in major cities in Nigeria.
Date: Thursday 14th February 2013 – Sunday 10th March 2013
Venues: Adeniran Ogunsanya Shopping Mall, Surulere, Lagos | Murtala Mohammed Airport, Terminal 2, Ikeja, Lagos | Ikeja City Mall, Ikeja, Lagos | The Palms Shopping Mall, Lekki, Lagos | Ceddi Plaza 264, Tafawa Balewa Way, Central Business District, Abuja | 107, Aba Road, Port Harcourt, Rivers
Contact: For more info and general inquiries, call 0814838314
______________________________________________________________________________________________________________
The Body Alchemist 6 Week After Burn Boot Camp
If you are looking to take your workouts to the next level and achieve maximum, the Body Alchemist "After Burn" boot camp is just right for you. This high intensity circuit training workout will raise your metabolism and keep you burning fat all day long. Tony Ekaidem (The instructor) guarantees you will not be disappointed with the results. The fee is N 35,000, please contact them for payment information.
Date: Thursday 14th February 2013 – Friday 22nd February 2013
Time
5:30 AM – Fun Factory, Lekki Phase 1, By Phase 1 Gate on Admiralty Way, Lekki, Lagos
6:30 AM – Fun Factory, Lekki Phase 1, By Phase 1 Gate on Admiralty Way, Lekki, Lagos
7:45 AM – Astrotruf 2000, Ikoyi, By Osborne Road, Lagos
Contact: For more info and general inquiries, call 07045885120 | 07045885121 | e-mail [email protected] | log on to the official website
____________________________________________________________________________________________
Ribbons & Roses presents Conversations in G- Strings
Get the real gift of love from your loved ones at this year's edition of Ribbons & Roses. Tagged Conversations in G-Strings, the event will be hosted by Ali Baba. Artistes performing at the event include Onyeka Onwenu, 2 Face Idibia, Omawumi and Timi Dakolo.
Date: Thursday 14th February 2013
Venue: Banquet Hall, Eko Hotel & Suites, Victoria Island, Lagos
Ticket Prices: Couple Tickets N 50,000 | N 75,000 | N 100,000 | Table Tickets N 500,000 | N 1 Million on NaijaTicketShop.com
___________________________________________________________________________________________
Siobhan Fashion Stalls Valentine Special
Celebrate your Valentine's Day with Siobhan Fashion Stalls at the Silverbird Entertainment Centre, Abuja. During this period, the store will stock pieces by top brands and designers including House of Nwocha, Odeva, Diella, Yutees, Phyl & Steph, Ms Makor, House of Empress, Casa de Moda, Adorn, El-Jefe, Vodi, Style Bar, Mak Nisy, Fabulous and Tassels & Laces. All vendors will offer a 15- 30% discount on selected items.
Date: Thursday 14th February 2013 – Friday 15th February 2013
Time: 9 AM – 7 PM
Venue: First Floor, Silverbird Entertainment Centre, Abuja
__________________________________________________________________________________________
Strands Events presents Bon Marché FAIRstival
Strands Events is organizing a double celebration event and you are invited. First is the BonMarche FAIRstival and the second is the signing of the World's Biggest Valentine Card, which is a charity cause against domestic and religious violence, rape and hate. There will be lots on vendors stocked with fashion pieces as well as free make-up and hair styling, pedicure and manicure, internet browsing, rap battle and free game (Snookers, PS3, Foos Board and Chess). The event is expected to see over 200,000 attendees including celebrities. Admission is free for all.
Date: Thursday 14th February 2013 – Wednesday 20th February 2013
Time:  9 AM – 6 PM
Venue: UNILAG Sports Centre, Akoka, Yaba, Lagos
Contact: For more info and general inquiries, call 0704099712-3 | 08079284258 | e-mail [email protected]
______________________________________________________________________________________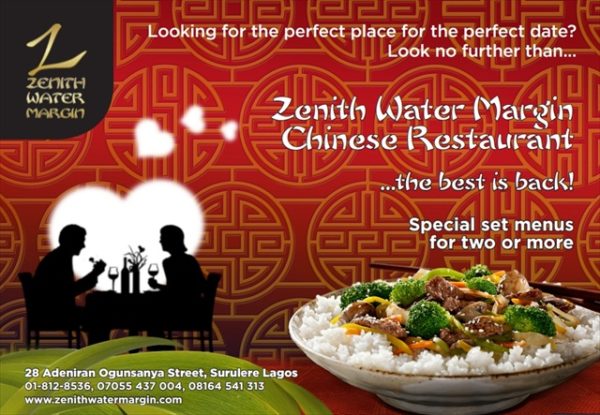 Zenith Water Margin Chinese Restaurant presents Special Valentine's Meal for 2
Be at the Zenith Water Margin Chinese Restaurant from today to Sunday for its Special Valentine's day meal package event.
Date: Thursday 14th February 2013 – Sunday 17th February 2013
Time: 12 Noon – 10:30 PM
Venue: Zenith Water Margin Chinese Restaurant, 28 Adeniran Ogunsanya Street, Surulere, Lagos
_____________________________________________________________________________________________
The Stacey Okparavero Project & Watersworth Gallery present Art For Life
The Stacey Okparavero Project and Watersworth Gallery cordially invite you to Art For Life, an asthma awareness exhibition. Proceeds from the event will be used to raise funds for a local hospital in Lagos.
Date: Thursday 14th February 2013 – Sunday 17th February 2013
Time: 5 PM
Venue: Watersworth Gallery, 38 Unity Close off Africa Lane, Lekki Phase 1, Lagos
Contact: For more info and general inquiries, call 08187511689 | 08099990921 | e-mail [email protected]
________________________________________________________________________________________
Lovers' Nest
Lovers' Nest is an event planned for all love birds this Valentine's Day. Taking place on the island and the mainland at the same time, the event promises to be a great atmosphere to re-connect and re-affirm your love for your partner. There will be good music, cocktails and entertaining games. For payment details, get in touch with them.
Date: Thursday 14th February 2013
Time: 6 PM
Venues: 33 Sinari Daranijio Street off Younis Bashorun off Ajose Adeogun, Victoria Island, Lagos | The Resource Place, 1 Badagry Street, Akora Estate off Adeniyi Jones, Ikeja, Lagos
Fee: N 25,000
Contact: For more info and general inquiries, call 07042036602 | 08078046025 | 08062632525
__________________________________________________________________________________________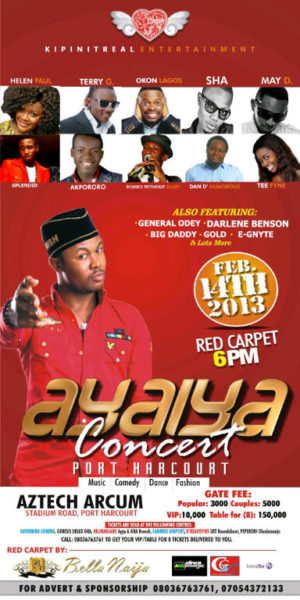 Ayaiya Concert Port Harcourt
Kipinitreal Entertainment presents a comedy and music event tagged "Ayaiya Concert Port Harcourt". Scheduled to take place at the Aztech Arcum Stadium in Port Harcourt, the event will see lots of entertainers in attendance including Helen Paul, Terry G, Bishop Ime Umoh, Sha, May D, Mish, Akpororo, E-gnite, Darlene Benson, Gold, General Odey, Splendid and Big Daddy.
Date: Thursday 14th February 2013
Time: 6 PM
Venue: Aztech Arcum Stadium Road, Port Harcourt, Rivers
Fees: Popular N 3,000 | Couples N 5,000 | VIP N 10,000 | Table for 8 N 150,000
_____________________________________________________________________________________________
Escape With Your Partner
Get ready for a sweet escape this Valentine's Day. Escape With Your Partner is a great way to show your partner, staff and colleagues, friends and family how much you really love them. It promises to be fun and a thrilling experience.
Date: Thursday 14th February 2013
Time: 6 PM
Venue: 57A A.J Marinho Drive off Tony Anegbode Street, Victoria Island, Lagos
Ticket Price: N 25,000
Contact: For more info and general inquiries, call 08130304844
__________________________________________________________________________________________
African Artists' Foundation presents Line.Sign.Symbol
You are cordially invited to the solo exhibition of Uche Uzorka tagged "Line.Sign.Symbol". Uche Uzorka is a graduate of the University of Nigeria, Nsukka. He majored in painting. Admission is free for all.
Date: Thursday 14th February 2013 – Saturday 23rd February 2013
Time: 7 PM
Venue: African Artists' Foundation (AAF) HQ, 54 Raymond Njoku Street, Ikoyi, Lagos
________________________________________________________________________________________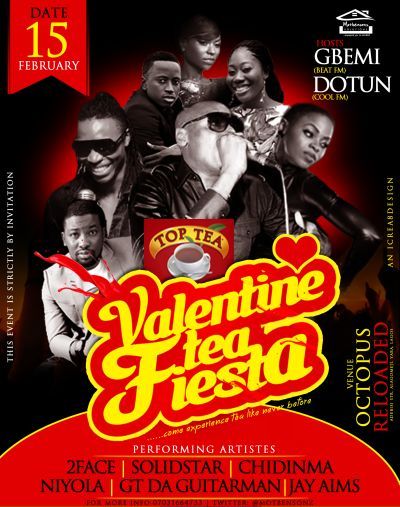 Motbensonz & Top Tea present Valentine Tea Fiesta Season 3
You are invited to Valentine Tea Fiesta Season 3 taking place tomorrow at Club Octopus Reloaded. The event will feature performances by 2Face Idibia, Solidstar, Chidinma, Niyola, GT D Guitarman, Jay Aims, ClassiQ, Femi Knight, Yeka Onka, Mr Byno and Korede Bello. It will be hosted by Gbemi Olateru Olagbegi of Beat FM and Dotun of Cool FM. There will be a variety of Top Tea drinks including Apple Honey Ice Tea, Lime Mint Ice Tea, Chocolate Ice Tea, Chapman with Tea, Ginger Ice Tea and Apple Ice tea with Vodka. One couple will get to win an all-expense paid weekend to the Four Points Hotel, Lekki, Lagos. The event is strictly by invitation, for free tickets visit Chicken Republic outlets, Ozone Cinemas Yaba and Silverbird Cinemas Ikeja.
Date: Friday 15th February 2013
Time: 6 PM
Venue: Club Octopus Reloaded, Adebisi Street, Alagomeji, Yaba, Lagos
__________________________________________________________________________________________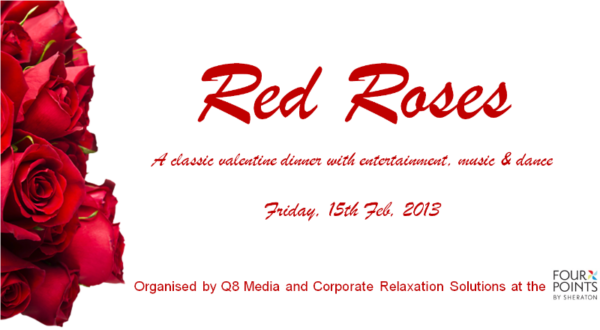 Red Roses
Enjoy an exclusive and cozy evening of exquisite cuisine, good music and entertainment with that special someone at the Four Point's Sheraton this Valentine's season. There will be musical performances by Sunny Neji, Yinka Davies and comedy by Emeka Smith. The fee is N 50,000 for 2 and it includes buffet dinner, a bottle of champagne and a bottle of red wine. There will be couple games, karaoke and jazz poetry.
Date: Friday 15th February 2013
Time: 6 PM
Venue: Blue Bar, Four Points by Sheraton, Victoria Island, Lagos
___________________________________________________________________________________________
Valentine's Blast of Love Dinner
Make this Valentine's day a celebration of love as you treat your loved one or yourself to a  night of tropical cocktails and candle lit dinner this Friday at the "Valentine's Blast of Love Dinner". The dinner at Terra Kulture, Lagos will be accompanied by delicious desserts, wine, chocolates, live music band and stand-up comedy.
Date: Friday 15th February 2013
Time: 6 PM
Venue: Terra Kulture, Plot 1376 Tiamiyu Savage, Victoria Island, Lagos
Ticket Prices: Regular N 6,000 per Couple | VIP N 12,000 per Couple on Capstrov.com
Contact: For more info and general inquiries call 08166544735 | 08028462087
_____________________________________________________________________________________________
Love & Art: A Valentine Enchanted Evening
Virgonova in collaboration with PhatVibes Entertainment brings you a night of Love and Art! The evening is sectioned into two parts to cater to couples and singles. A 3-course dinner in a garden by the sea while being serenaded with music by talented artistes, comedy to ease the stress of the day, couple games and poetry that speaks to your soul. There will also be a "Red Light Special" after-party.
Date: Friday 15th February 2013
Time: 6 PM – 11 PM
Venue: BC Garden Cafe, 24 Ikoyi Crescent off Kingsway Road, Ikoyi, Lagos
Ticket Price: N 30,00 per Couple
___________________________________________________________________________________________
Throwback Friday
Club P Bar and Lounge will be hosting Happy Hour and Throwback Fridays every Friday starting from Tomorrow. The events will kick off at 7 PM with cool soulful music and later in the night, Old School to New School tunes as well as Hip Hop and R&B songs will be played to your delight. Admission is free for all.
Date: Friday 15th February 2013
Time: 7 PM
Venue: Club P Bar and Lounge, 19B Idejo, off Adeola Odeku, Victoria Island, Lagos
__________________________________________________________________________________________
R&BW The Grand Love Project
It's going to be a large Lagos party at the Civic Center this Friday. Banky W's anticipated R&BW The Grand Love Project Concert is set to hold. The event will feature performances by the EME All Stars, Tiwa Savage, Bez, Chidinma, Praiz, Waje, May D, Omawumi, Sound Sultan, eLDee, Darey, Lynxxx, Iyanya, BlackMagic, K9, Faze, Paul Play, J Martins and Blackky. There will also be guest appearances by Yvonne Nelson and Don Jazzy.
Date: Friday 15th February 2013
Time: 7 PM
Venue: Civic Center, Ozumba Mbadiwe Road, Victoria Island, Lagos
Ticket Prices: Singles N 15,000 | Couples N 25,000 | VIP N 500,000 | Personal Lounge Seating N 750,000 on AfriTickets
___________________________________________________________________________________________
The 2nd Annual National Gospel Awards
The Scepters National Gospel's Music, Arts, Scientific and Technical Awards presents the second Annual National Gospel Awards. This gospel event held annually to honor the men, women and companies whose discoveries and innovations have contributed in significant, outstanding and lasting ways to the Gospel Industry will take place tomorrow. It will be hosted by Larry Foreman and Bigvai and feature musical performances by  Tee Campbell, Tolu (Project Fame West Africa Season 3 Contestant), Henri Soul, Sammie Okposo, Bolaji 'Big B' Olanrewaju, Isaac Geralds (Project Fame West Africa Season 4 Contestant), Desanya Sax Maestro, The Thila Crew, Tim Godfrey and the Xtreme Crew, Obiwon, Onyeka Owenu, Jodi, Tosin Martins and Eben. It promises to be fun and will also see comedians including Basketmouth, OmobabaGordons, Akpororo, Koffi, Seyi Law and Yaw.
Date: Friday 15th February 2013
Time: Red Carpet 7 PM | Hall of Fame, Awards Dinner & After Party 9 PM
Venue: Yard 158, Oregun, Ikeja, Lagos
Ticket Prices: Regular N 2,000 | VIP N 10,000 | Table N 200,000
Contact: For more info and general inquiries call 07085000124 | 08091911911 | Add BB Pin 28E32788 | log on to their website
__________________________________________________________________________________________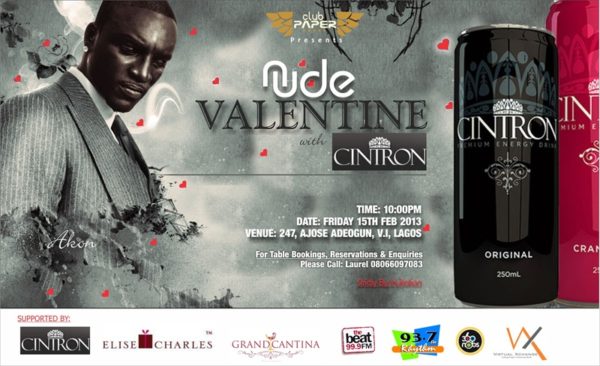 Club Paper presents Nude Valentine with Cintron
You are invited to Nude Valentine with Cintron organised by Club Paper. The event will see in attendance celebrities including IK Osakioduwa and Olisa Adibua. Admission is strictly by invitation, for invites call 08066097083
Date: Friday 15th February 2013
Time: 10 PM
Venue: Imperial Place, 247 Ajose Adeogun, Victoria Island, Lagos
__________________________________________________________________________________________
Miss Nigeria Enugu State Auditions
The Enugu auditions for the 2013 Miss Nigeria competition will hold this Saturday. This audition is open to all female Nigerian citizens between the ages of 18 and 25. Click here for all the details for auditions on BN
Date: Saturday 16th February 2013
Time: 9 AM – 1 PM
Venue: The Hotel, Plot 108, Azu Ogbunike Crescent, off Nza Street, Independence Layout, Enugu
__________________________________________________________________________________________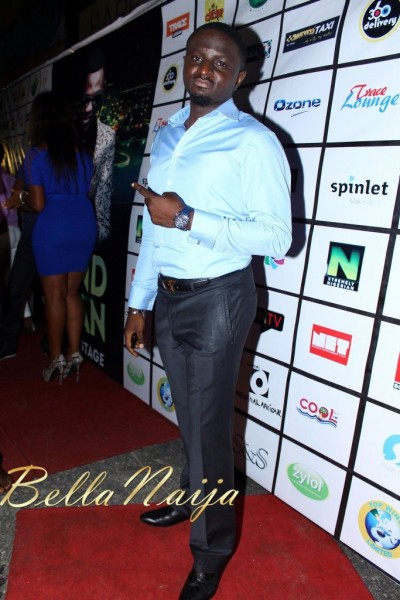 Tee-Y Mix Hosts Pacelli School for the Blind
As part of Tee-Y Mix's pet project "Sound Heart" which is about bringing hope through music to special children in the society, the music producer will be hosting the children of Pacelli School for the Blind in his music studio on Saturday. They have been taught how to play the guitar, so they will display their skills and also sing with him in the studio. Admission is free for all.
Date: Saturday 16th February 2013
Time: 12 Noon
Venue: Tee-Y Mix Productions Ltd, 4 Kujore Street, off Ogudu Road, Ojota, Lagos
__________________________________________________________________________________________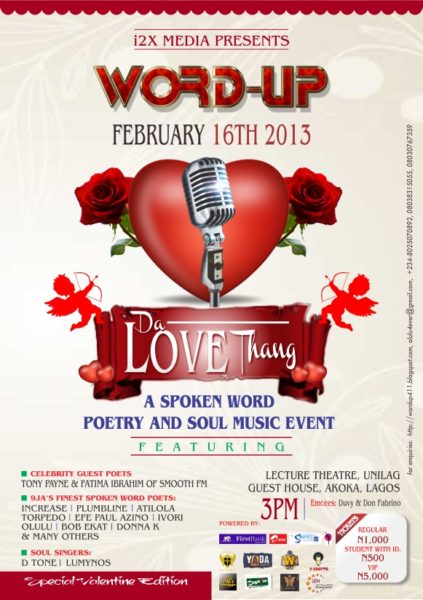 i2X Media presents Word Up Volume 3: Da Love Thang
Volume 3 of one of the biggest Spoken Word poetry events in Nigeria, Word Up will take place this Saturday. This edition tagged Da Love Thang will feature performances by Toni Payne, Fatima Ibrahim, Efe Paul Azino, Plumbline, Olulu, Donna K, Dolapo, Ivori, Increase, Atilola, Onimisi and Erica. There will be soul musical performances by D Tone, Lumynos and Wura Samba. Hosts of the day are Duvy and Don Fabrino.
Date: Saturday 16th February 2013
Time: 3 PM – 6 PM
Venue: Lecture Theatre, UNILAG Guest House, Akoka, Lagos
Ticket Prices: Student with ID cards N 500 | Regular N 1,000 | VIP N 5,000 on NaijaTicketShop.com
___________________________________________________________________________________________
Festival of Love
Abuja, brace yourself for another fun edition of Festival of Love brought to you by Nigerian comedian, Julius Agwu. Festival of Love is an evening of romantic serenade for couples and lovers, couples' games and great comedy for lovers. The organizers revealed that Karaoke has been added to this year's edition. Performing at the event (comedy) include Julius Agwu, Bovi, Dan 'D' Humorous, Akpororo and Chigul while music stars Wizkid, Burna Boy and Chidinma will perform some of their hit tracks.
Date: Saturday 16th February 2013
Time: 5 PM
Venue: Transcorp Hilton, Aguiyi Ironsi St Abuja
Ticket Prices: Regular N 5,000 | VIP N 10,000 | Table of 8 N 400,000 Ticket Locations: Silverbird Cinemas Abuja | Drumstix, Maitama II,, Abuja | Exclusive Stores, Wuse II, Abuja | Jevinik Restaurant, Wuse II, Abuja | Ceddi Plaza, Central Business Area, Abuja | Crystal Lounge | Cubana Lounge, Wuse II, Abuja | Shoprite Apo, Abuja
Contact: For more info and general inquiries, call 08033188985 ____________________________________________________________________________________________________
Classic FM Valentines with Maxwell
Classic FM 97.3 has announced plans all the details for its event Valentines with Maxwell. The Grammy award winning American R&B artiste will perform on stage alongside BlackMagic, Omawumi, Bez and Yinka Davies.
Date: Saturday 16th February 2013
Time: 7 PM
Venue: Ocean View Grounds, Eko Hotel and Suites, Victoria Island, Lagos
Ticket Price: N 25,000
Ticket Locations: Silverbird Cinemas, 133 Ahmadu Bello Way, Victoria Island, Lagos |  Silverbird Cinemas, Ikeja, Lagos | Ozone Cinemas, 1-11 E-Commercial Center, Yaba, Akoka, Lagos | Domino's Pizza/ Coldstone Creamery, Victoria Island, Lagos & Lekki, Lagos | Eko Hotel Suites, Victoria Island, Lagos
____________________________________________________________________________________________________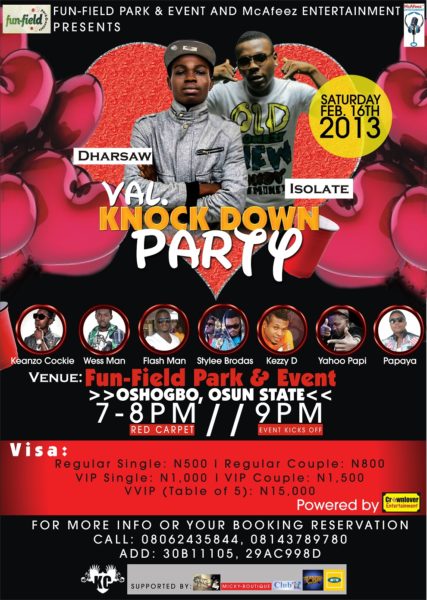 Valentine Knock Down Party
Fun Field Park and Event in conjunction with McAfeez Entertainment present Valentine Knock Down Party. The event will feature performances by Isolate, Dharsaw, Yahoo Papi, Keanzo, Stylee Brodas, Wessman, Flahs Man, Kezzy D and Papaya. Comedians scheduled to perform include MC Diouf, Mc Samco, MC K'banj and MC Dan Baba. Guest DJs include DJ Rap, DJ Bassman, DJ Oklahoma, DJ L7, DJ Stopper and DJ Pac. For tickets, be sure to get in touch with them.
Date: Saturday 16th February 2013
Time: Red Carpet 7 PM – 8 PM
Venue: Fun Field Park & Event, opp Leisure Spring Hotel, Oshogbo, Osun
Ticket Prices: Regular Single N 500 | Regular Couple N 800 | VIP Single N 1,000 | VIP Couple N 1,500 | VVIP (Table of 5) N 15,000
Contact: For more info and general inquiries, call 08062435844 | 08143789780 | 07039128436 | 07033166636 | Add BB Pins 30B11105 | 29AC998D
___________________________________________________________________________________________
House of Marie Valentine Sales Party
Nigerian design label House of Marie cordially invites you to its Valentine Sales Party at the Get Arena, Lagos. Attendees will be treated to free canapes, champagne and cocktails as they shop for House of Marie pieces at a discounted rate. Admission is free for all.
Date: Sunday 17th February 2013
Time: 12 Noon – 6 PM
Venue: The Get Arena by Sheraton Four Points Hotel, Victoria Island Extension, Lagos
___________________________________________________________________________________________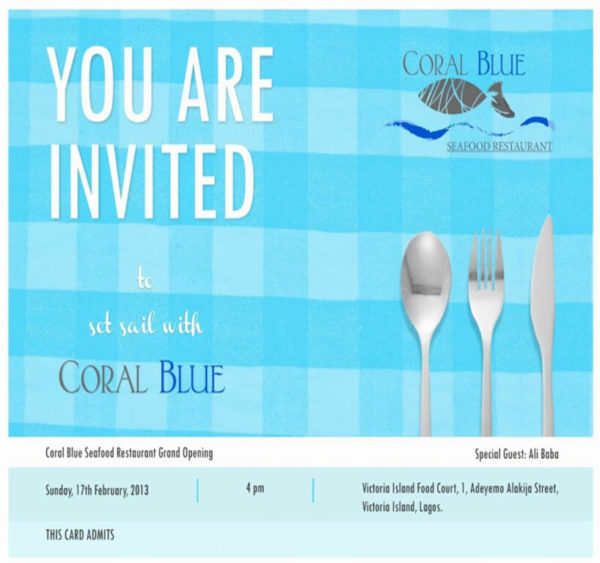 The Official Opening of Coral Blue Seafood Restaurant
You are cordially invited to the grand opening of Coral Blue Seakfood Restaurant this Sunday. Hosted by Ebuka Obi-Uchendu, it promises to be a fun and yummy day. Comedian Ali Baba will be in attendance and Ebisan and Ese Peters will also be present to perform. Admission is free for all.
Date: Sunday 17th February 2013
Time: 4 PM
Venue: Coral Blue Seafood Restaurant, Victoria Island Food Court, 1 Adeyemo Alakija Street, Victoria Island, Lagos
__________________________________________________________________________________________________
Darey presents Love: Like A Movie
Love: Like A Movie is a theatrical concert for Valentine, produced with style as an exhibition of performance varieties. At its core, the project uses the interpretation of powerful emotions, music, traditionally inspired dance/acrobatic performances, lights, moving images and customized sets interwoven into a single production to express the values of love and humanity in modern Nigeria, with the sole purpose of creating a magical experience that stays with the audience for a lifetime. The event will be co-hosted by Kim Kardashian. Artistes to perform include 2Face Idibia, P-Square, Naeto C, 9ice, Ice Prince, Jozi, Flavour, Mo'Eazy, Zaina, Iyanya, Waje, Seyi Shay, Praiz and Timi Dakolo.
Date: Sunday 17th February 2013
Time: 5 PM
Venue: Eko Hotel Convention Centre, Eko Hotel & Suites, Victoria Island, Lagos
Ticket Prices: Regular N 5,000 | VIP N 30,000 | VIP Couple N 50,000 | VIP Gold N 1 Million | Platinum N 2 Million
Ticket Locations: AfriTickets | Eko Hotel & Suites, Victoria Island, Lagos | Get Arena, Victoria Island Extension, Lagos | Soul Lounge, The Palms Shopping Mall, Lekki, Lagos | Glendora Bookshop, Ikoyi,  Lagos | Ikeja City Mall, Ikeja, Lagos | Fusion Concepts, Ikoyi, Lagos
Contact: For more info and general inquiries, call 08096666630 | 08100000663
__________________________________________________________________________________________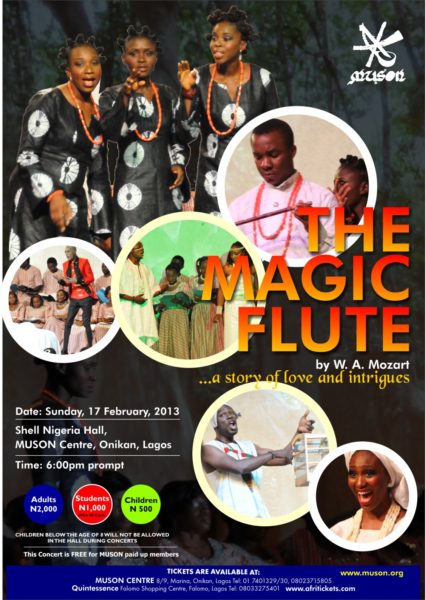 The Magic Flute
The Musical Society of Nigeria (MUSON) will hold its first concert in 2013 this Sunday. Titled The Magic Flute by Wolfgang Amadeus Mozart, the opera was first staged last October during the MUSON Festival 2012. The opera will feature the MUSON Symphony Orchestra and the MUSON Choir conducted by MUSON Artistic Director, Thomas Kanitz. The Magic Flute is a story of love, the intrigues around love and the competition for the hand of a damsel. It is performed in a captivating and elegant style by some of Nigeria's leading classical singers.
Date: Sunday 17th February 2013
Time: 6 PM
Venue: Shell Nigeria Hall, MUSON Centre, Onikan, Lagos
Ticket Prices: Students N 1,000 with ID cards | Children N 500 | Adults N 2,000 at the Event
___________________________________________________________________________________________________
BellaNaija.com is not responsible for the organization or further promotion of these events, neither do we have a stake in their sales or popularity. Inclusion in "Events This Weekend" is Free. Contact – adsales (at) bellanaija.com on or before Wednesday every week if you will like your event to be included. Note that BN reserves the right to choose which events are featured. "Pay to attend" parties attract a fee