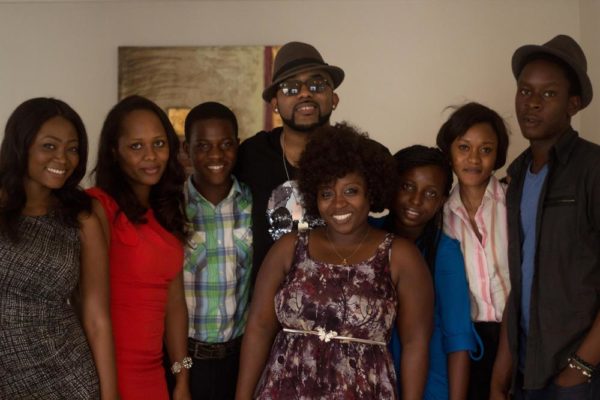 The BellaNaija team is a super amazing one and it's that way primarily because we have a group of individuals that understands the BN ethos. We also like to have a lot of fun and this is essentially because we have a team leader who's characteristically gracious and quietly funny.
"Guys! Do you have anything important you're working on that needs to be done this morning? Let's try and finish up by 12.30. Adeola's around today and I'd like us to just generally hang out and discuss how to move the site forward."
Uche's airy voice floated around the office yesterday morning. I didn't look up from my computer because I was trying to knock back as many emails as I could before clearing my head to write my Monday feature. Squinting and pushing my glasses up the bridge of my nose I said "Where are we going? I have quite a bit to do today." That was basically my URGGH!!! Uche, I can't be off frolicking when there's a ton of work to get through. She smiled in her usual way and said "Somewhere on the Island. Just somewhere nice and cozy. I just think we all need to relax and since we have almost everyone here today we might as well just do it".
All weekend, I'd been getting phone calls about the Dear BankyW letter which I'd published on Thursday. Half of the people who called wanted to know if I was serious and the other half wanted to know how soon I'd like them to come and check me into the Looney Bin.  I always enjoy writing every one of my pieces. When I settle to write, I'm one with my computer. I zone out of this realm and I check into an alternate dimension inside my head; and when I wrote the Banky W piece, I reached into a deeper part of my being. It's a part that very few people get to see and experience, it was a deep and vulnerable part of me. It was me. Humor, sarcasm, passion and heart! It was all me. So I couldn't explain the different shades of emotion as people left comments, blogged about it, tweeted about it… gosh even Toke and Nanya talked about it on their show on Friday. They called Banky and I recall Nanya saying categorically that he was sure I was "worwor" and that's why I didn't put my photographs. According to him, that should have been my primary "selling point". (I don't agree, but that's a discussion for another day!)
So, here I was on Monday morning, tuned in to my creative wavelength and we're off to a previously unscheduled retreat in Victoria Island. We got into two cars and I got to ride with my "madam". I pulled out my Kindle and I continued following the adventures of Jack Reacher.  The ride wasn't memorable. We talked about the weekend, laughed over some posts and that was it. Immediately we got to the S&S Hotel in Victoria Island, she asked us to get comfortable and place our orders. The finger food was served and guess who walked in?
TEE A! The comedian! 😀 Uche introduced us to the comedian and he left us and went to his table.
I had to proof-read articles so as I dug into my uber-delicious peppered snail, I kept up the pace of my work. It was time to order lunch, so I scanned through the menu: I knew what I wanted. Fusili & Salmon. My order had just come and so I had a tray of food on my lap, my reader resting gingerly on the edge of the tray and then I saw light stream in to the lobby of the hotel.
I looked up, shook my head, took off my glasses, pushed them back on and looked again.
OH MY GOD!!!!!
BankyW was actually there. In flesh! Life! Complete with the hat and sideburns! Dearly beloved… I trembled. No, I quivered. No, that's not it. Wait…. I don't have the words to describe what happened in that instant when I realized I'd just been set up with a grand plan to meet BankyW!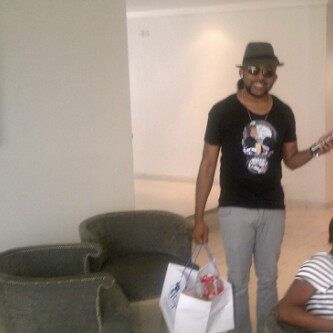 I apologize if I don't sound coherent in my recollection of the events of the next 7 minutes. My colleagues have videos on their phones which they're threatening to put up on Keek or YouTube if I am not nice to them.  So, I'm going to be nice for the next.. errr… 10 days at the most. 😀
Anyway, when I finished trembling like a 16 year old, I was able to give Banky a proper hug. (I might have leaned in a little longer than necessary but please don't judge me). Then he said to me "Happy Valentine's Day" and then he handed me a bag of goodies. The next hour and half was an absolutely delightful and memorable one.
We sat and talked about music, life as a super star, life as an indigent creative writer, the brilliant awesomeness of possessing a voice from heaven, the amazingness of being a clever word weaver, and finally… AFRICAN TIME at Nigerian events! (Y'all didn't think I'd let that topic slide did you?)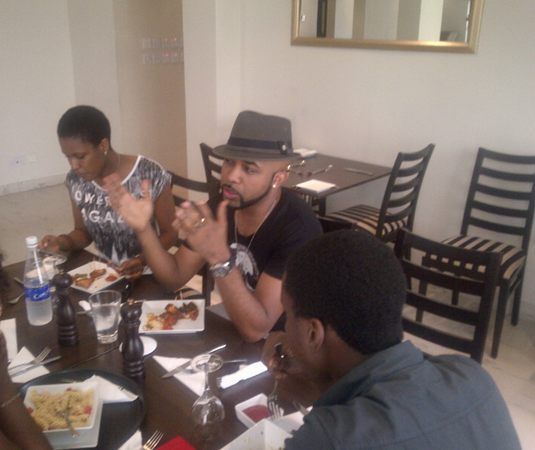 I went to bed last night wishing the day would never end but sadly it did but I had an absolutely amazing time with Banky. He's a very witty, smart, hardworking and talented guy. If you've not bought the R&BW album, I have one question for you… WHATCHYU WAITING FOR? If you don't live in Nigeria, you can buy it off cdbaby.com and itunes very soon!
So did I get a kiss? Did Banky say YES? Did the love story end up the way it does in movies? For these answers and more….watch this space!
😉