It's a sunny Wednesday afternoon at BellaNaija Weddings HQ and we just have to share Jennifer Adighije & Obiora Okolo's uber sweet love story and fabulous wedding. Designer Jennifer is well known for her fashion line House of Silk while her beau Obiora comes from a totally different field of focus as he's a Doctor. Find out how the lovely couple met and experience their beautiful wedding, right here on BN Weddings.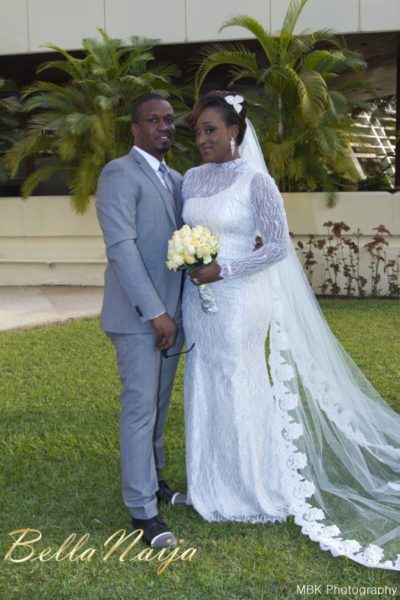 How Jennifer & Obiora Met
by Jennifer
We met sometime in 2010 very briefly but didn't keep in touch. Then after a while, Obi was on holiday in Abuja and we met again at a restaurant where I came to have dinner alone.
The Journey Begins…
After meeting the 2nd time in Abuja, we exchanged telephone numbers and this time around and I asked him not to call me that I'll be the one to do the calling 🙂
…The next morning, after I woke up, I saw 3 missed calls from him. I just had to do some shakara so… I didn't return the call till weeks later.
At that point, we got talking & talking…Minutes turned to hours and as each day passed, it became even more difficult to get off the phone as we wanted to keep chatting forever. We both had never felt a strong connection like that before.
Because he had already exhausted his work-free days for the year he couldn't come to visit me in Nigeria like he wanted so he asked me to come visit him in the US. Not wanting to seem too anxious, I declined but he persuaded till I accepted. I flew to New York a few days later. While I was there, I visited his hospital, home and all the important places to him.
On the second day of my visit, he handed me a schedule for my visit which included theatre shows on Broadway, exhibitions, zoo visits, restaurants etc…
The Proposal
The next day, he called and told me he would be taking me to see 'Sister Act' on Broadway. It was the most amazing outing I had ever had – very emotional! On our way home, he asked if wanted Suya and Akara (I thought to myself, at 11pm..?) I said No because I was so tired just wanted to go to bed but he kept begging so I agreed we would go to a Nigerian restaurant but he said he needed to first make a quick stop at his home to get his wallet. I had enough cash on me to pay but he refused.
I waited in the car for 30 minutes but Obi was no where in sight and I was livid. A few minutes later, he came out saying he was tired and we shouldn't bother going to the restaurant. I was even more angry at this point (LOL). This was going to be our first official fight.
So we walked into the house and to my amazement, it was like the scene of a movie! There were rose petals along the walkway, candles on every stand, vases filled with pink crystals, little notes on each wall with brief descriptions of how we met and how he had prayed to God to bring our paths together again.
The last note was by his bedside and it read "there's only one question left unanswered" . I was confused, bewildered and shocked…I looked behind me and saw him on his knees, I asked "What's the Question" and he said "WILL YOU MARRY ME?"
I said "YES"
****
On the 3rd of January 2013, Jennifer Adighije and Obiora Okolo celebrated their love at their wedding ceremony in Abuja. The day started with the soon-to-be Mrs Okolo getting prepped for her big day! The stunning bride emerged in a beautiful wedding dress which she had designed and was crafted by her label House of Silk. With its lace caplet and exquisite embellished detailing, Jennifer's bridal look stood out. The groom Obiora looked handsome in his three-piece grey suit paired with a matching grey tie. After their church ceremony, the couple proceeded to their "Enchanted Woods" inspired reception at the ThisDay Dome in Abuja.
It was there that they got the party started with their family and friends. It was an emotional moment when a friend of the couple, Amenze Igbinedion performed a love song dedicated to them and there were more happy tears when the bride danced with her father. A surprise performance by Iyanya got everyone dancing and winding their waists. The rest of Jennifer and Obiora's special day was dedicated to them celebrating their momentous milestone while having a jolly good time with their family, friends and wellwishers!
BN wishes Jennifer and Obiora a wonderful life together forever. May each day be blessed and filled with joy.
****
~ White Wedding Photography: MBK by Mubarak Adegunwa
~ Traditional Wedding Photography: Life & Soul Pictures
~ Pre-Wedding Photos: Artlook, New York
Wedding Details
Dates
Traditional Wedding: 30th December 2012
White Wedding: 5th January 2013
Wedding Venues
Traditional Wedding: Adighije's Family Home, Umuahia, Abia State
White Wedding: ThisDay Dome, Abuja
Wedding Colours
Traditional Wedding: Tropical Orange & Turquoise Blue
White Wedding: Sapphire Blue and Silver
Wedding Theme
Enchanted Woods
Wedding Attire
Bride's Wedding Dress: House of Silk (Bride's Fashion Label)
Bride's Reception Dress: House of Silk
Groom's Suit: Hugo Boss
Bridesmaids' Dresses: House of Silk
Bride's Traditional Outfits: House of Silk
Bride's Makeup – Traditional Wedding: Yewande Peregrino
Bride's Makeup – White Wedding: Funmi Oletubo
Bride's Hair: The Bride's Salon at Divas Style Lounge, Abuja
Vendor List
Wedding Planner: Hadiza for Suhjuiced
Wedding Cakes: Marylin Cakes
Bouquet: Flower Plus
Food: Buttered Fingers | Great Grace Catering
Drinks: TSquare
Desserts: I Luv Desserts
Small Chops: Mr George | 12 Baskets
Security: K Square
______________________________________________________________________________________
We love weddings as much as you do! Get in touch…
weddings (at) bellanaija.com
www.bellanaija.com/weddings
www.twitter.com/BellaNaijaWed
www.facebook.com/BellaNaijaWeddings
www.instagram.com/BellaNaijaWeddings