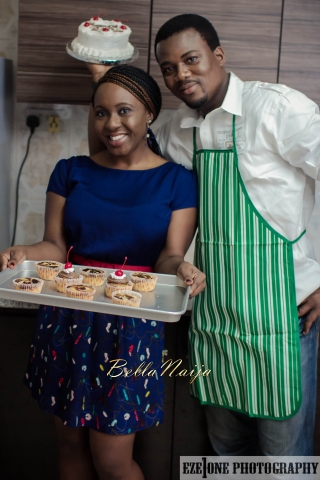 My name is Berry and I'm engaged to a wonderful man I call Cakes. We're friends with Ferdinand and Lily – you must have seen his 20 Things I Love About Miss Cooper, – his post about how he loves his Lily, when they were engaged. My fiancé also baked both their proposal and wedding cakes 🙂
We met at the Waterbrook Church in March 2012. I was in the dance/drama ministry, eXpressions, and we had been rehearsing for our first musical, HOSEA, when Cakes (Kesiena) first saw me. Not too long afterwards, at the end of a Wednesday service, the pastor said everyone should look for 5 new people and introduce themselves. Kesiena took advantage of it and hurriedly went to introduce himself to me. I was a little startled because he came from nowhere, but I thought he was cute, liked that he was tall, and LOVED that he said he bakes cakes!!! We exchanged numbers, and a few months later, officially started dating.
So today I'm taking a leaf from Ferdy's book and doing 11 better, and writing a public note about the things I love about my fiancé. He has absolutely no idea I'm doing this, teeheehee! Here it goes:
What I Love About Cakes!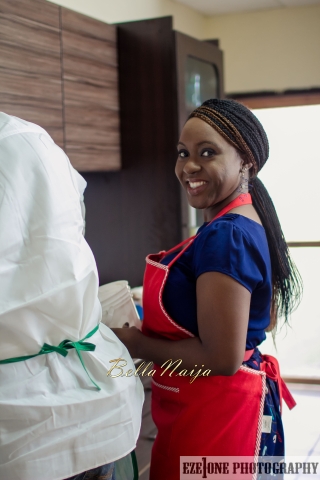 He bakes cakes! What girl wouldn't love a guy who could give her sweet treats at will?!
His selflessness. He puts others first, almost to his detriment sometimes. He once took my car to the mechanic while he was sick.
His patience. I don't know how many other

men

people would be able to deal with my moments of "Diva Drama Queen-dom."
His generosity. Cakes would give the shirt off his back to any friend in need.
His height. I like a man that I can look up to, both literally and figuratively!
His passion. My honey has a degree in Geology, but has always loved baking.
His work ethic. Cakes will work through the night with little or no sleep, making sure his clients get their lovely cake orders.
His love for children. He works in the children's department at church and wants to invite ALL THE KIDS to our wedding (Sorry babe, not happening).
His foot rubs. When he thinks I'm tired or stressed out, he tells me to place my feet on his laps and rubs the fatigue away.
His peaceful nature. When my feisty temper rears her ugly head, Cakes' cool head prevails.
His hands. From the way he holds my hand when we're walking together to the way he hugs me tight enough that I could pass out.
His optimism. Cakes has faith for a million people combined! When I worry about the future, my job, and other issues, he calms me down with his optimism.
His ambition. He knows where he's been, where he's going to, and is working hard to get there. Although I'm not sure a Cake Baking-Designing President is what Nigeria needs. :p
His phone calls. In this day and age, when too many guys want to have BBM relationships, I get phone calls through the day.
His heroism. He was this close to beating up a bus driver who'd been driving aggressively and ended up hitting my car. *Granted, I wanted to beat the guy up too*
His self-control. He ended up not beating the guy up, after someone yelled "OGA, PLEASE DON'T ALLOW THE DEVIL TO USE YOU!"
His loving looks. The way he looks at me tells everybody that he loves me!
His honesty. Even though every now and then, it gets him in trouble with me. At least I can trust him.
His fake threat to sing at our wedding. DUDE. DO NOT EVEN TRY IT.
His love for family. He's very family-oriented, and has taken my family as his own. He even sends cakes to my siblings in Atlanta.
His looks. My fiance's a good-looking dude, sha!
His knowledge about cars. I've been driving for 15+ years, and I didn't know that the little flap thingy on the rear view mirror reduces the glare of headlights from following cars. Thanks Cakes!
His humility. He treats everybody with respect. The rare times when he speaks out in anger, he's quick to apologize for his tone and make amends.
His mistakes. The missteps he made before we met and even yesterday, major and minor, have shaped him into the better man that he is today.
His love. If I had amnesia every day, the one thing that I'd be forced to remember is that Cakes loves me… because he says it multiple times throughout the day.
His faith. I love that he's a man set out to seek and fulfill God's will and plan for his life and our lives together.
His past. His upbringing, experiences, past relationships and more make him appreciative of what he has today.
His kindness. He genuinely cares for and about people. If he knows any of my friends is having difficulties, he'll ask over and over about their wellbeing. Whenever I get sick, he'll go looking for food and medicine for me, even if he has to leave his house at night to get to me.
His helpfulness. He actually has to scold me often, because I forget to let him open doors for me. He'll take whatever bags I'm holding if he thinks they're heavy.
His heartbeat… aka ME!!! Yes, I love myself. Just kidding! (I'm really not kidding though)
More About The Baking Pre-Wedding Shoot Concept:
Since Kesiena bakes cakes, I thought it would be cute to have a baking session for our engagement photos. Our friend, Ezemdi visited Nigeria for his own traditional wedding, and we exchanged his photography services for their traditional wedding cake from Kesiena.
Baking Pre-Wedding Photoshoot Photography: Ezemdi Okebalama – Eze-One Photography
How He Proposed!
My birthday was coming up at the end of May. Cakes and I already knew we wanted to get married, so I knew a proposal was imminent. I told him not to propose on my birthday (because I wanted a separate birthday present!) My friend and I share the same birthday, so we'd planned to have a 'Glitz and Glam' Birthday dinner at her house, with a few friends and Chef Fregz catering. Dinner was FABULOUS! It was a 5-course meal, and we had a photographer to capture the evening, along with musicians. After dinner, we planned to go out for drinks, but the other girls were lazing about in the living room and I noticed they were acting funny. They were whispering to each other, and would clam up or change topic when I got close. Eventually, I sat at the dining table to talk to my cousin, and a minute later, Cakes walks in, all dressed up! He got down on one knee and said my full name (all 5 of them), while I hid my face in the table (I was crying). It took me a while to compose myself, but I finally lifted my head up and hugged him with a kiss! He'd also come with a cake that read "SHE SAID YES."
Proposal Photos by: Jeffrey Olalekan Photography
Aww, now we ❤ Berry and Cakes!
Cakes: Cake Factory by K's Craft | Email: kess406 "at" gmail.com | Website: cakesiena.blogspot.com | BB PIN: 269B882B
______________________________________________________________________________________
We love weddings as much as you do – get in touch for inquiries, inspiration & more!