We're so excited to present Anita and Kesiena's wedding! Blogger – berrydakara.blogspot.com and data analyst Berry is one of our fave commenters here at BN Weddings! We shared her uber sweet declaration of love & baking themed pre-wedding shoot for her then fiance – Cakes here.
For their wedding, the couple thought outside the box for an intimate beach wedding in Lagos with no wedding party.
It was planned and decorated by both of the couple's families who played a huge part in the wedding prep and on the day! The wedding photos are sprinkled with tips and thoughts from the bride from her DIY bouquet to the groom making the wedding cakes and her natural wedding hairstyle.
The traditional wedding took place in Ogoniland, Rivers State and was so rich in culture – the bride wore a whooping 5 outfits, each with a special significance.
Enjoy and you'll no doubt be inspired!
***
How We Met
from bride Berry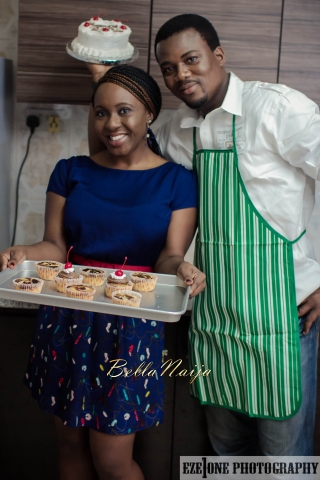 We met in March, 2012 at The Waterbrook Church in Lekki, Lagos. I had recently joined the church two months earlier and joined the Dance and Drama Ministry (eXpressions) while Cakes had been going for years and worked in the Children's Ministry.
Cakes' friends/housemates were involved in eXpressions, and it was during rehearsal (Hosea, The Musical) that he first saw me. Shortly after, during a midweek Wednesday service, the pastor closed the sermon and asked everyone to look for 5 new people and introduce themselves. Cakes seized the opportunity…
Cakes: Hi!
Berry: *startled cos he came from nowhere* Hi 🙂
Cakes: I want to get to know you
Berry: LOL (she thought he was singing one of the lines from Hosea, the Musical). Sure. What's your name?
Cakes: Cakes
Berry: I'm Berry. What do you do?
Cakes: I bake cakes.
Berry: Wha?! Ooooooh, nice! Can we be best friends?
Cakes: YES! Can I get a hug?
Berry: Okay!
*big hug*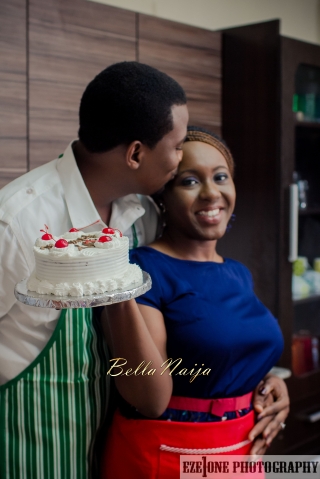 We exchanged numbers and I hoped he'd call. I even told my sisters in the States that I'd met someone and wanted to marry the cute 'Cake Guy'. A week later, he hadn't called and I took the initiative and sent him a text message, saying hello. He called me immediately!
And that was the start of a beautiful friendship that turned into a relationship and now marriage…
The Proposal
by Berry
My birthday was coming up at the end of May. Cakes and I already knew we wanted to get married, so I knew a proposal was imminent. I told him not to propose on my birthday (because I wanted a separate birthday present!) My friend and I share the same birthday, so we'd planned to have a 'Glitz and Glam' Birthday dinner at her house, with a few friends and Chef Fregz catering. Dinner was FABULOUS! It was a 5-course meal, and we had a photographer to capture the evening, along with musicians. After dinner, we planned to go out for drinks, but the other girls were lazing about in the living room and I noticed they were acting funny. They were whispering to each other, and would clam up or change topic when I got close.
Eventually, I sat at the dining table to talk to my cousin, and a minute later, Cakes walks in, all dressed up! He got down on one knee and said my full name (all 5 of them), while I hid my face in the table (I was crying).
It took me a while to compose myself, but I finally lifted my head up and hugged him with a kiss! He'd also come with a cake that read "SHE SAID YES."
I always knew I wanted a different ring. I had this theory that if I had a huge diamond, someone would cut off my hand, trying to steal it! Cakes, my mum and sister conspired to get me the beautiful 10K white gold ring featuring an oval London blue topaz and round single cut diamond accents. AWESOME CHOICE!
Just for You! Advice from the Couple
Don't be afraid to be creative. People keep asking how we pulled off a beach wedding in Nigeria. It was easy – we thought outside the box.
Keep your family and close friends in the know. You never know who'd be willing to help out with one expense or another (hair, makeup, decor, honeymoon, etc).
Make your list of essentials and non-essentials, to help guide your budgeting and planning.
BUDGET realistically!!! After the wedding, there will be a lot of expenses as far as housing, honeymoon, etc. DON'T BE THE BROKE NEWLYWEDS!
Finally, above all else, put God at the forefront of everything. You WILL need Him desperately at different points during the planning process.
BellaNaija Weddings wishes Berry and Cakes the sweetest of unions – a beautiful and blessed married life.
***
~ Wedding Photography: Demi O. Photography
White Wedding
"Cakes and I knew we wanted an outdoor White Wedding (he wanted a garden, I wanted a beach). Since a destination wedding wasn't feasible (large families and cost), we thought, "Why not use the resources Nigeria has?!?!?" We scouted different beach resorts and chose Eko Tourist Beach Resort as the venue. We wanted a relaxing and easygoing wedding atmosphere, and the beach theme gave us exactly that! Guests were able to kick their shoes off, dance in the sand, play by the water, and have fresh coconuts. Rooms at the resort were booked by us and guests as well, so we were all able to have a mini-vacay from the day before the wedding to the day after. "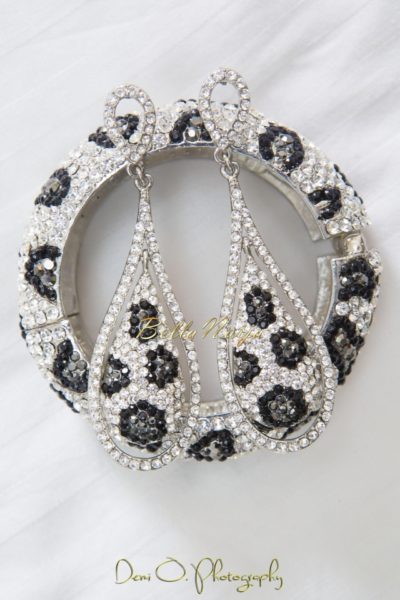 The Dress! 
The search for the dress … I had stalked one of Kim K's wedding dresses for a loooong time and just knew it was my wedding dress-to-be. I didn't care that the train would be too long for the sand. Alas, in person, it just wasn't for me. I was in Atlanta with my sister and parents for the dress search, and we had an appointment at the same boutique where my sister got her own wedding dress 3 years ago. We went through the SALES rack (yes, SALES) and I saw a dress peeking out, with my chosen colors, and grabbed it immediately. It was the 3rd or 4th dress I tried on, and we all gasped when I wore it. It was a Jasmine Bridal tulle mermaid gown with a soft sweetheart neckline (which we embellished with a custom bejeweled trim and belt), and contrasting trim and flower at the base of the chapel length train.

My Wedding Hair
My hair's natural and I opted to wear it like that, instead of getting a weave. Omozo of O'Naturals Salon in Ojota, tried 3 different hairstyles and we settled on this style for the day of. One side was woven with intricate designs and tucked in the back, with a pompadour on top. Editor's Note: We are totally coveting Berry's hair…Lovely!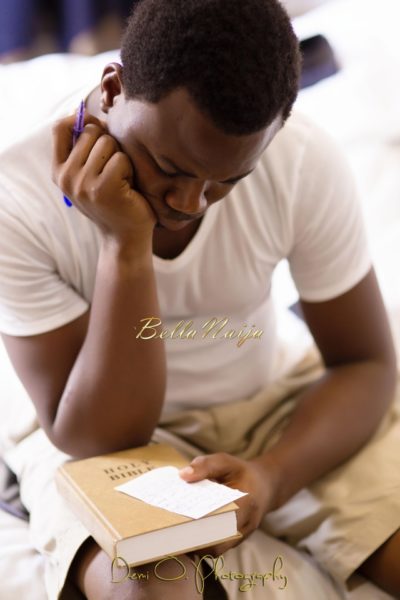 The Cake! Made by Cakes 
We toyed with getting our cakes made by other cake houses, but at the end of the day, Cakes decided that he wanted to do them himself.
The white wedding cake was a 5-tier stunner, topped with handcrafted sugar flowers. Cakes and his team worked tirelessly to make the wonderful cake, and I loved it!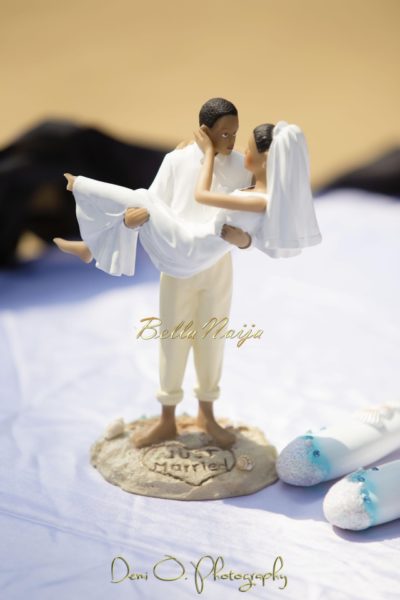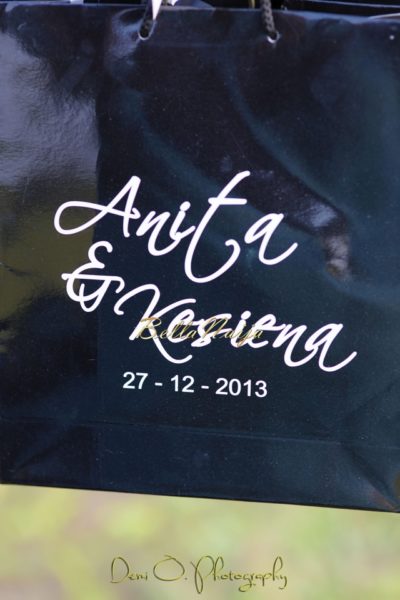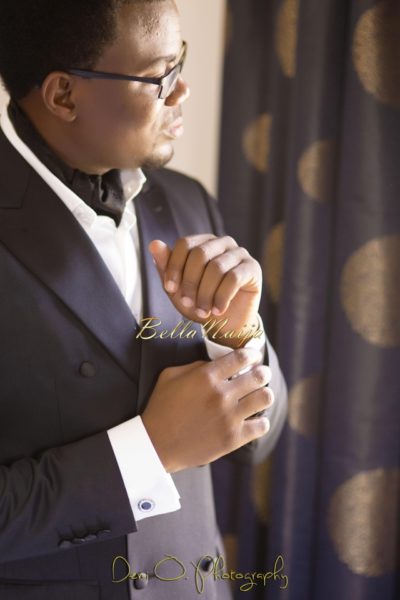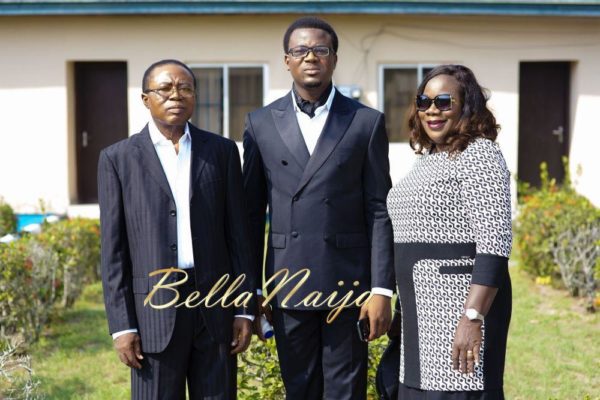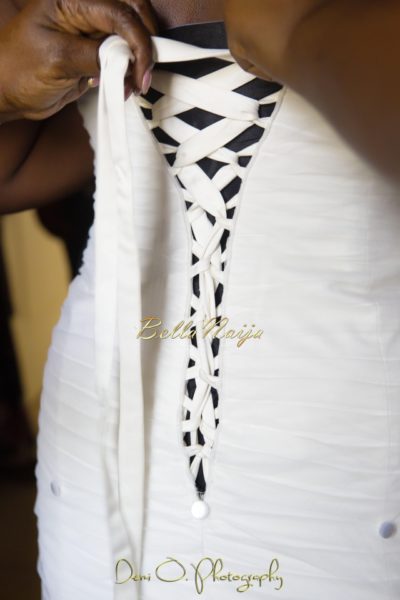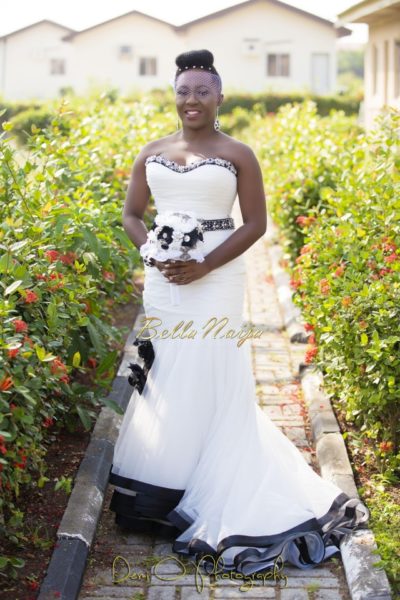 While perusing wedding website Everything Weddings and More (now Knotsvilla.com), I saw a brooch bouquet and fell in love. I decided to DIY my own brooch bouquet, without properly researching how to make one, which wasn't the greatest idea. It looks good, but it was THIS CLOSE to falling apart!
Note to Brides: Don't DIY anything without research or practice!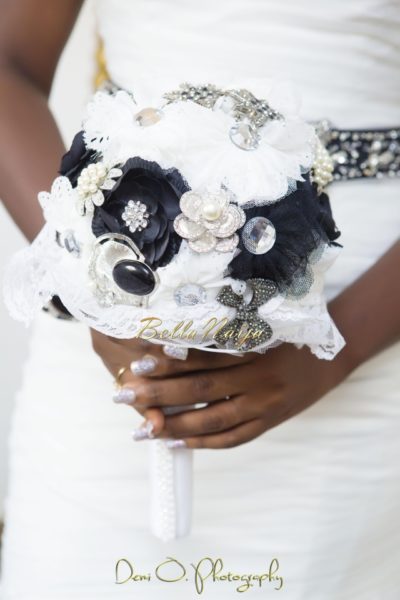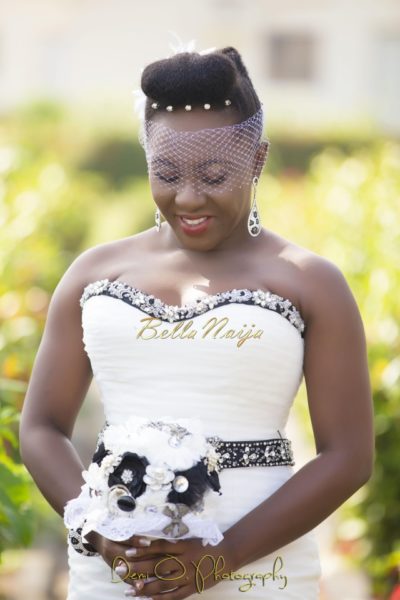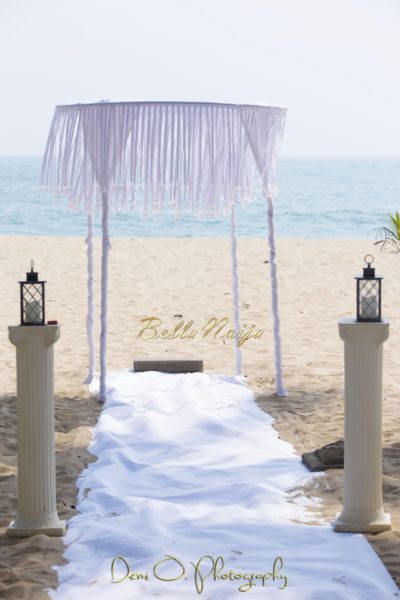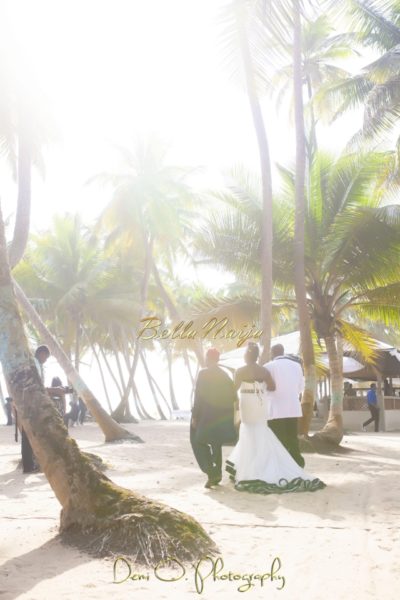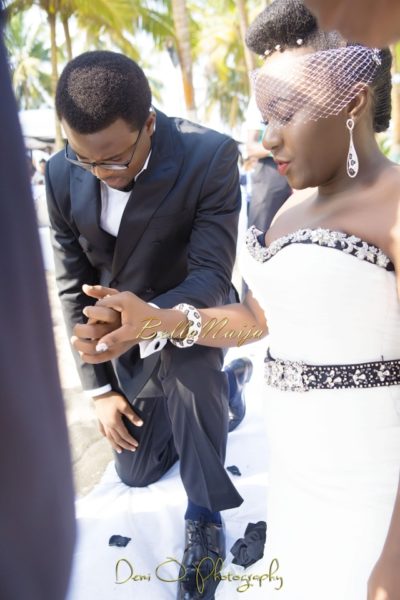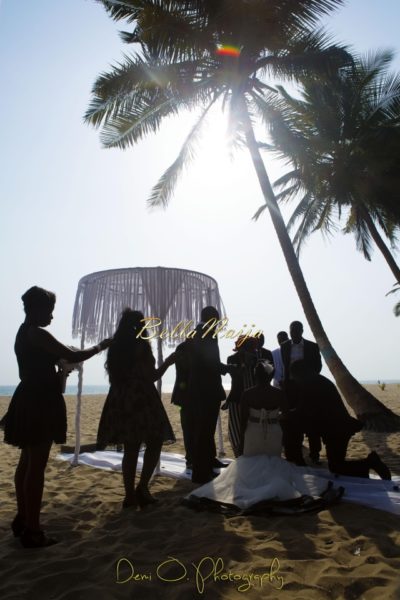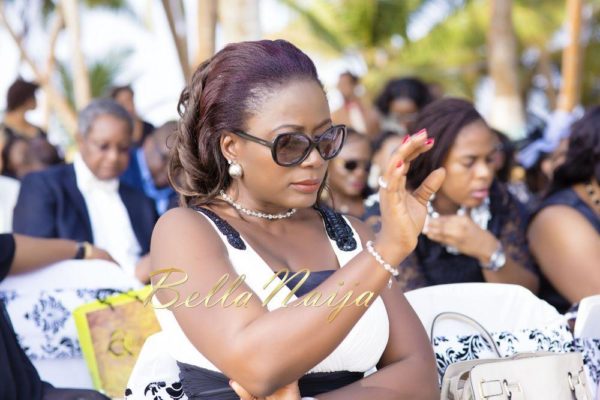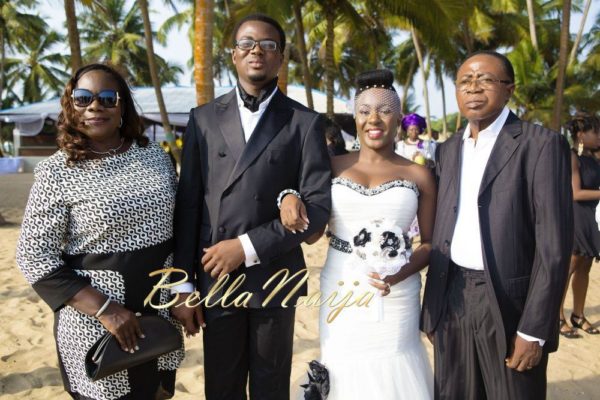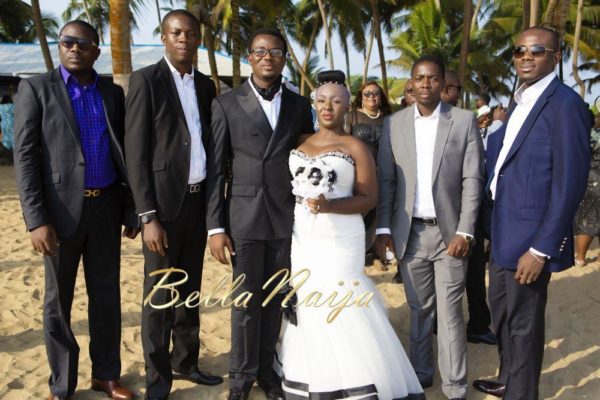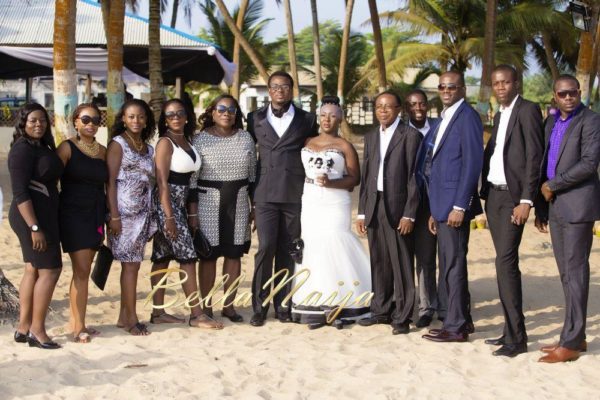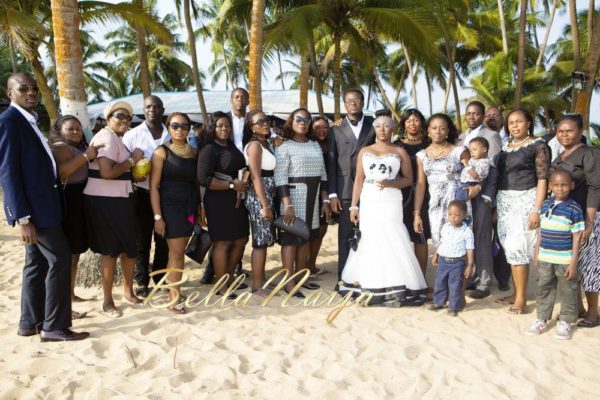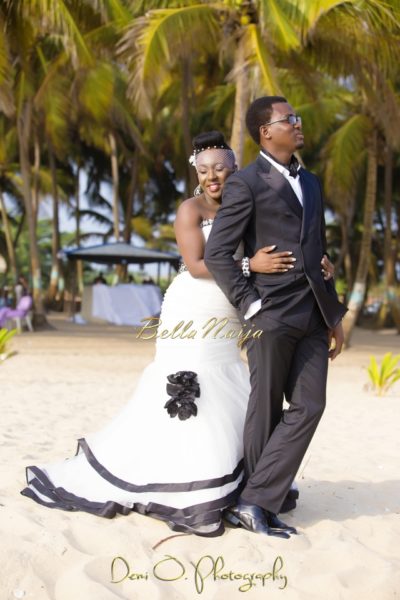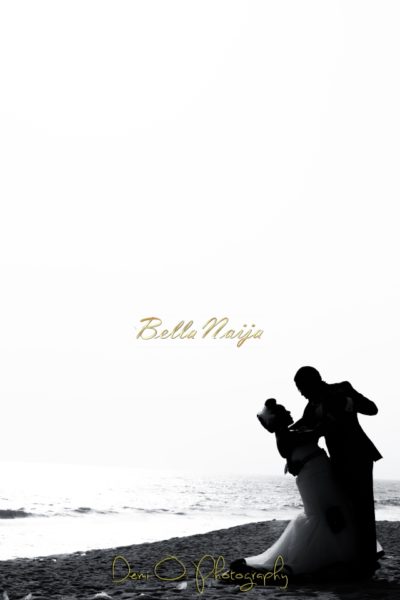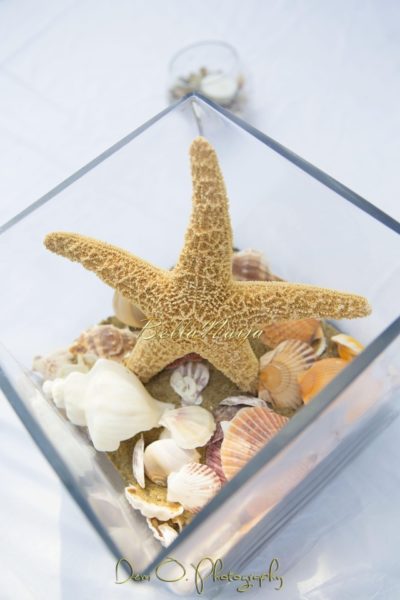 The Second Dress! 
The dress I wore is older than me! I had begged my grandmother for years to raid her old trunk boxes, and she finally agreed. I saw this dress and tried it on and it fit perfectly. She had worn it for one of her wedding anniversaries and I knew then, that I wanted to wear it somewhere special … what else was more special than my wedding day?
See the wedding in motion – from the first kiss to rocking dancing at the reception!
White Wedding Video by Ejiro Onobrakpor

Traditional Ceremonies
Bride Price Negotiation
In Ogoniland, the bride price is presented BEFORE the Traditional Wedding. The day before the Traditional Wedding, Cakes and his family were required to present the items from the Bride Price list to my father and his community. I wore a lovely burgundy dress that was made in 2011 for my sister's Traditional Wedding (I never got to wear it then). This is where the bride's family formally blesses the union in the traditional setting. The Traditional Wedding is mostly ceremonial.
Traditional Wedding
For the Traditional Wedding I wore a whopping 5 outfits!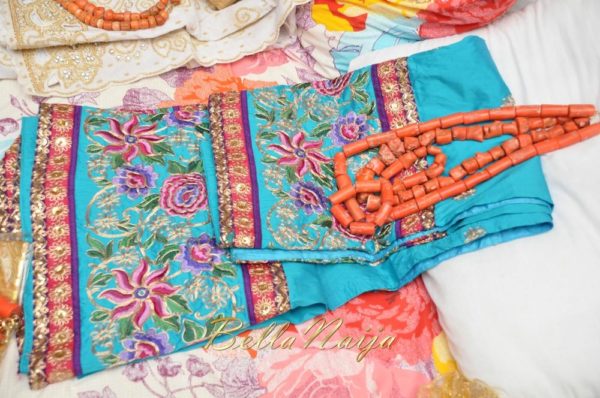 #1: The first outfit was worn to welcome the guests to the ceremony. I actually drew the design on a piece of paper at work and emailed it to my mum's tailor. It had my favorite elements – off-shoulder and a mermaid silhouette, with a small keyhole in the back.
#2. The second outfit is a traditional Ogoni bridal outfit. My dear friend had the traditional umbrella made just for this outfit 🙂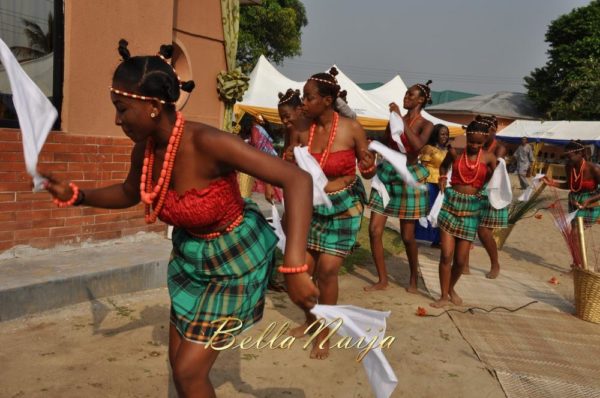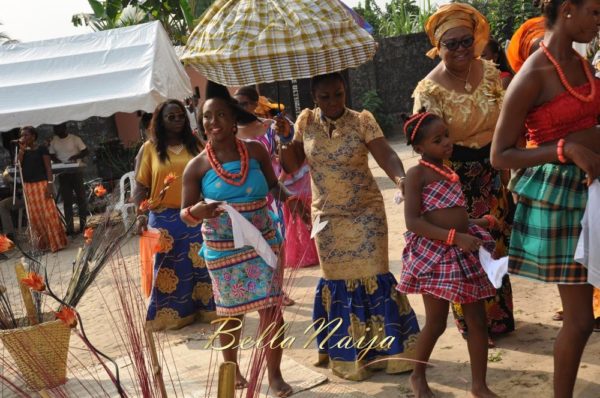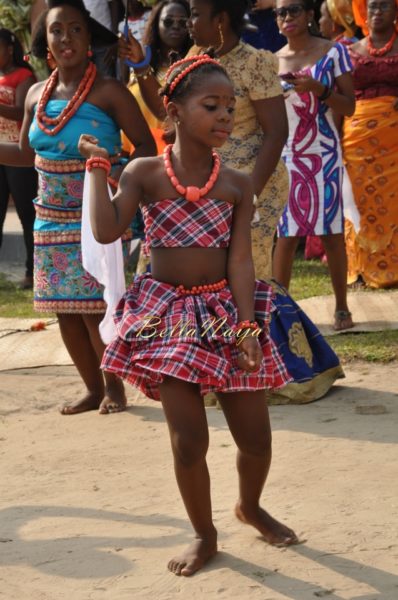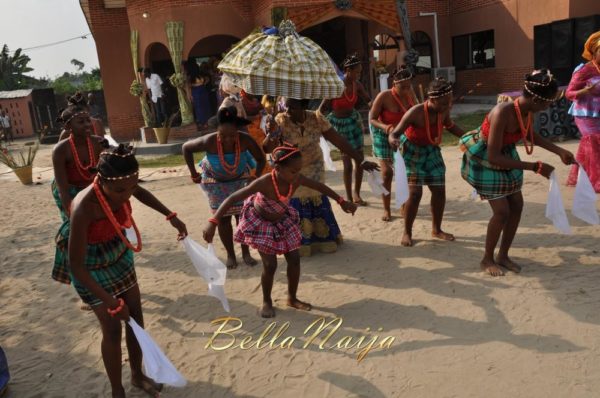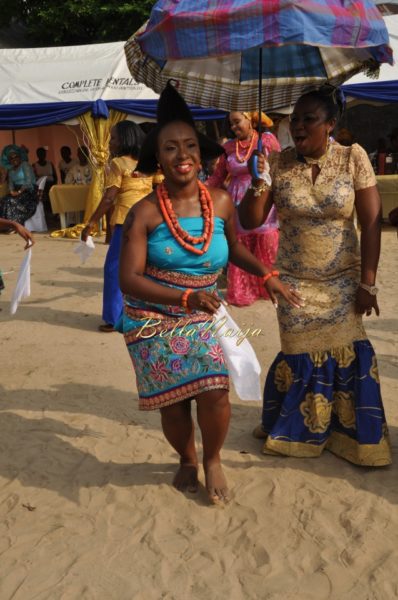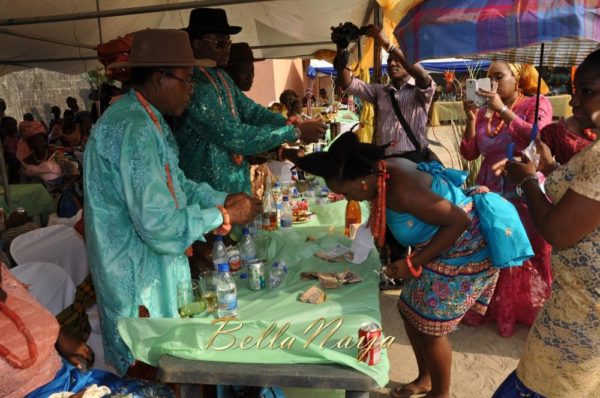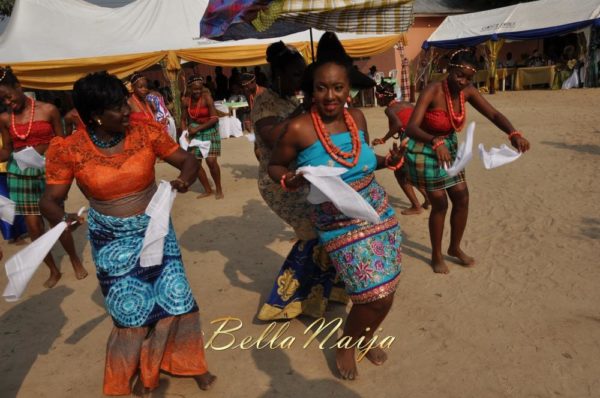 #3. The third outfit is a traditional Rivers outfit. I wore a gold blouse and white India wrapper, with white coral beads and hat. I also had a white umbrella.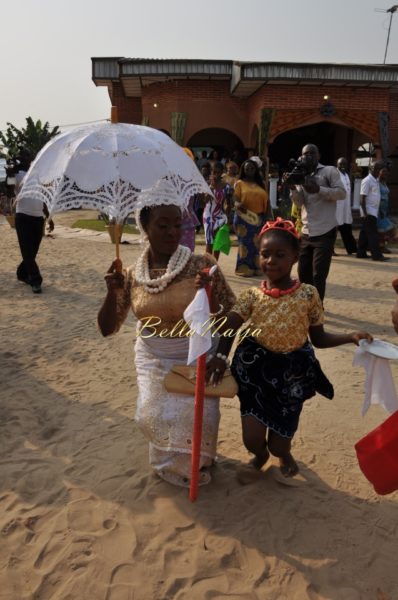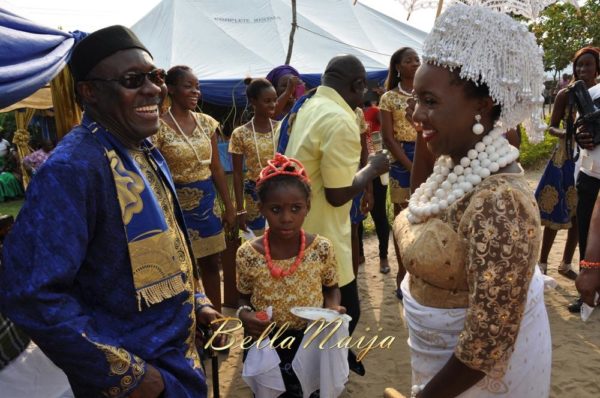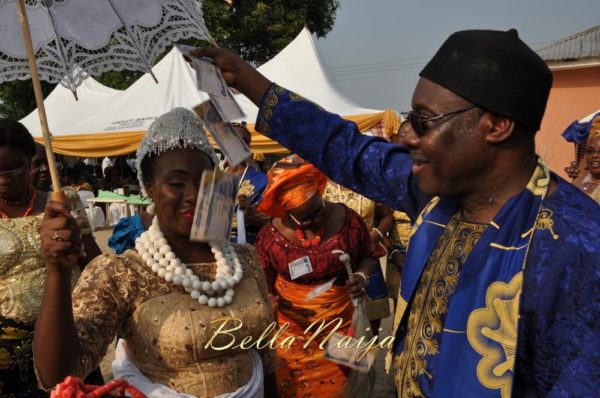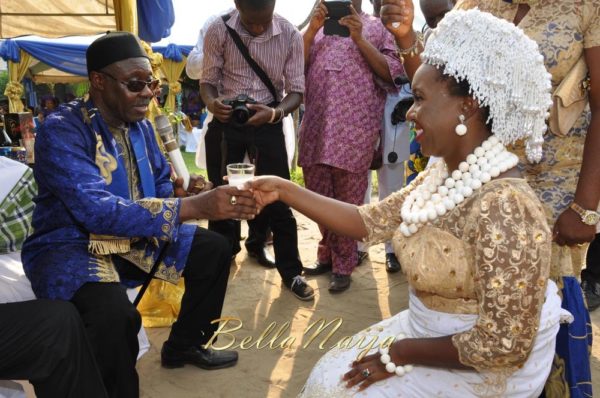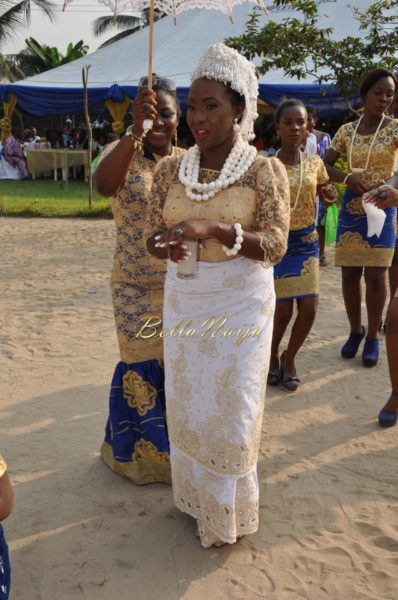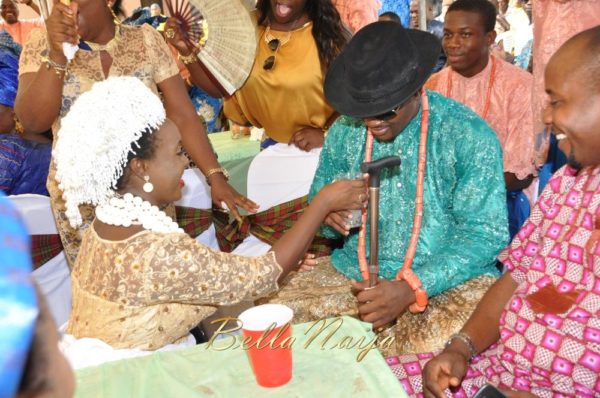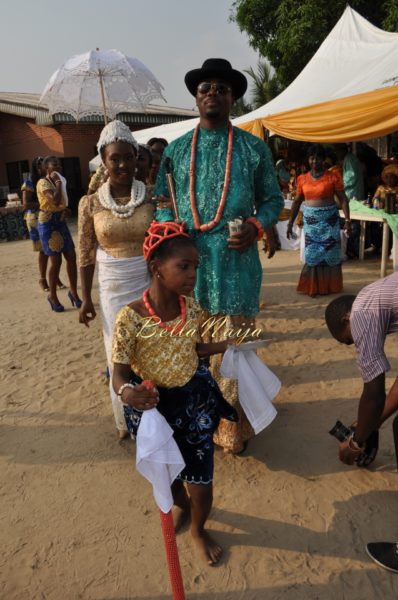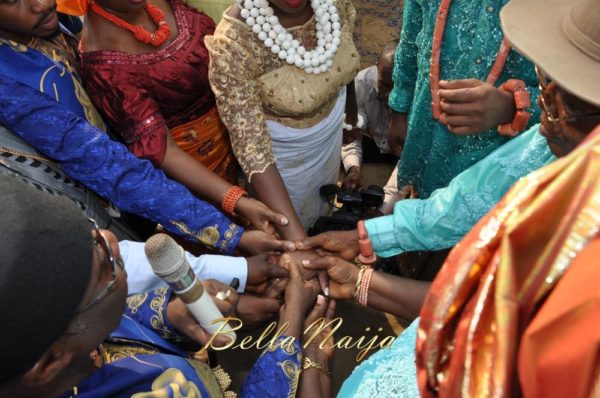 Cakes also made our traditional wedding cake. It wasn't the 'typical' traditional wedding cake but we loved the coral bead elements.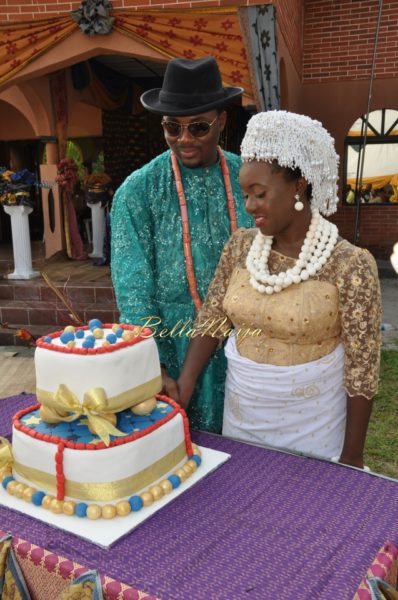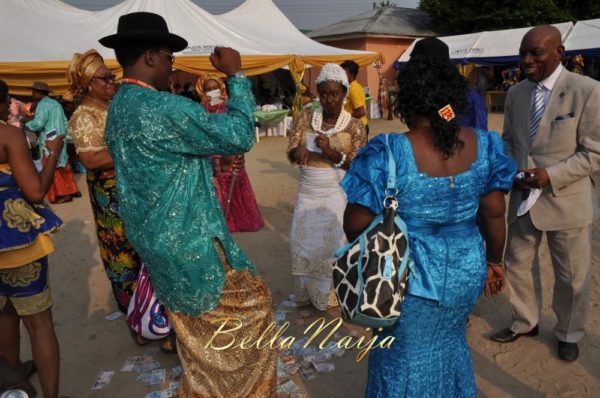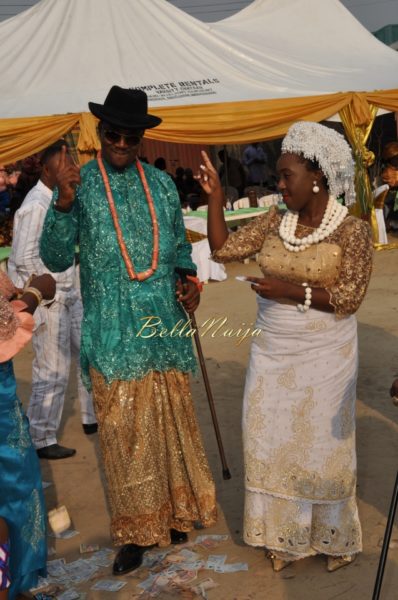 #4. This is an Itsekiri outfit, worn because Cakes' mother is Itsekiri and my grandmother is part-Itsekiri too.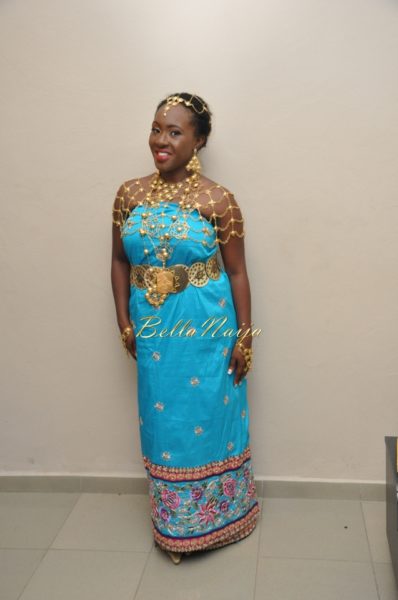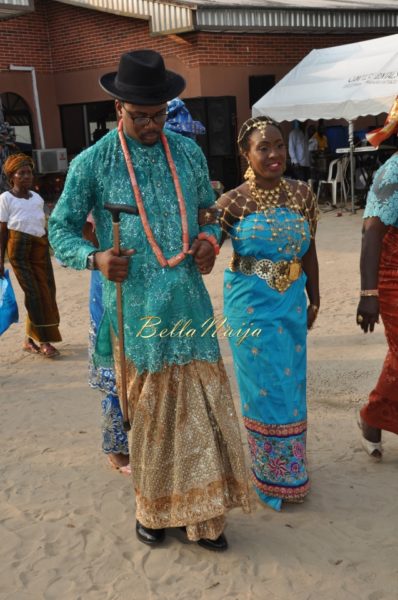 The last one! #5 – Traditional Urhobo outfit to match Cakes in his outfit.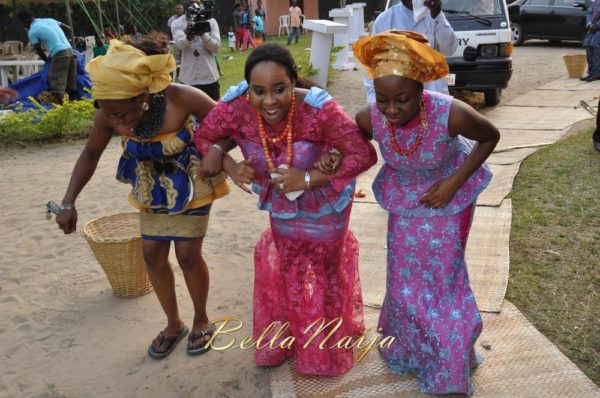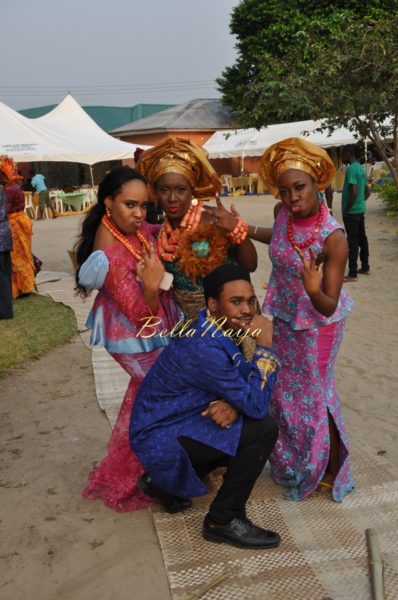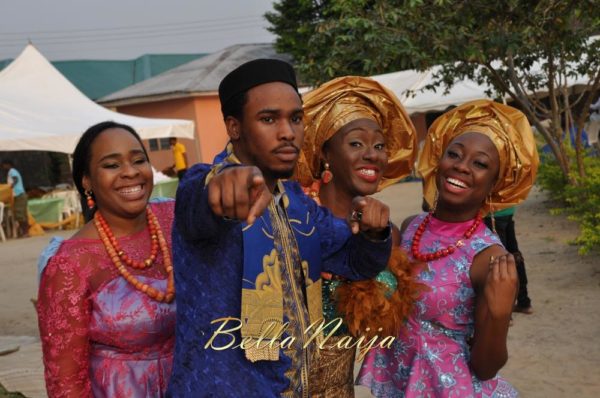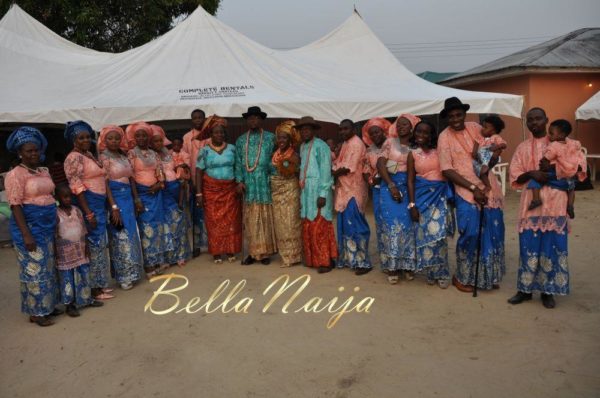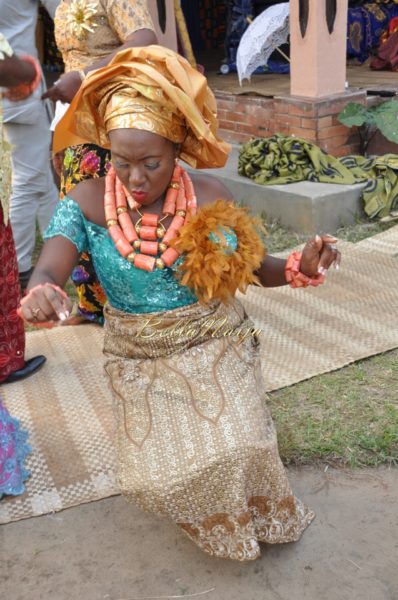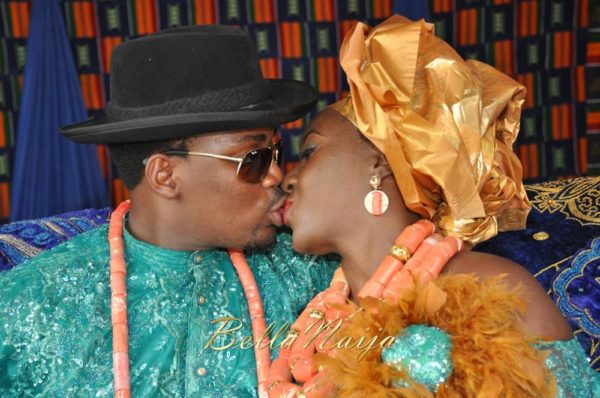 And that's how I married the love of my life!
xxx,
Berry
Photography
Proposal Photos: Jeffrey Olalekan Photography
Pre-Wedding Photos: Eze One Photography
Traditional Wedding Photographer: Pius – 08097317004
White Wedding Photographer: Demilade Olubanwo – demiolubanwo (at) gmail.com | instagram.com/thatdudedemi
Wedding Details
Wedding Colours
Traditional Wedding: Blue and Gold
White Wedding: Classic Black and White
Wedding Dates
Bride Price Presentation: December 20, 2013
Traditional Wedding: December 21, 2013
White Wedding: December 27, 2013
Wedding Venues
Traditional Wedding: DC'Kra Villa (bride's father's home) in Kono, Ogoniland, Rivers State
White Wedding: Eko Tourist Beach Resort, Ibeju-Lekki, Lagos State
Wedding Attire
Bouquet: DIY by Bride
Makeup: Uyi for House of Tara (Traditional) and Tosin (White)
Bride's Hair: Omozo of O'Naturals Salon – 08188024444
Groom's Suit: David Wej
Bride's Wedding Dress: A Formal Occasion, Atlanta – +17705915424
Vendors
Wedding Cakes: by the groom! Cake Factory by K's Craft, 08033118995/08094263869, www.cakesiena.blogspot.com, @cakesiena (IG and Twitter), BBM: 7BFA5705
Wedding Planner: Bride's Mum and Sister for L'Egant by L.A.M. Atlanta
White Wedding Decor: Bride's sister for L'Egant by L.A.M (Atlanta – +16174168360) and groom's sister for Total Satisfaction (Calabar – 08037270555)
MC: Seun P – 08184809598
Food and Drinks: Eko Tourist Beach Resort – 07026902732
Traditional Decor: David's Staff – 08033015754
Cocktails: Scubed – 08125556534 or 08103597342
Traditional Outfits: House of O'lari (Outfits 1 – 4; PH – 08037882033) and Mrs Gloria 5th outfit; Lagos – 08178864060
Small Chops: Pastry Land – 08033077024
Videography: Video Events – 07030433010
DJ: S. Audio – 08189022649
Band: Godbless and the Eboni Band – 08033077641
________________________________________________________________________________
We love weddings as much as you do – get in touch for inquiries, inspiration & more!
E-mail: weddings (at) bellanaija.com | E-mail for #AsoEbiBella: asoebibella (at) gmail.com