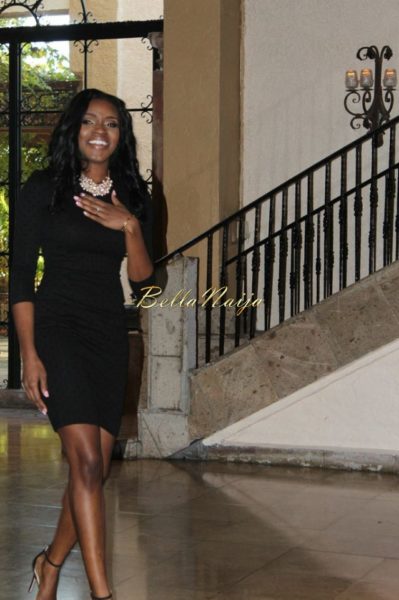 What do you get when the bride's sister is a design consultant for decorator extraordinaire Preston Bailey? A regal bridal shower perfect for a princess! Bride to be Sonume looked so contemporary chic in an LBD while her friends and sisters wore white at her BN Bridal Shower.
Hear from her sister and planner Deinte –
"Bride to be Sonume is obsessed with everything romantic … candle lit dinners, dreamy fairytales and happy every afters. So her surprise bridal shower had to be a fusion of just that – a royal champagne and wine affair. And nothing screams romance to me more than the exquisite age of the Renaissance, so we held the event at a vintage Spanish location complete with courtyards, arched gateways and of course, lots of candles. We went with a classic black, white and gold color scheme and had family and friends arrive in white dresses. It was an evening of stuffed peppers, fun games, marriage advice and toasts to the bride. Sonume had a blast!"
BellaNaija Weddings will bring you the wedding photos soon – till then, enjoy and be inspired!
***
Planner: Deinte Dan-Princewill for A Royal Toast, based in Houston, TX.
________________________________________________________________________________
We love weddings as much as you do – get in touch for inquiries, inspiration & more!
E-mail: weddings (at) bellanaija.com | E-mail for #AsoEbiBella: asoebibella (at) gmail.com