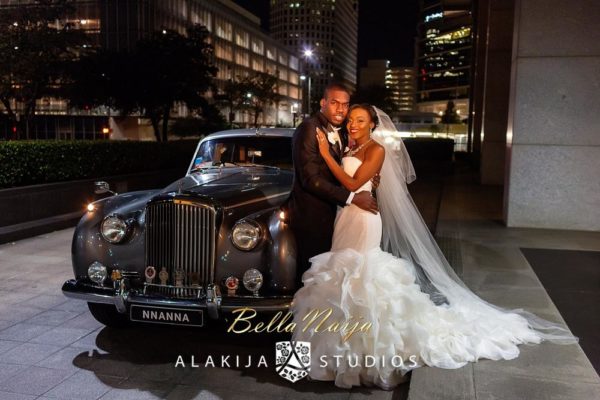 He was 21. She was 19. Obi Nnanna spotted Sonume Dan-Princewill at a mixer and he knew it was 'Game Over' at that very moment.
He walked straight past her 5 girlfriends to her and asked for a dance. After a night of more talking than dancing, he was so nervous that he saved her number wrong – twice! – then had to run back to the party in each time to get it. He said it was because he had a new phone, but it was the nerves of someone who Knew it was the beginning of something amazing with a special young woman – one that would later become his wife.
A month after getting to know each other Obi asked Sonume to be his girlfriend and although she was a bit hesitant – she felt too young, she took the leap. From there, their love blossomed and they haven't looked back since.
The groom Obi proposed on the 2007th day of knowing his beautiful bride – as they met in 2007. Their story and wedding was filled with so many touching moments – you might shed a tear or two.
***
How We Met
Here's the beautiful video that played at Sonume & Obi's reception describing how they met. You'll blush at the groom's description of 'the day, the hour and the moment' he met the bride as well as his description of her. See the bride's attempts to "step", the couple elegantly dancing – her form is immaculate!, he's right, she's athletic! – and more. Too too cute!
Feel free to see more on their beautiful wedding website as well, but note the photos etc. should not be shared: www.sonumeandobi.com
Pre-Wedding Photos: Alakija Studios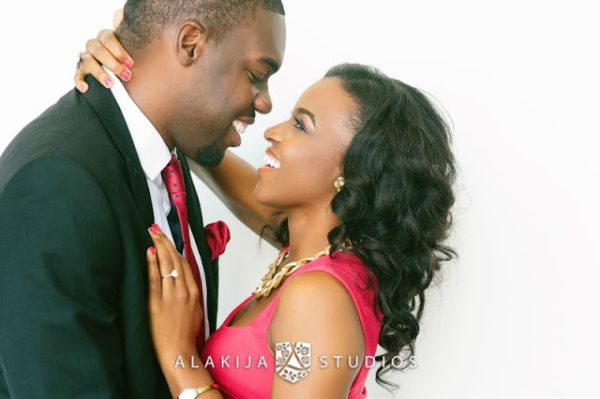 My Proposal Story
by the groom, Obi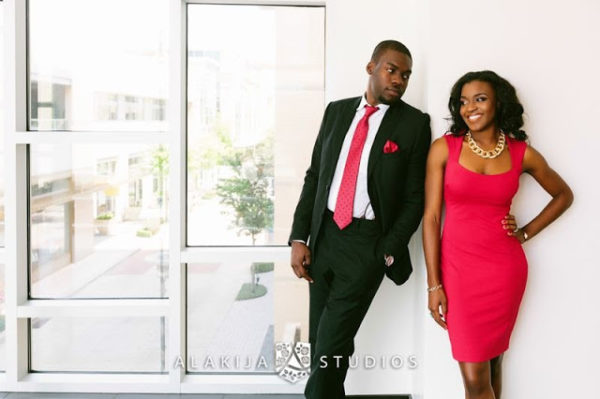 Where do I begin? I guess I could start from the moment I had the jeweler make her exquisite diamond ring, or from the moment I asked her 4 sisters & brother for her hand in marriage. Or the awkward phone call I had when I brought the topic up with her father, or from the moment I hinted to her mother and she fought back tears as her eyes were filled with emotions, possibilities and thoughts of what was next to come.
But I think it is most fitting to start from the moment I purchased our tickets in the summer of 2012. My proposal story spans across 4 countries and 2 continents in the span of 12 days so buckle up, adjust your seats upright and please bear with me, as I'll try to make it short.
The Original Plan
Just before I purchased our tickets I requested that Sonume accompany me to Biarritz in the South of France for an Oil & Gas conference (I'm a petroleum engineer), but the moment that slipped out of my mouth she said how about we go to London first to attend one of her best friends older brother's wedding, visit her cousins, aunts, uncles, friends, colleagues, hair dresser, former driver, painter etc etc lool. She was ready to make this a mini summer vacation as you can see, but I obliged and went with the new plans.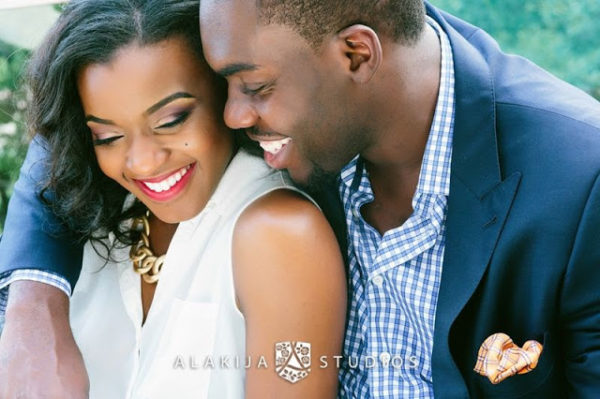 Arrival in London
When we got to London we visited with her cousins & aunt (the Owen-Amadsuns) in London and even though I was just meeting them for the first time it felt just like home. The next day we attended a very beautiful wedding in central London where I had way too much fun thanks to Mr. & Mrs. Kamaru and Simi Alofoje (Happy 1st Anniversary guys!). During an awesome family barbecue I told one of the cousins I intended on proposing when we got to Biarritz & then came the waterworks. Luckily we walked away where she was able to gather herself together before Sonume got wind. I don't like to call names but if I did like name-calling, her name would be – Ivie Butcher lol
I should mention on the entire flight from Houston to London I did not sleep a second as I had a diamond ring to protect with my life tucked in between my socks which was sitting in my size 16 loafers in my carryon luggage.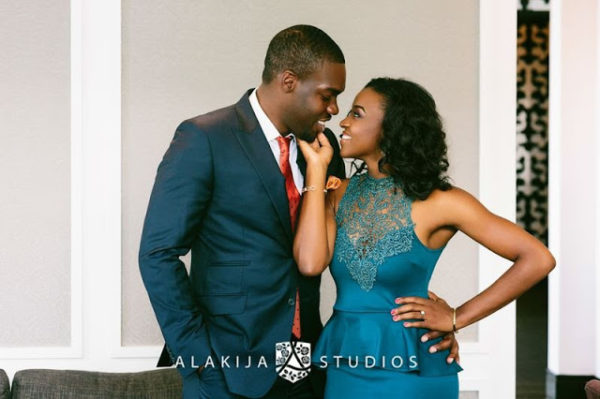 Ooops…
Fast-forward, we're on the flight to Biarritz and yes the ring was still safe in my fort knocks of hiding places, although going through security at Stansted airport in London was a bit tricky, Sonume kept on asking me what I and the security guy were talking/almost arguing about in a very low voice lol he almost exposed the ring and could have destroyed the entire plan. Luckily he didn't & I contained the situation like any experienced CIA spy would do lol
We arrived in Biarritz safe and sound. When it was almost time for a great dinner by the beach with Sonume and my buddy Obi and his girlfriend (Travel buddies for life lol), Obi kept on looking at me at dinner trying to figure out if I was going to propose that evening. I wasn't!
Now apart from my parents, Sonume's parents & siblings & cousin Ivie, Obi was the only other human that was privy to what was about to happen in Biarritz! But seeing him nervous for me was kind of funny and bit relaxing. The time just wasn't quite right for me to propose and I knew it.
Back in America, the sisters Deinte, Daniba, & Sonate were super hyped, and must have Facebook-ed me every day simply saying "has it happened?" but I kept them waiting and didn't reply just yet. lol
September 12th
Ahhhh!!!!!! On Wednesday September 12th 2012, never had a morning felt so right & never had the previous night's sleep been so sweet. I took a shower and boy was I looking clean & ready to go – white shirt, blue jeans, had my sports coat & my pocket square to match and if you know me at all you would know boy was I in my element!!! Put my shoes on and ring in box placed it right there, in my socks. Sonume kept on asking me, why are you dressed up? I replied, because "I look clean, I stay fresh!! Don't worry about it!" lol
Impromptu Trip
We went down for brunch where I suggested that we take a train to San Sabastain, in the South of Spain for dinner and see the sights. She said can we go tomorrow? I said no, she said why? I said because today is good day to go. She gives me a weird look like "what's wrong with this Igbo boy now?". I gave her a weird look like oh Kalabari/Benin/Jamaican (too much culture) girl just go with it. At this point, no words are being said, we were just speaking with our eyes, finally our eyes came to an agreement – we can go as long as we shop a little lol.
San Sabastian, South of Spain
Finally we made it to beautiful San Sabastian after going back and forth as Sonume was trying to get me to see that I was being difficult, forcing the trip with no obvious reason in sight. If she only knew what was about to follow, and how her life was about to change she probably would have been a bit more receptive.
After a little shopping we headed to a little beach side restaurant called Bide Bide. After ordering some food and drinks, I couldn't take in anymore, I could hear my own heart beat at this point. I was going to wait till desert but I skipped that, jumped the gun and was just the right amount of inpatient & nervous. Then I looked at her dead in the eyes and I think in the most intense way ever & if you know me I can be intense sometimes when I'm discussing things of great importance to me.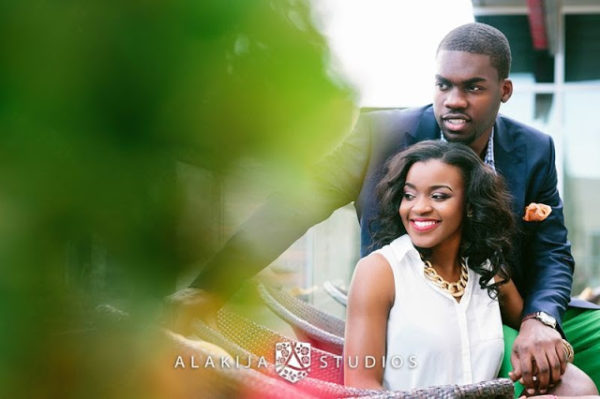 The 2007th Day
Then I told her these exact words "You are everything I want in a woman, wife & mother for my children, You mean the world to me and I love you more than words can fully explain", and Numz replied, "aww I love you too babe," and I said "no listen to me please, I love you more & more everyday and I want you to know that. I met you in the spring of 2007 and my life has never been the same. On this 2007th day of knowing you, I want you to know this has been the ride of my life." She freaked out for a second and said "omg, wait are you about to…" I said, hold on babe!
I got up, went down on one knee, took her hand and said Sonume Adesuwa Dan-Princewill, I have talked to your father and mother, your sisters and brother and I would like to know if you would do me the honor of being my wife? "Will you marry me?" Then came the water works, and I said I need an answer…
She said, YES!!!
I smiled. People in the restaurant started clapping, taking pictures, and my heart rate finally normalized, we hugged, kissed & she said "oh my gosh babe we're engaged??!!" Lool and I replied, yep goodbye boyfriend/girlfriend.
It has been a great 5.5 years, hello fiancé … now hello wife! ☺"
***
… now That's a love story!
Before the fabulous wedding photos – a gorgeous white wedding and Kalabari traditional in Houston, Texas, here's wedding advice from the couple –
"Don't let planning consume you. Make a conscious effort to enjoy the entire process no matter what. Make sure you enjoy your wedding….from beginning to end. Take mental snap shots of key moments. But most importantly, even though it sounds cliché, the best advice we can give is keep God at the center of it all."
For BN bride-to-bes, see Sonume's bridal shower HERE.
BellaNaija Weddings wishes Sonume and Obi a life and marriage filled with joy and blessings.
White Wedding
~ Photography: Alakija Studios
Traditional Wedding
~ Photography: The Villagio, Houston, Texas
Check out the groom's entrance to Limpopo by KCee – it was EPIC!

Photography
Pre-Wedding & Wedding Photography: Alakija Studios | instagram.com/alakijastudios
Traditional Wedding Photography: The Villagio
Wedding Info
Traditional Wedding Date: November 27, 2013
White Wedding Date: November 29, 2013
Traditional Colours: Fuchsia and Teal
White Colours: Olive Green and Blush
Traditional Wedding Venue: The Villagio
White Wedding Venue: The Petroleum Club of Houston
Wedding Attire
Wedding Dress: Simone Carvalli
Groom's Suit: Custom
Bride's Makeup for Both: Lyzadora | instagram.com/lyzadora
Aso Ebi: Kemiland Fabrics, Houston, Texas
Vendors
Wedding Planner: Events by Doyin | instagram.com/eventsbydoyin
Wedding Cake: Edet Okon Cakes
Traditional Wedding Decor: The Villagio
White Wedding Decor: Flora Eventi
Food: Sade Abimbola Otugbaga  – (832) 659 4340
________________________________________________________________________________
We love weddings as much as you do – get in touch for inquiries, inspiration & more!
E-mail: weddings (at) bellanaija.com | E-mail for #AsoEbiBella: asoebibella (at) gmail.com