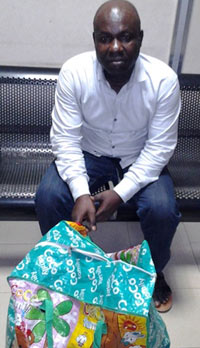 A 51-year-old Nigerian man who was allegedly attempting to smuggle 3.870kg of suspected Methamphetamine to Nairobi, Kenya, was arrested at Murtala Muhammed International Airport by the NDLEA (National Drug Law Enforcement Agency).
The suspect, Odeyemi Ademola Ayodeji, was arrested during outward security screening of passengers on a Kenyan Airways flight, Vanguard reports.
The drug was reportedly found in Ayodeji's luggage, wrapped in a white transparent polythene bag, which  also contained food ingredients like pepper, crayfish, and melon.
During investigations, Ayodeji reportedly revealed that he had attempted to smuggle the drugs due to financial hardship.
"I am owing people. I couldn't sleep because of debts.  I have two wives. But the first one left to live with her parents because of  my condition.
I would have made a profit of $15,000 (N2.4 million)  had I succeeded in selling the drug in Nairobi. I intended paying my debts and start a business with the  money realised," he said.
Photo Credit: Vanguard