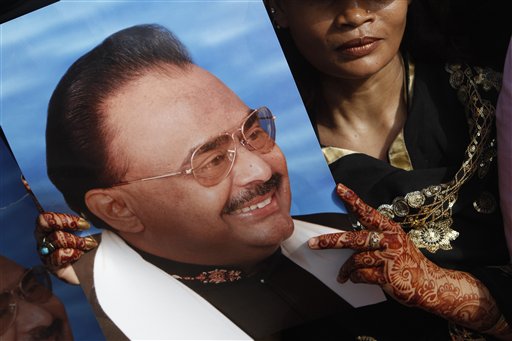 KARACHI, Pakistan (AP) — British police arrested one of Pakistan's most well-known and divisive politicians Tuesday on suspicion of money-laundering, sparking fears of violence in his power base of Karachi where businesses closed early and residents rushed home.
Police in Britain do not name suspects until they are charged. But when asked about Altaf Hussain, the Metropolitan Police said a 60-year-old man had been detained Tuesday morning at a residence in northwest London. An official with his Muttahida Qaumi Movement in Karachi, Faisal Subzwari, confirmed the arrest.
Hussain, who is 60, heads the Muttahida Qaumi Movement, or MQM, one of Pakistan's major political parties that often has been accused by opponents of using violence to bolster its power.
He has lived in self-imposed exile in Britain since 1992 but regularly addresses large gatherings in Pakistan by telephone. He is known for stirring speeches that can whip his followers into a frenzy.
Hussain's arrest sent shockwaves through Karachi, Pakistan's largest city. The teeming metropolis, a port city of more than 18 million people, is vital to the country's economy, and any blowback fromHussain's arrest could have serious repercussions for Pakistan as a whole.
Immediately after news of his arrest aired on television, residents started shuttering their businesses and going home, fearful of possible violence.
Photo Credit: AP
Story Credit: Rebecca Santana for AP