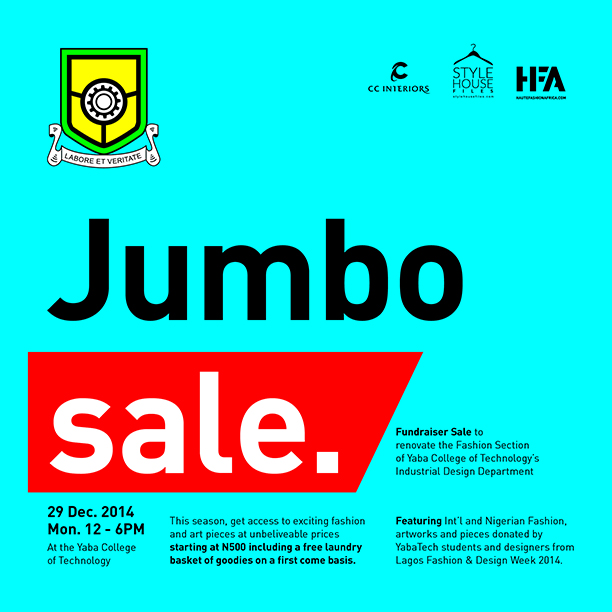 In the spirit of giving, as Yaba College of Technology's Fashion Design Section celebrates its 50th Anniversary … its space, professors and their knowledge.
Style House Files & www.HauTeFashionAfrica.com in Collaboration with Interior Designers Association of Nigerian (IDAN) Member – CC Interiors are hosting a fundraiser Sale with items selling as low as N500 … featuring international & Nigeria Fashion, Artworks and pieces donated by students of the Yaba College of Technology, Amazing Friends and Supporters, Designers from Lagos Fashion & Design Week 2014, Garment Care & the Stylist Closet of www.theStyleHQ.com to name a few.
Come out and give back in style by shopping brands such as Burberry to Zizi Cardow in great condition and unbelievable prices!
HOW CAN YOU HELP?
– Monetary Donation (any amount)
– Clothing, Accessories and Art Donations: lightly used and new to sell at the JUMBO SALE happening on Monday, 29th of December at YabaTech – 100% of the proceeds from this sale will go towards the renovation funds.
– Attend & shop at the Jumbo Sale!
Please email: [email protected] for more information.