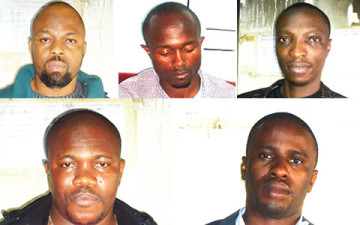 A 28-year-old graduate of Economics, Nonso Akubueze, has been arrested by the National Drug Law Enforcement Agency for alleged drug trafficking.
Nonso Akubueze and four other suspects – Simon Omoluonye, Obidike Onodyer, Friday Onyeabor and Emma Ifoh – were apprehended at the Murtala Muhammed International Airport, Lagos, with 11.5 kilogrammes of cocaine substances valued at N57m.
According to Punch Newspaper, the drugs were smuggled into the country from Brazil.
Nonso had 1.1Kg of cocaine hidden in his luggage and according to him he had left Nigeria for
Brazil with the hope of getting a good job.
He stated that "I am a 2009 graduate of Economics but I have no job. I left Nigeria in search of job opportunities. My condition of living in Brazil was worse than when I was in Nigeria. It was my friend that gave me the bag containing the drug."
Simon Omeluonye, 28, said he was to be paid N1m for the mission, adding that he had intended to use the proceed to start a business and further his education.
Forty-year-old Obidike Onodyer, told NDLEA investigators that he was paid N200,000 for the 11 wraps of cocaine he ingested. He said: 'Unfortunately, I could only swallow 11 wraps so I was paid N200,000."
The commander at the MMIA, Hamza Umar, said the seized drug comprised white and crack cocaine concealed in tins, among others. He said "Different methods were adopted in concealing the drug. One of the suspects, Omoluonye, was caught with both white and crack cocaine in tins weighing 7.8kg. Akubueze had 1.1kg by the side of his luggage while Onodyer ingested 11 wraps of cocaine weighing 0.5 grammes. Onyeabor was found with 74 wraps weighing 1.3kg and Ifoh was caught with 34 wraps weighing 0.7 grammes. Apart from Onyeabor, who hails from Enugu State, the four other suspects are from Anambra State."
The Chairman of the NDLEA, Ahmadu Giade, called on members of the public to shun drug trafficking and engage in legitimate business ventures.