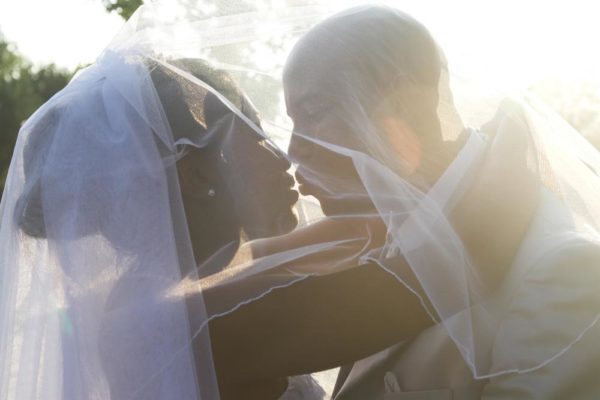 The truth artfully tucked away in the mind, many times radiates out of the face; and in an unguarded moment, the mouth could unearth it at the most inappropriate time.
A wedding ceremony is one such environments which can tick off such scenarios, because of the superfluity of emotions which may tug, vigorously, at the hearts of some of the people present.
So, as the bride is walking down the aisle, toward her groom, memories get shuffled. As the vows are being exchanged, the future gets fabricated based on the past. Then, the mouth could openly scoff at those making the pledges.
Such is the conclusion of many interviewers. Such, also, was my recent experience at a wedding.
The venue was posh. There was an air of competition, as everyone, including the guys, strove to outdo each other's fashion sense. You could smell the crispness of wealth everywhere you turned your nose. The car park had so much luxury that could qualify the venue as unsafe. But the litter of hunks all over the place doused a damsel's fear.
The pianist announced the bride's entry, and the congregation stood up. Her train prepared the way for her and she came in, guided gently by her grey-haired, yet sexy, father.
She was a beautiful bride. Her dress was a masterpiece and she walked on, looking straight ahead, with her eyes fixated on her groom.
He also had his eyes fixated on her and it seemed like the two were communicating with their hearts and eyes.
In that moment, the aura of that perceived excellent love enveloped me and romance became a desire again.
Then someone hissed. And another said, "Such great acting". And that brought to the fore the fact that everyone had some inner analysis going on and obviously, it was variant.
So, I wanted to know the true story. And most importantly, I wanted to know what was carefully concealed behind the pleasant exteriors of some attendees.
Scanning through the hall, identifying good sport was somewhat not difficult. Their inward sentiments seeped out of their faces and body language, and I made a mental note of the people to befriend.
Quicker than expected, time for the reception party arrived.
The reception hall was even more magnificent, and the cars got even better – except for one Baby Boy which stood out. As the day wore on, makeup got bolder. Skirts became shorter and tighter. Agbadas were taken off, shedding off years and power. Alcoholic drinks were unleashed into the hall, then everyone put off the show and I began my interview.
My first interviewee spoke cautiously, at first. She claimed to be happy for the couple but later added with a there-I-said-it attitude, "…I just hope she will stop receiving care from her father's friends and be contented with what he gives to her".
Looking across the hall, I wondered if what she meant was what I thought, but she wouldn't say more. My suspicion fell on a few likely men. Then later, I caught one looking intently at the bride's derriere, while she was swinging to the beats of the music.
My second interviewee towed the same line as the first. She spoke generally for some time, then added, "…I bet she doesn't know they beat women in that family. His dad still beats his mom till tomorrow and all the men take after him. Let's hope he'll be different."
A quick scan of her skin confirmed my suspicion. So, I made a few purposeful comments and she opened up about her marriage to the grooms' older brother.
I danced a little, downed a few glasses of whatever was in those glasses, gave a few guys the luxury of practicing their toasting skills, before, cornering the bride's sister.
We had a long and meaningless aaawww, so-cute and mushy moment, before I sprang my curiosity up on her.
"…you know, you can't tell someone not to get married. You have to allow them to enter in and see for themselves what is there. Then when they realise that marriage is hard work and dragging themselves to the altar makes it even harder, their eyes will clear." She had started.
"…to be honest with you, there's nothing to be happy about here. Those vows were a bunch of lies. My husband looked me straight in the eye to repeat those same vows, after consummating his long time affair with his high school sweetheart, a few nights earlier during his bachelor's eve. So, I don't believe jack of what either of them said."
I looked at her wide-eyed. She saw my shock and refrained from saying more.
Then I spoke with a rather generous elderly woman, who said, "…why a young woman will choose to marry a man who, obviously, cannot give her the kind of life she is used to, still beats me. And why her parents will allow it, beats me more. But someone said they allowed it, just to keep her grounded. They say the old man is tired of fighting with his mates".
"What if, it's because she loves him", I offered.
"Which love? Mention something more solid, young lady", she had countered.
Along the line, I was shown an ex-boyfriend who is still hopeful of a re-union and a cougar who doesn't mind taking the young couple "under her wings".
And when my ears were full, I sat imagining what the quality of the new journey will be like…if the reports were true.
Or, what such revelation, at such an inappropriate timing, could set off, even if what was said was a product of personal truths or envy or alcohol.
But even as I thought and imagined, the picture of that bride, walking down the aisle, with her eyes fixated on her groom spoke loudly to me. And I finally heard the wordless conversation which ensued between the bride and the groom, as she walked down the aisle toward him. I guess they were saying,
"Damn the past. Damn their thoughts. You are my present and future. So, Help me God."
Photo Credit: Dreamstime | Carla Booysen