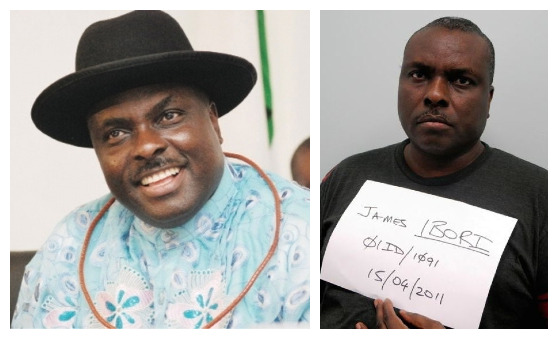 An exclusive news story which originated from TheNEWS magazine trended yesterday.
The report said
Former governor of Delta State, James Onanefe Ibori has completed his prison terms in the United Kingdom. But he is yet to be a free man, as he was immediately re-arrested.

TheNEWS learnt that Ibori jailed 13 years in April 2012 by a Southwark Crown court in London was released by prison authorities on 22 January.

He was released from Her Majesty's Prison in Bedford, outside of London, where he finished his prison term. He was also initially at the Long Lartin Prison in Worcestershire.

"He is out of here", a prison source at Bedford confirmed on Tuesday night.

Our sources said Ibori was re-arrested to face another charge, which borders on the confiscation of his ill-gotten assets, estimated to be about 250 million pounds. The case initially billed for May, will now come up in June, sources told us this afternoon.

We cannot however confirm Ibori's new prison.
Today, kinsman and Secretary-General, Oghara Clan Union in the UK, Charles Abutoh spoke to the Daily Trust and denied the claims.
Describing the reports as "totally untrue", Abutoh said logically, Ibori could not be released before the completion of his assets confiscation trial scheduled for June this year, and accused those peddling the rumours of mischief.
"If you imprison someone for stealing, you can't let them go without telling you what you say they stole. That is the essence of the confiscation trial. Once the trial is concluded and he is able to settle it, he will be released.
"They know Ibori sells papers, so some people just sit down and write whatever they like", he said, and explained that the former governor is due to be released this year but not before the completion of the confiscation case.
"I visited him in prison about three weeks ago and speak with him every other day", he said, adding that "things are still as they are, and everything is on course".
Former Governor of Delta State, James Ibori was jailed for 13 years in April 2012. Ibori was considered as one of the most influential and wealthy politicians in Nigeria.