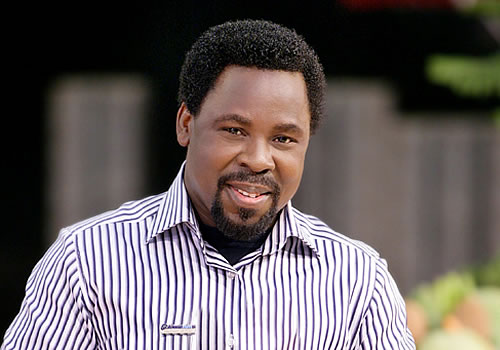 Online news medium, PREMIUM TIMES, which is the only Nigerian medium involved in the investigation of the leaked documents from Panamanian law firm Mossack Fonseca, has released details of an offshore company owned by the founder of the Synagogue Church of All Nations (SCOAN), Prophet T.B Joshua with shares owned by his wife Evelyn.
Read what PREMIUM TIMES wrote about him.
Apart from evangelism, Mr. Joshua is not known to be involved in any other business.

However, files obtained by PREMIUM TIMES from the massive leaked data of a Panamanian law firm, Mossack Fonseca, has now shown that Mr. Joshua and his wife, Evelyn, own Chillon Consultancy Limited, a company incorporated on June 20, 2006 at the British Virgin Island (BVI).

Both owners own one ordinary share each, although the company, with registration number 1033675, is authorized to issue a maximum "50,000 no par value Shares of a single class."

It remains unclear what businesses Mr. Joshua transacted with the shell company which has no physical presence in Tortola, the largest and most inhabited island at the British Virgin Islands.

Chillon Consultancy Limited uses the office address of its registered agent, Mossack Fonseca (Akara Bldg., 24 De Castro Street, Wickhams Cay 1, Road Town, Tortola) as its contact information in the British Virgin Island.

Mr. Joshua did not respond to this newspaper's multiple requests for comments. A person who picked his phone when he was called last week said the he was not available to take calls. He requested our reporter to send an email.

But an email sent to his church's official email address was also not responded to.
Read more on PREMIUM TIMES' website