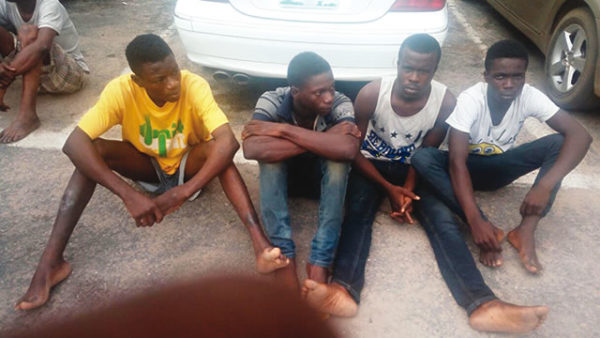 Four teenagers, Michael Loko, 19; Oluwatomi Obosi, 19; Francis Cyprian, 19; and Olatoye Semiu, 18, have been arrested by the Special Anti-Robbery Squad of the Lagos State Police Command for alleged involvement in oil theft and the abduction of two expatriates  in the Epe and Igando areas of the state.
According to PUNCH, the expatriates were kidnapped at different times in July, and undisclosed ransoms were paid for their release.
According to a police source: "The teenagers also assisted oil thieves to carry petrol siphoned from pipelines into the trucks for sale."
This reportedly took place in the Isawo, Ikorodu area of the state.
The leader of the gang, Loko, confessed to the kidnappings, saying that he got N280,000 from the ransom paid for the release of one of the expatriates.
"I was arrested in Epe. I was involved in the kidnapping of an expatriate. My elder brother, Amos, was the one who carried out the operation. My brother and other accomplices were later arrested.

Although I do not know the total amount of money collected as ransom from the expatriate in Epe, I was given a share of N280,000 for my role in the operation. I was into illegal oil deals and also assist pipeline vandals to carry jerrycans of petrol from water to the shore. I earn N1,000 daily," he said.
Cyprian, another suspect said:
Michael and I went to the same secondary school. I was working as a bricklayer, but I decided to quit the job because I earned little money from it. The first day I got involved in carrying stolen petroleum, I earned N1,000.

I was arrested when I visited a woman in the Ikorodu area, who I had saved some of the proceeds of the oil theft with. I wanted to collect N80,000 from her, but I landed in police net.
Speaking to PUNCH, Semiu said: "I learnt tailoring, but after graduation, I was unable to rent a shop. I could not get money to purchase all my tools. So, I joined the gang."
Photo Credit: PUNCH