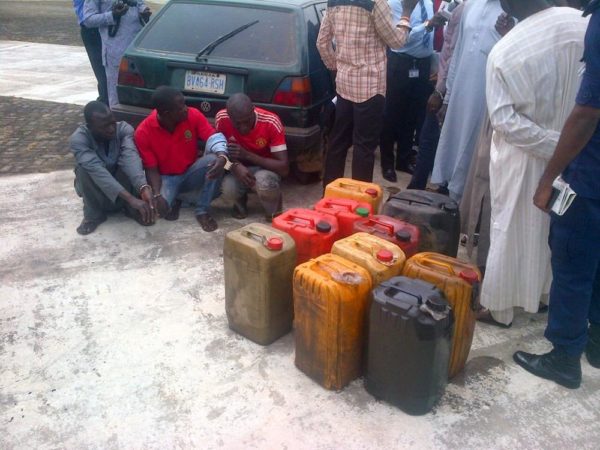 Three suspects were on Tuesday arrested at the National Assembly Complex for allegedly stealing diesel.
According to PUNCH, they were caught with 9 25-litre and 1 50-litre jerrycans containing diesel.
Usman Labaran, a leader of the Joint Monitoring Team of the Complex said that two workers in the complex involved in the crime were arrested and one other person escaped.
He added that a Volkswagen Golf with number plate, Abuja BV 464 RSH, allegedly used for the operation was also impounded.
"We have a joint monitoring team that has been patrolling the National Assembly complex with the police. Today, I was at the Fire Service Station around 4.30am when they (the suspects) drove into the Assembly complex, claiming to be members of staff. I told security operatives not to take any action but allowed them (the suspects) to do what they planned before challenging them," Labaran said.
He said after 15 minutes, he and other security officials challenged the suspects as they were leaving. He said: "I threatened to damage the car if they did not stop. I called on people working with me; I called the police too. A Sergeant-at-Arms and a policeman chased one of them, who ran towards the bush, but they couldn't apprehend him. He escaped. His name is Friday.
He said that he used one of the phones seized from the suspects to call the phone numbers the suspects called shortly before the operation in a bid to lure them to the scene.
"I called one of them. I told him that we were not given the expected supply. He asked if we got 11 jerrycans, I said we got five. We waited for other suspects to arrive, but they did not come," Labaran said.
One of the suspects, Umar Abubakar, said:
This morning, I came to office earlier and I saw people by the first gate of the National Assembly annex. I went to where I used to keep my bag. I saw the place opened. I looked around and didn't see anybody. I saw some jerrycans and I called Ibrahim Shuaibu (another suspect). He told me that he and Friday (the fleeing suspect) needed money. I challenged him for committing such crime and left him to take pap, until I was summoned.
Ibrahim, who claimed to be a worker in the complex also denied involvement, saying that it was committed before he got to work on Tuesday. He also said that Abubakar was aware of the crime.
Ibrahim admitted that he worked with Friday.
Umar Isa, the suspect who drove the car, said:
When we met the policemen at the gate, they asked us where we were going. We told them that we wanted to buy fuel at the filling station. That was about 5AM.

Malam Ibrahim (Shuaibu) had told my younger brother on Thursday that he had some diesel to sell at the National Assembly complex. So, on Friday, we came and he filled 11 jerrycans and we gave him money. Yesterday (Monday), he called us, saying he had more diesel to sell. That was why we came. Each of the jerrycans is N3,500. We gave him N37,000.
The Divisional Police Officer of the National Assembly Complex, CSP Nancy Ajaponna, said: "The National Assembly Complex is wide. As security agents, we are trying our best to keep this place safe and free from crime. One of the suspects is an insider. No crime succeeds without the aid of an insider. We are investigating the matter."
Poto Credit: Twitter/@ogundamisi