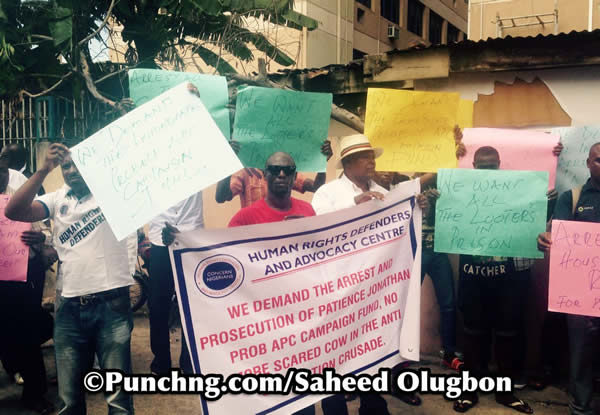 The Economic and Financial Crimes Commission (EFCC) on Wednesday vowed that the wife of ex-President, Patience Jonathan, will never go scot-free if its investigation against her produces evidence that she was involved in any corrupt practices, PUNCH reports.
The EFCC Deputy Director of Operations, Iliyasu Kwarbai, said this after receiving for a civil society organisation: Human Rights Defenders and Advocacy Centre.
The group submitted a statement signed by its president, Queen Ameh, and Chairman of its Board of Trustees, Innocent Agbo, titled: "Demand for arrest, prosecution of Patience Jonathan, probe of APC campaign fund and no more sacred cow in the anti-corruption crusade."
The statement read in part:
You have found evidence incriminating Patience Jonathan but we are surprised that Patience Jonathan is still allowed to be walking freely, and even had the audacity to take the EFCC to court to demand the release of her money to her.

I have been to this same EFCC to bail several people over the issue of N500,000 passing through their accounts innocently. They were invited, they came voluntarily and you people held them. But we have somebody with our money, $15m which is N6bn, walking freely.

We have the issue of Badamasi Babangida; it is open knowledge that $12bn gulf money was missing under his regime, nothing is done; we are aware of Obasanjo and the $16bn power funds, you people are not investigating it; we are aware of the petition against Amaechi to the EFCC; we are aware that the APC did not get the funds for its election campaign from only Buhari's account. We are aware that you are probing the Peoples Democratic Party, why are you not probing the APC?
The group also said the EFCC should change its slogan from 'Nobody is above the law'.
They demanded the probe of ex leaders, Abdulsalami Abubakar and Goodluck Jonathan,  the national leader of the APC, Bola Tinubu, and ex-Rivers State Governor, Rotimi Amaechi.
Responding, Kwarbai said:
Let me tell you, there is no sacred cow; anybody who is found wanting, who involves himself or herself in corrupt practices will not be spared. I have received your petition, it is here and what do we do? We go into investigation immediately. Now we have seen the name of Patience Jonathan; it is here. If she is found wanting, she will never go scot-free. So also any other person no matter how highly placed he is.

We must sanitise our country and provide a very good environment that people can come and invest in; an economy that is devoid of any economic and financial crime. So, we are happy to see you here; we have received it and we are going to go into action. I am going to inform my chairman that you were here and that we'll commence investigation immediately.
Photo Credit: Saheed Olugbon/PUNCH