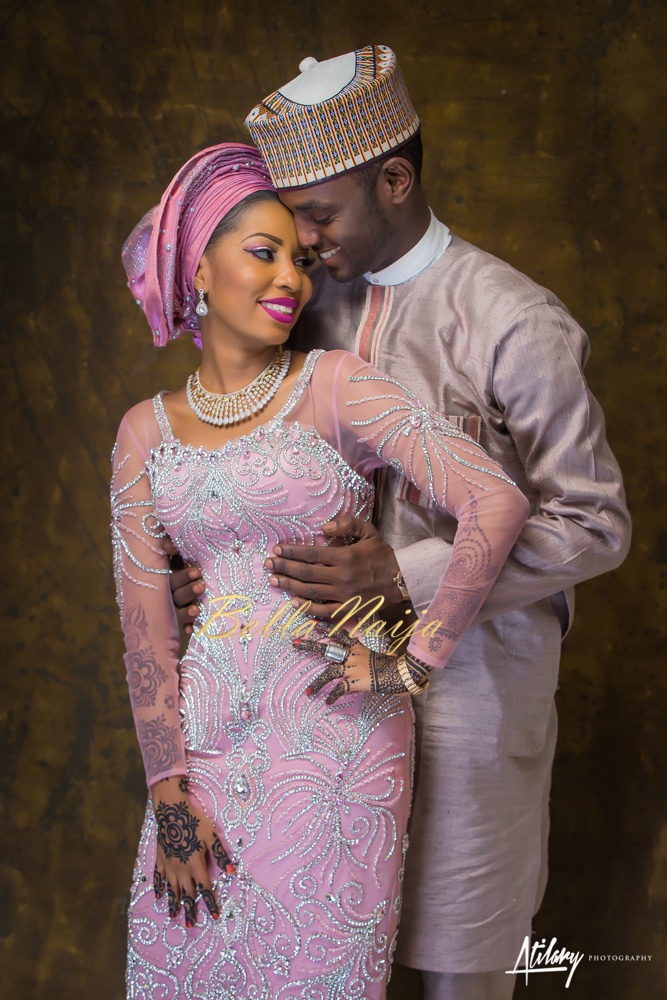 BellaNaija Weddings had featured Muhammed Buhari and Asmau Garo's spectacular fairy tale Northern wedding and sword crossing ceremony in a 4 part video showcasing the ambience & culture of the north, see here.
Now, enjoy the rest of their grand wedding. We wish the couple a blessed and beautiful home.
Walking down the aisle was so magical for both of us, because being Muslims & Fulani, the bride doesn't walk down the aisle with her father but with her husband by her side. I had not seen the event place or decor prior to the time either but it was everything we ever wanted!

It was indeed a fairytale moment; walking down the aisle, in the dress I wanted, the man of my dreams, our song (which we had also picked out) playing, and in the most beautiful hall ever!
~ Pre-Wedding: Photography by Geroge Okoro
How We Met: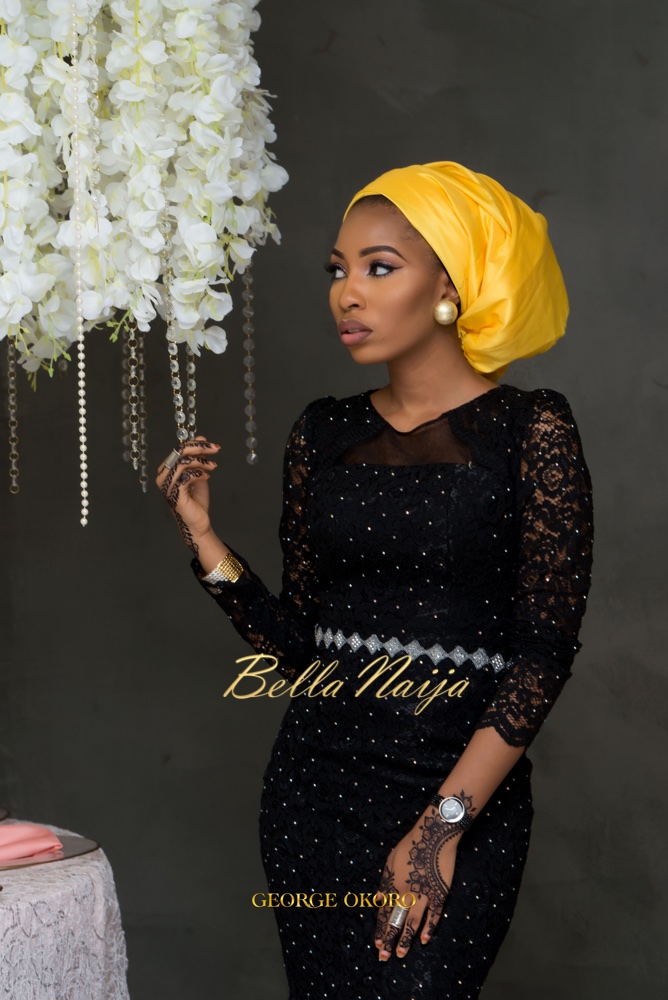 From the Bride, Asmau
Muhammed and I are family friends so we have known eachother for quite a while.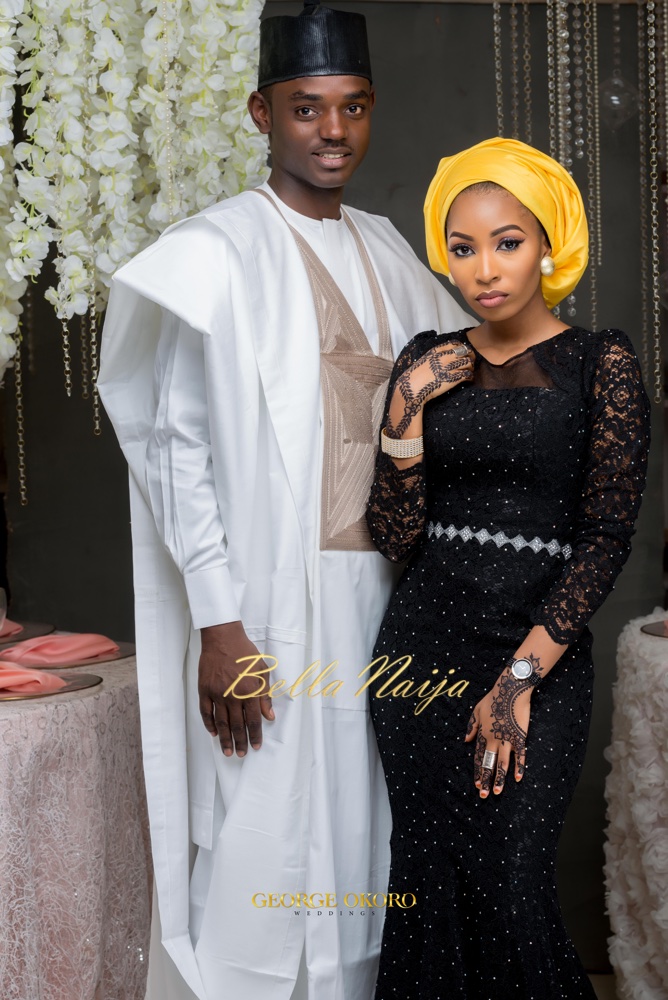 We always had that sisterly/brotherly kind of 'like' for each other, but apparently, because of the seven years age gap between us, we never considered the other as a potential partner.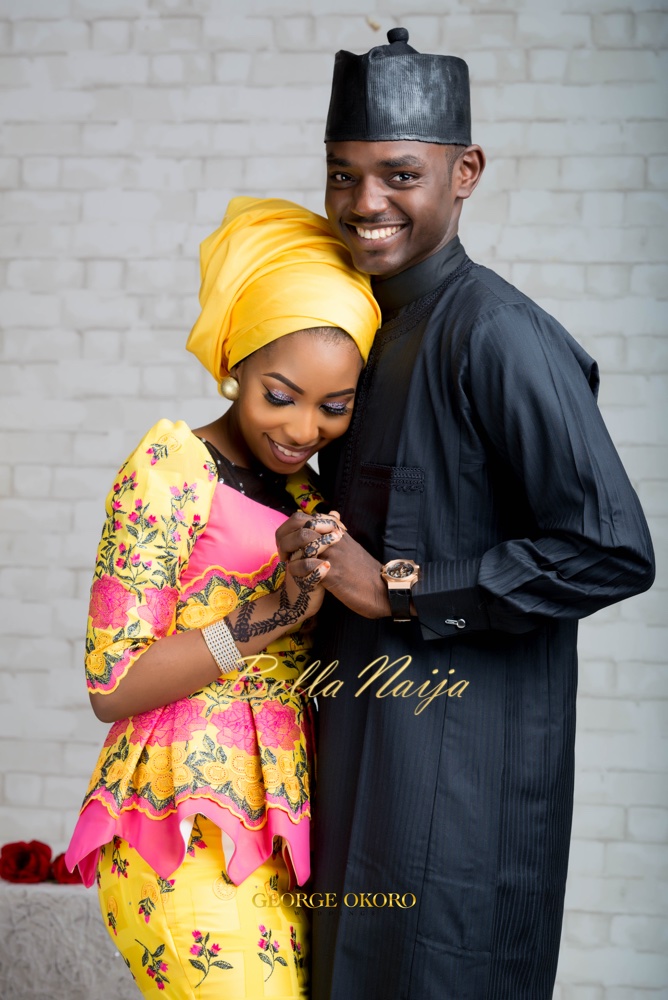 He always saw me as a little sister, and I saw him as a big brother;  but the hot kind that you crush on lol. Years later, I grew into a babe and long story short, the sisterly/brotherly like turned into love!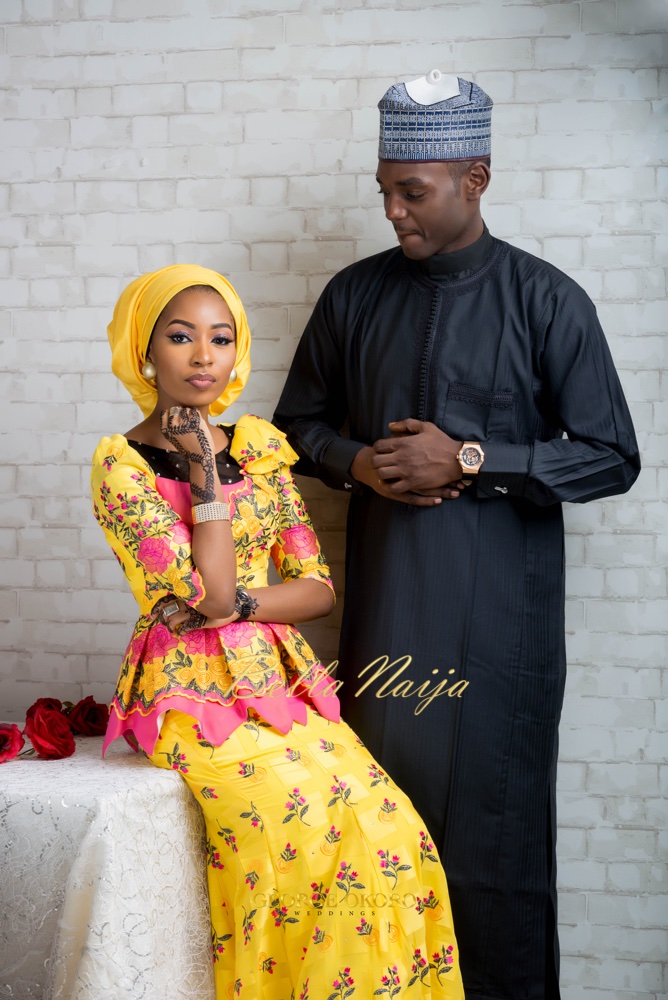 The Proposal
The proposal was made over the phone. I was in Dubai then, and he was in Nigeria, he couldn't wait for me to come back as I kept on postponing my return.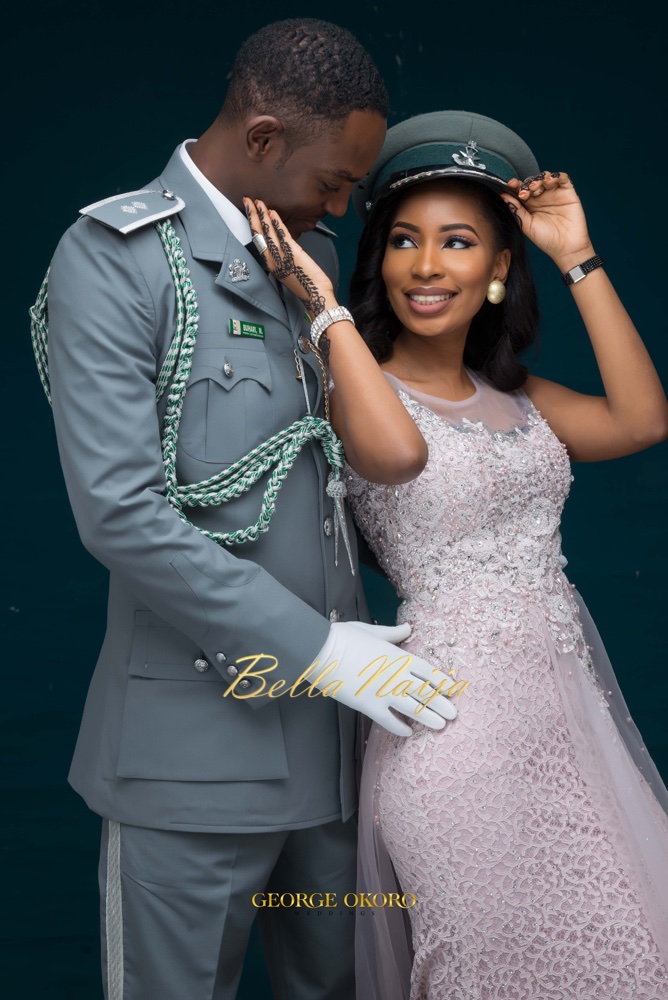 He really wanted to know my answer, so he asked over the phone and to be honest, I saw it coming, so I had kept my 'yes'  in a safe place hehe!
Now we are happily married, Alhamdulillah!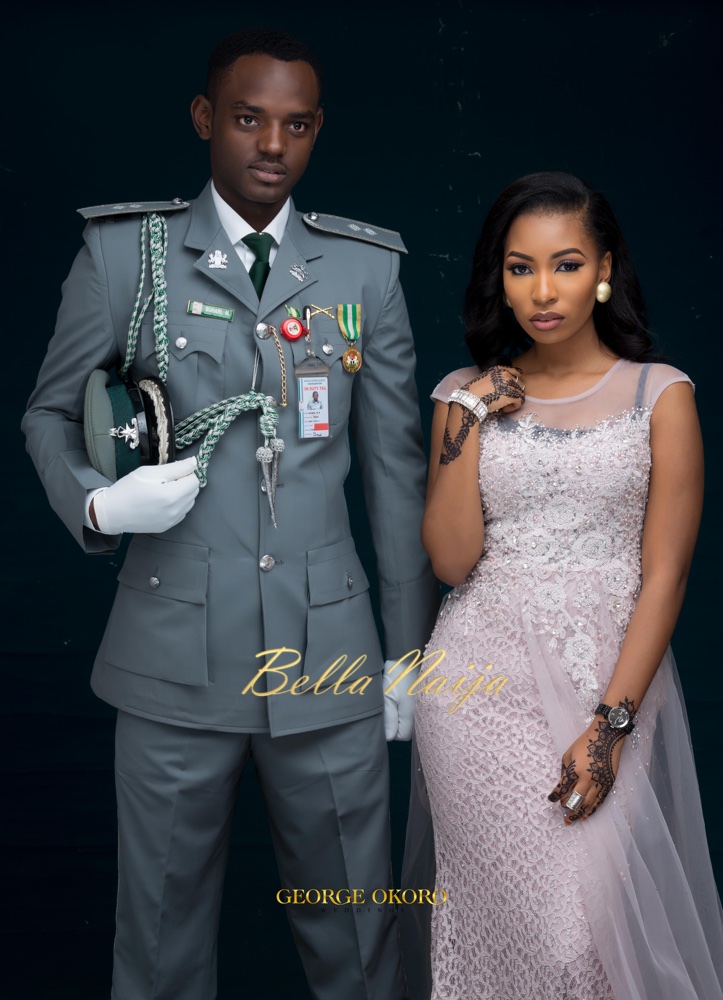 Advice to Other Couples
Yes, pre-marriage counselling won't be a bad idea, although you should make sure you know who you are marrying for yourself. Marriage is not just a fancy wedding, it's a lifetime commitment, and you have to make sure the only reason you are doing it, is because you whole-heartedly love and fully accept your partner.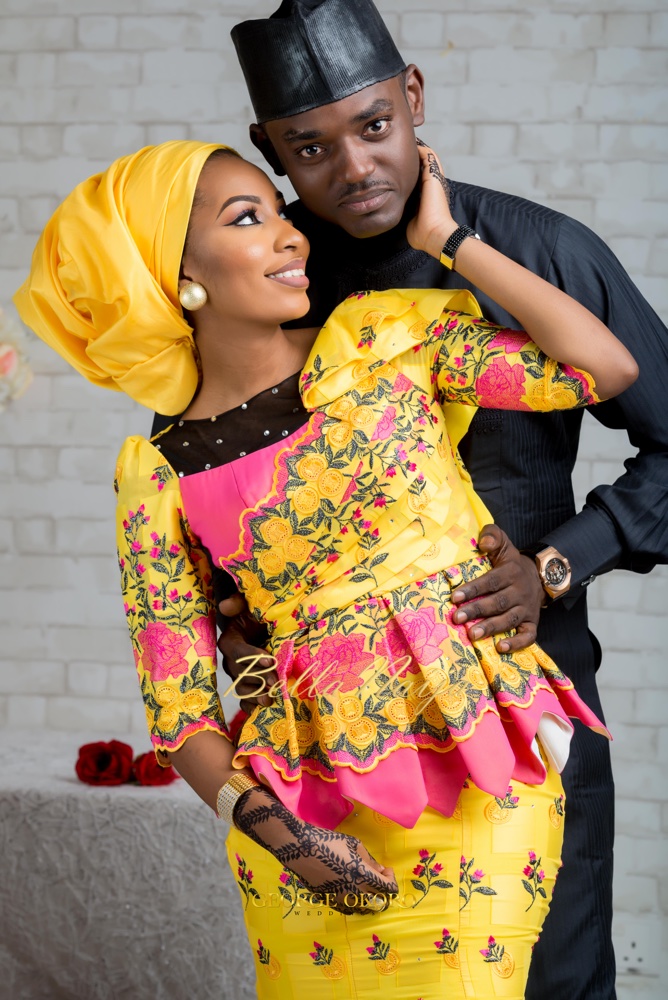 Keep in mind; it's for better for worse and also to the brides-to-be, make sure you plan ahead of time, last minute plans will stress you out or almost ruin your big day. Better yet get a wedding planner, a bride should be stress-free at all times.
~ Traditional Kamu: Photography by Atilary Studio
For the traditional ceremony called Kamu, the colour theme was gold with a touch of red. I wanted to wear something traditional but very elegant, with a perfect fit so I gave Deola Sagoe my fabric to create a luxurious twist to her signature "Komole" outfit.
The Kamu venue which was the Meena Event Centre in Kano was decorated in a traditional way; the food was traditional, even the entertainment and performers were all tradition to the North.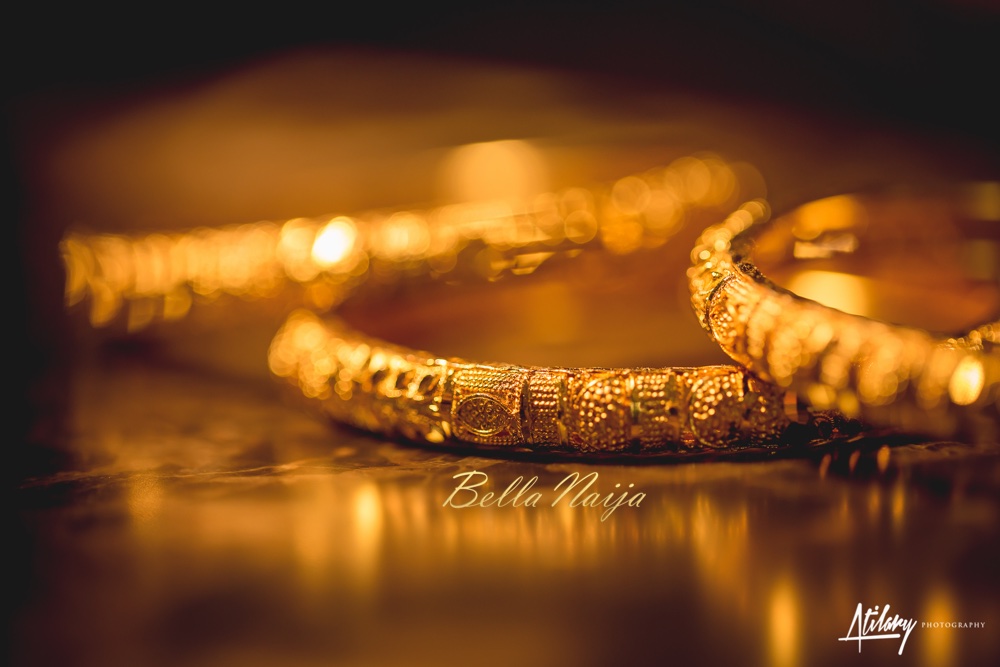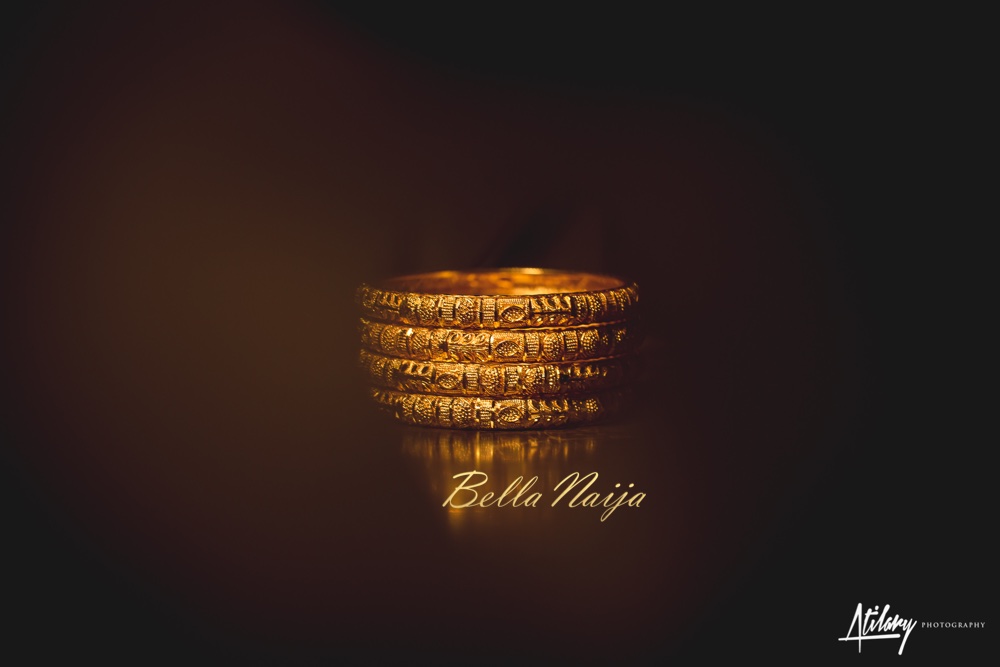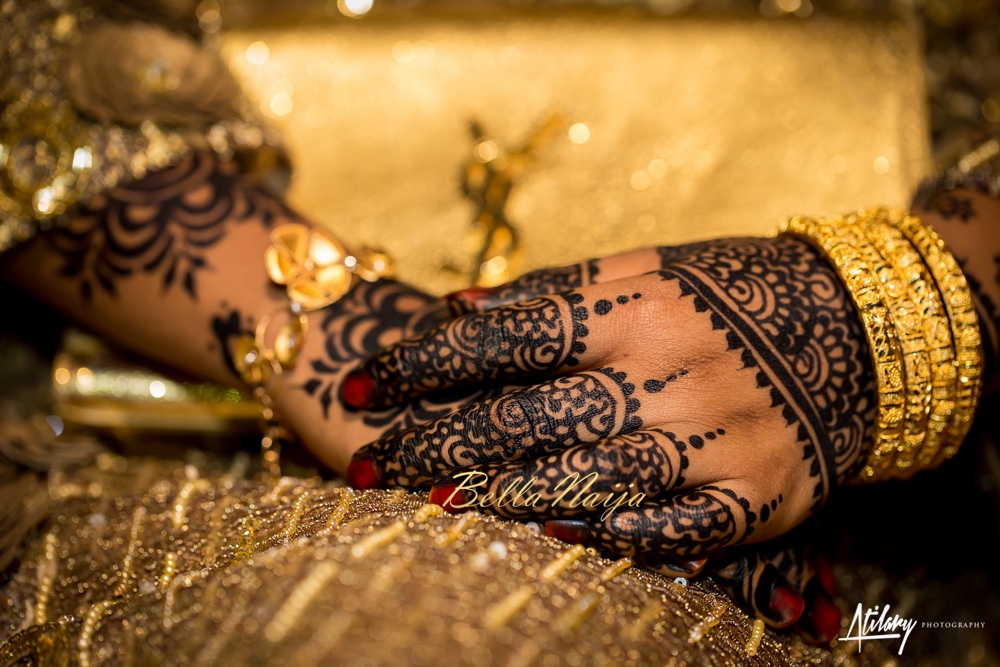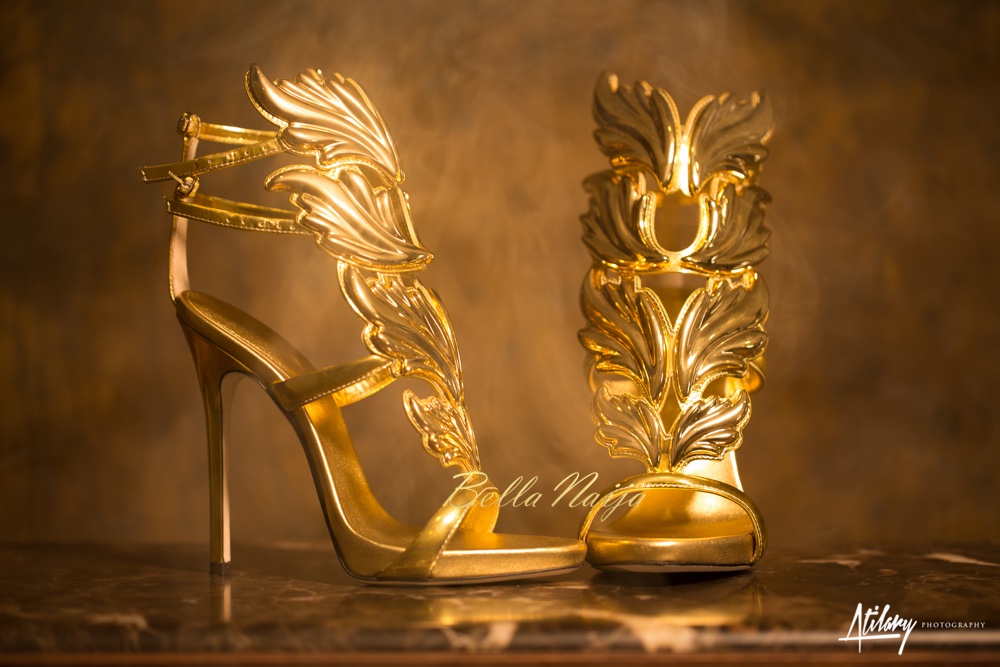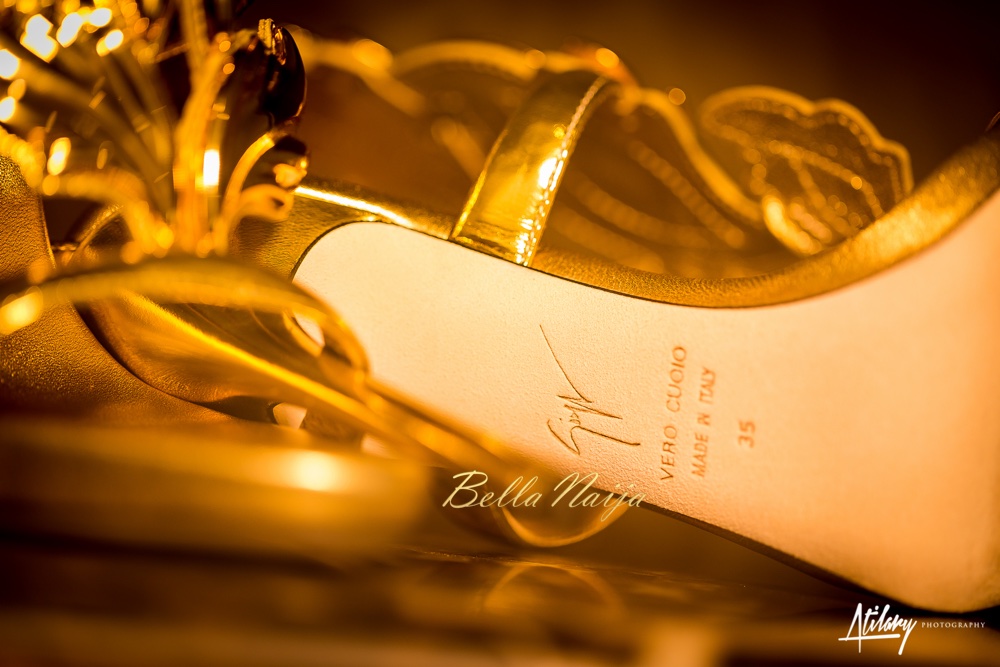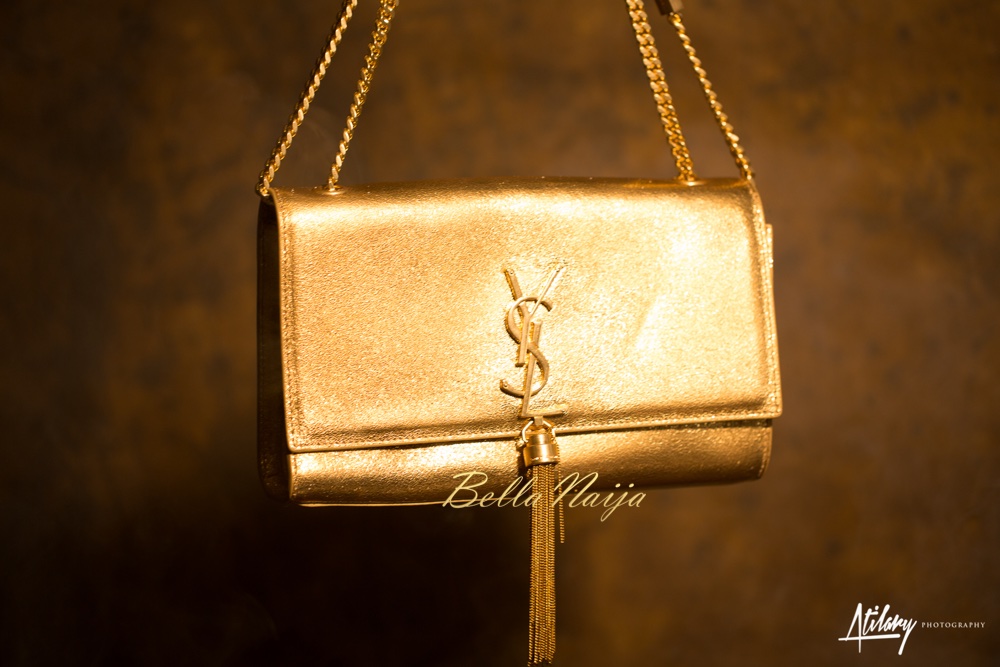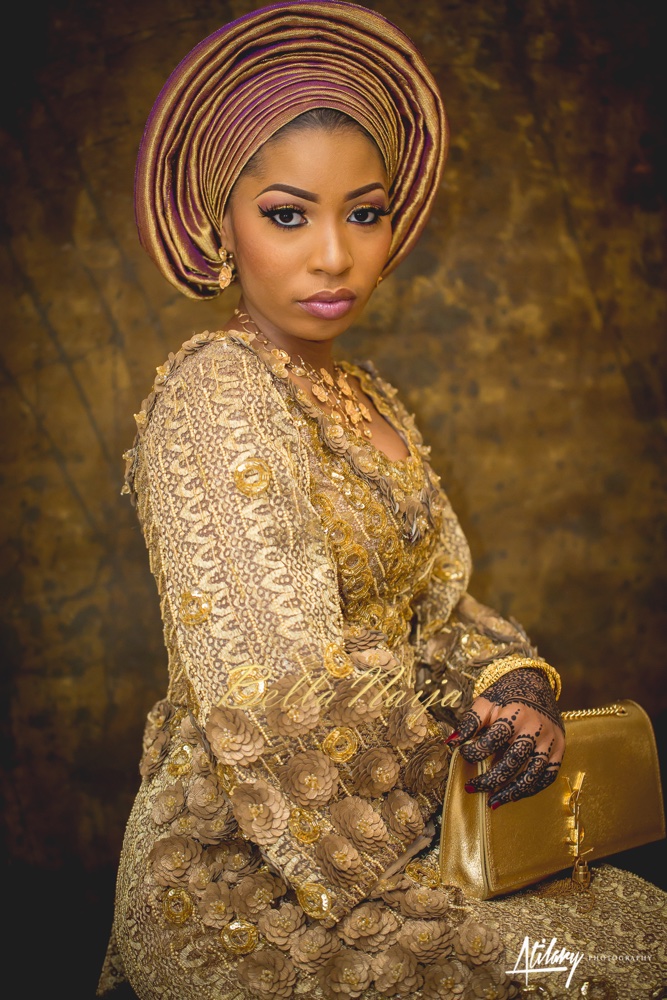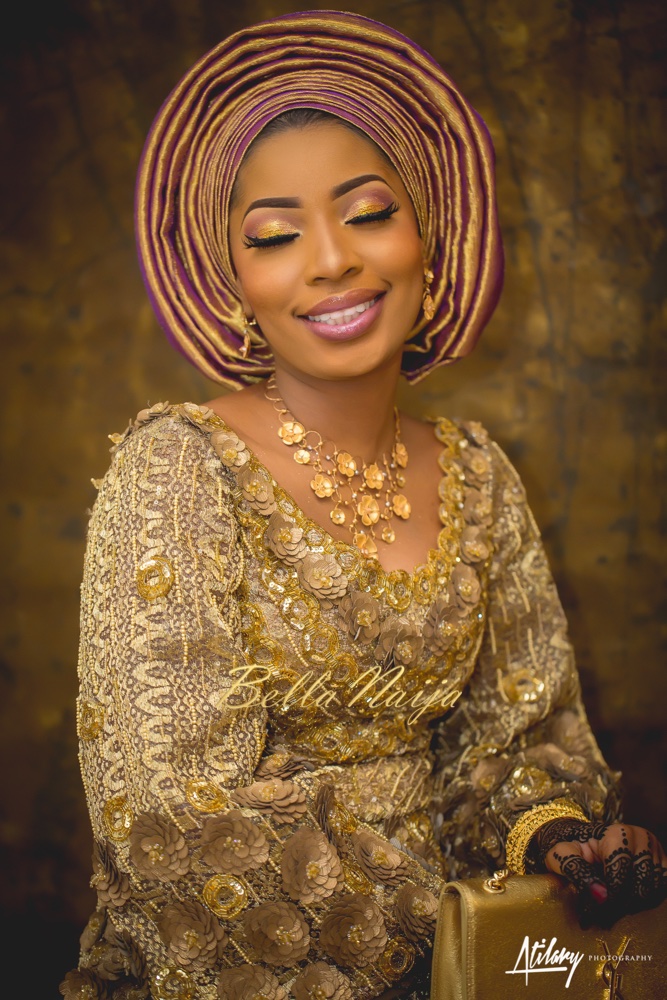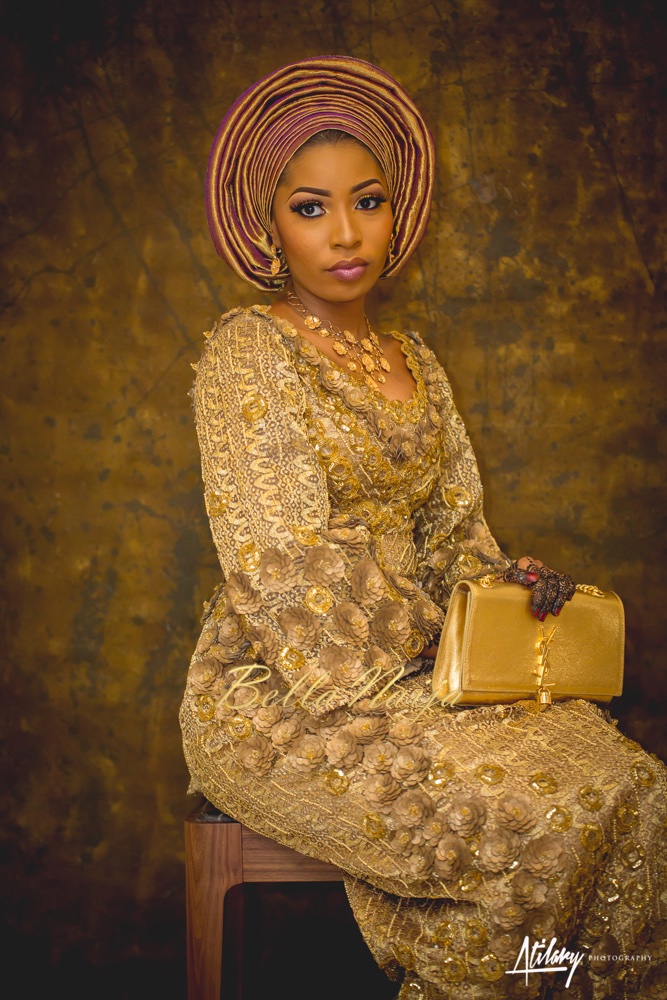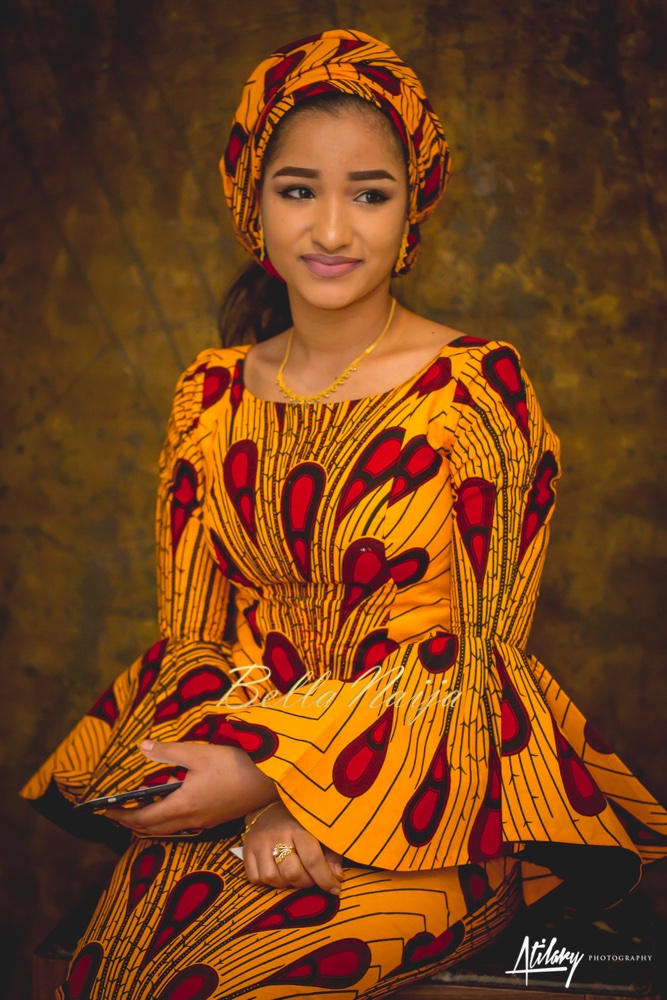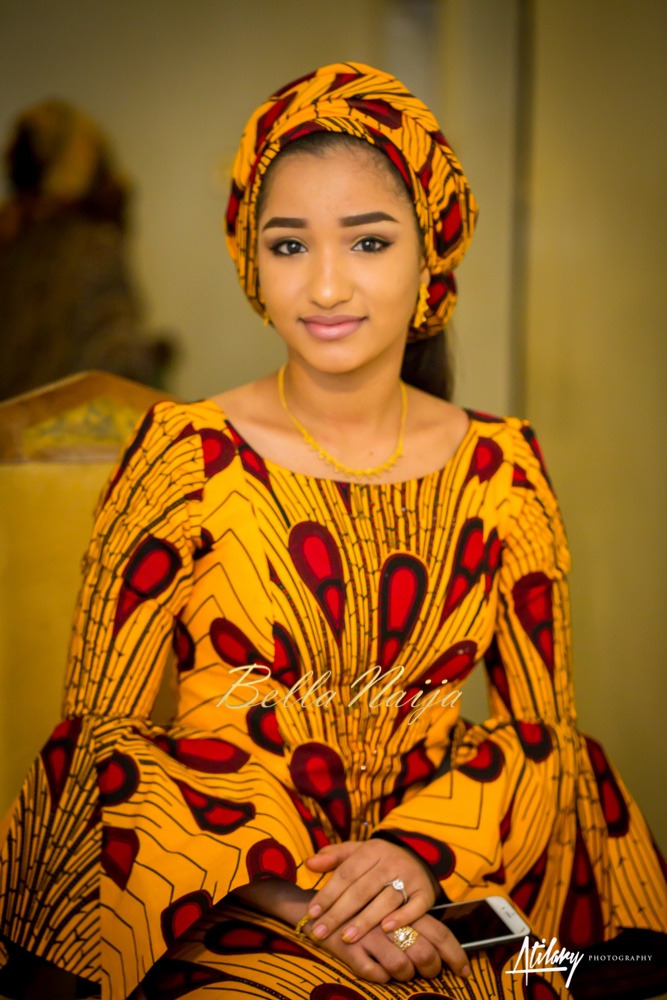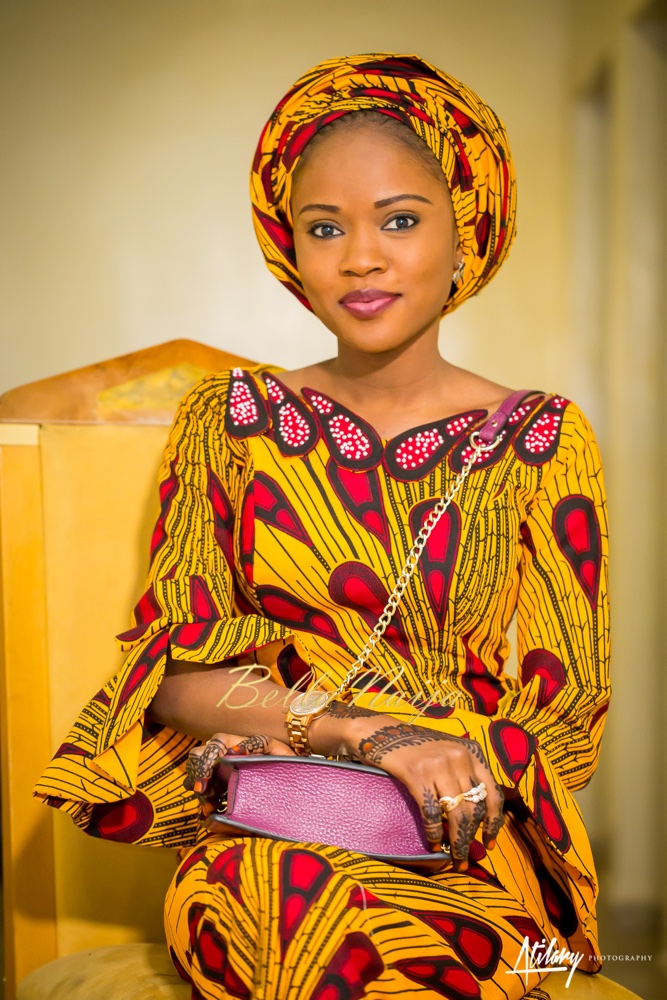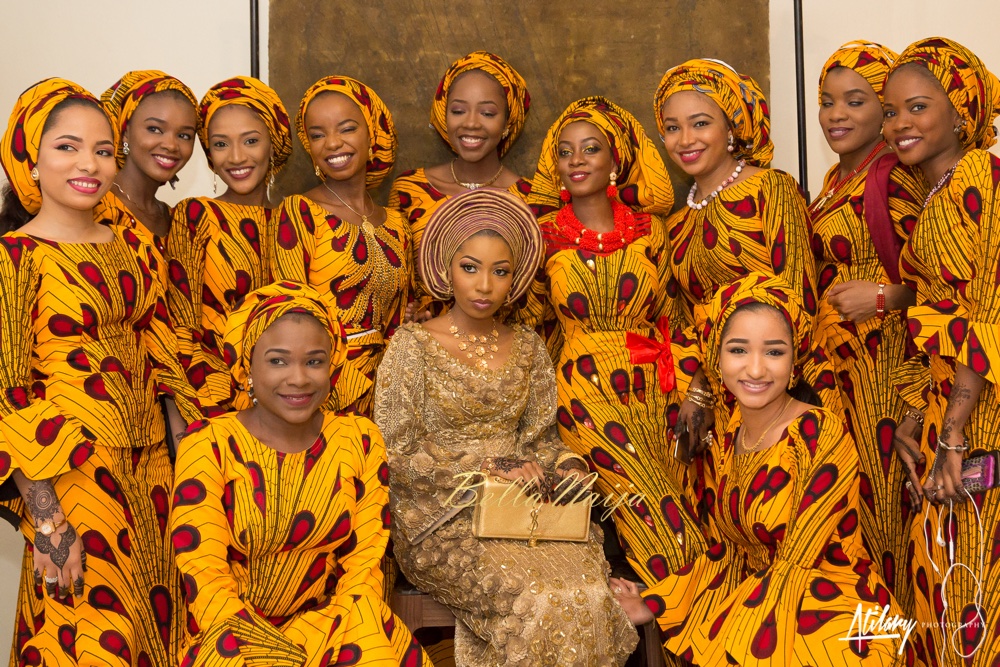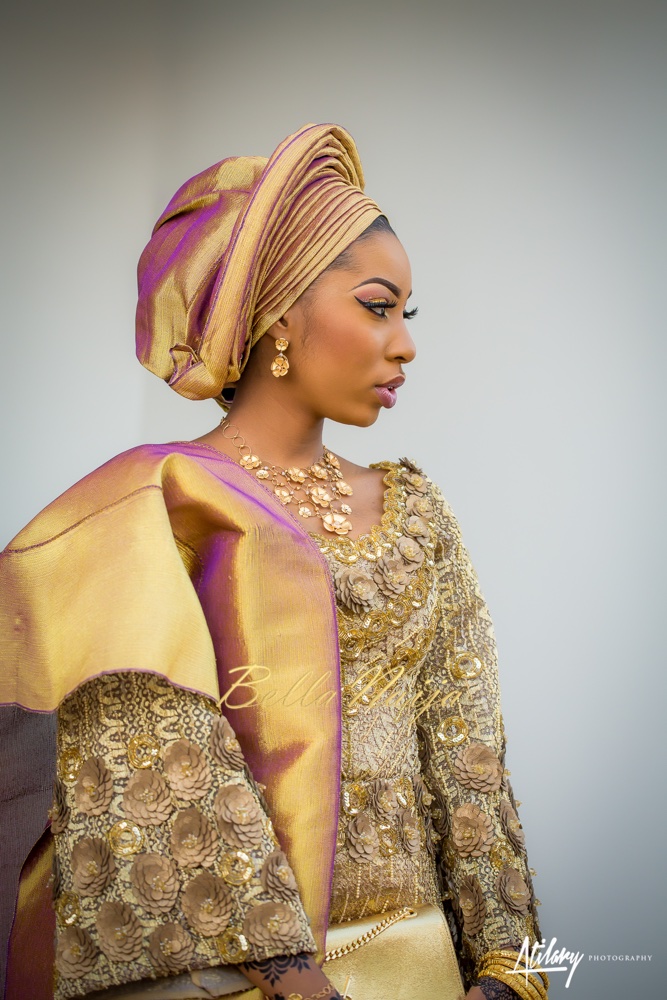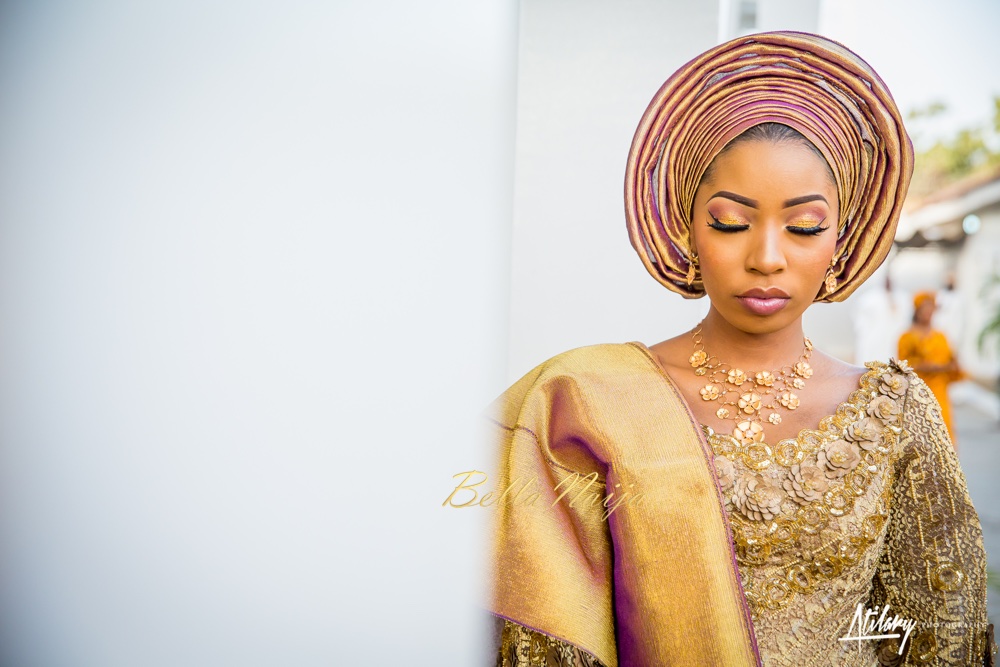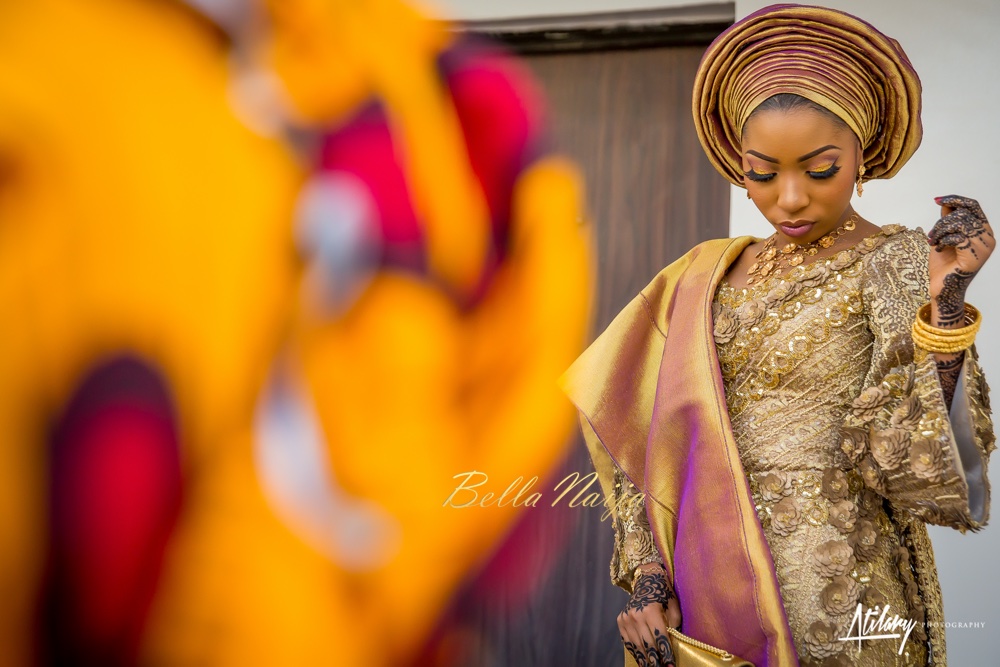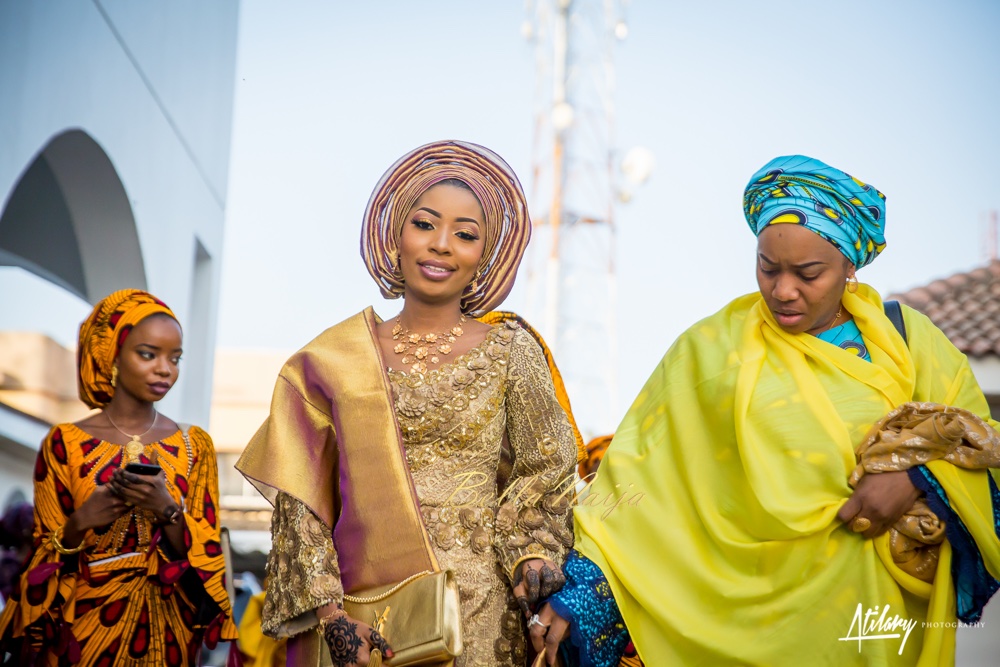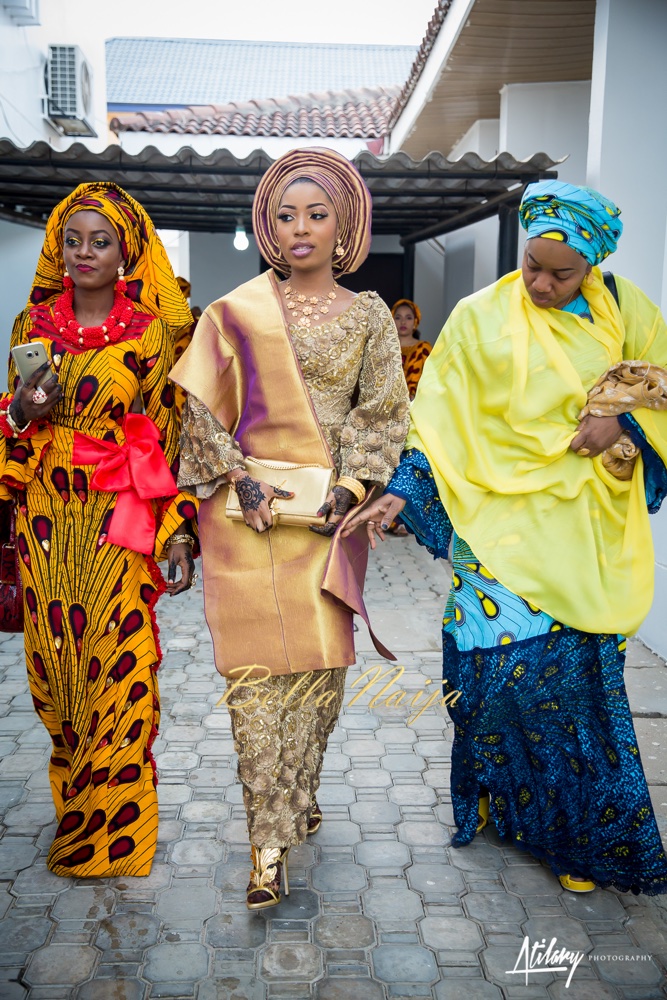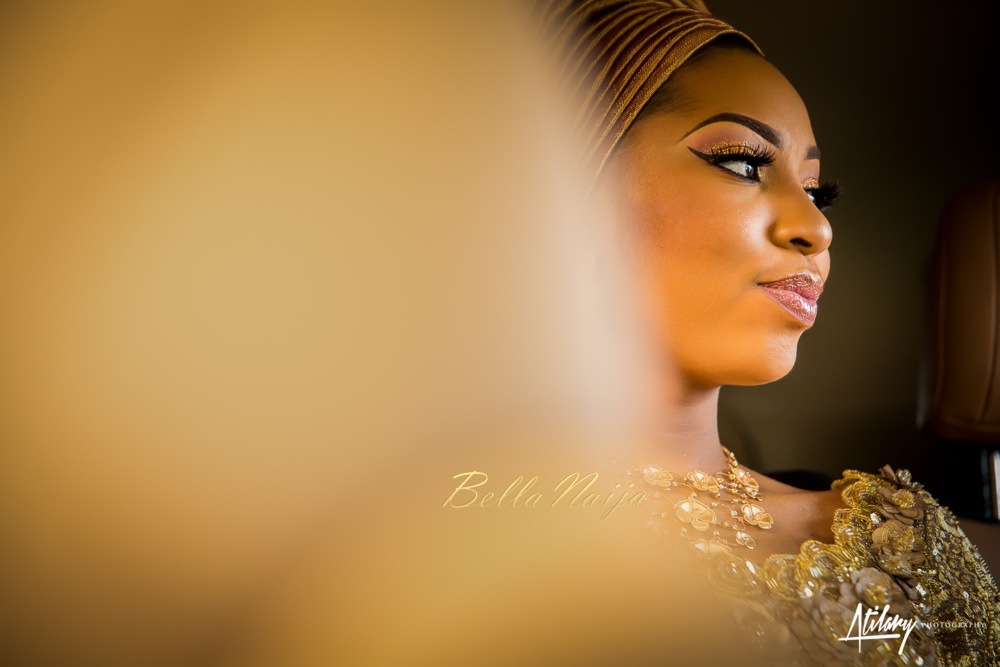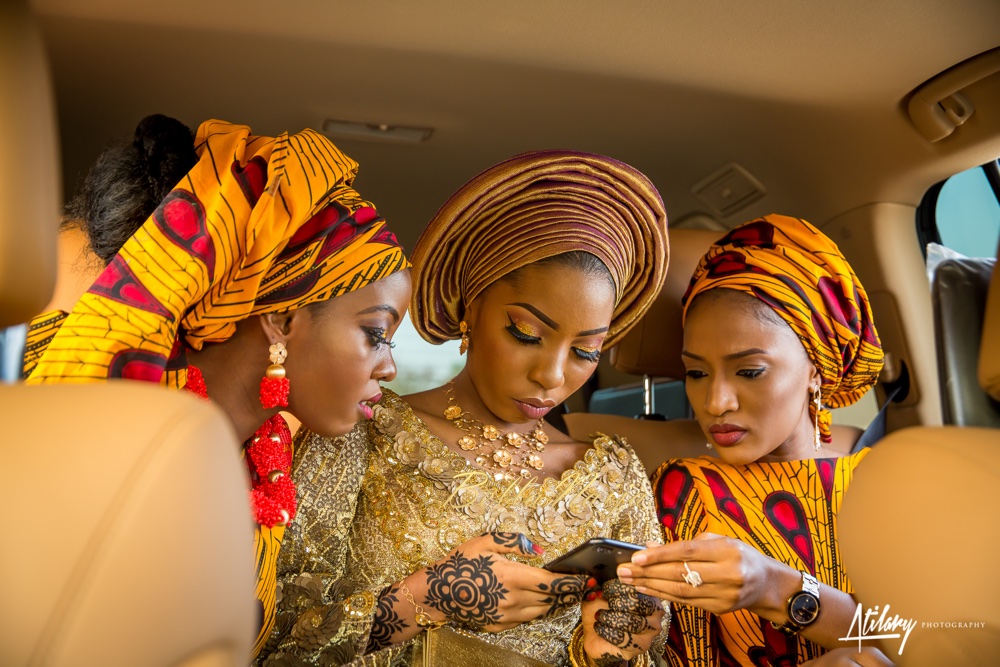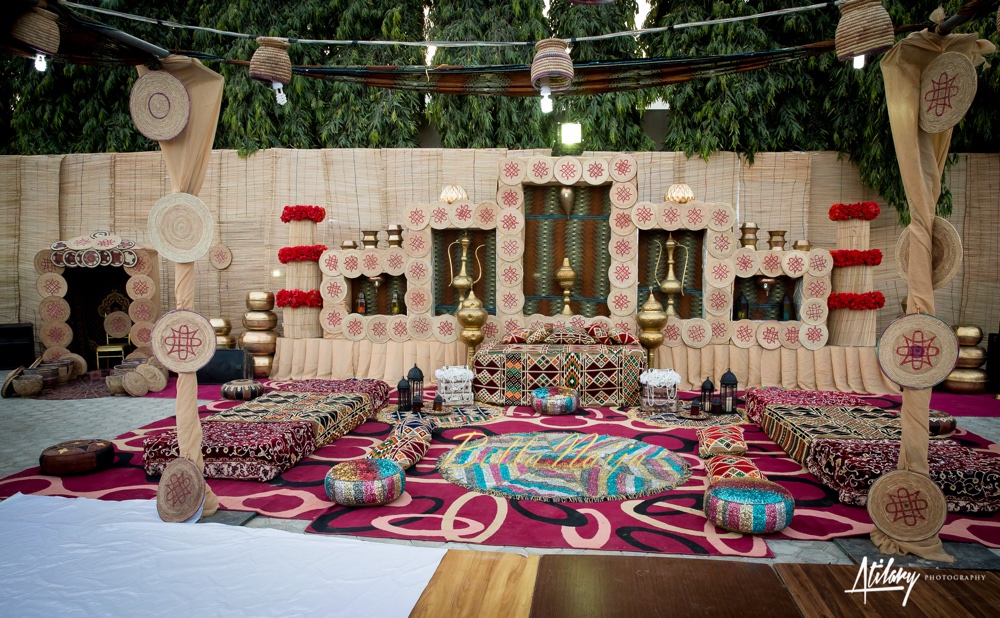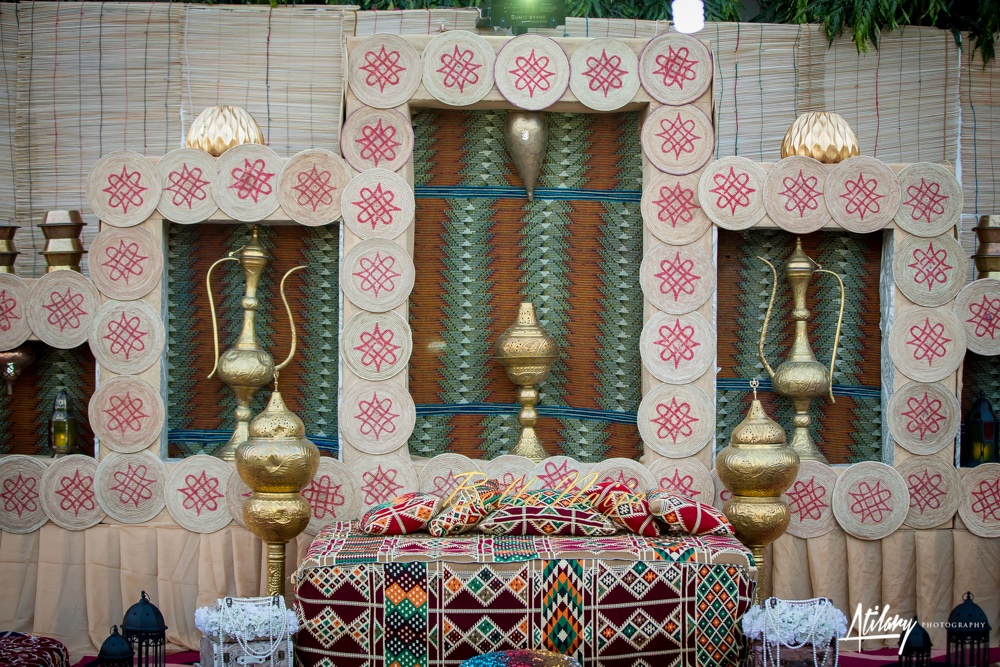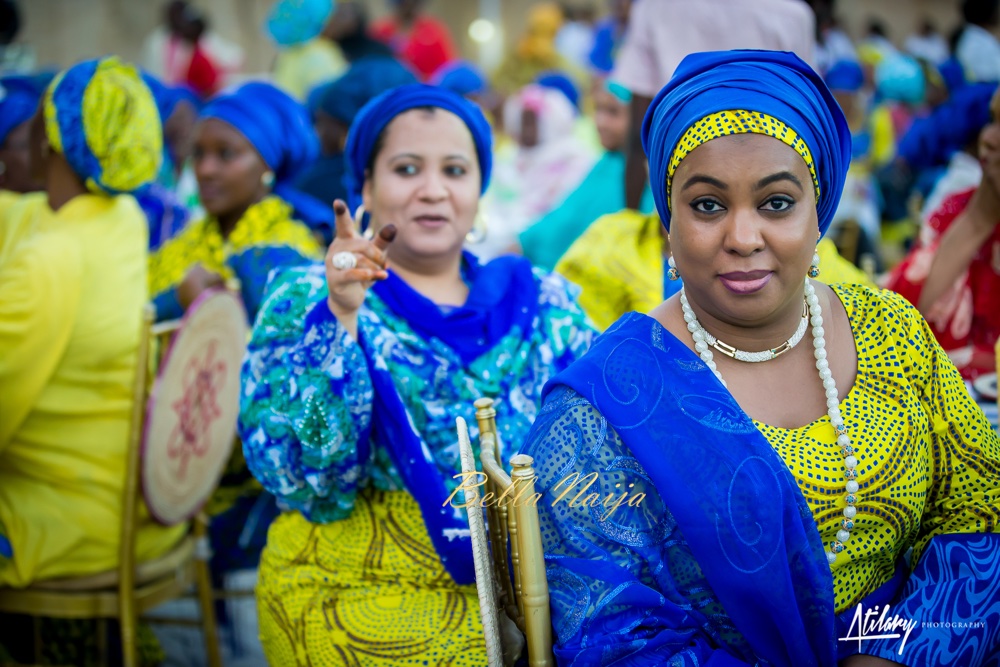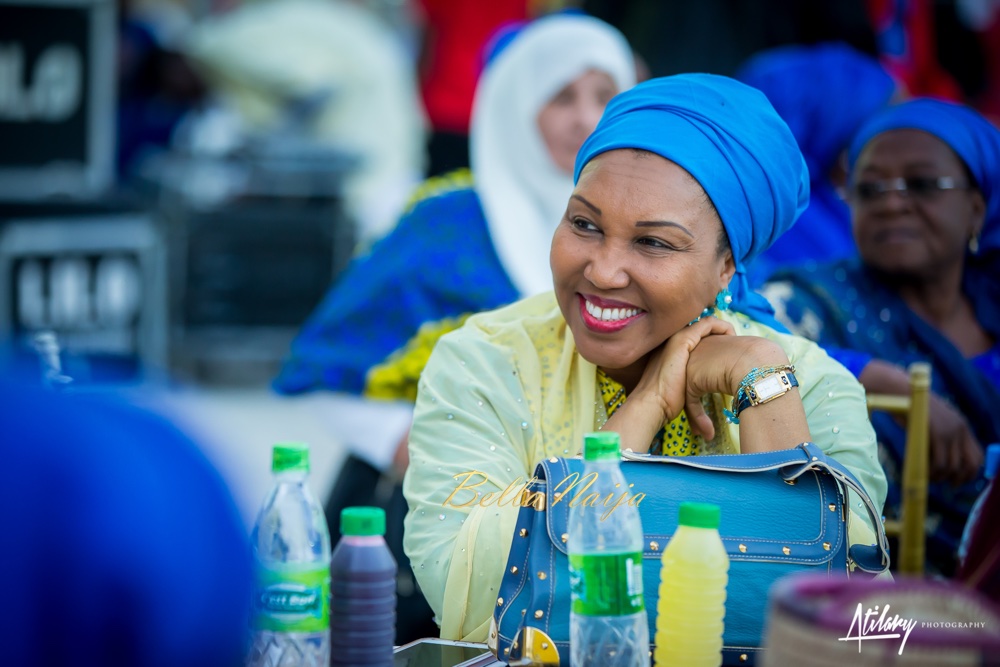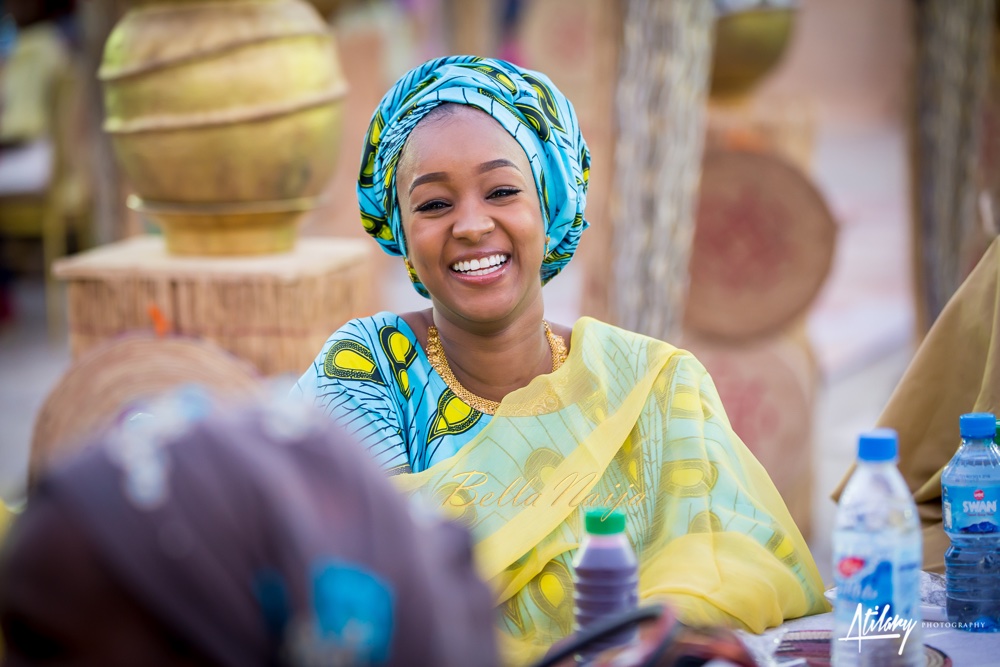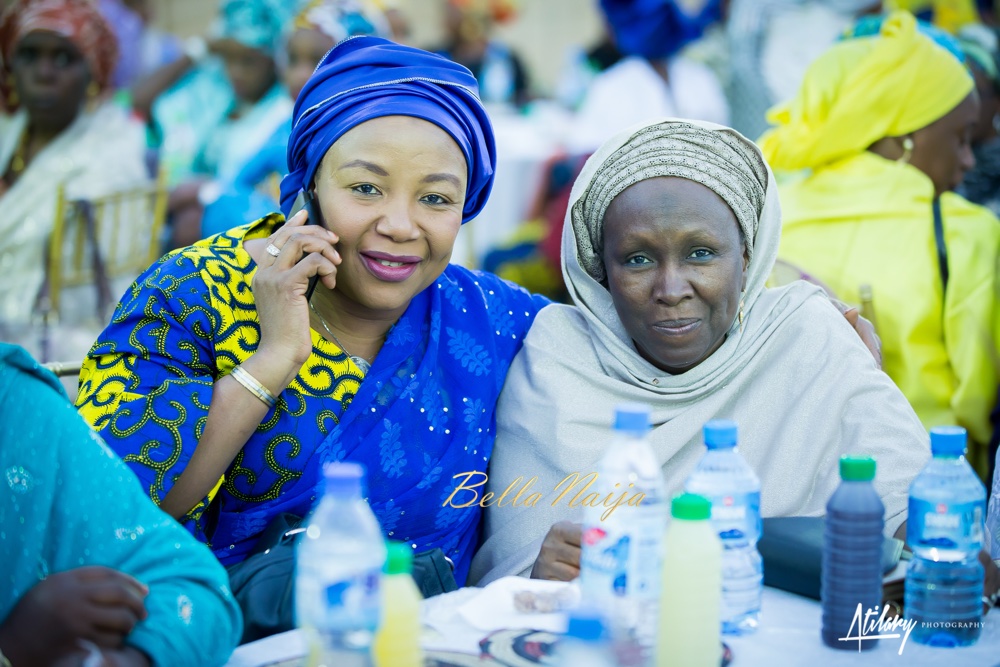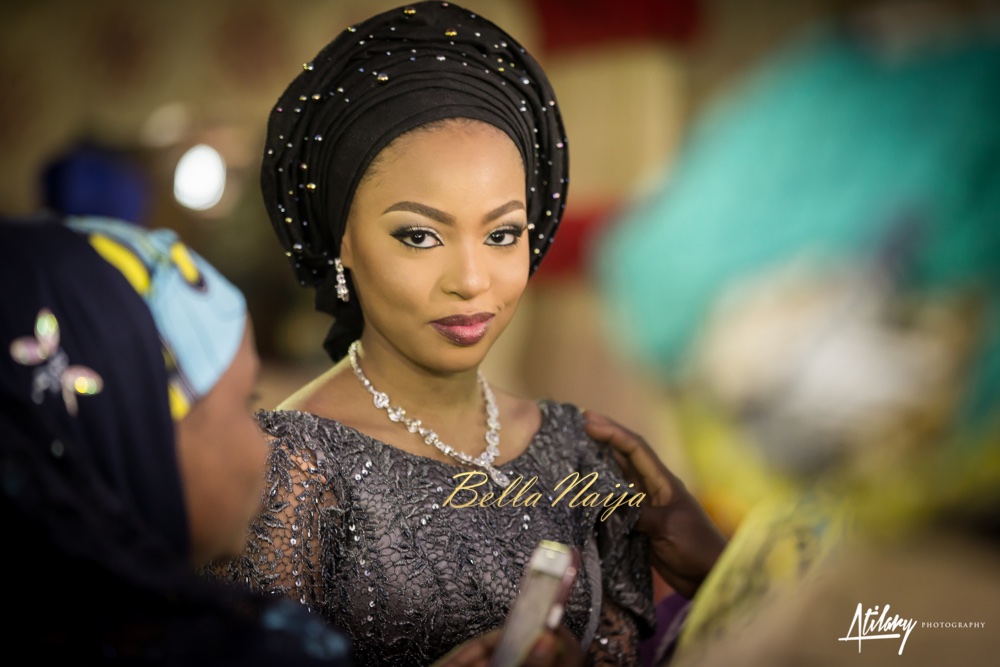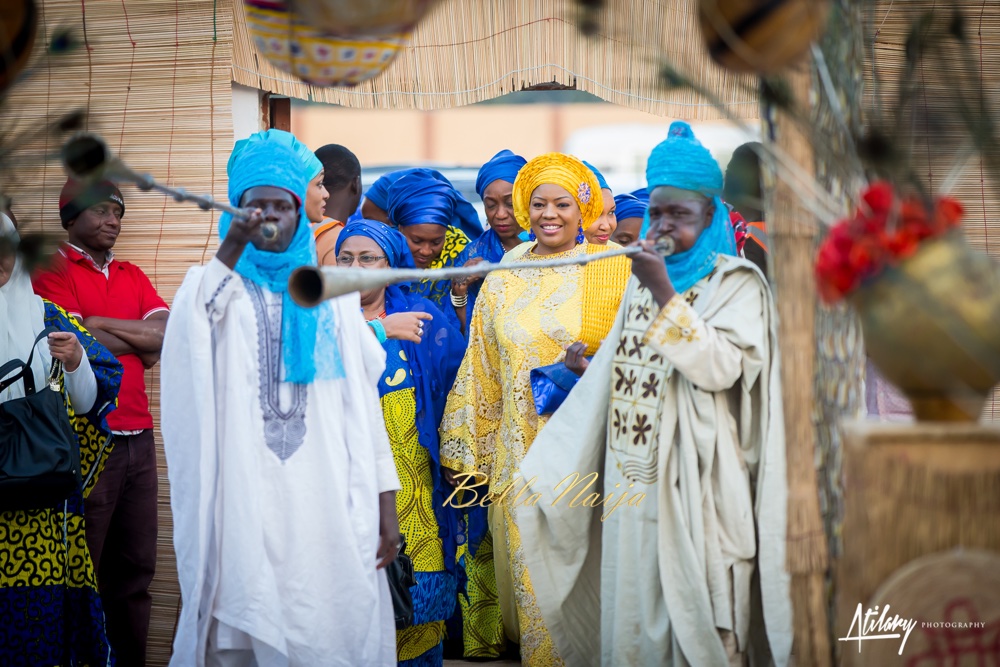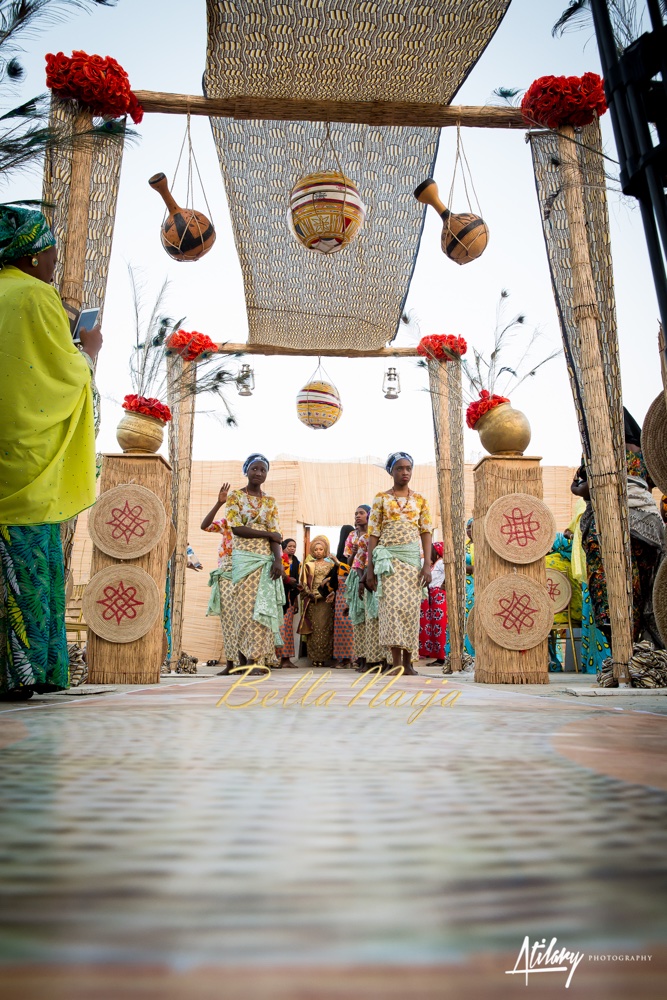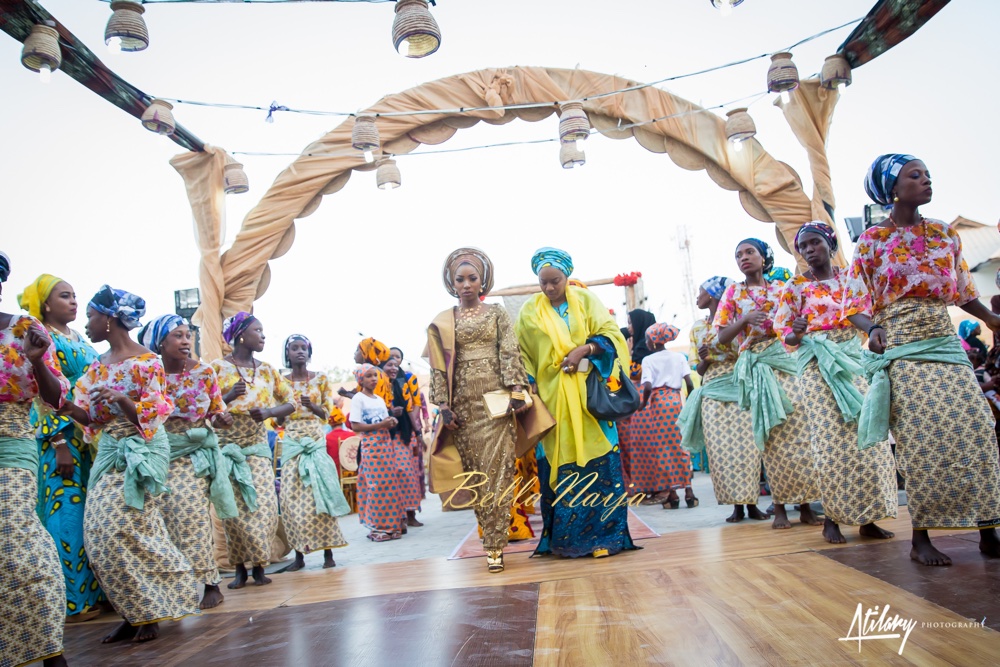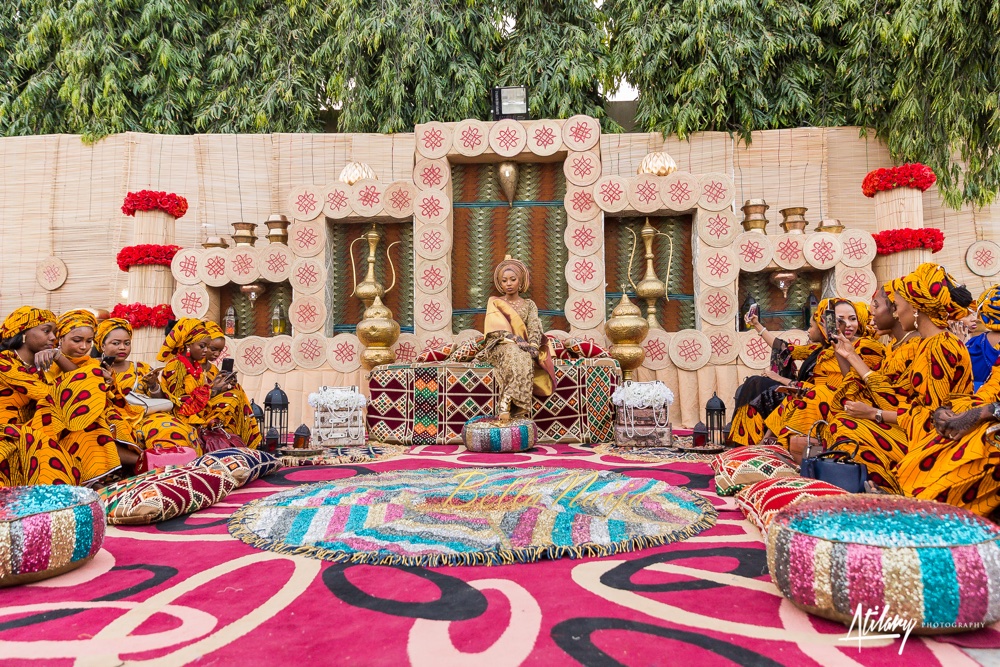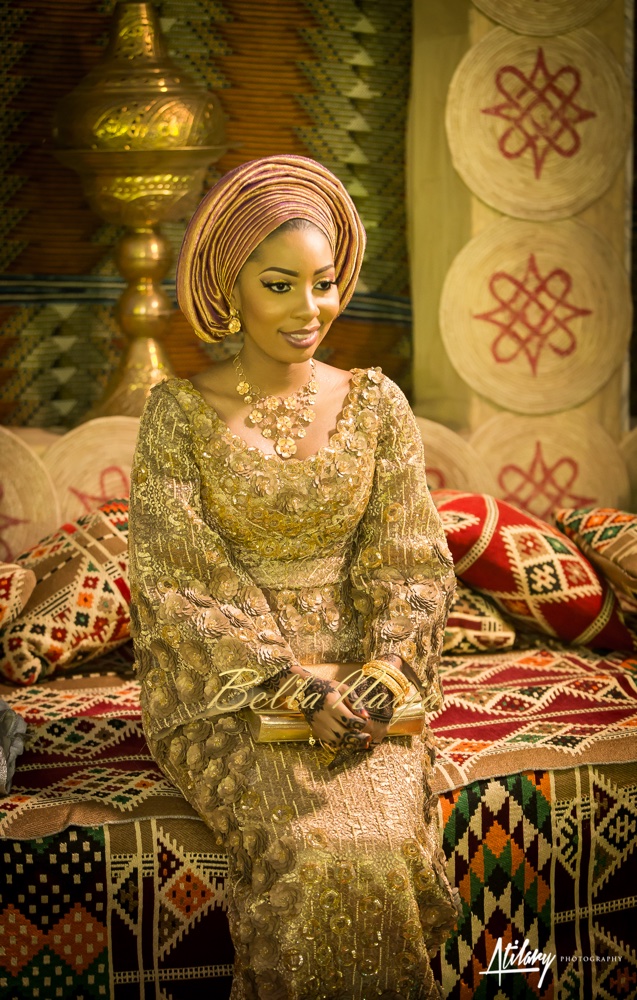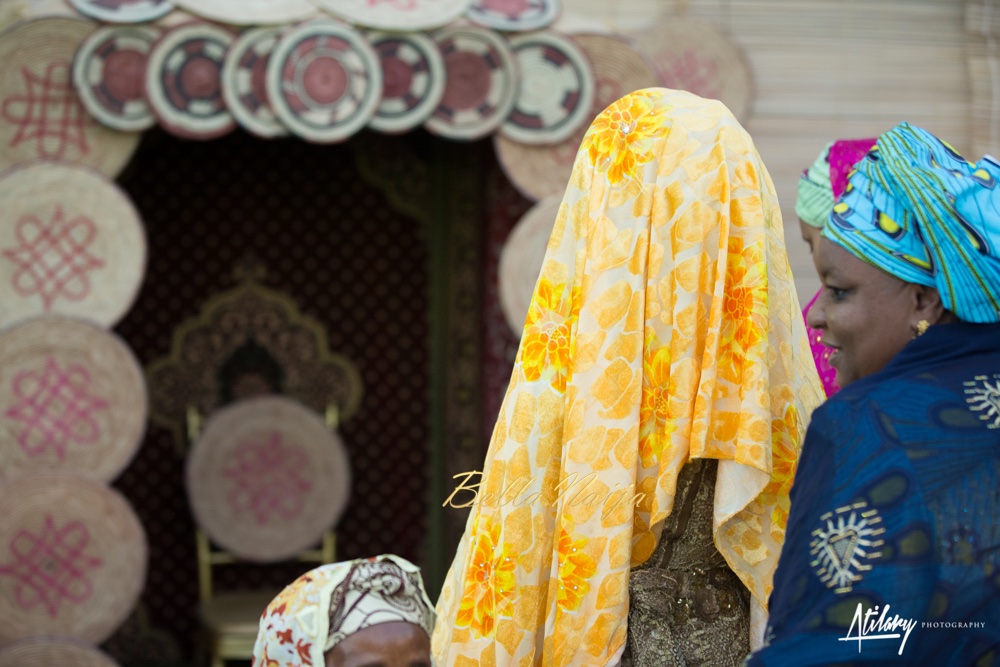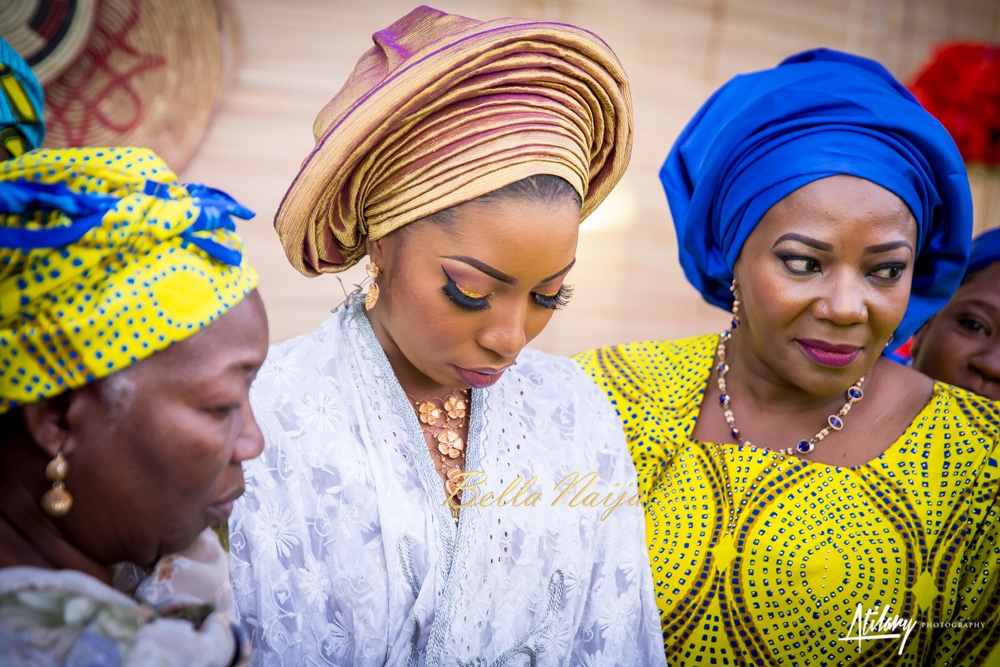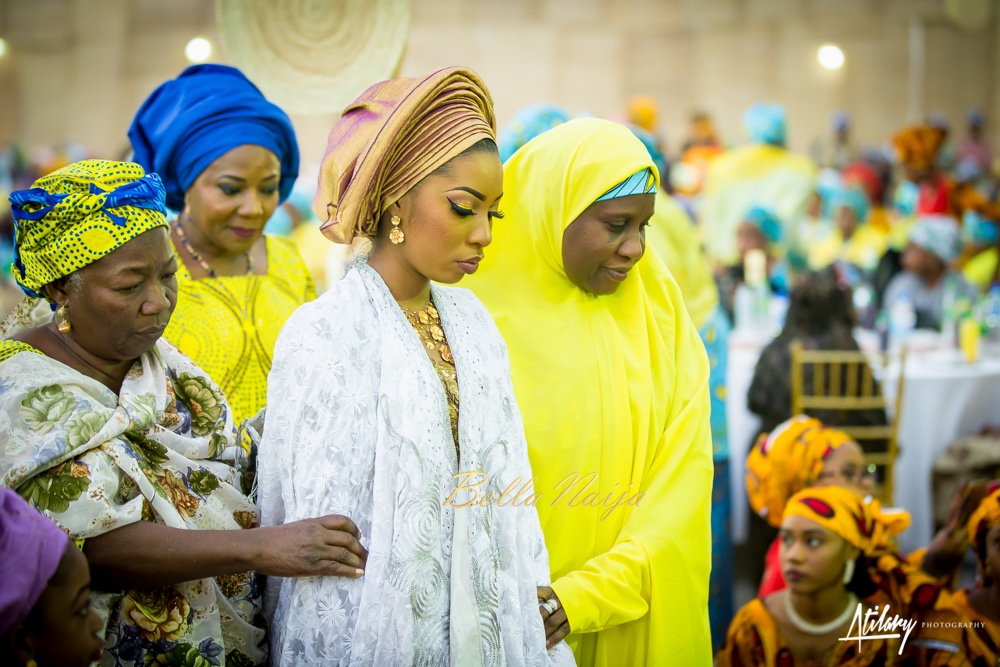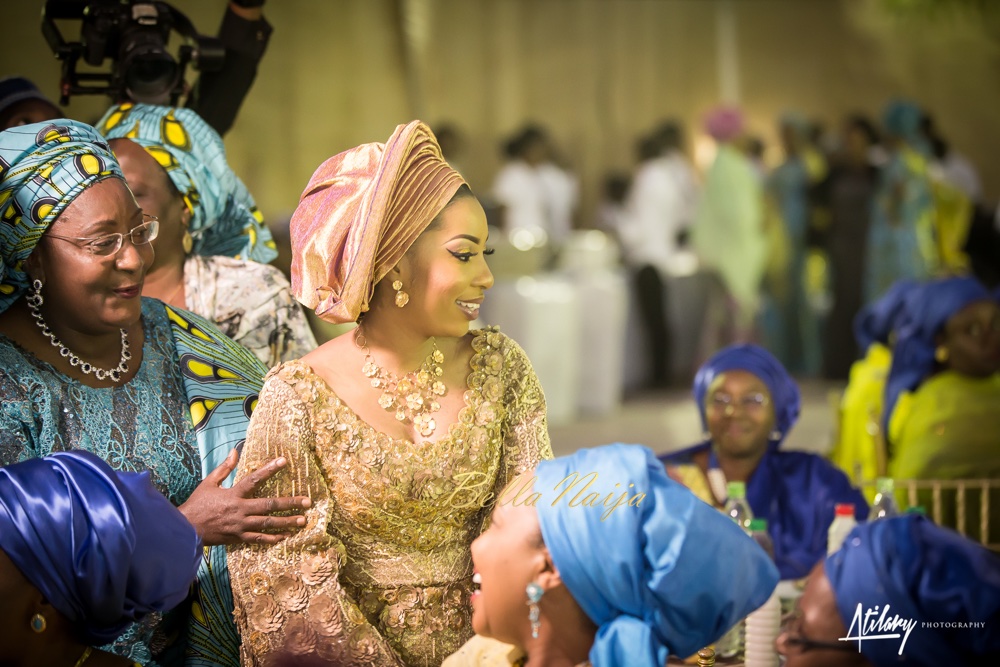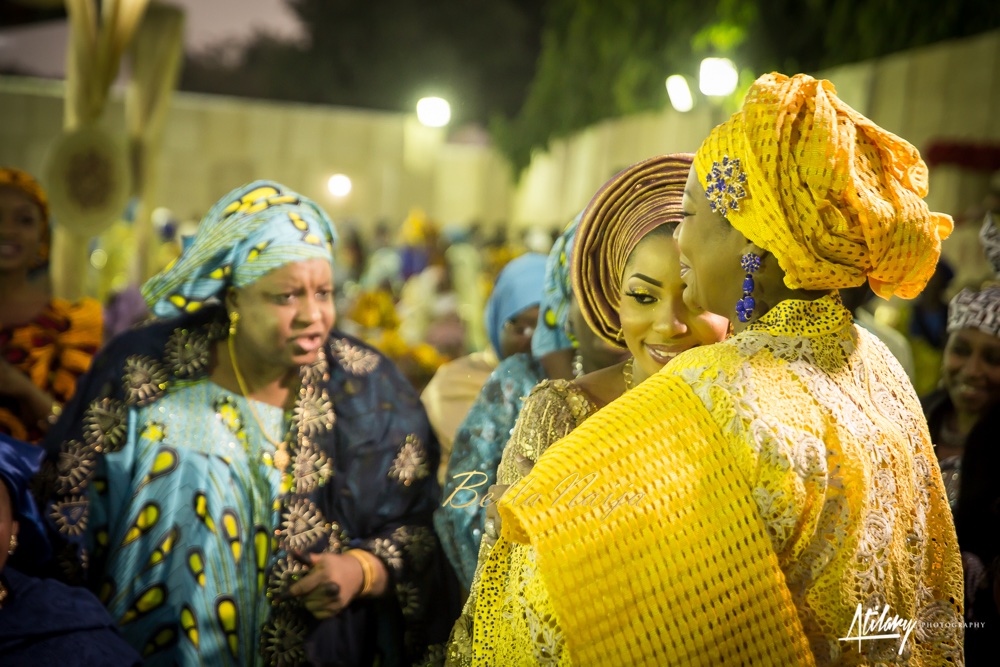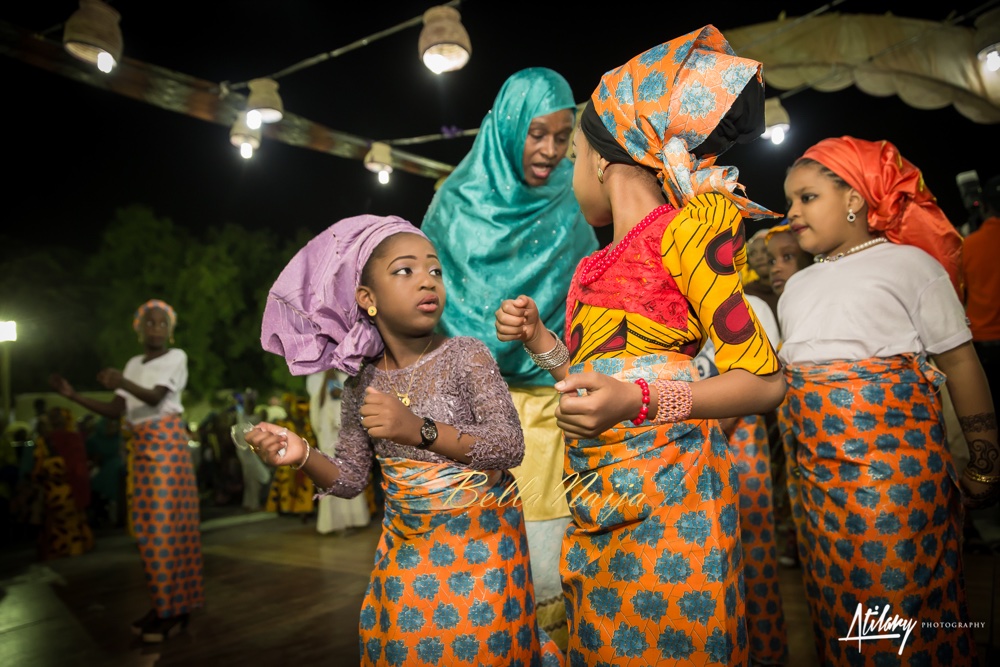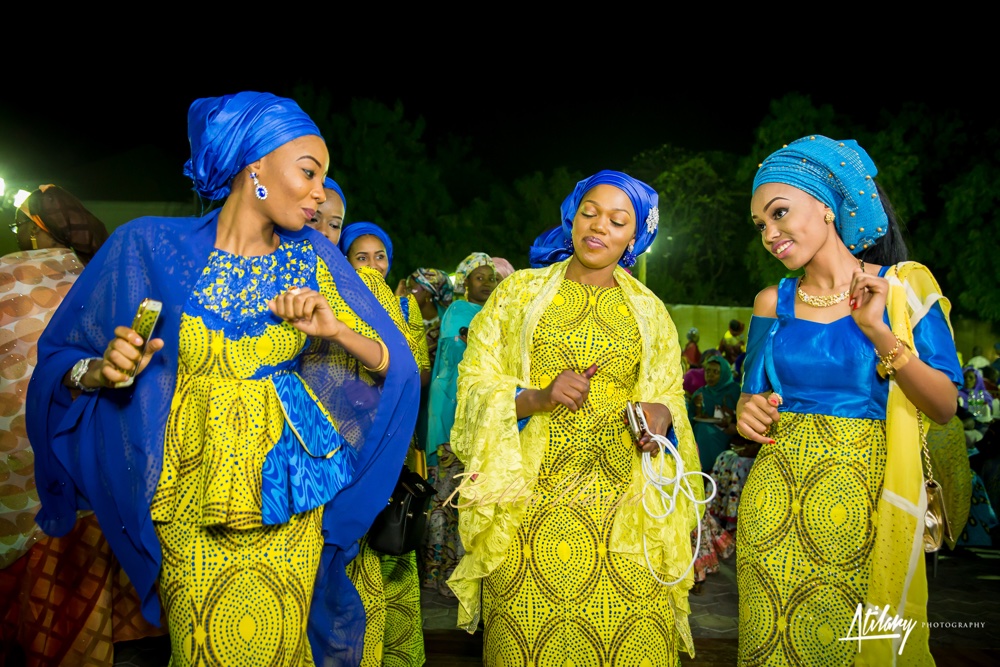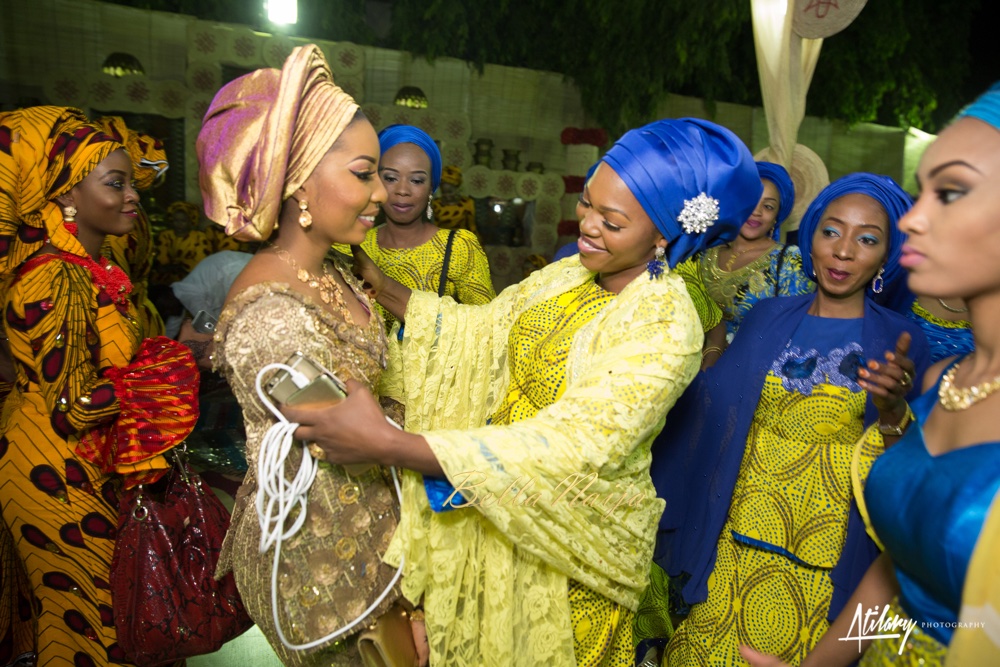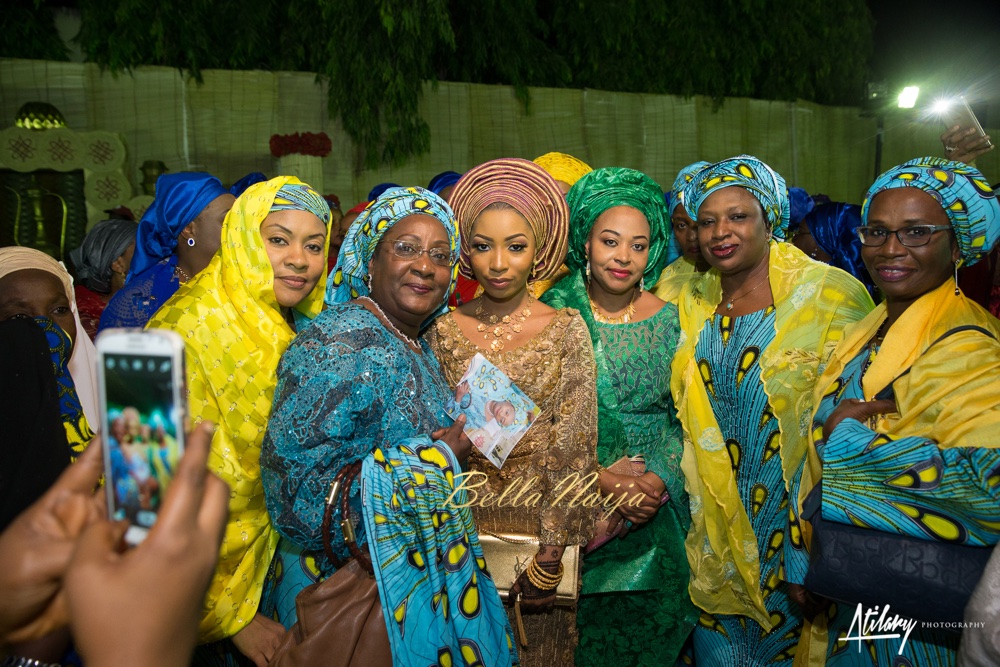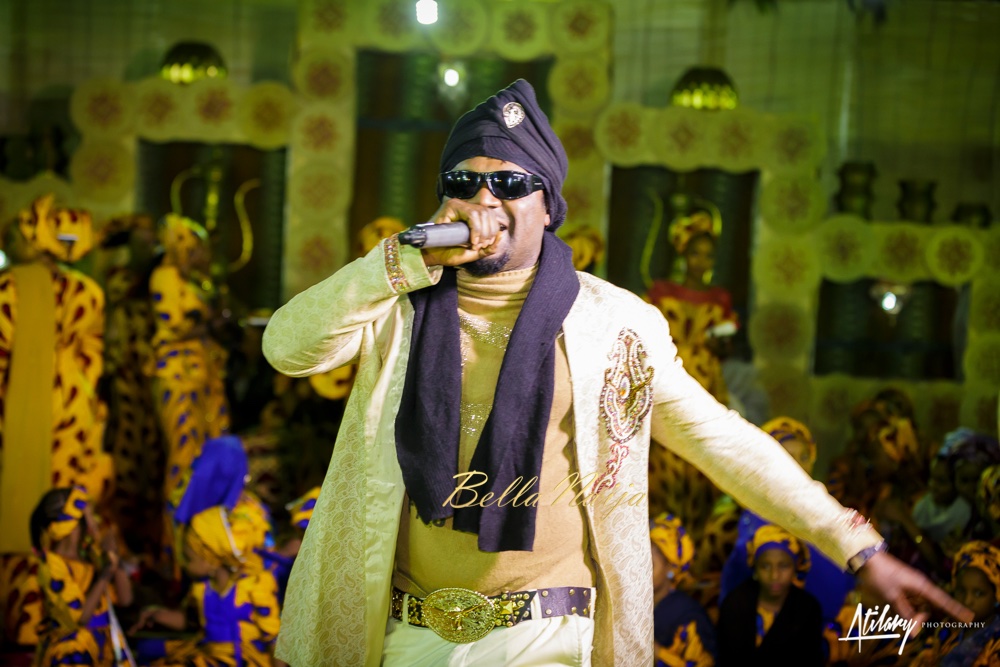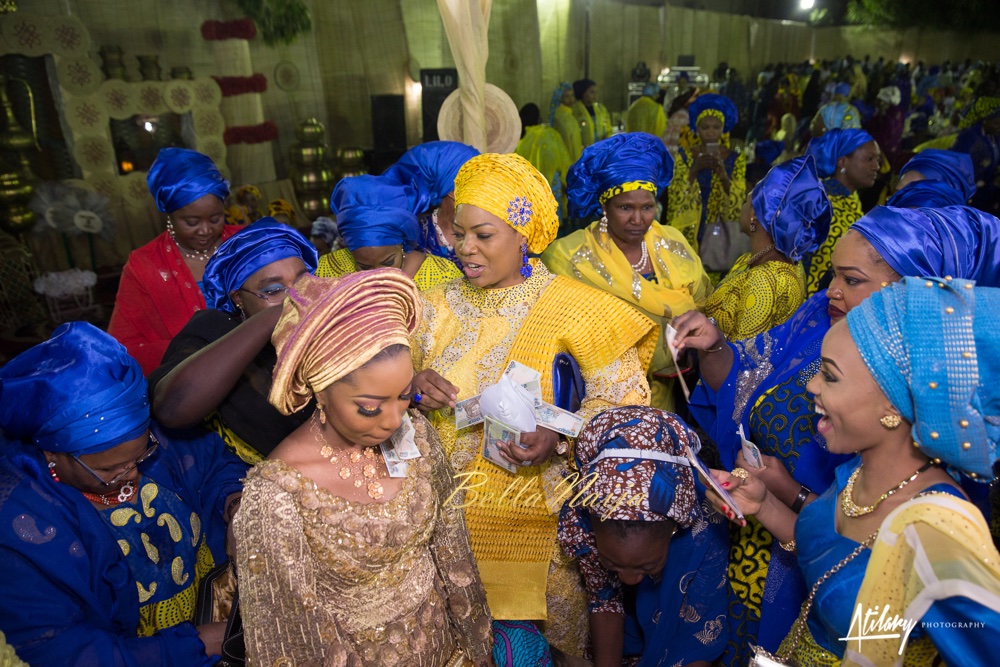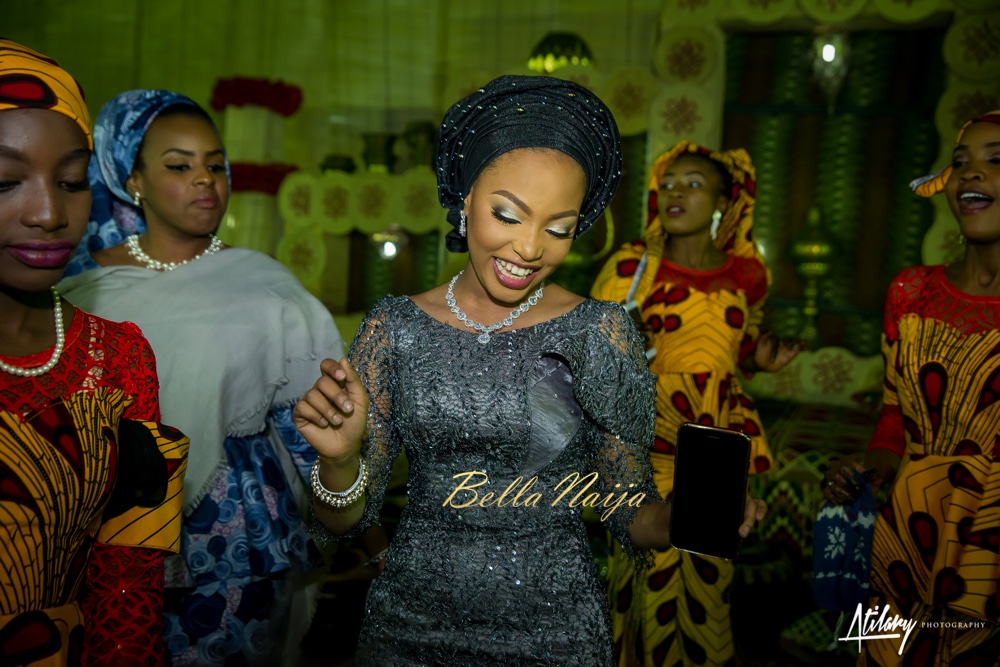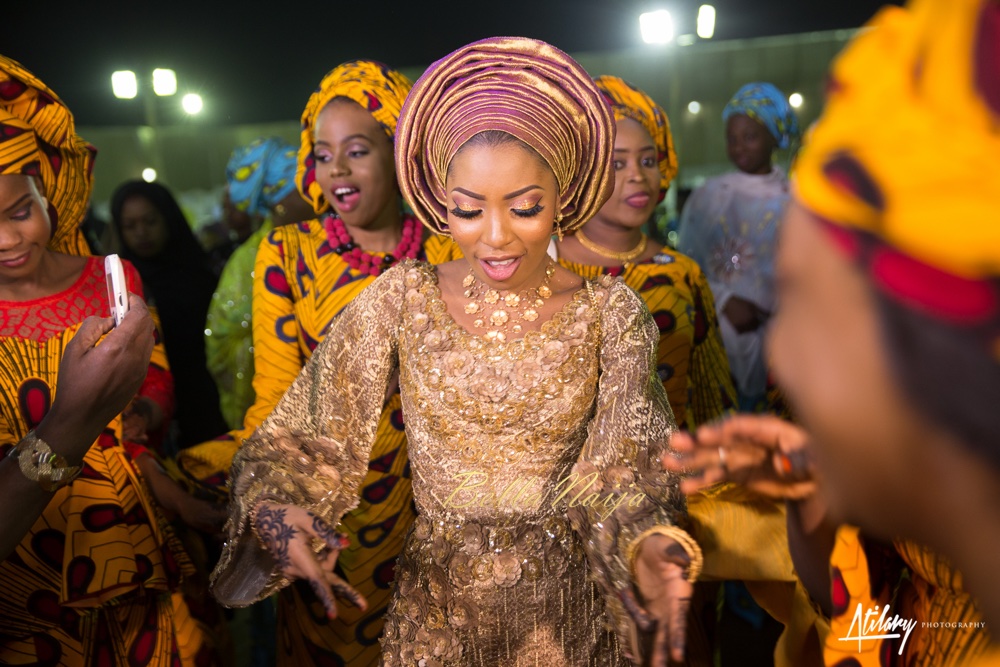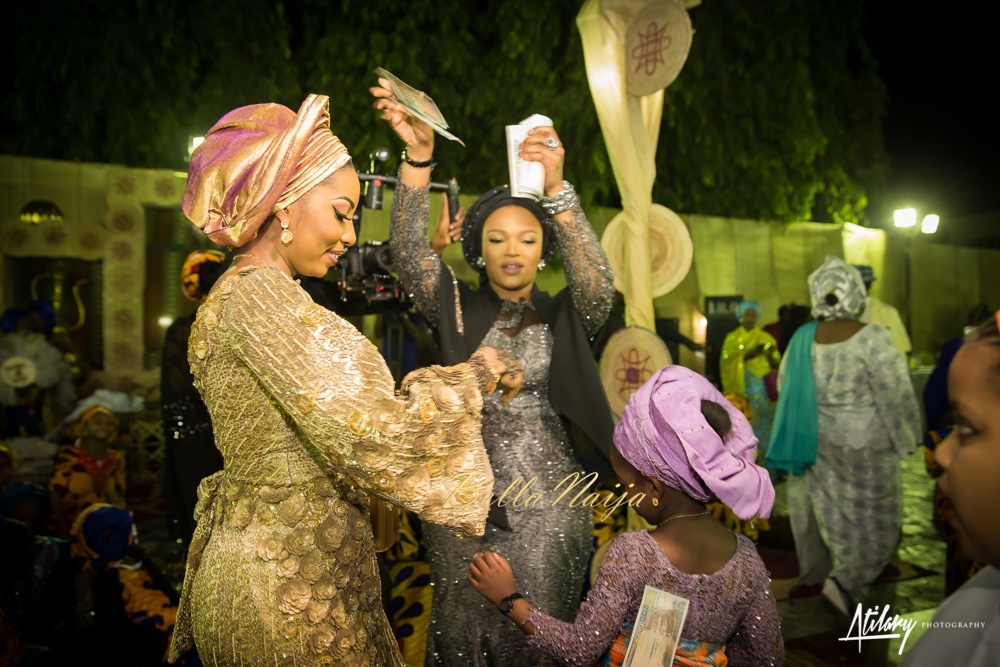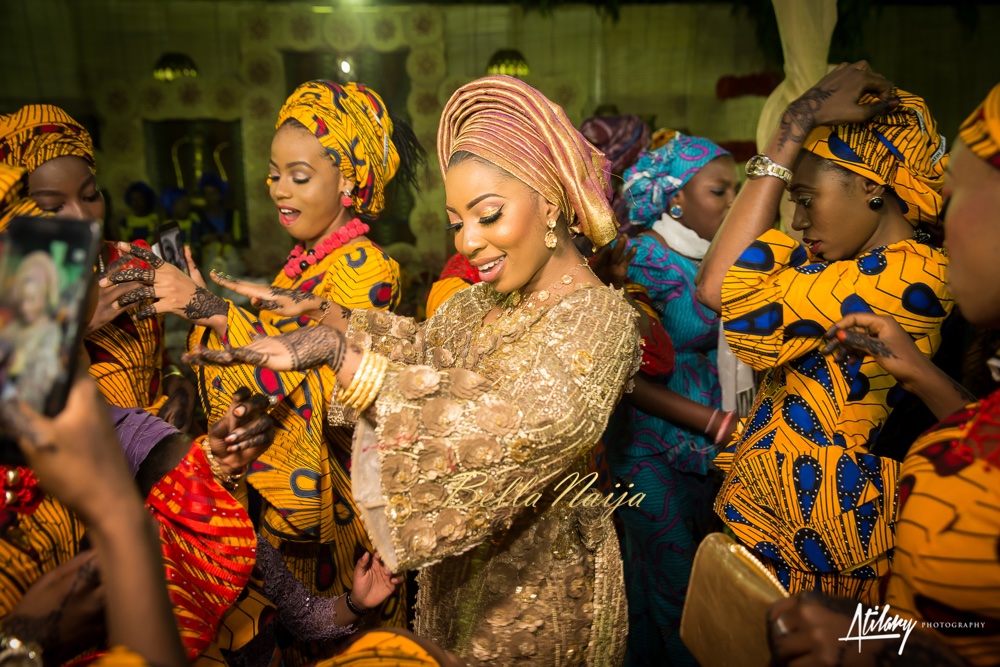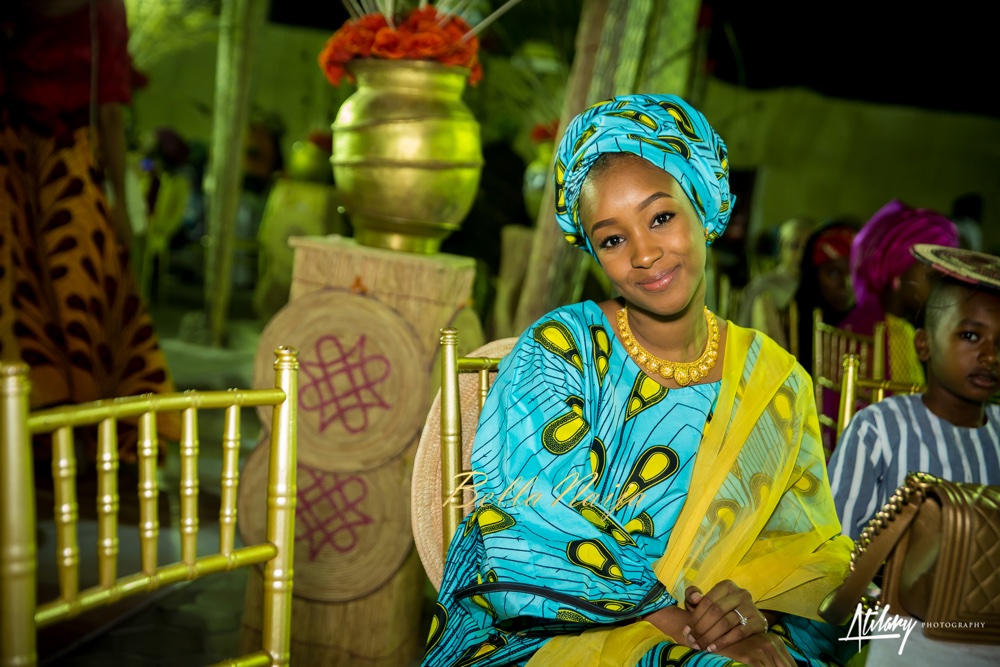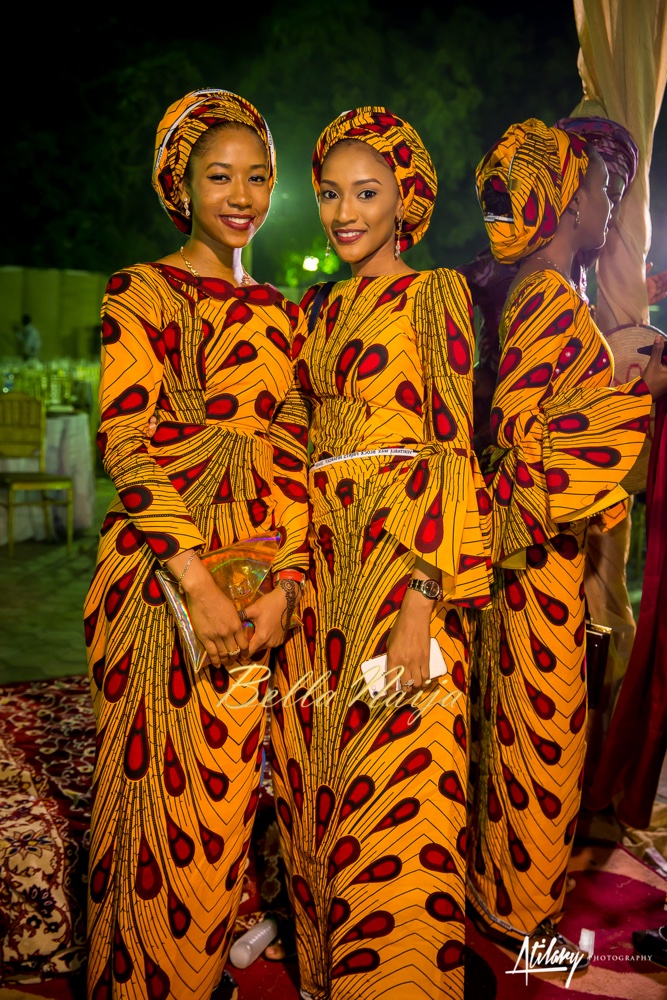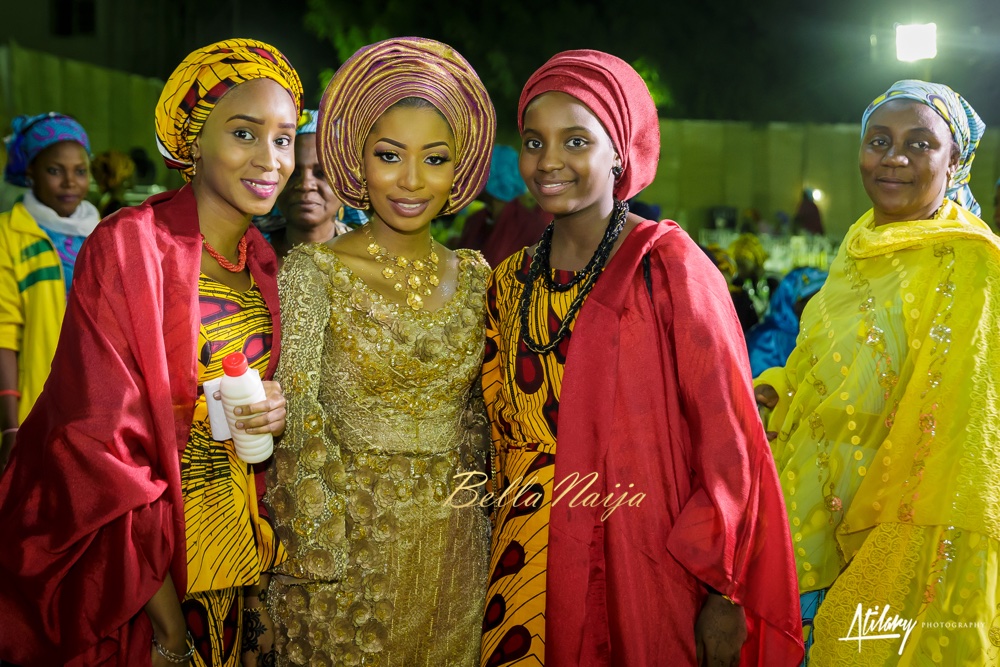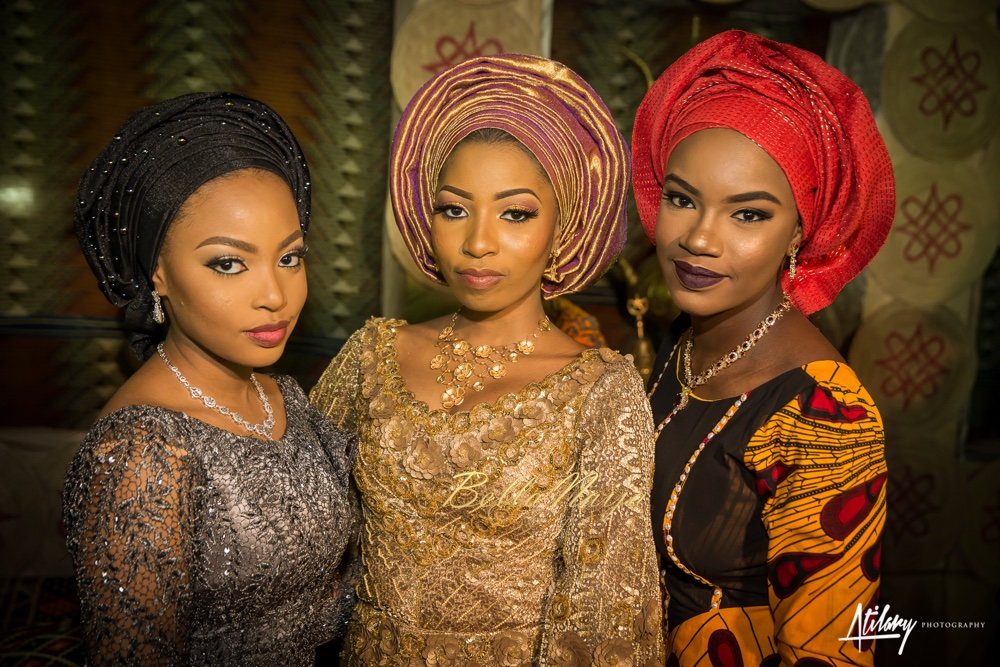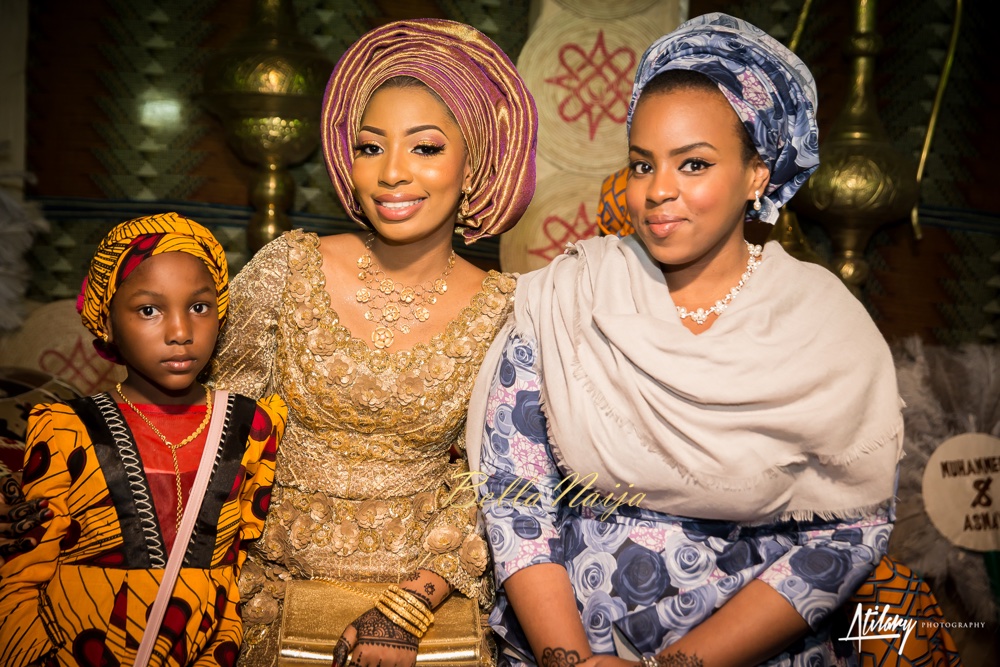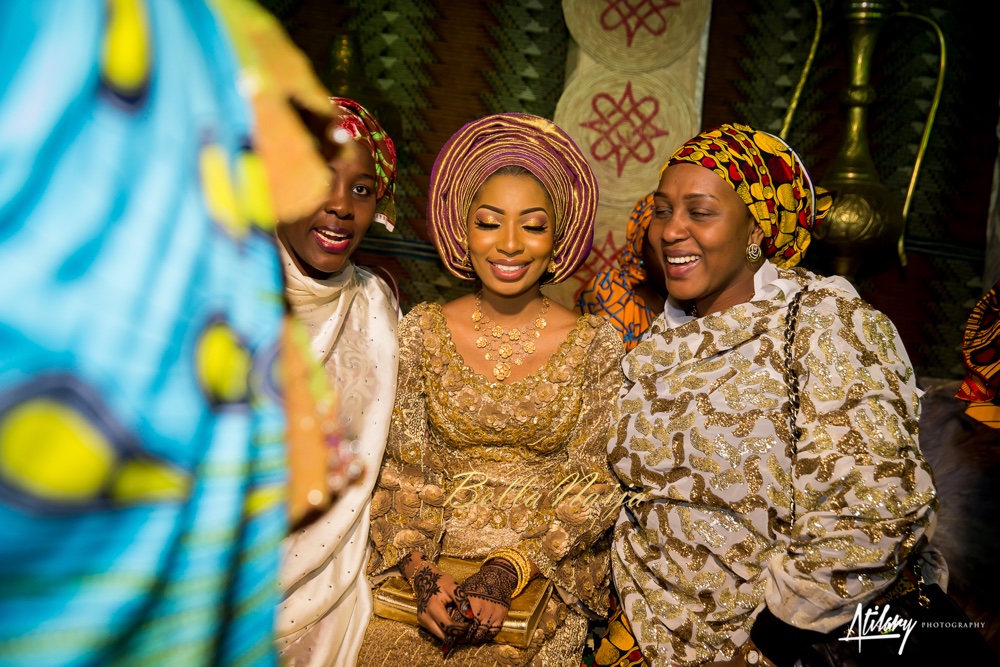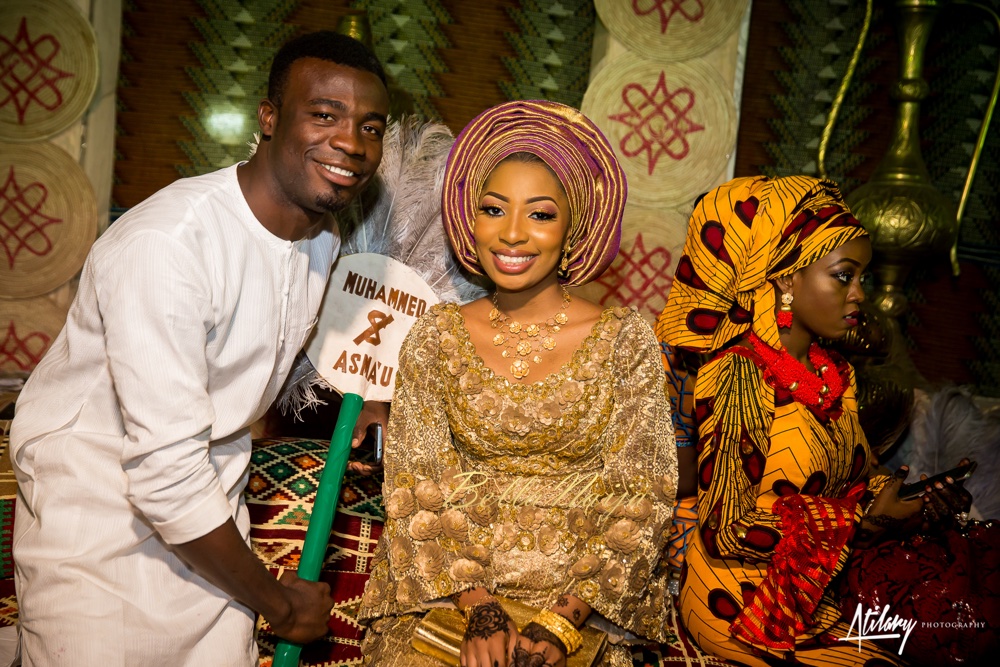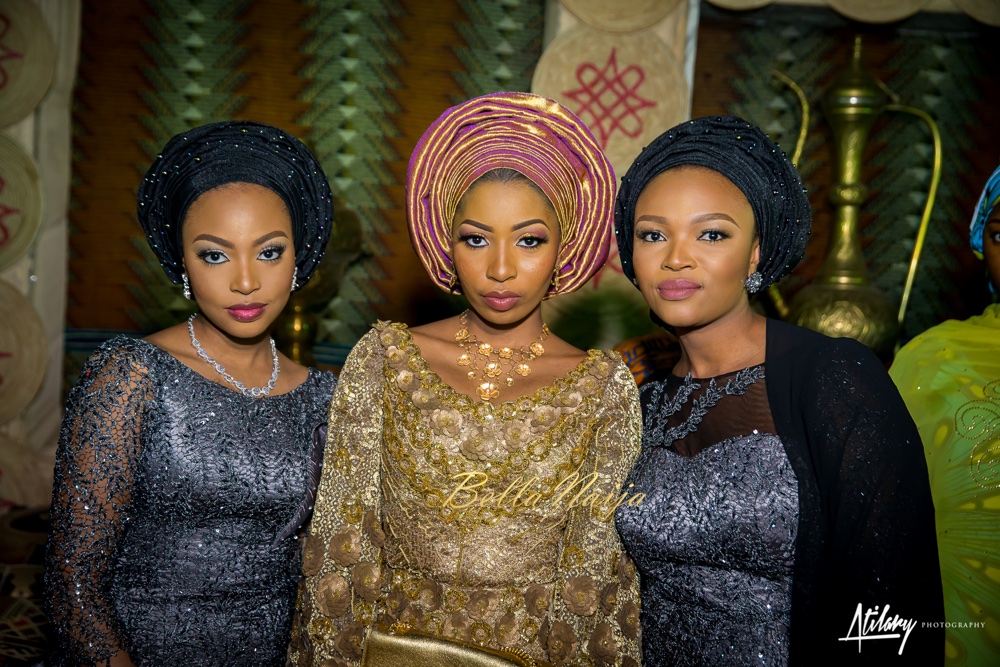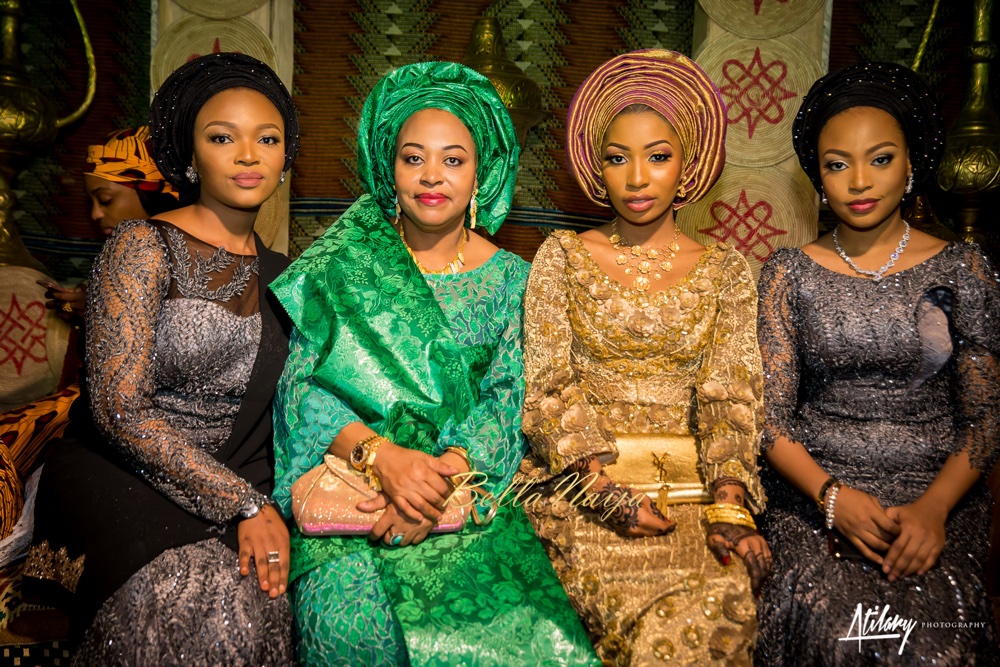 ~ Pre-Wedding Dinner| Photography by Atilary Studio
For the pre-wedding dinner, our colours were ivory with a touch of blush pink. I wanted to sparkle and bling at my wedding, so being a designer myself, I sat with Lebanese designer based in Dubai, Mardeni Couture to create the perfect fairytale inspired pink dress, hand beaded with stones.
We had a groovy performance by the tantalising  Mr Eazi at The Afficent Grand Marquee, Kano.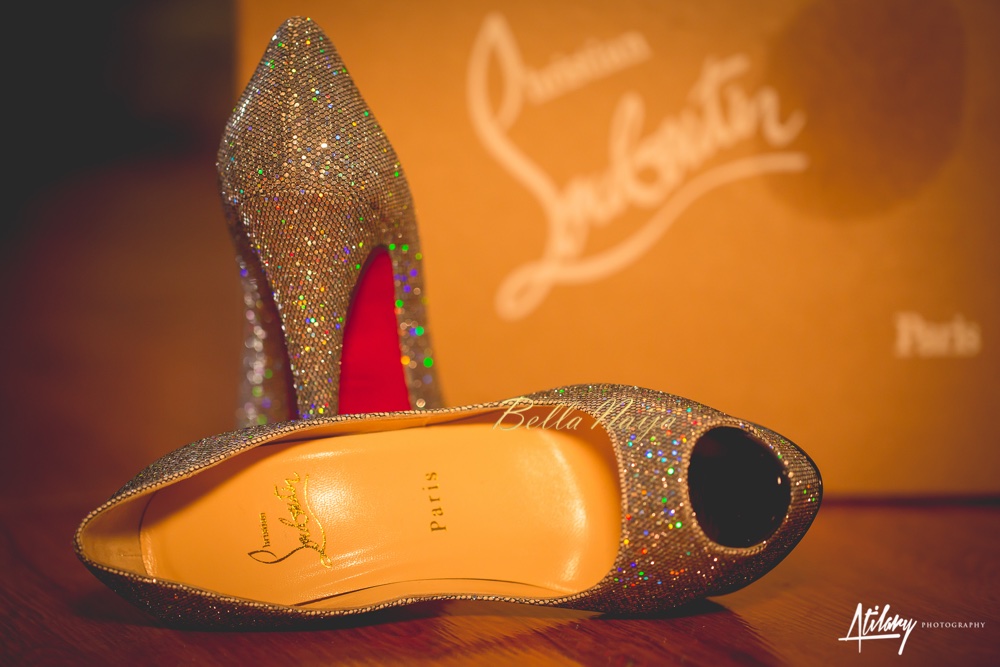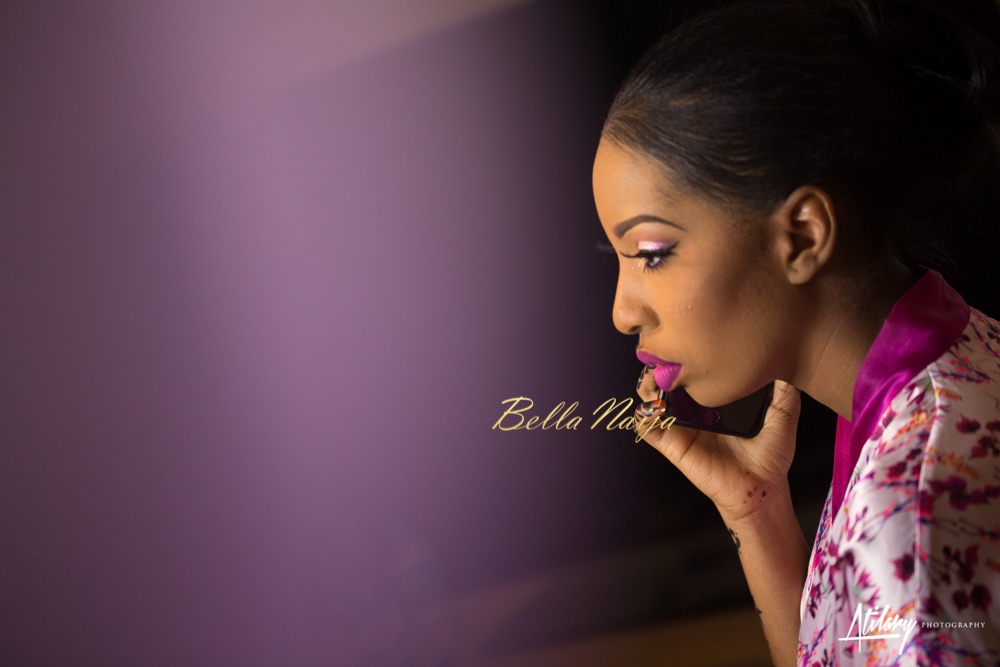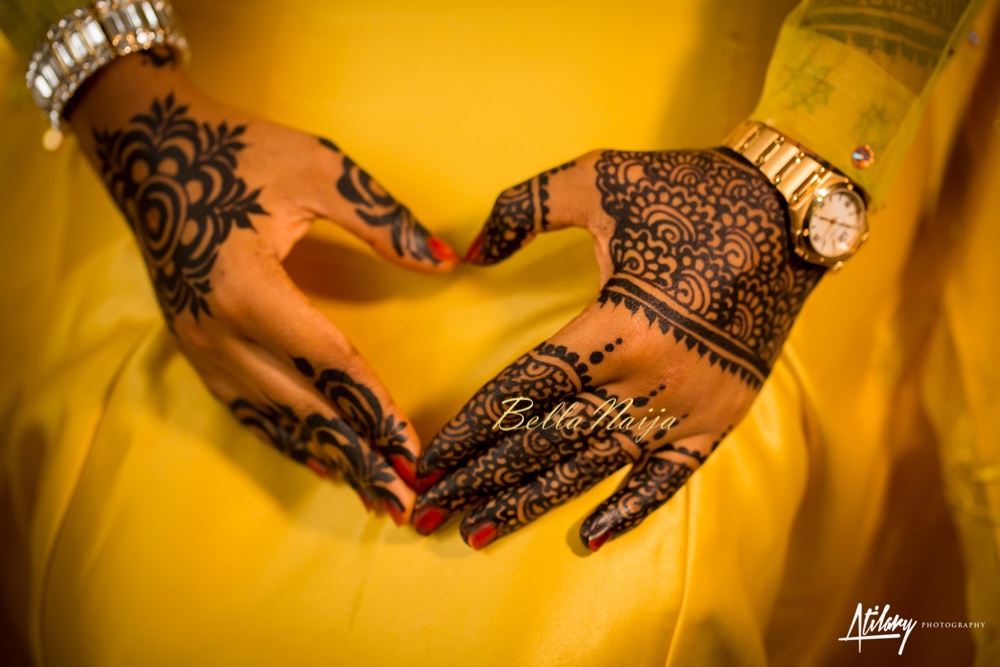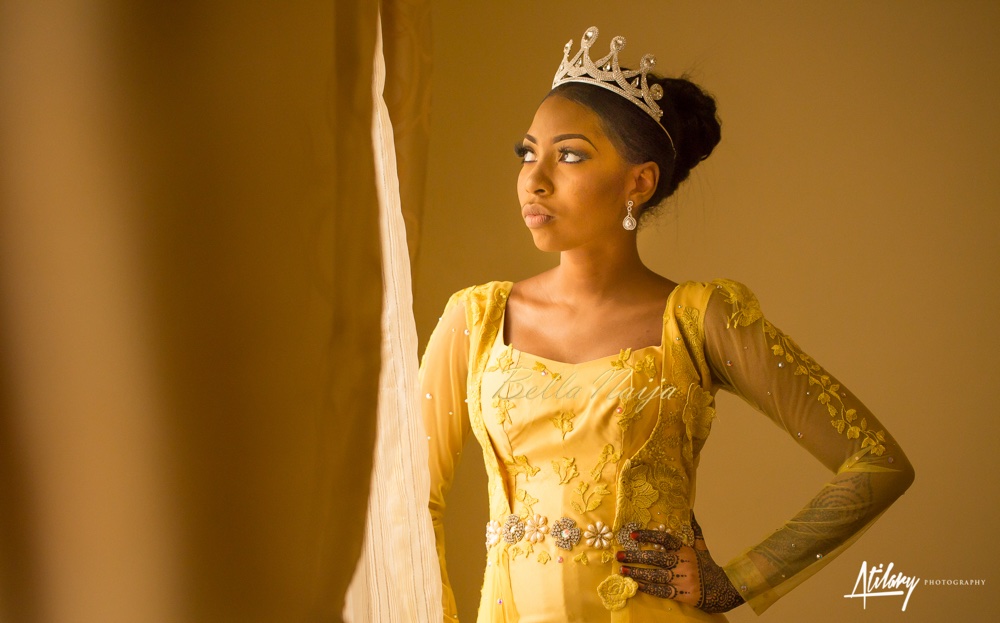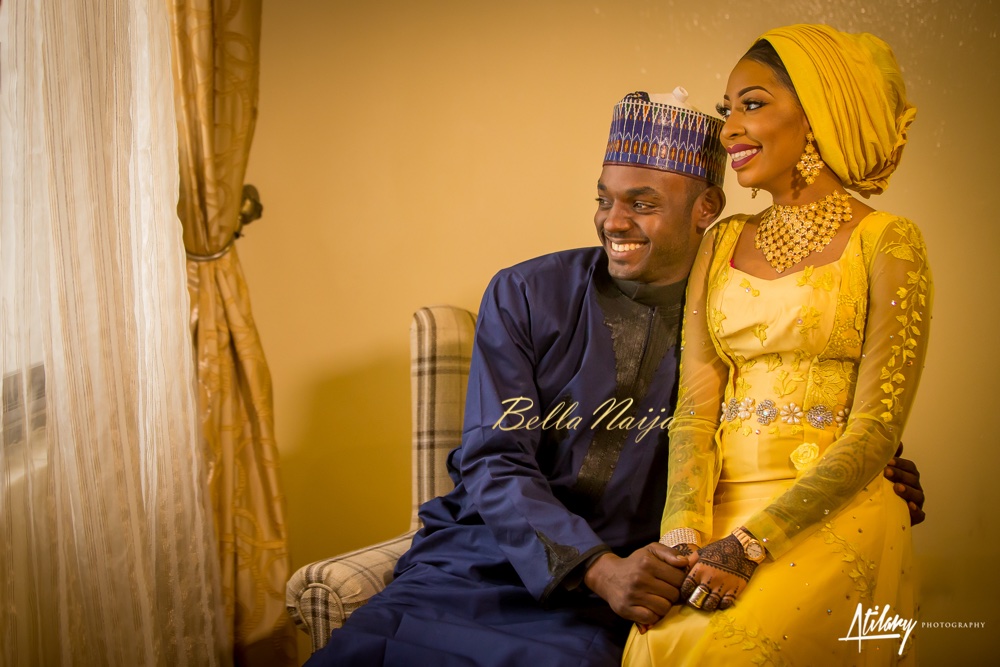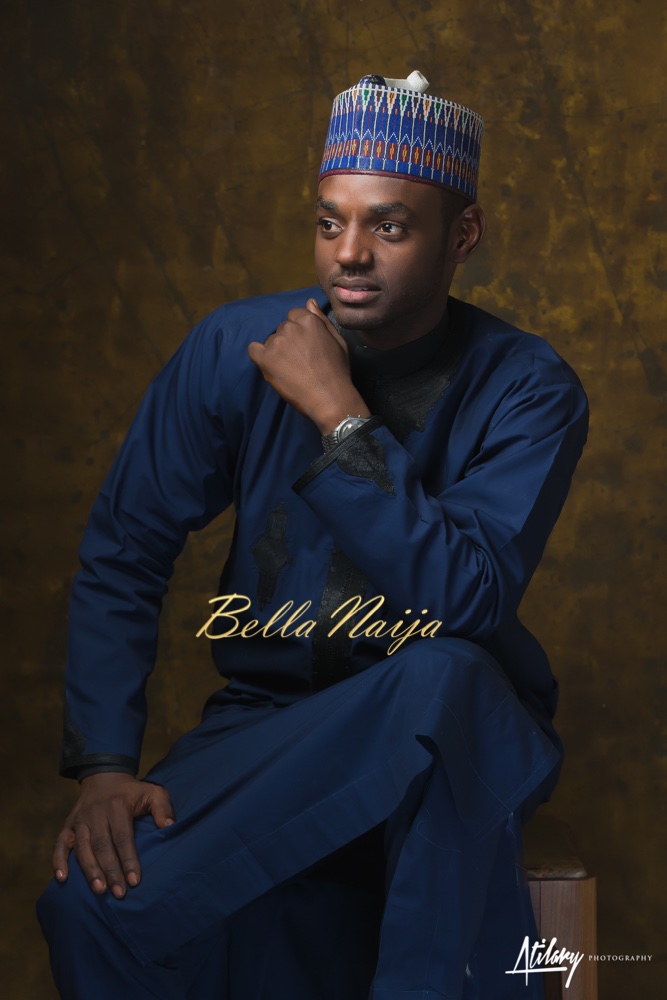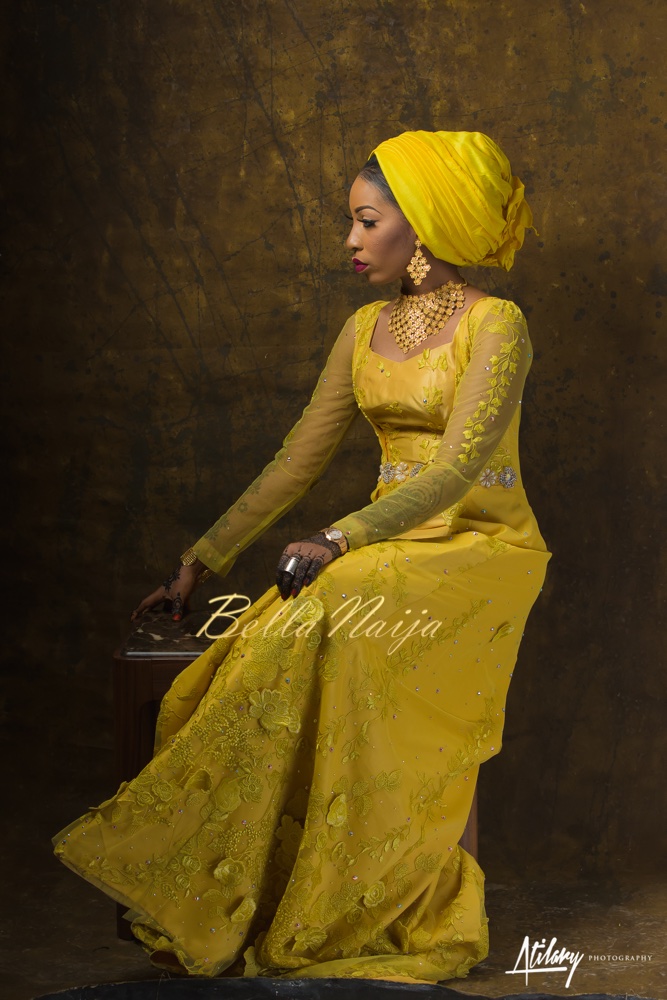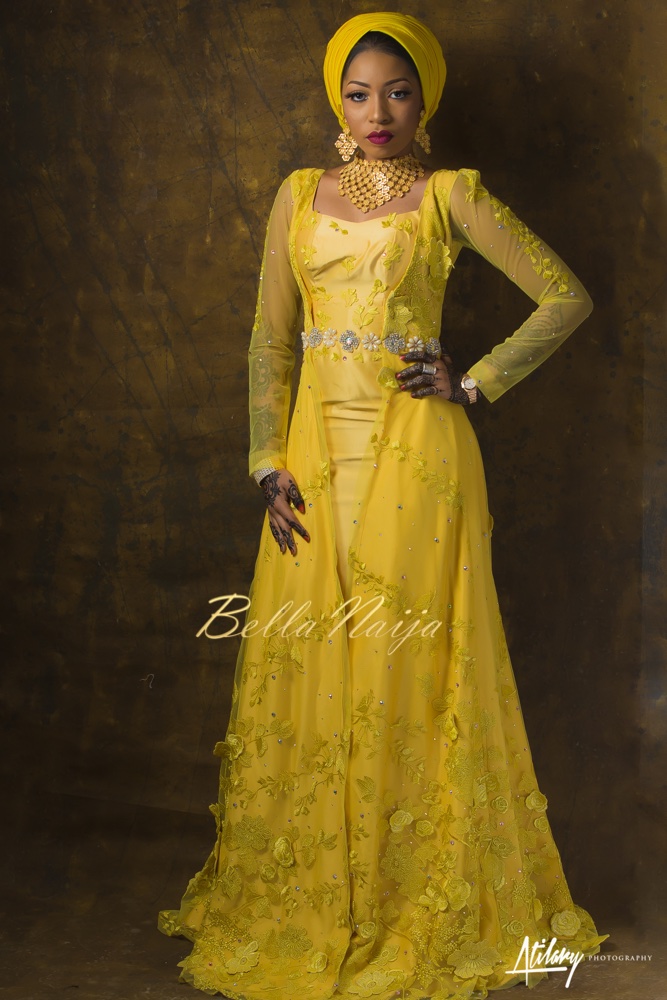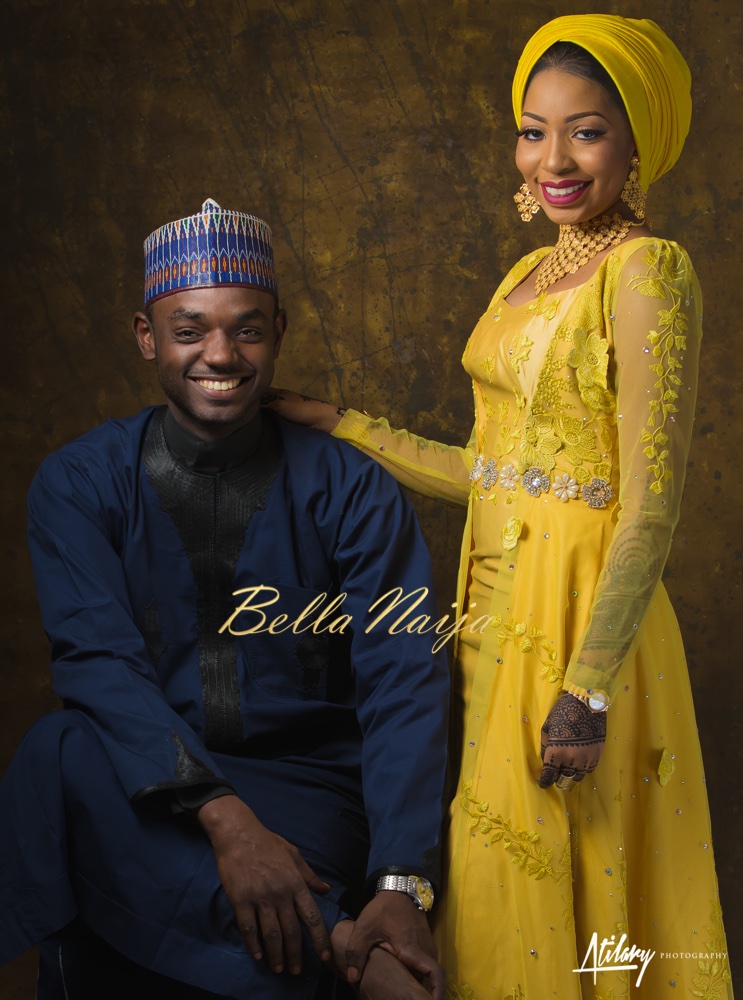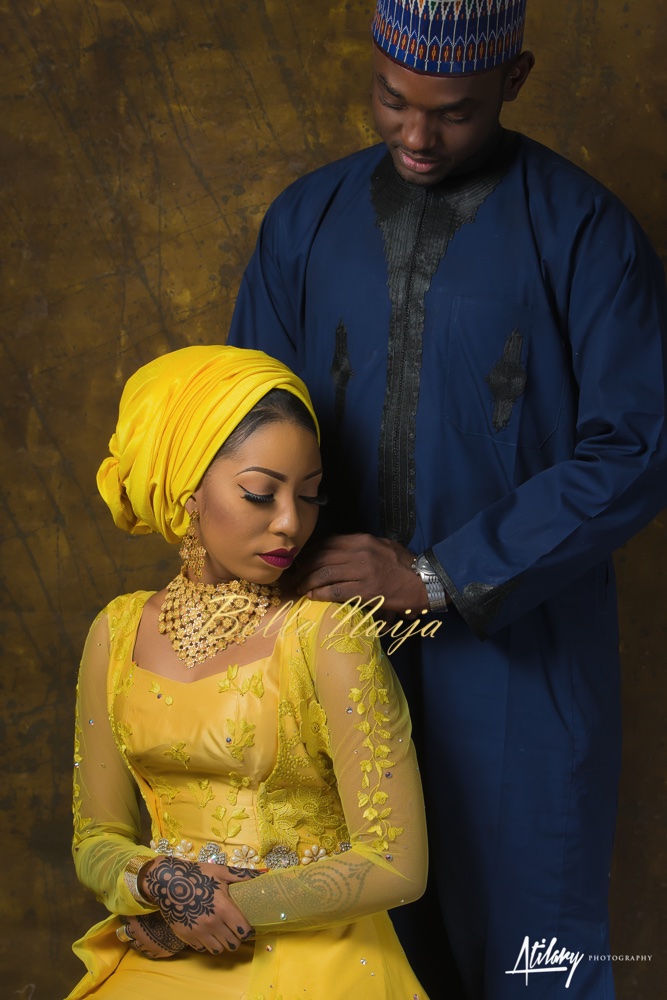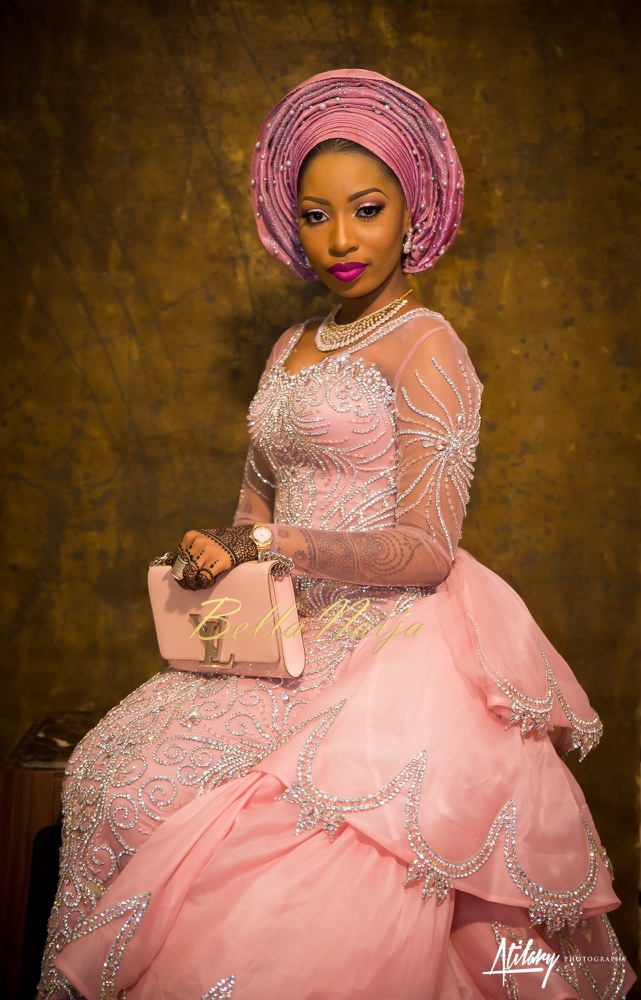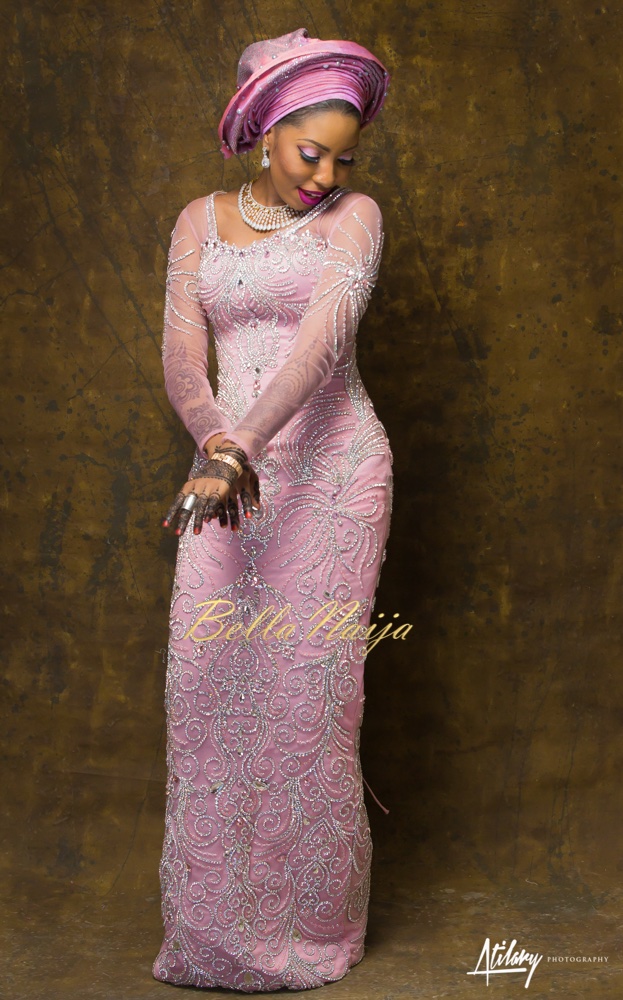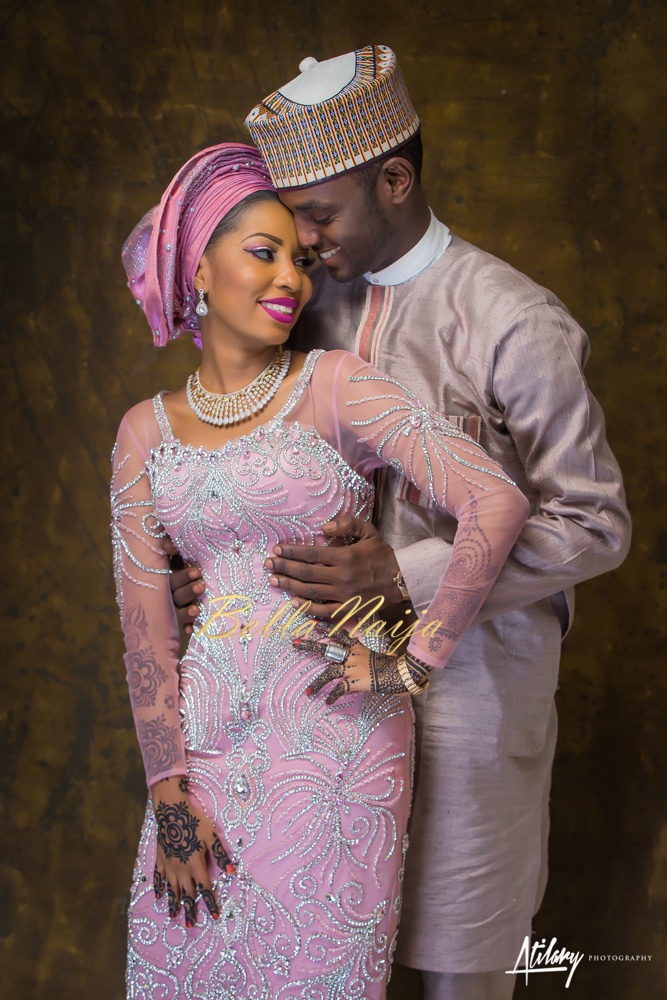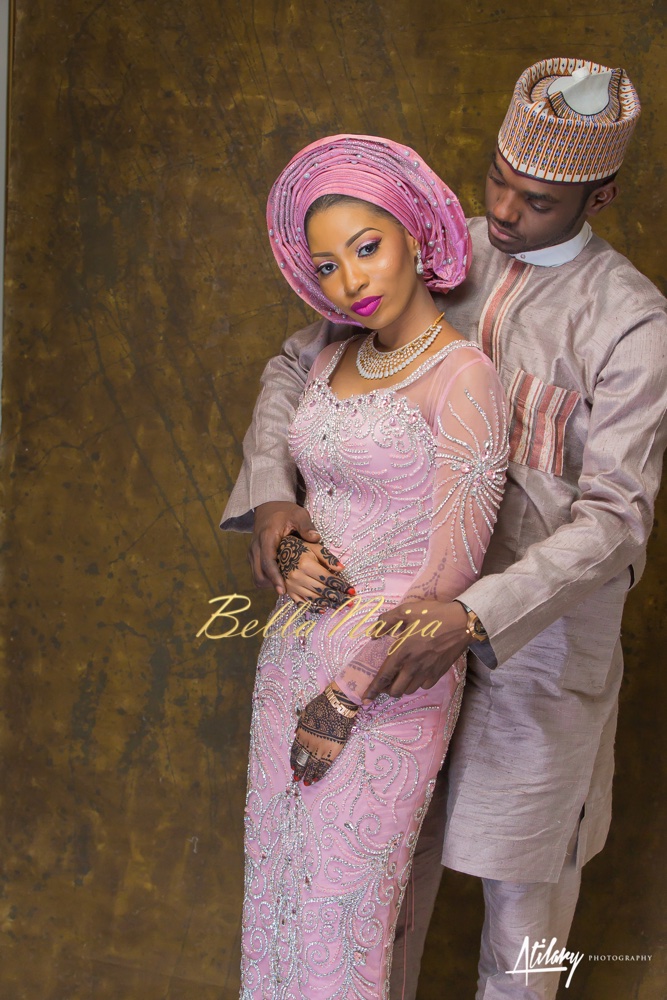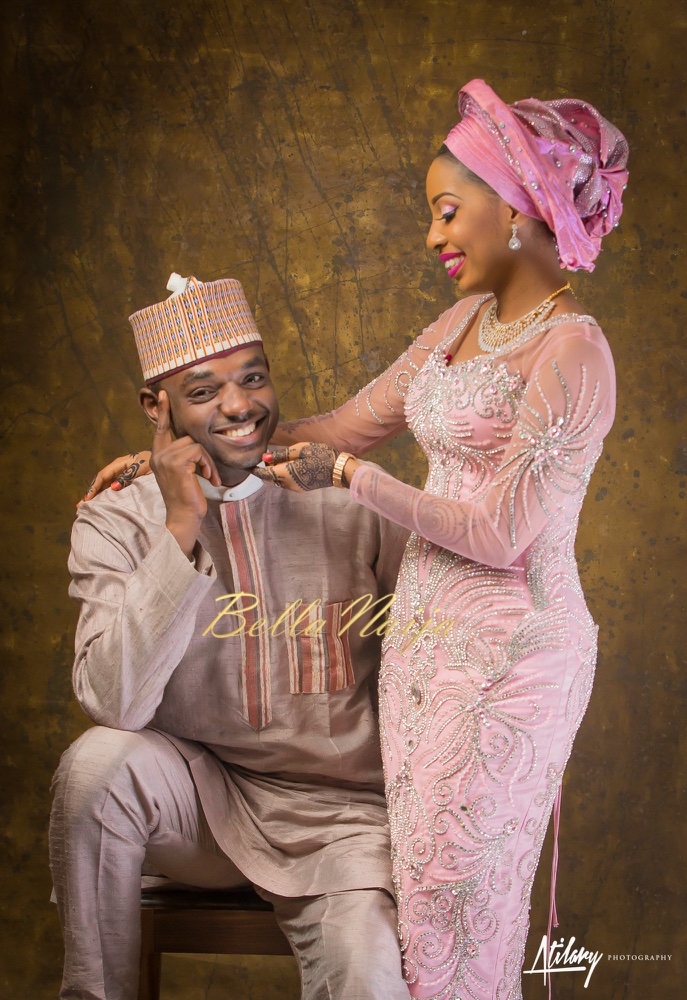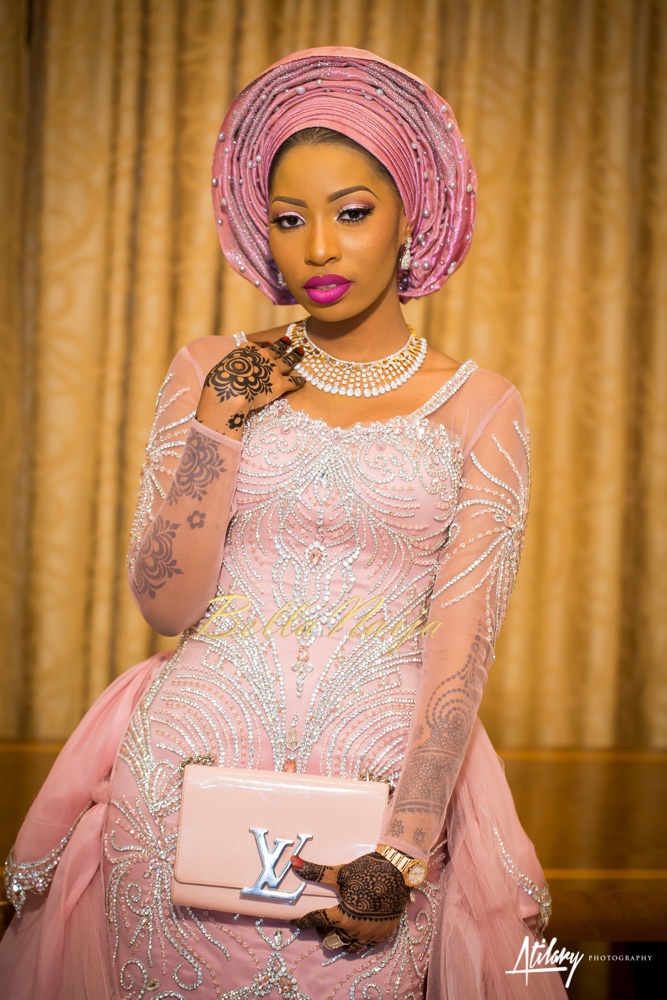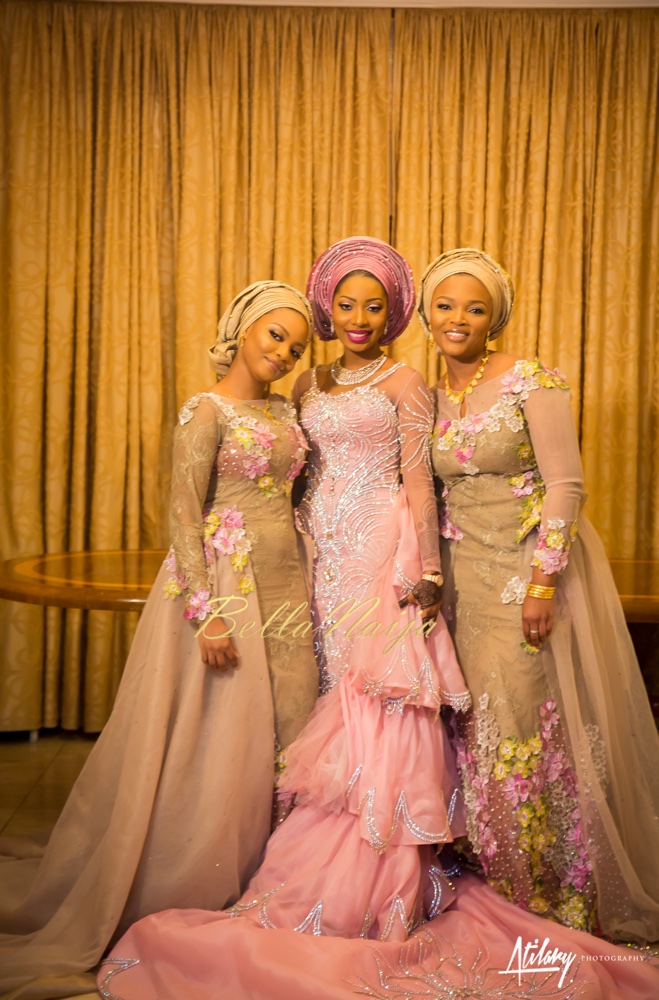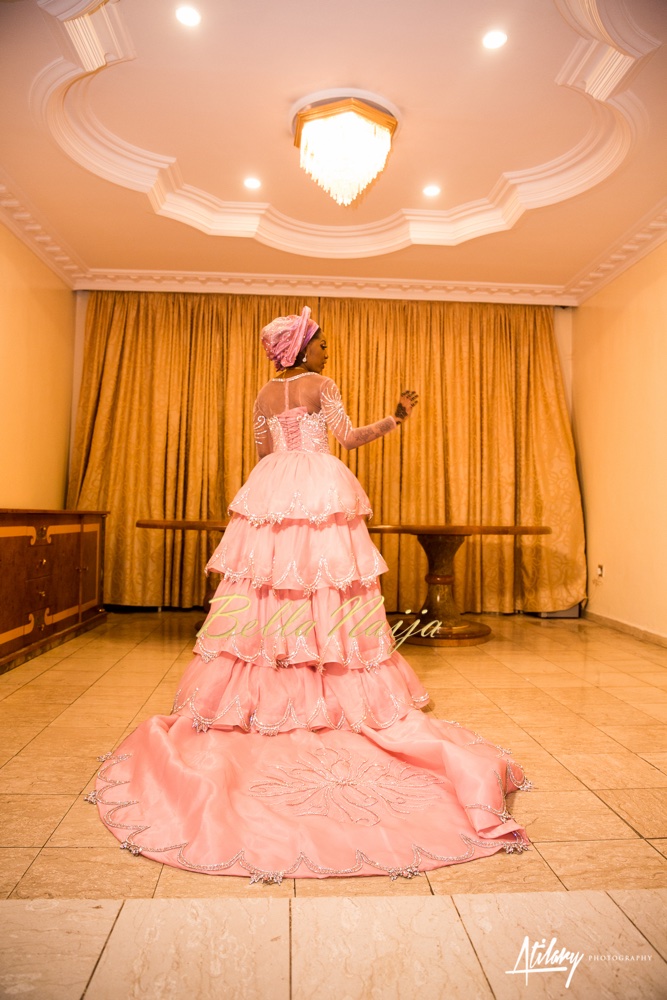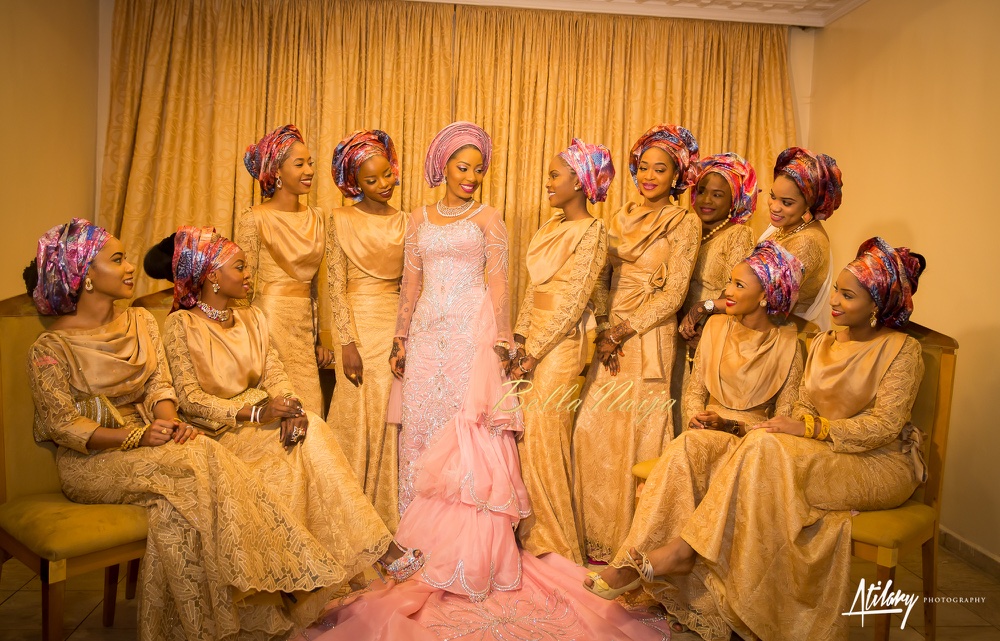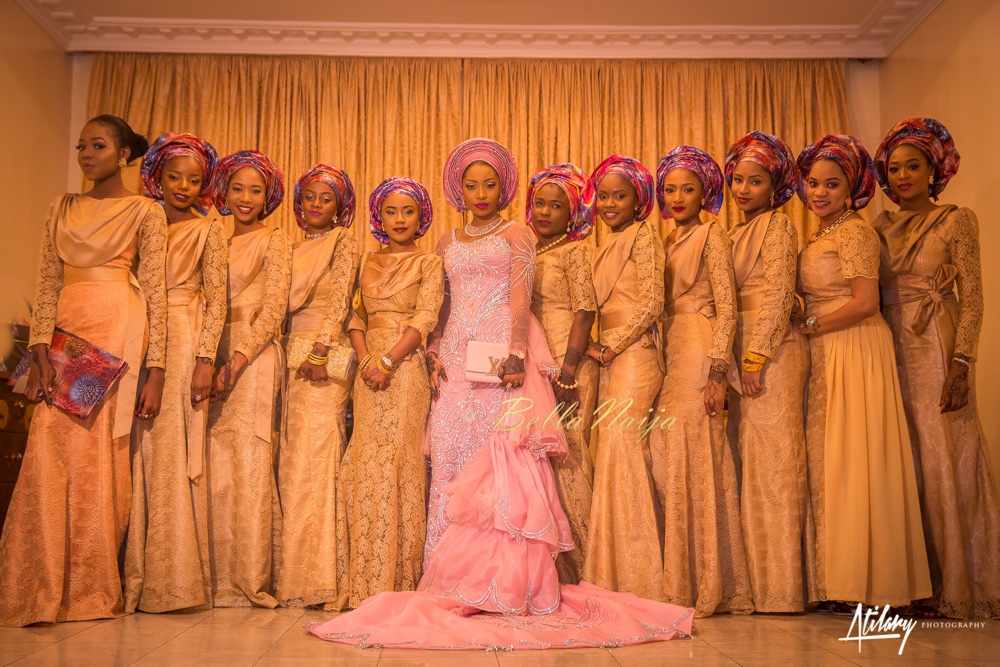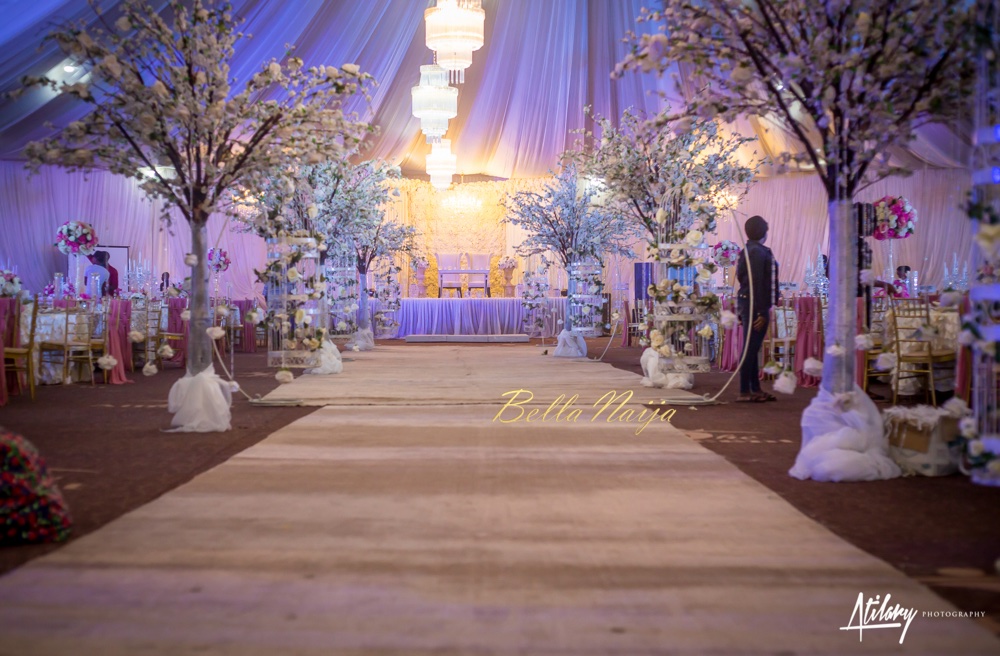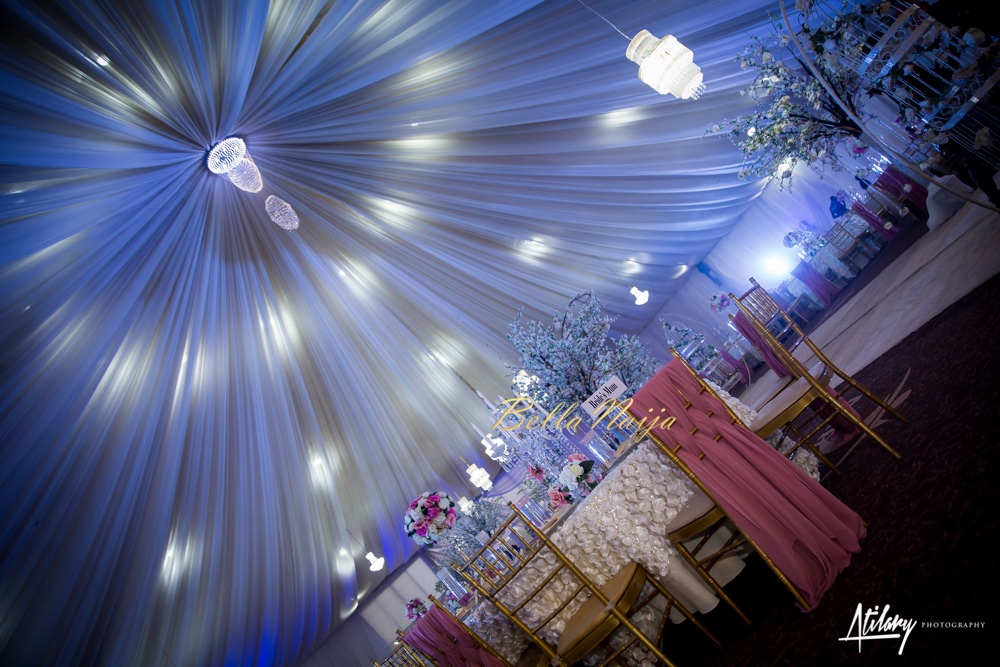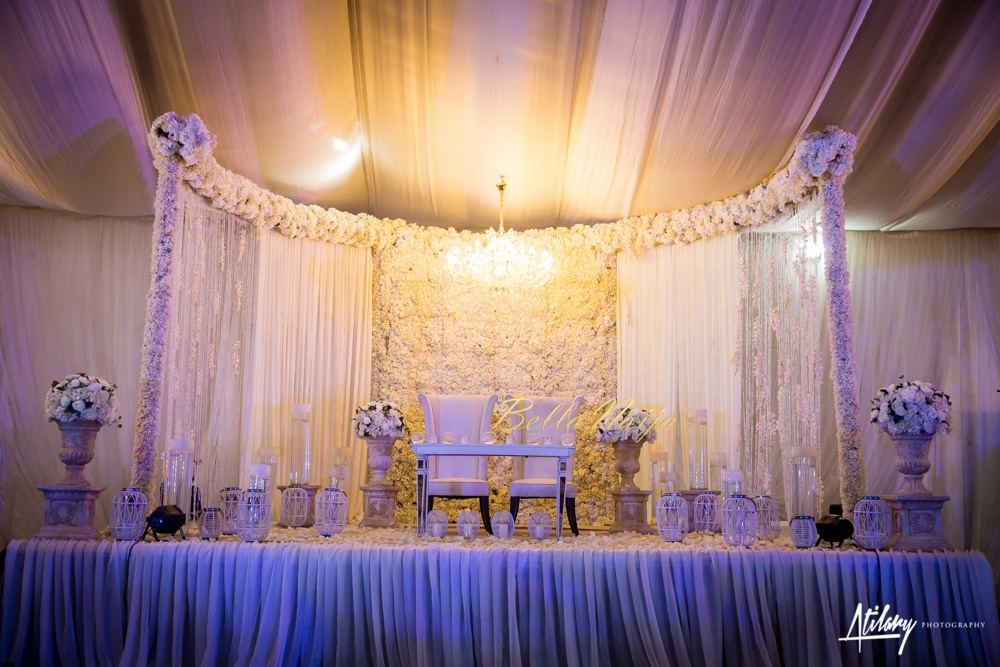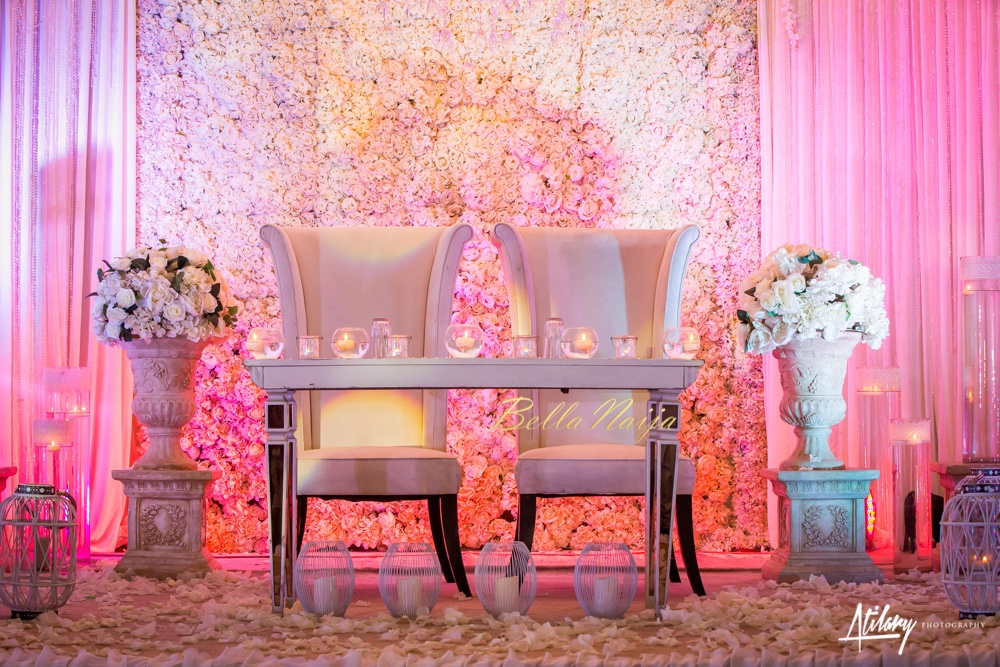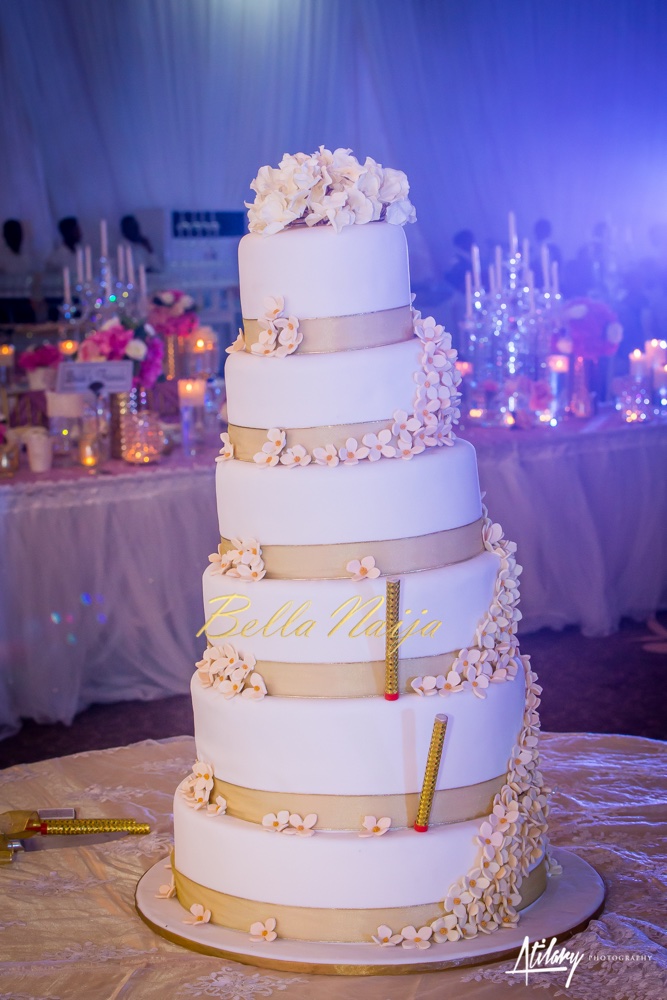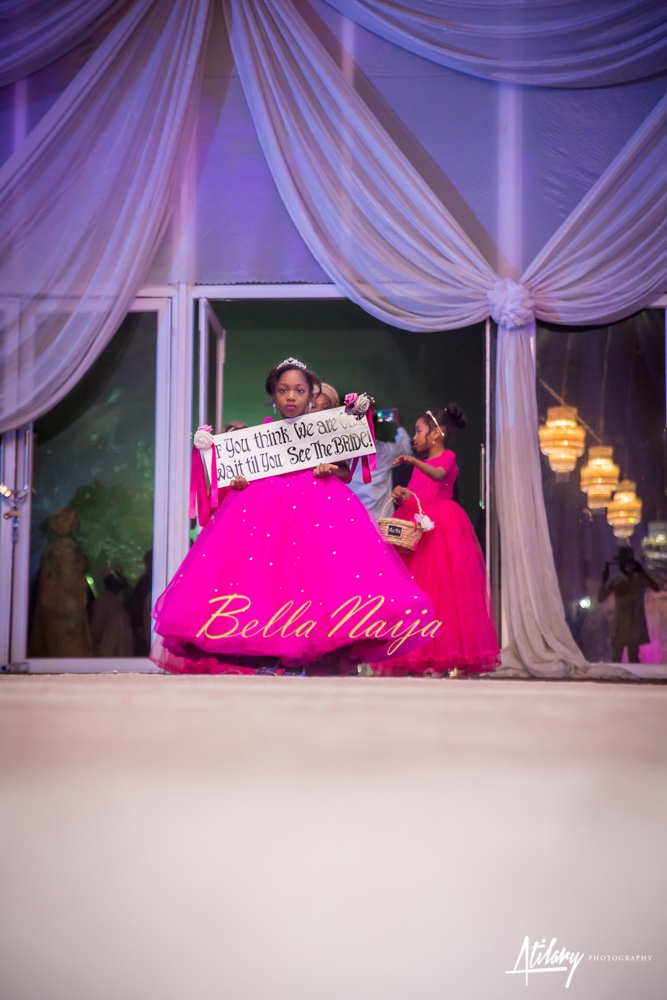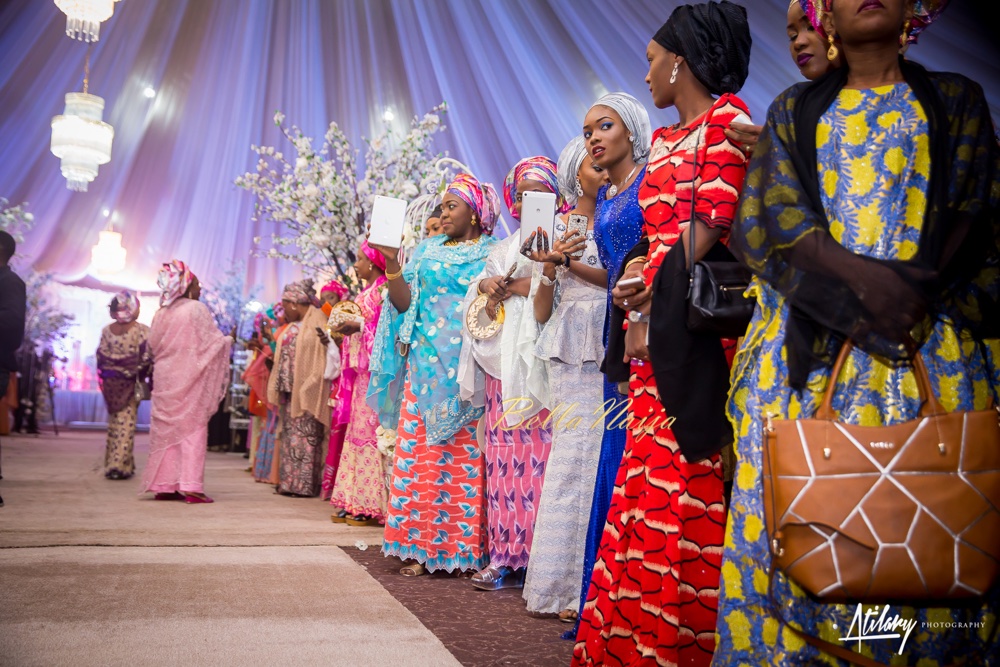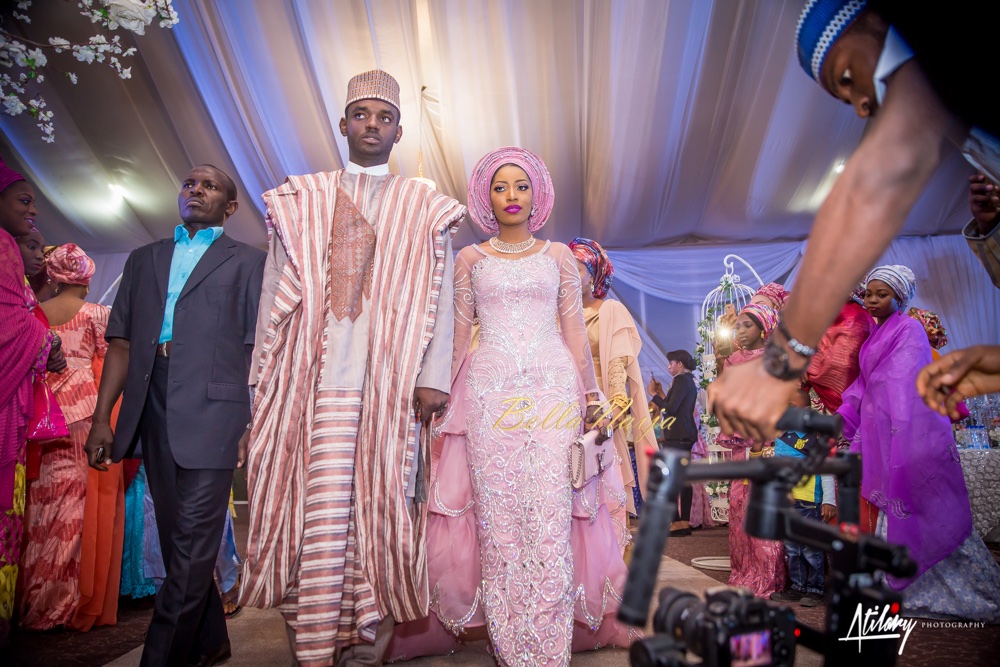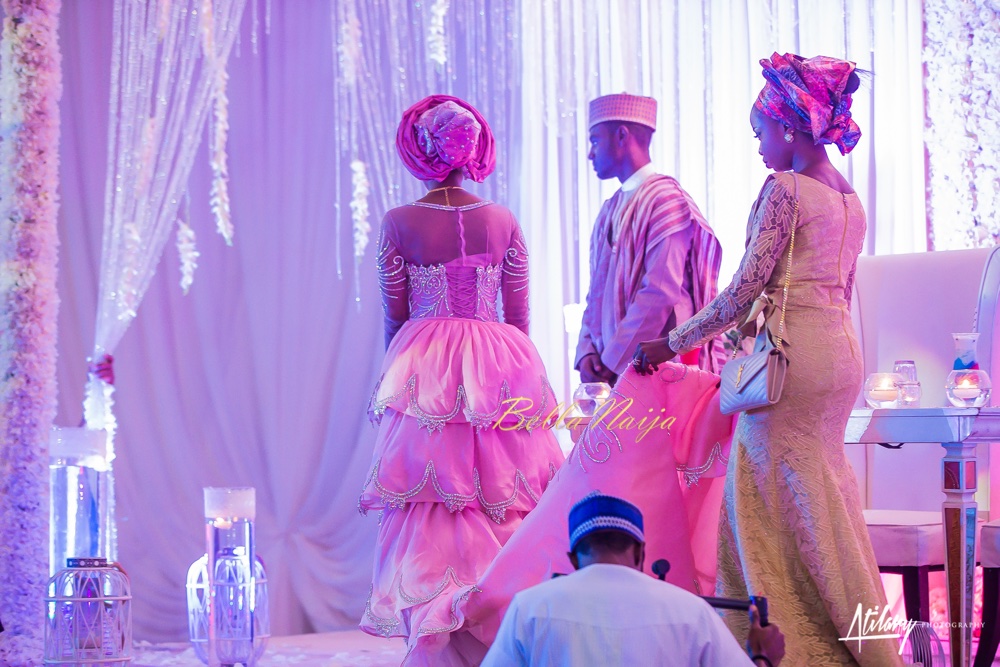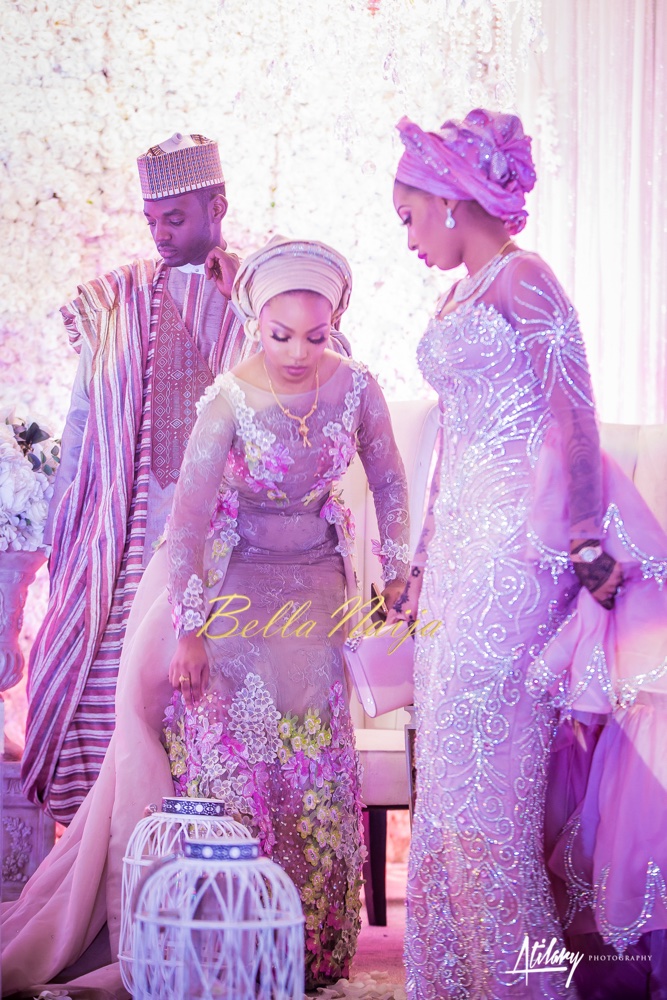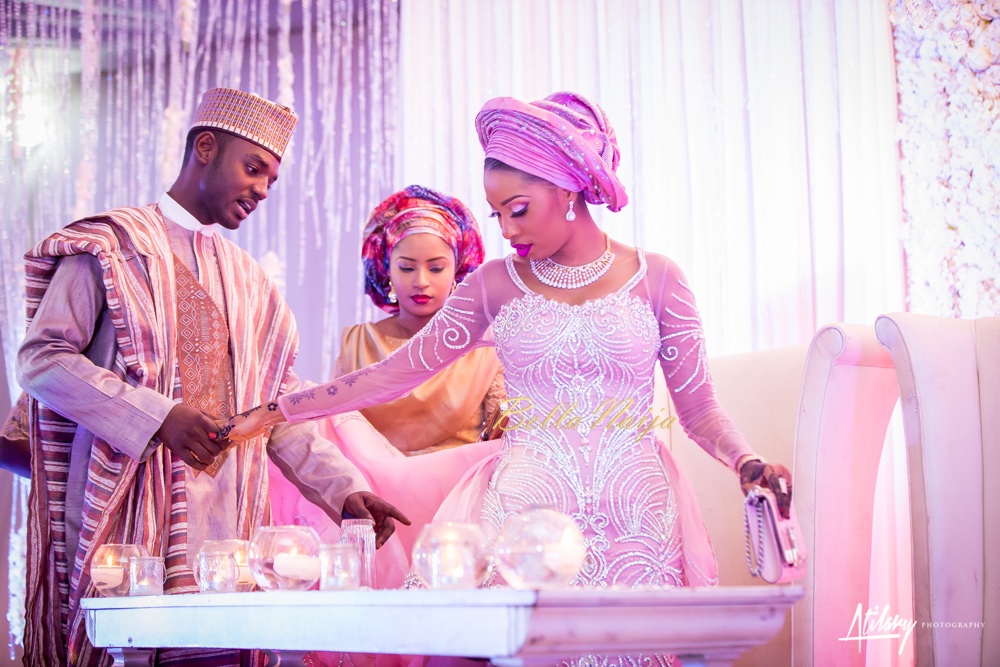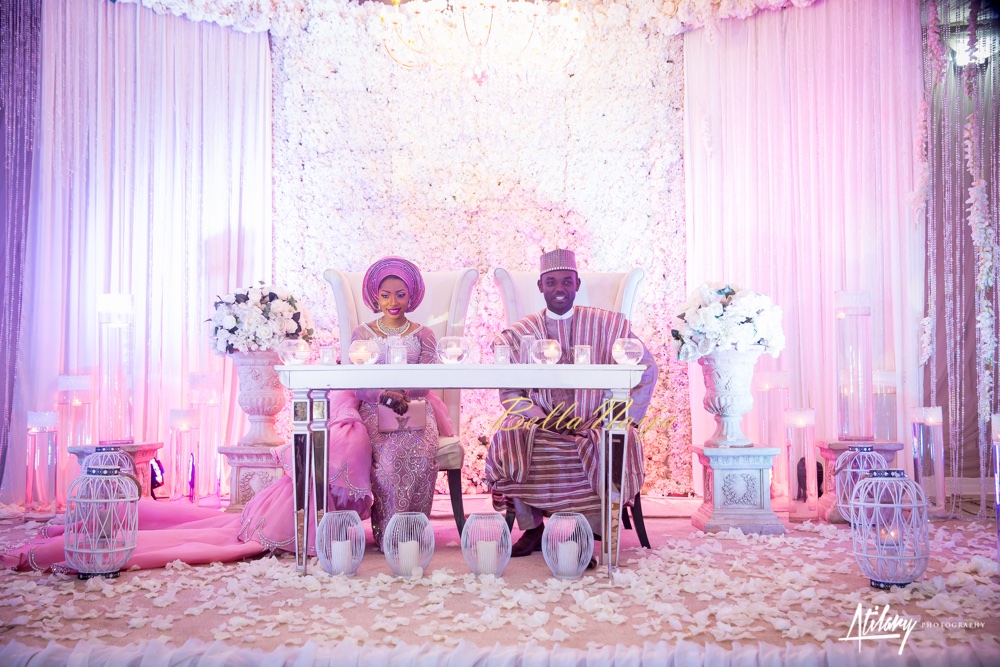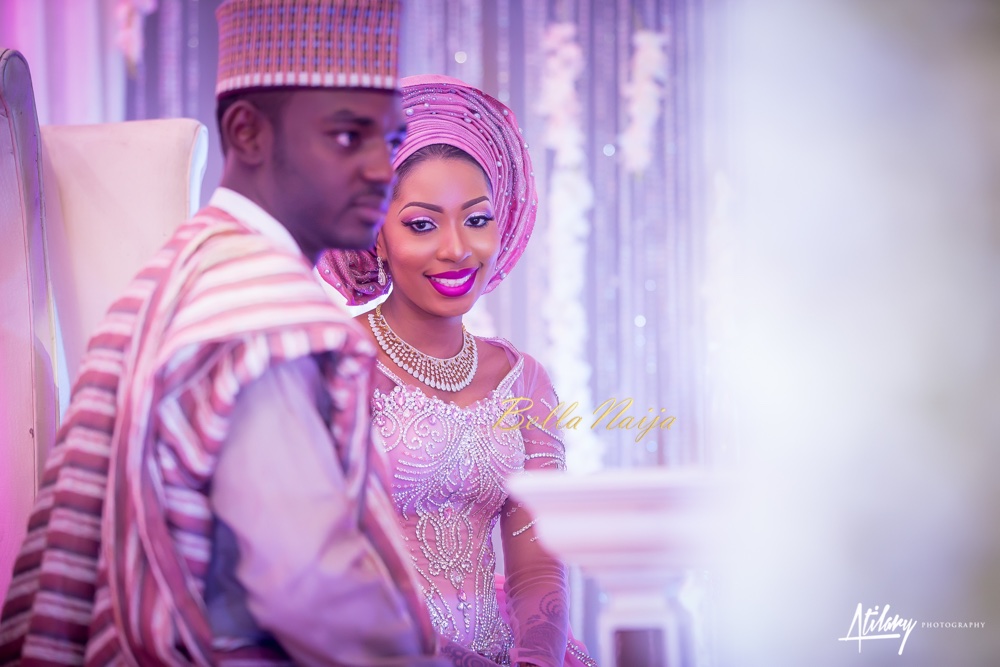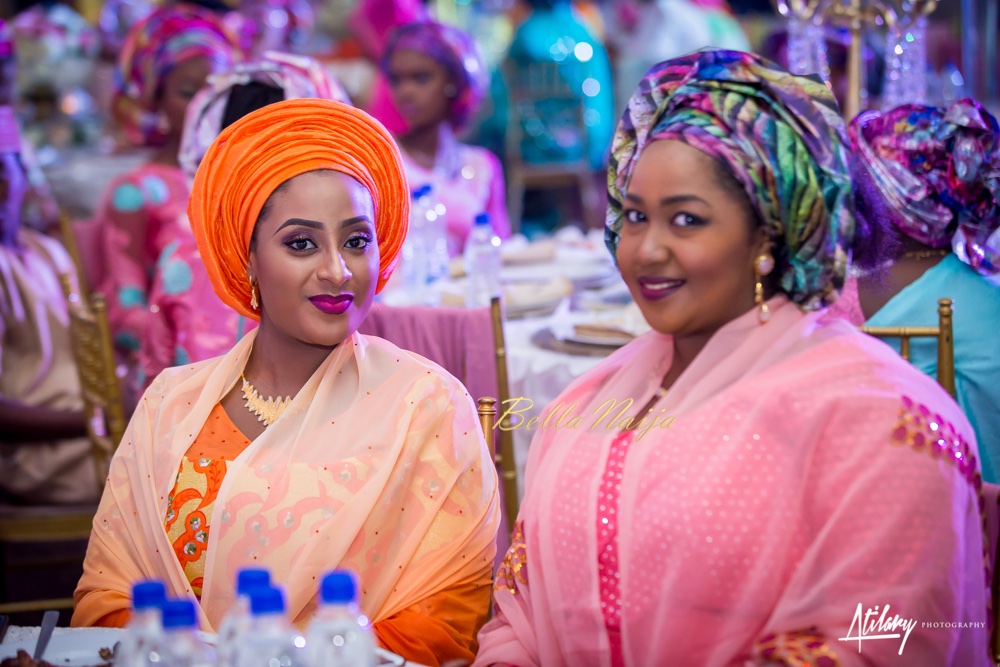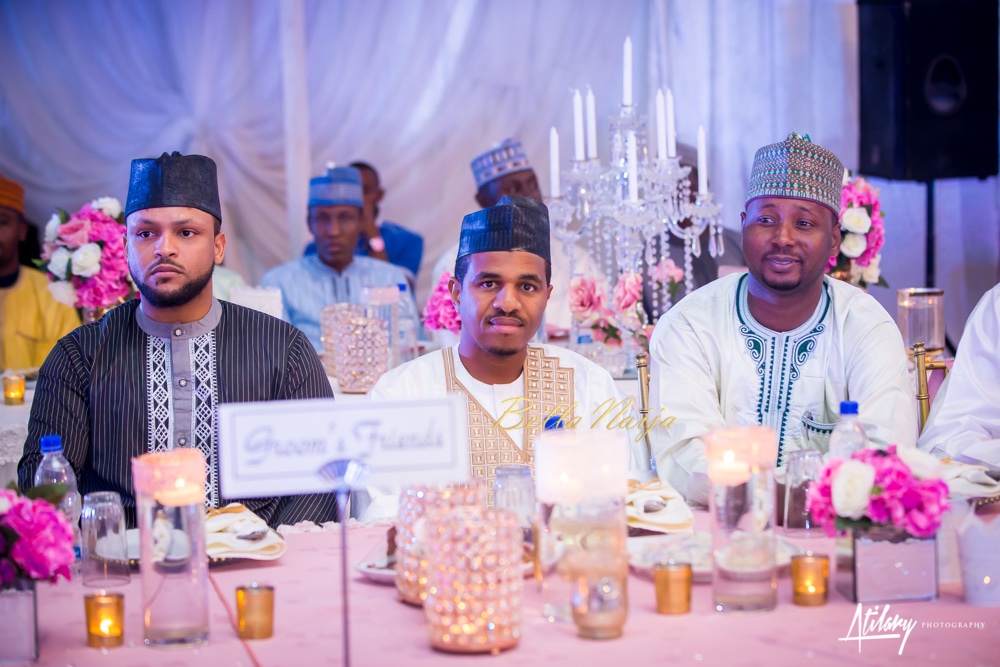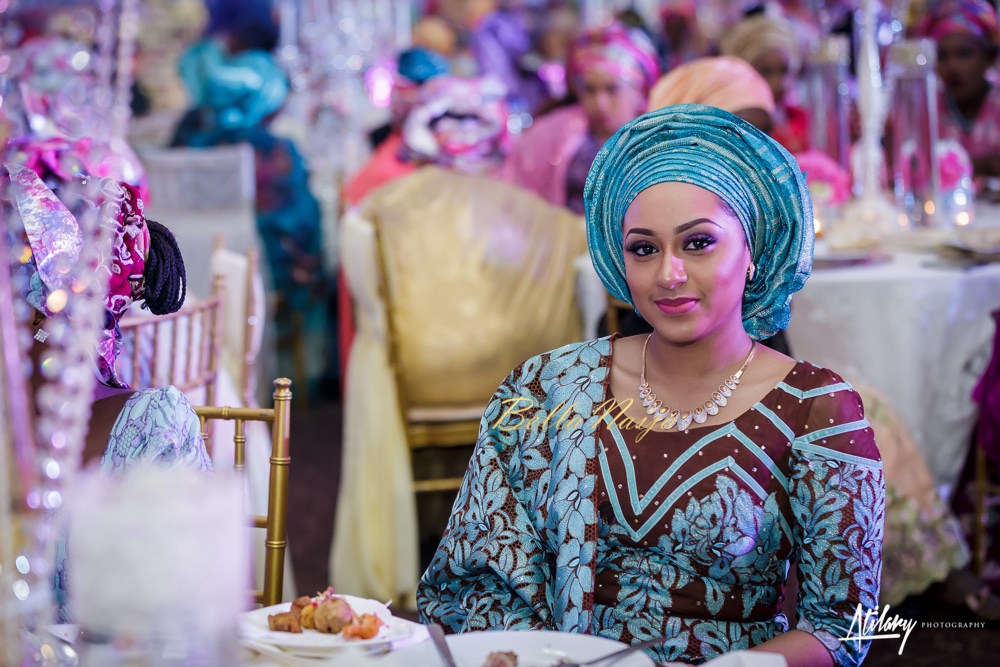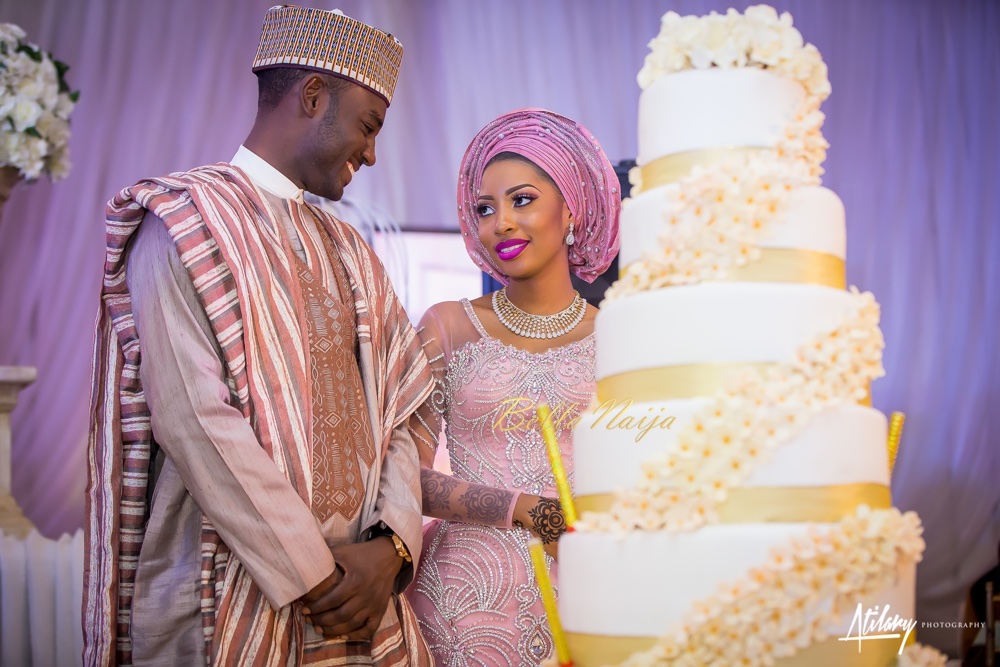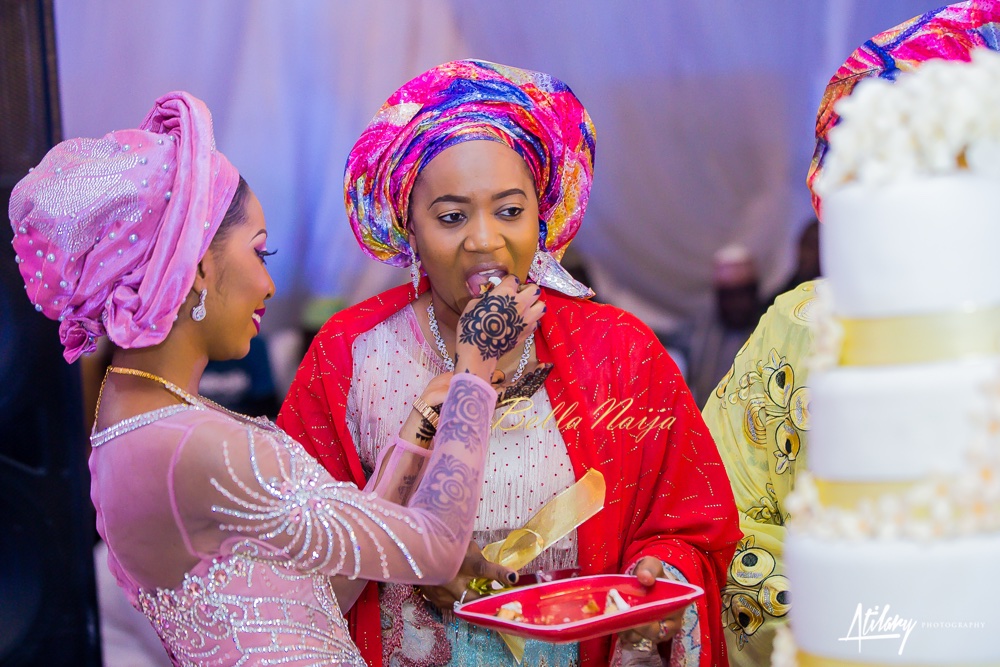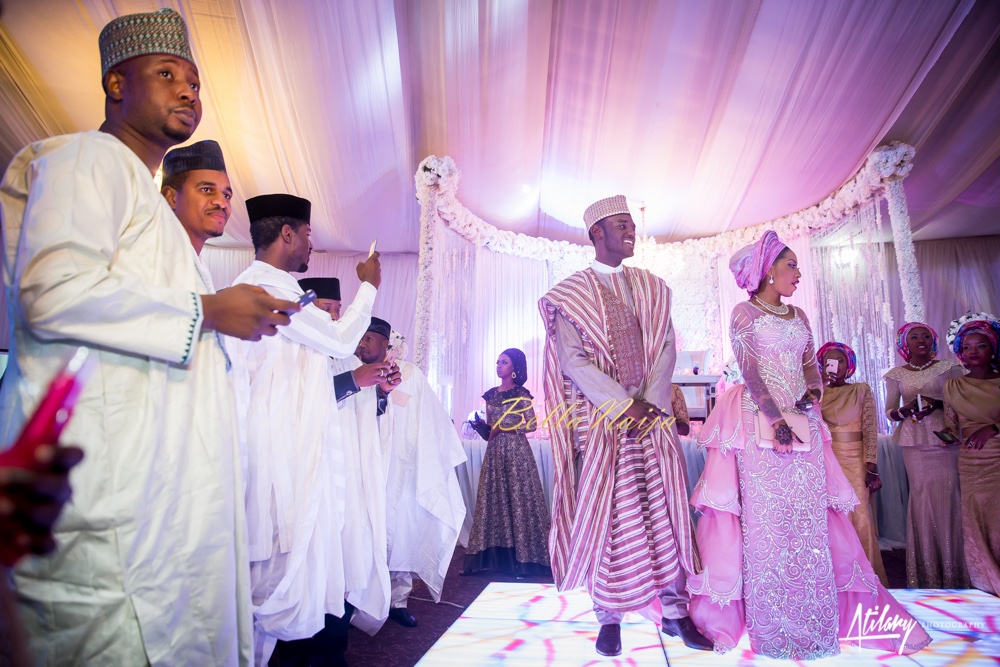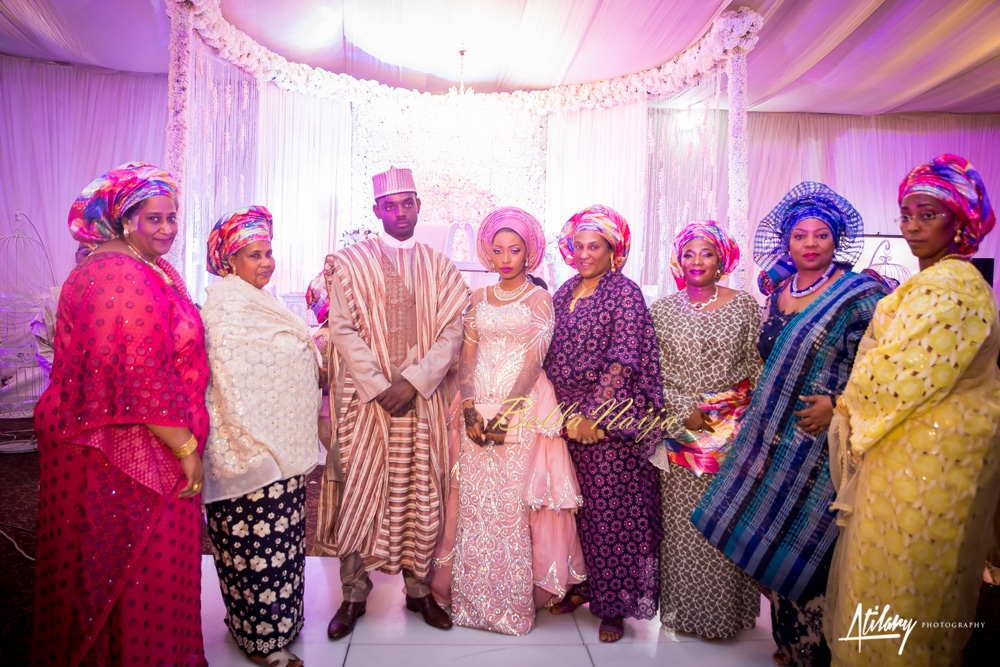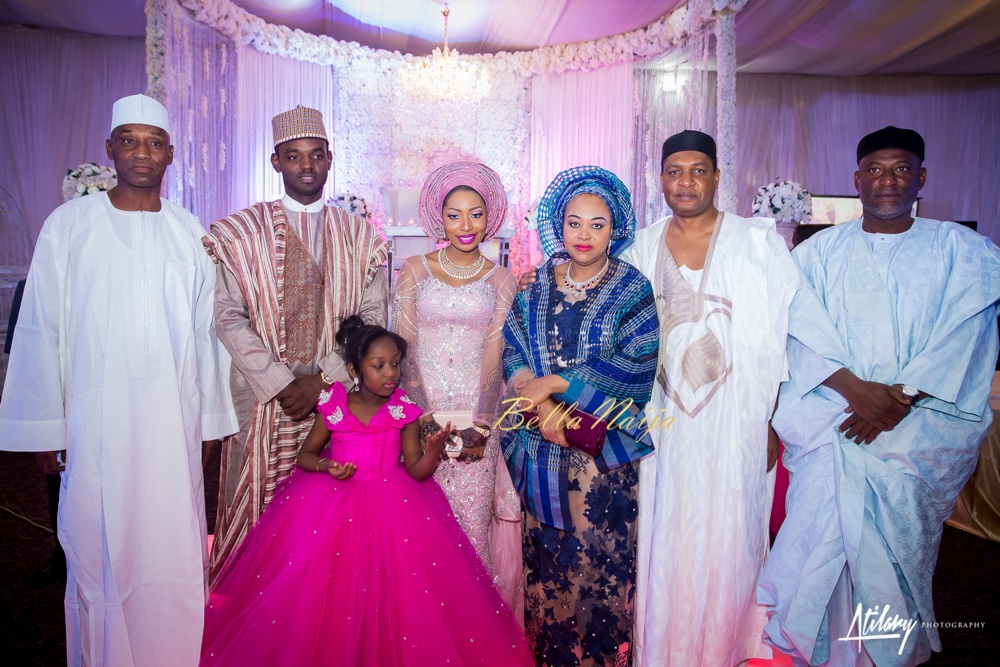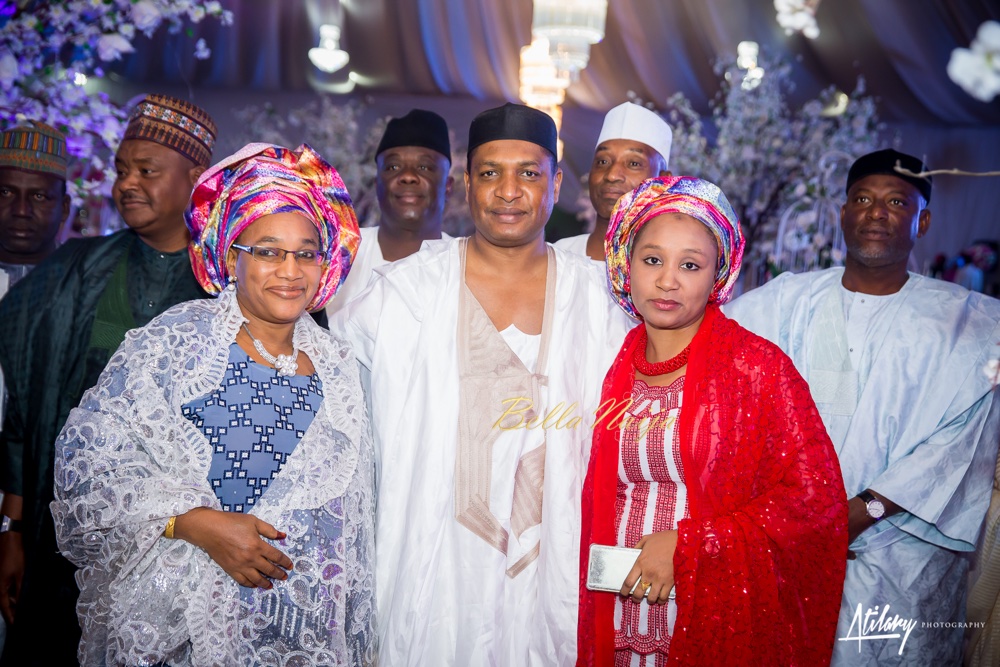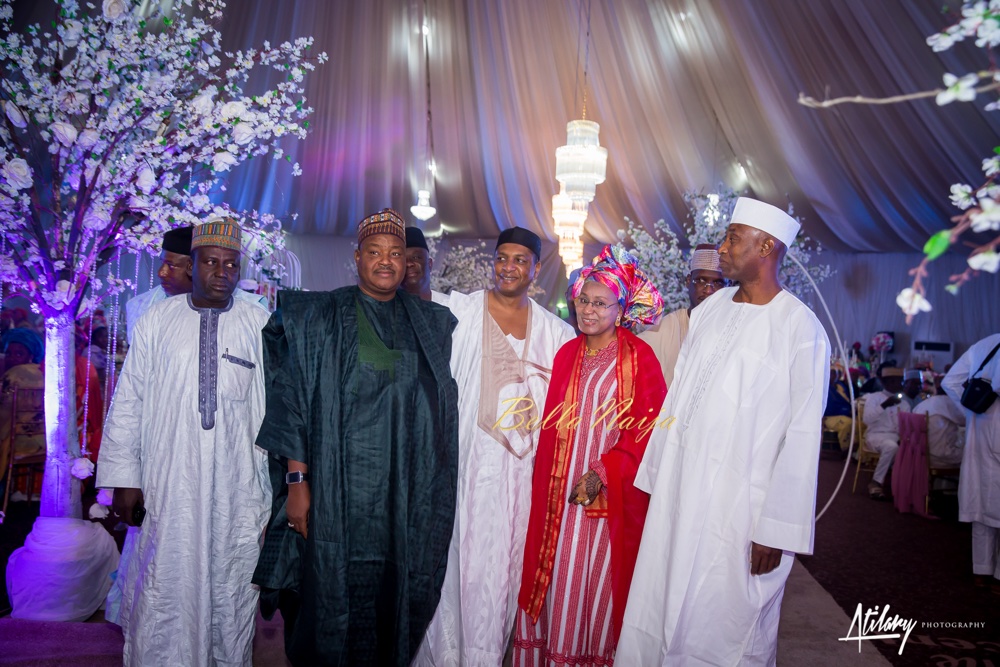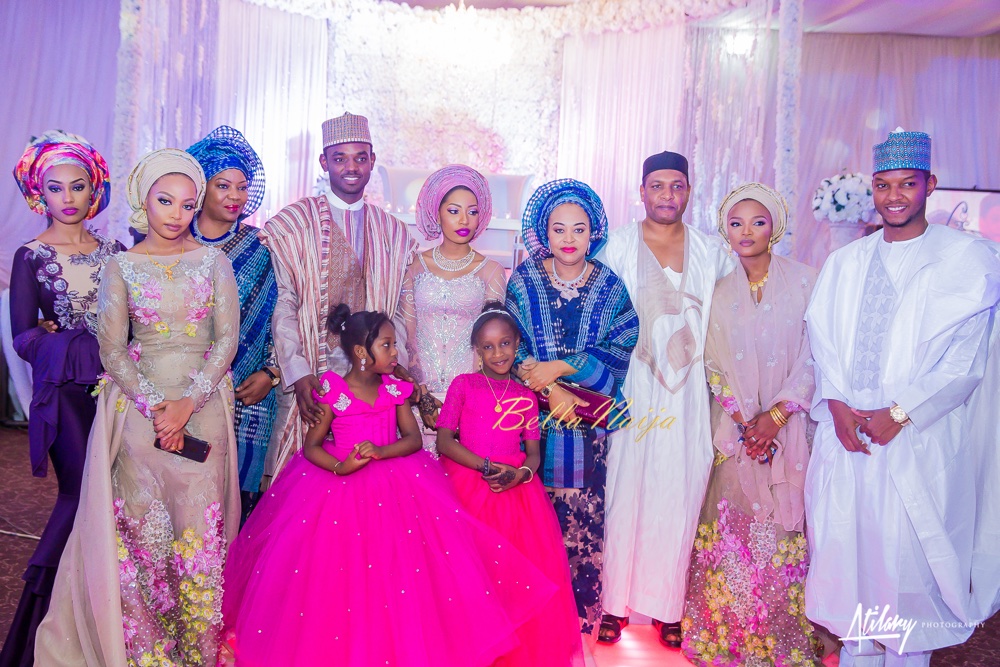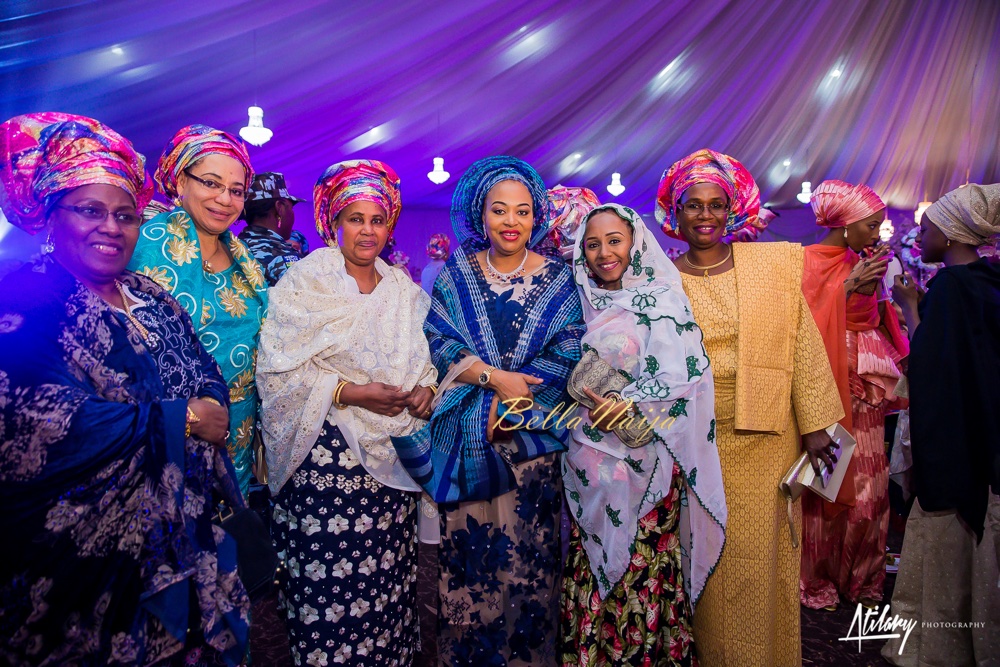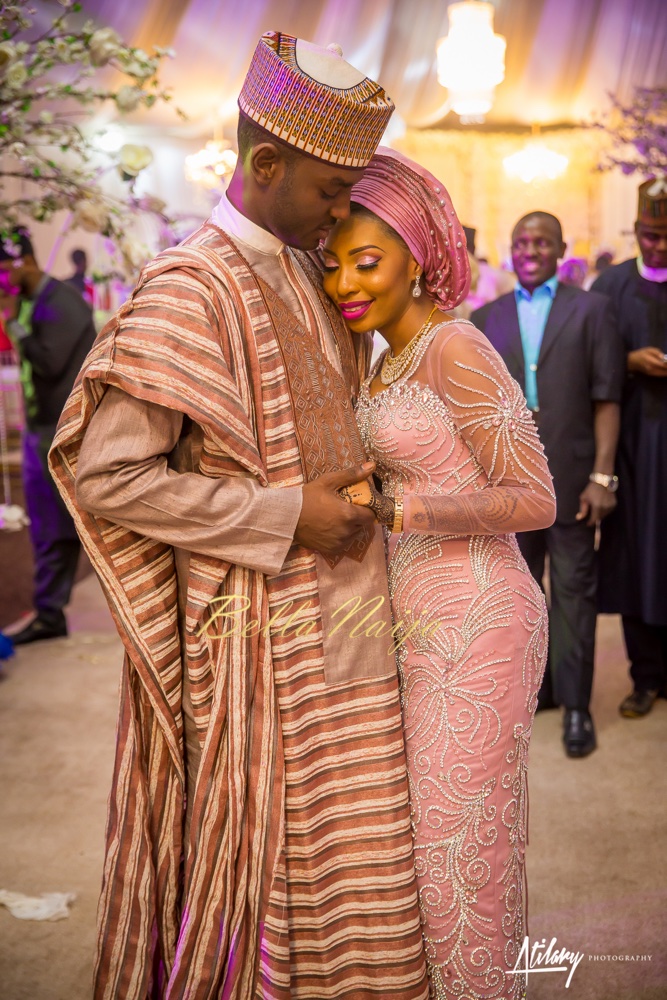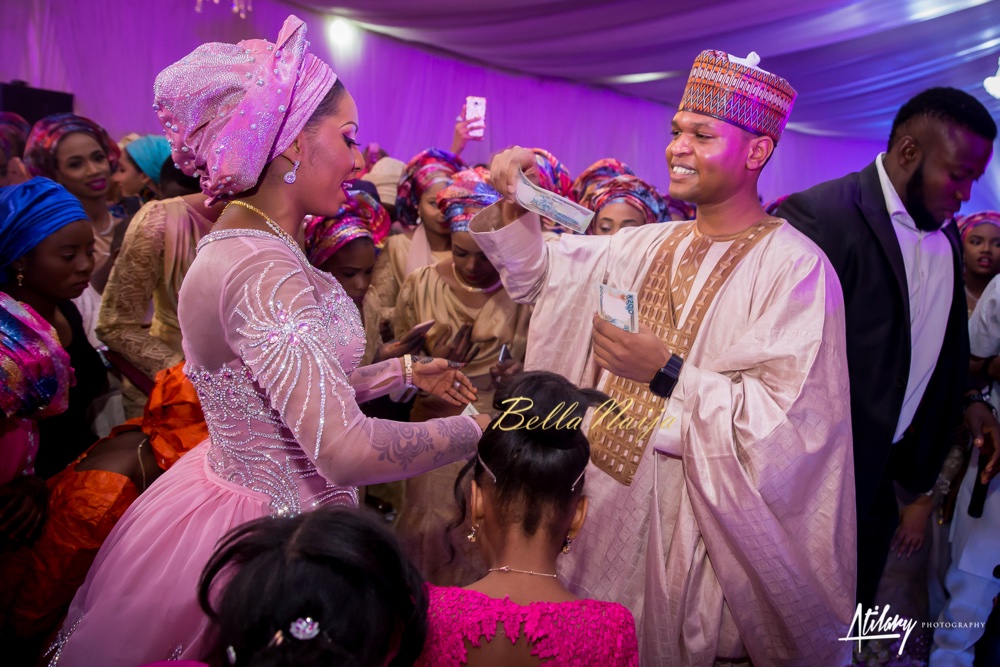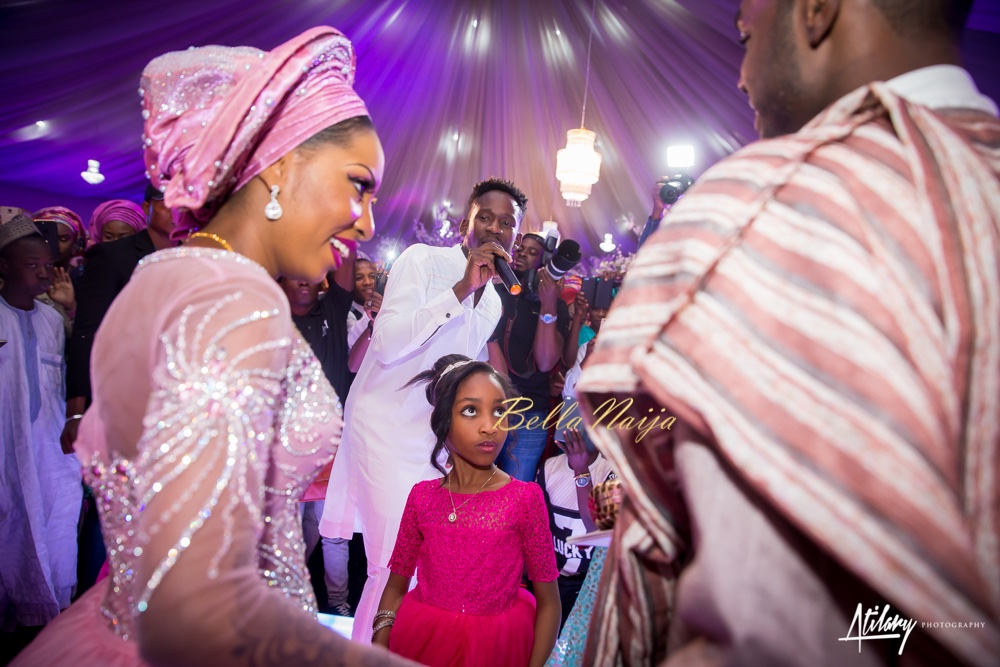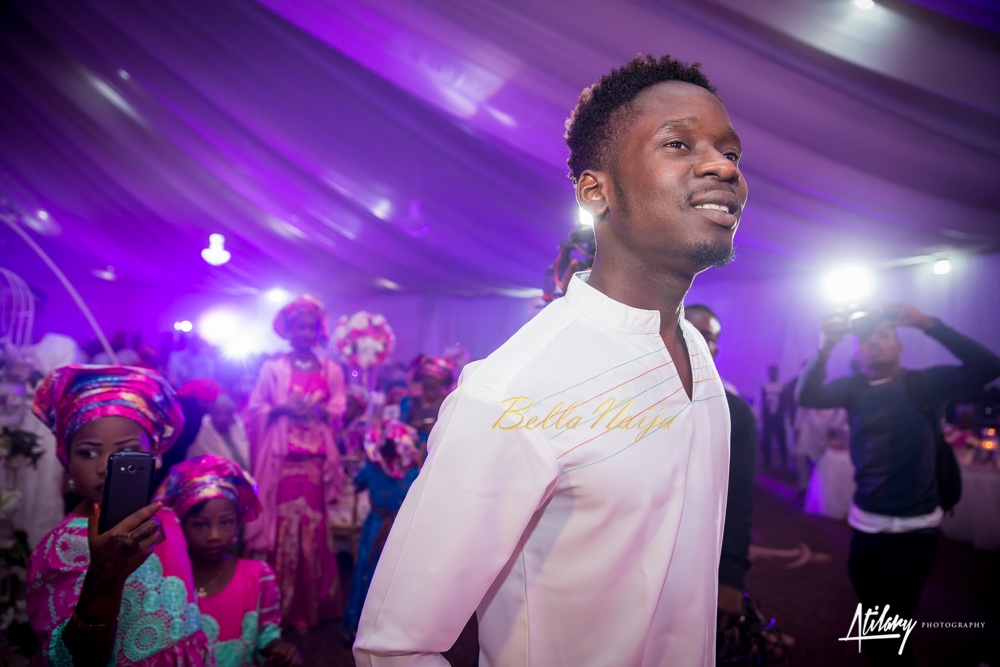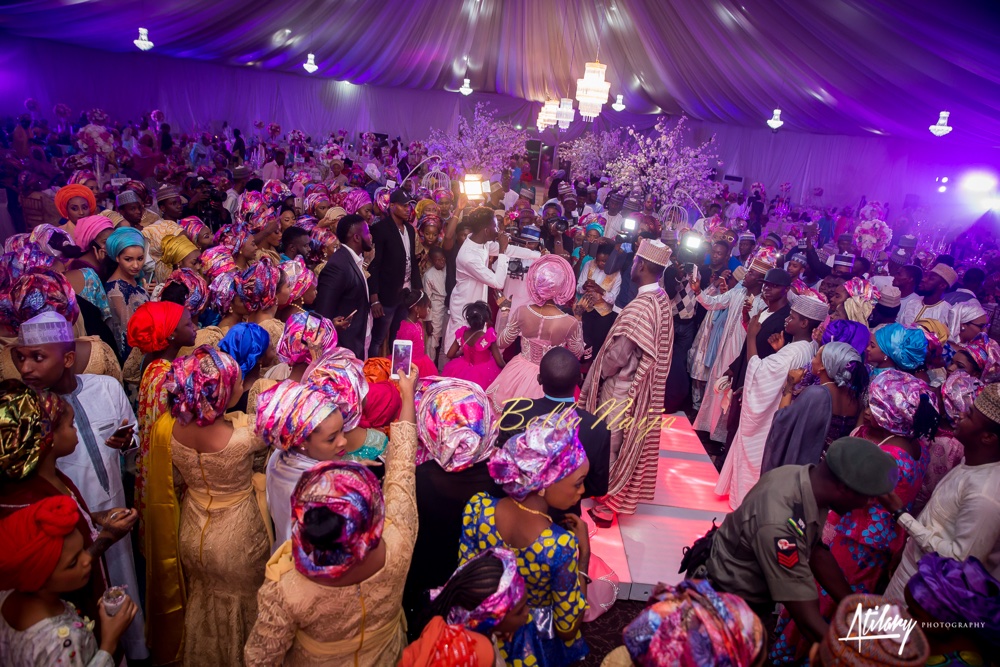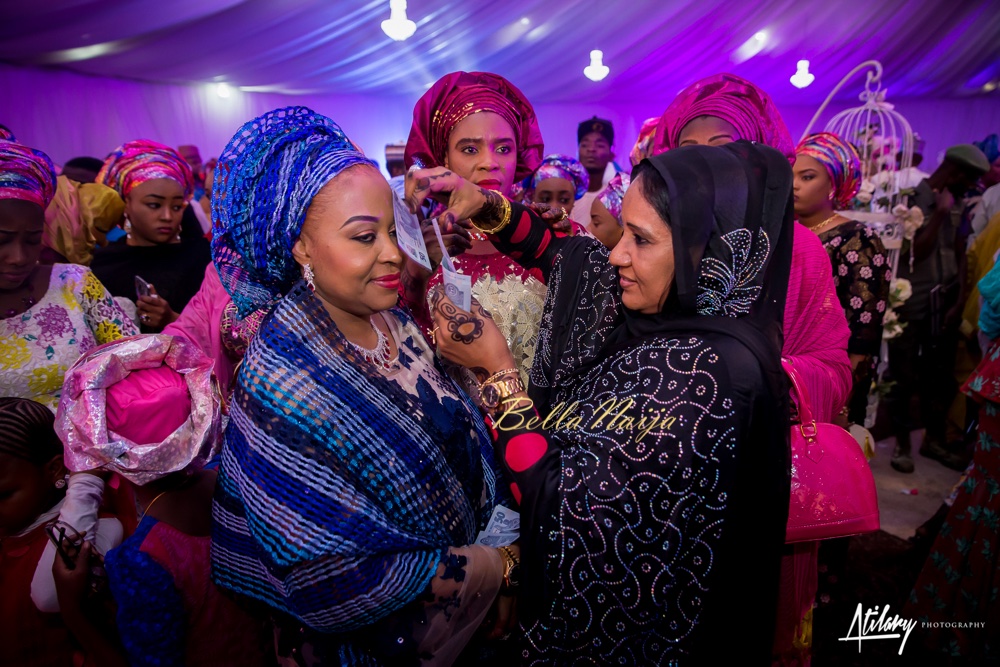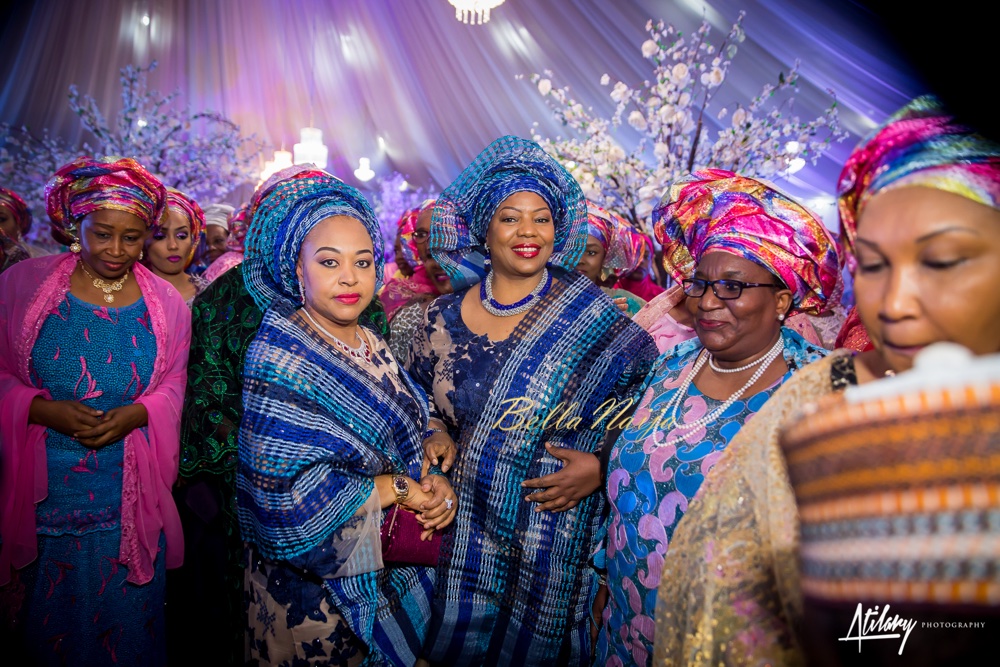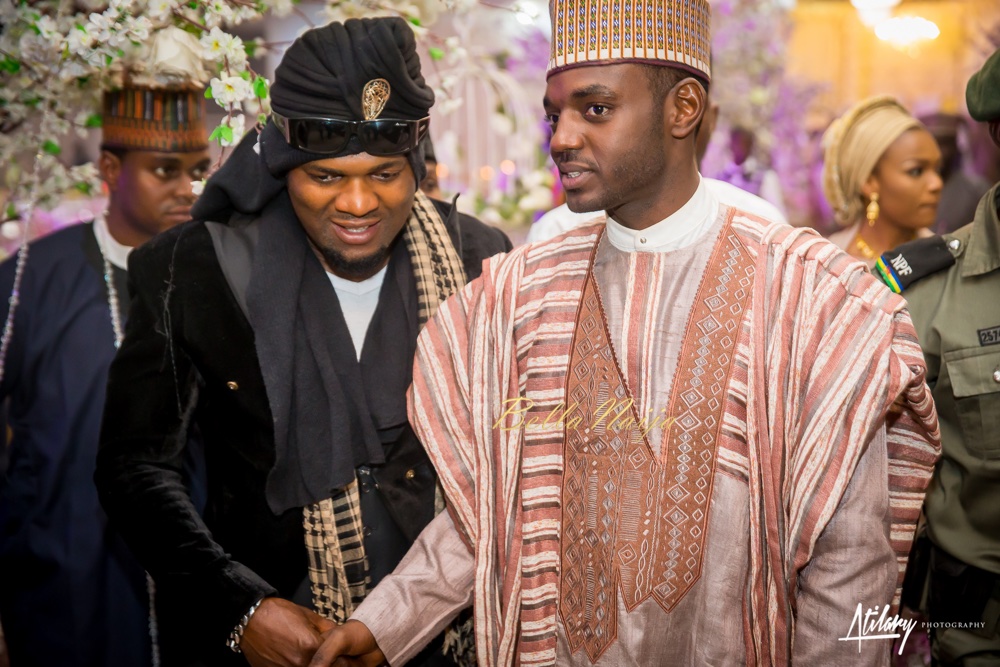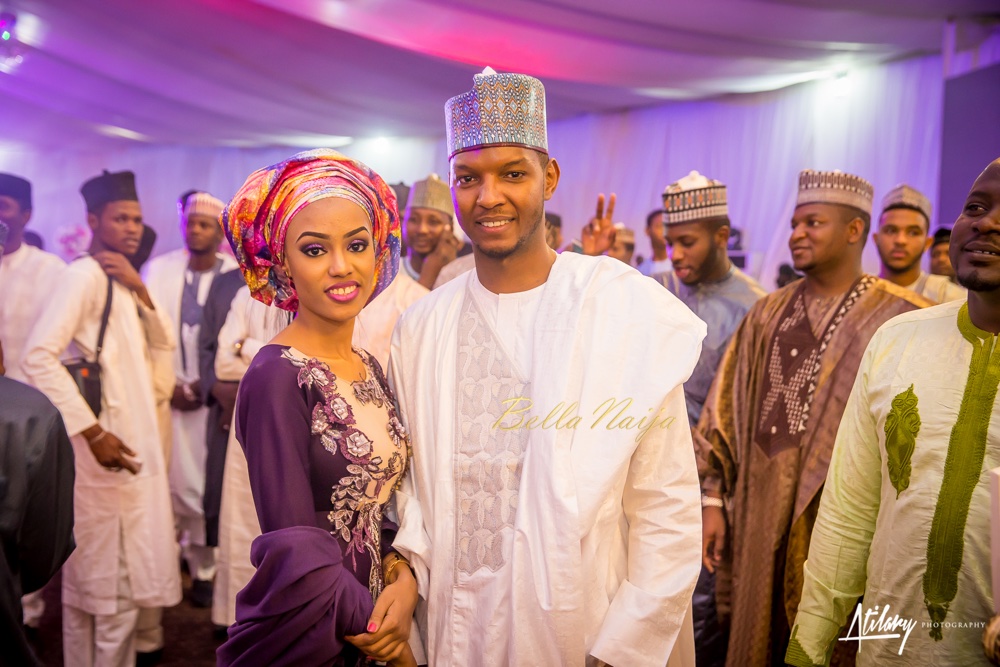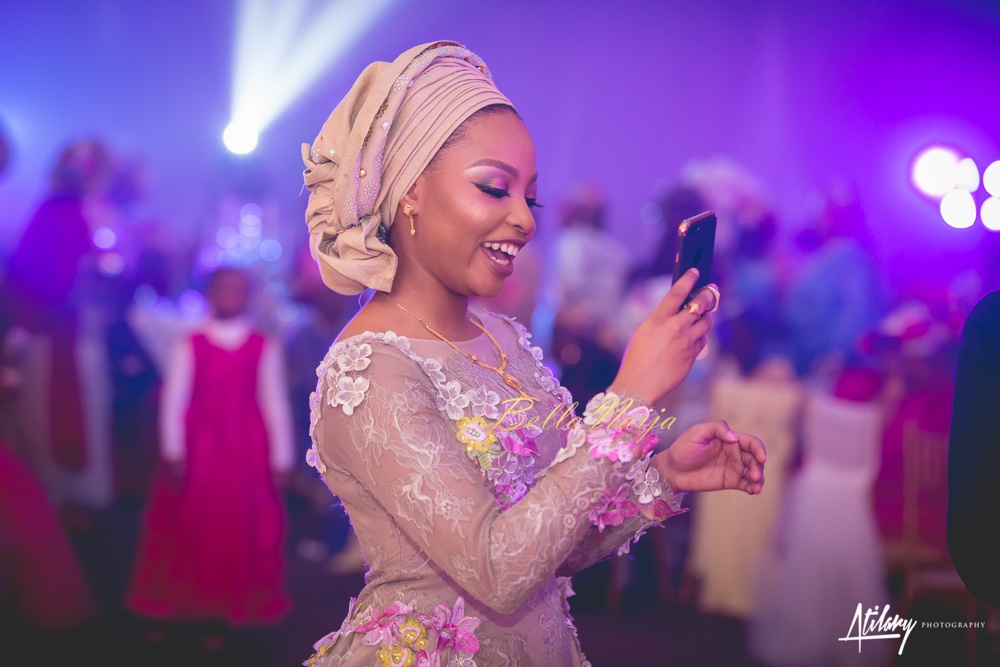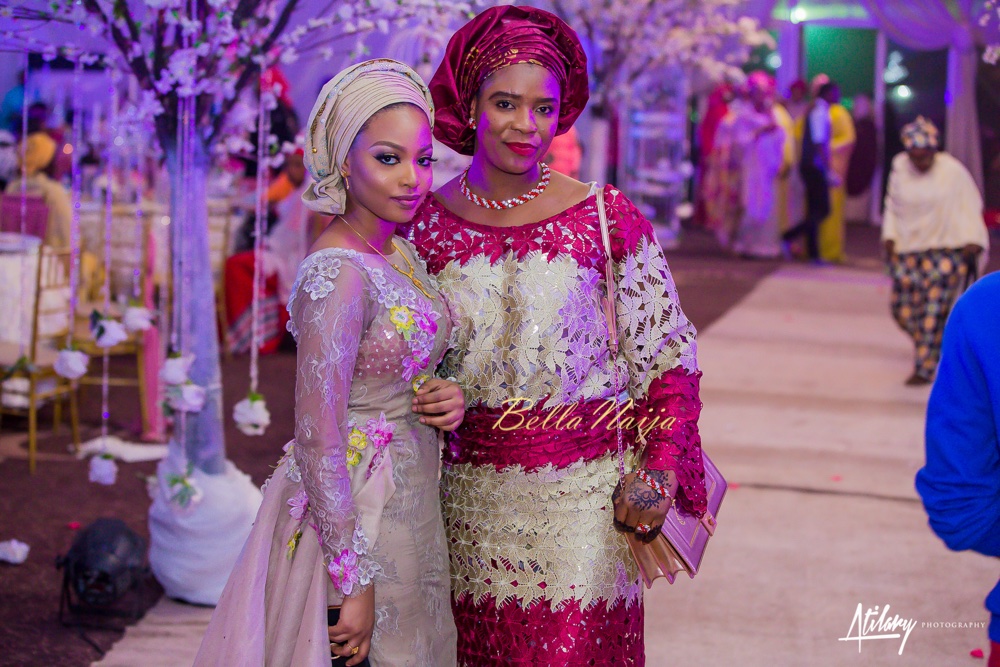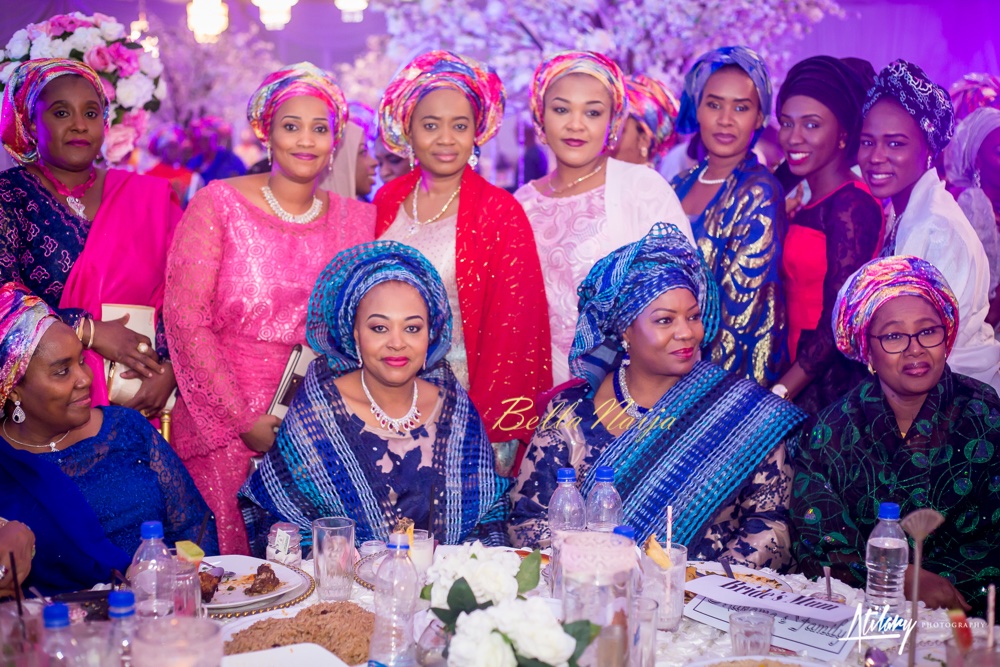 ~ Wedding Fatiha | Photography by Big H Studios
The wedding Fatiha is done in a mosque. It is to Muslims, what a church wedding is to Christians and it signifies that you are married in the eyes of God.
The Fatiha is a religious event, so my soft, light gold and blue dress by Hudayya Couture had long sleeves and a gorgeous veil, bedazzled with stones. My groom wore the same shade and trust me, we didn't plan it.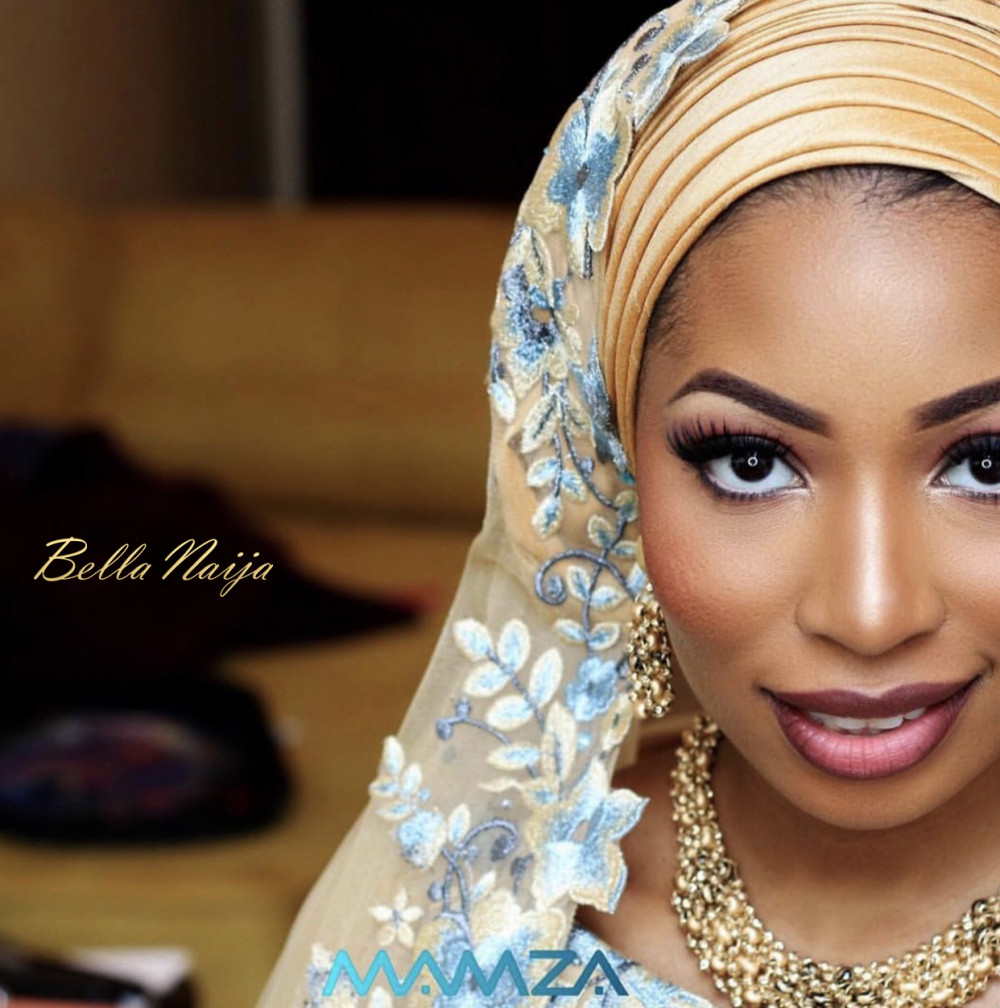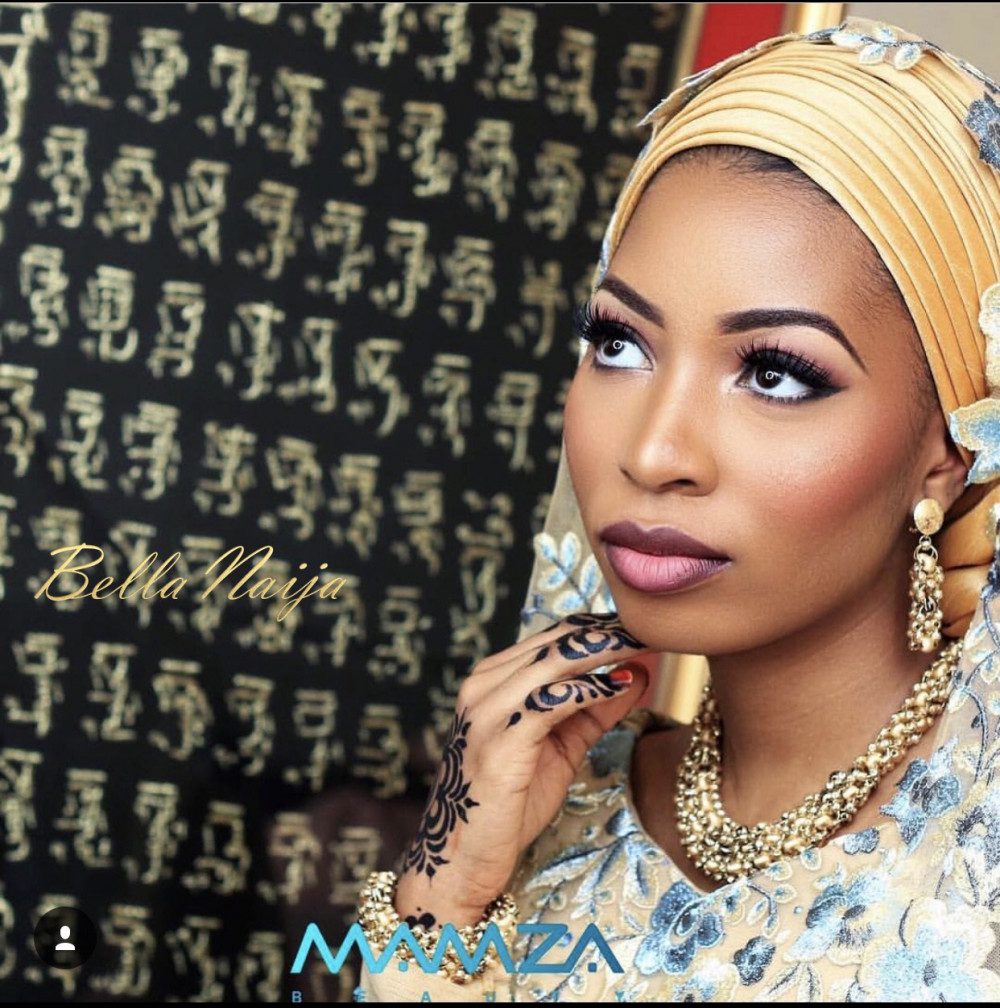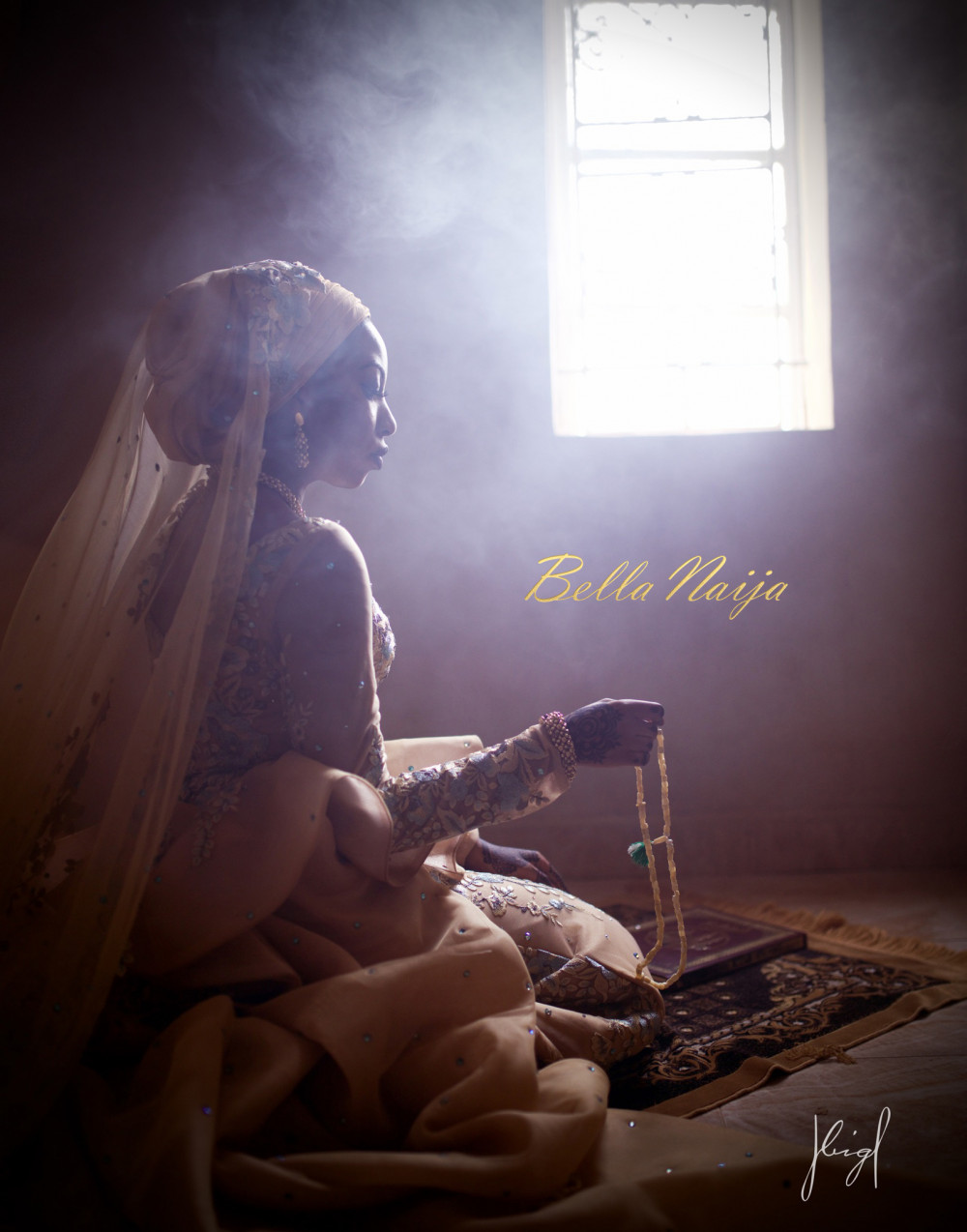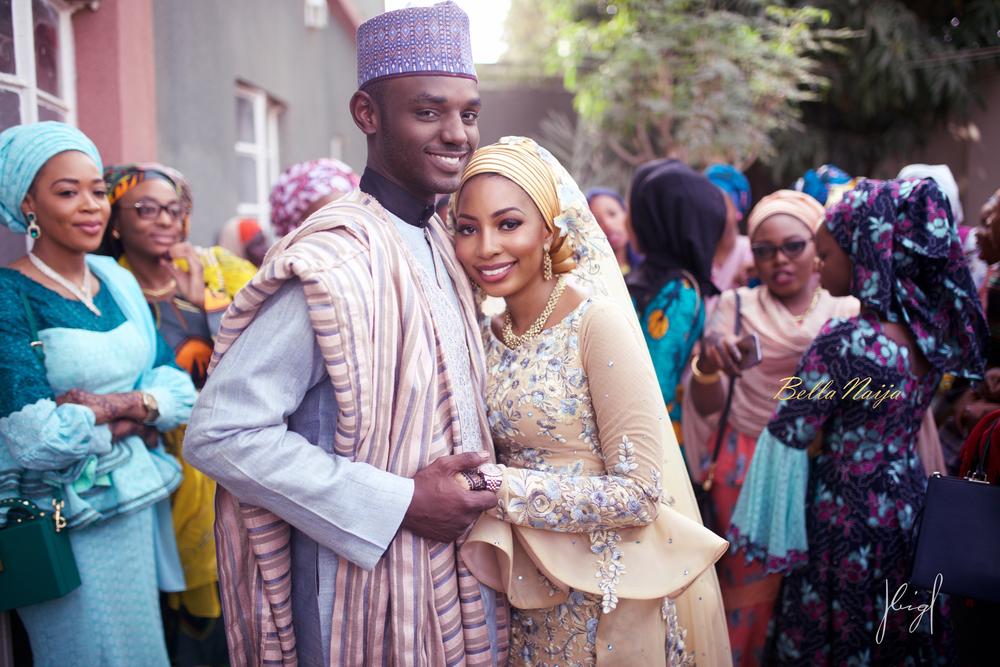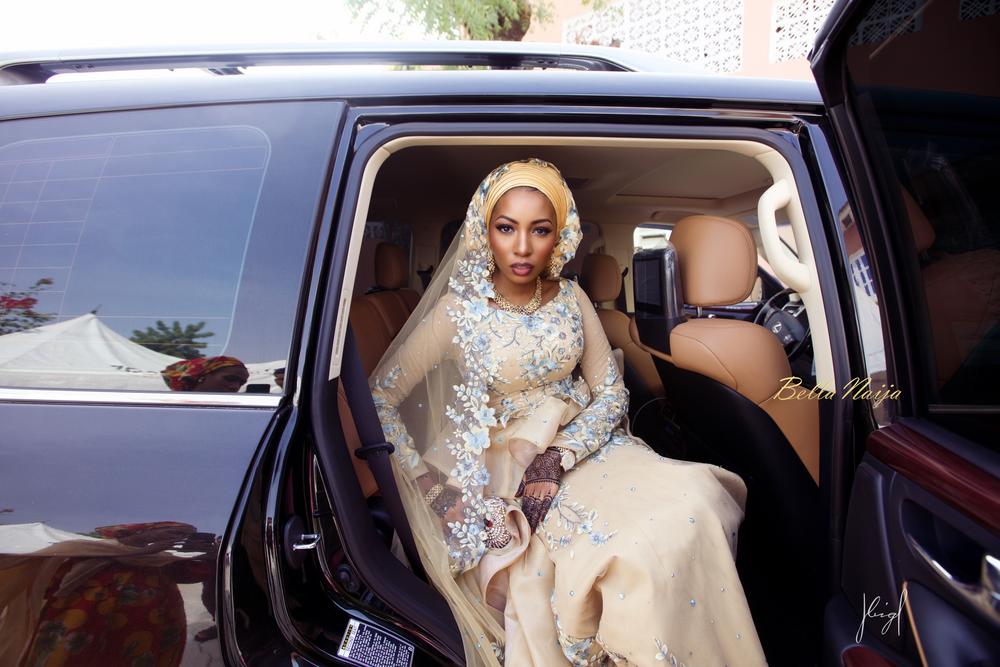 ~ Crossing of the Sword | Photography by George Okoro
I wore a blue beaded dress by Anaz Official (an Indonesian designer).
The crossing of the sword is an official event, I didn't want anything dramatic, but something very elegant, simple yet very stylish and beautiful. So months before my wedding, I came across this dress on the BellaNaija Weddings Instagram page by Anaz Official. It was love at first sight. I followed the page of the designer and contacted him. I sent over my measurements and although he had never seen even my picture, the dress fit like a glove!
The groom wore his Custom ceremonial uniform.  There were men in uniform everywhere with bands and horses! It was breathtaking. The officers performed the crossing of the sword rituals, bands, and we had our magical first dance!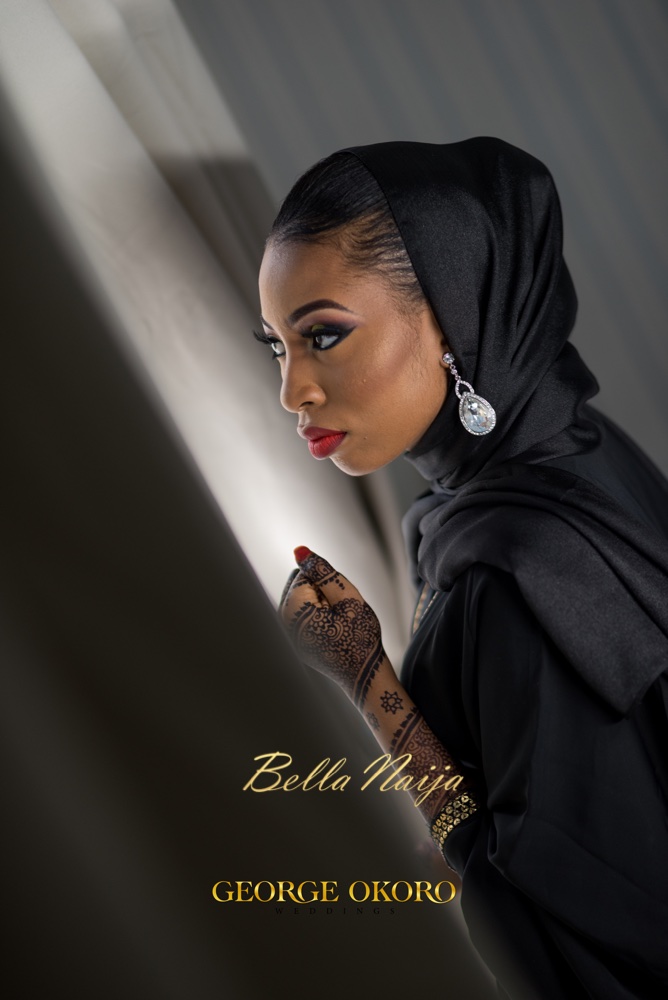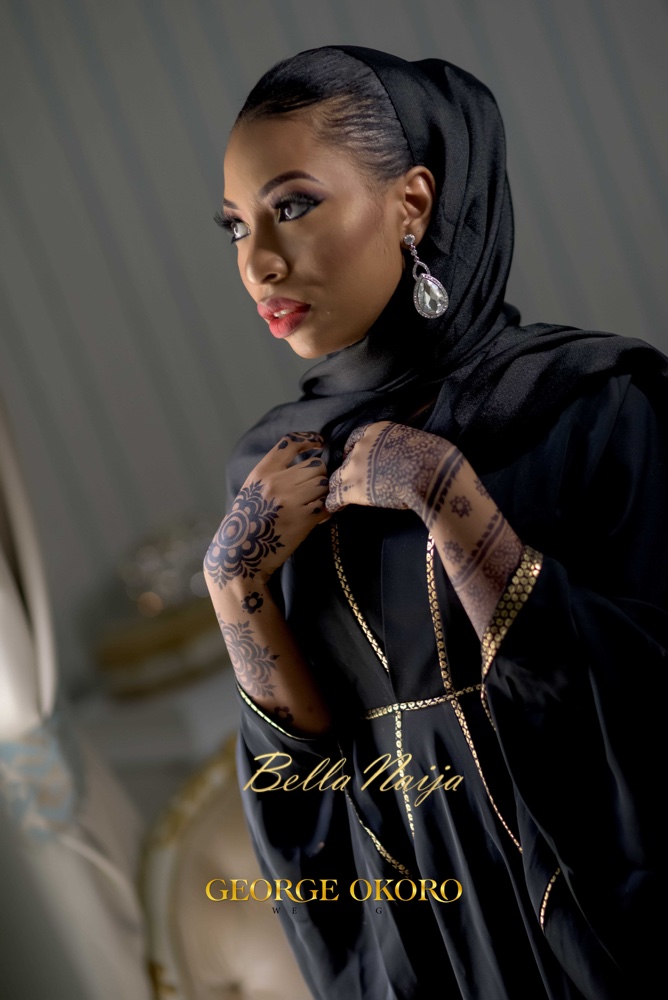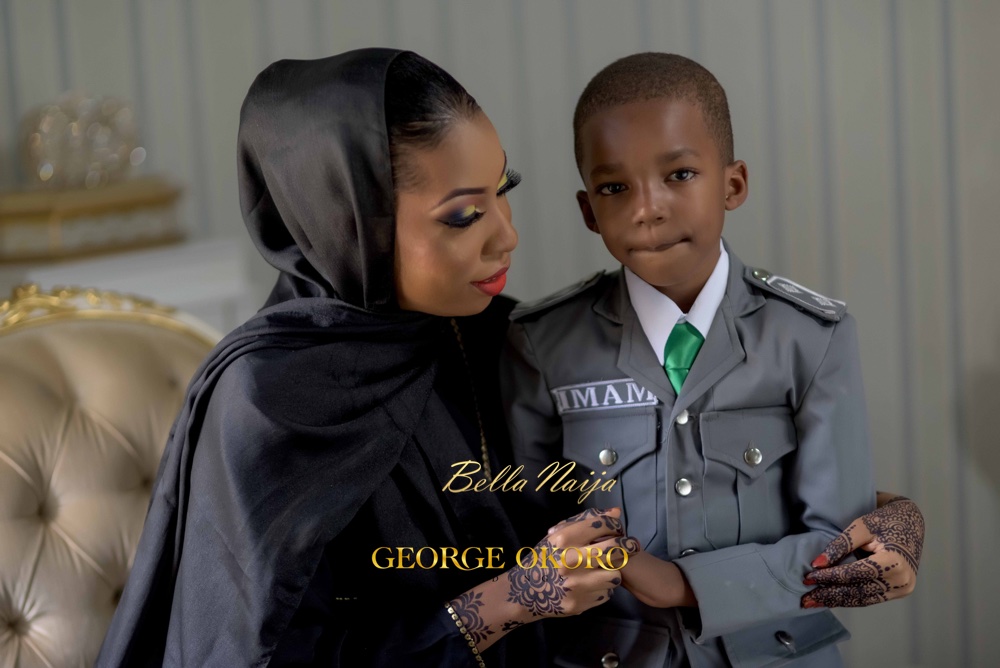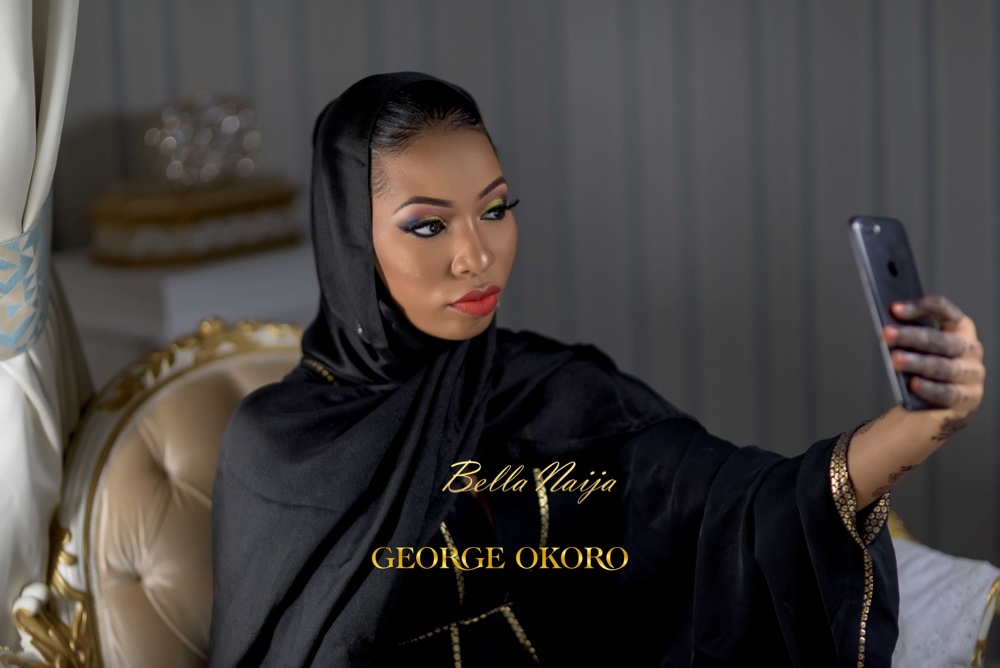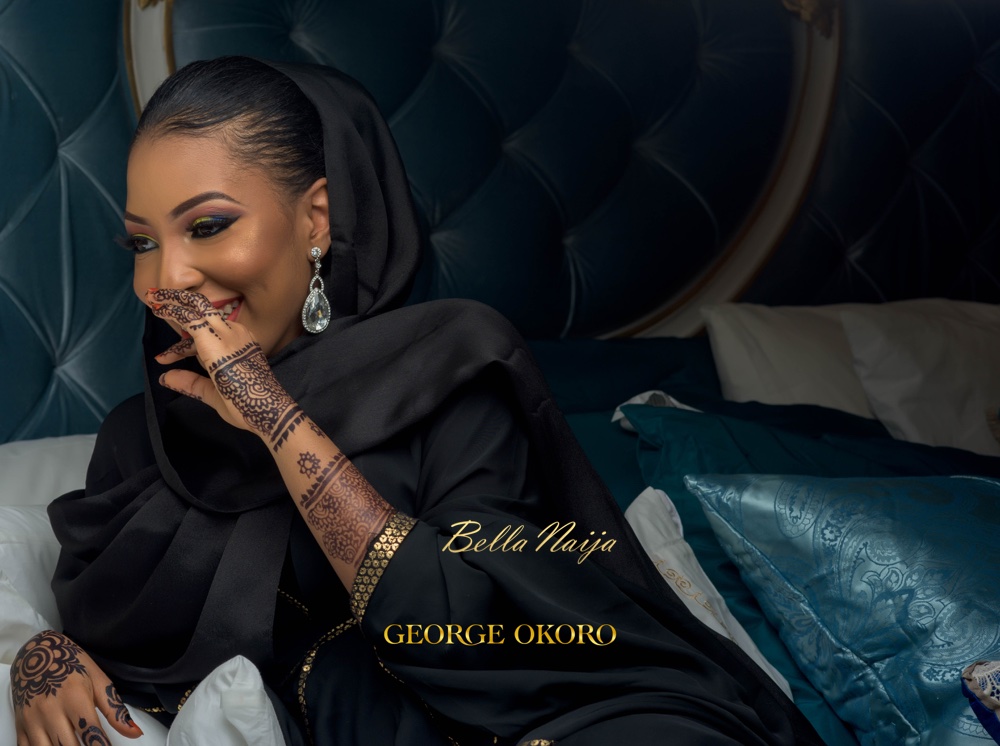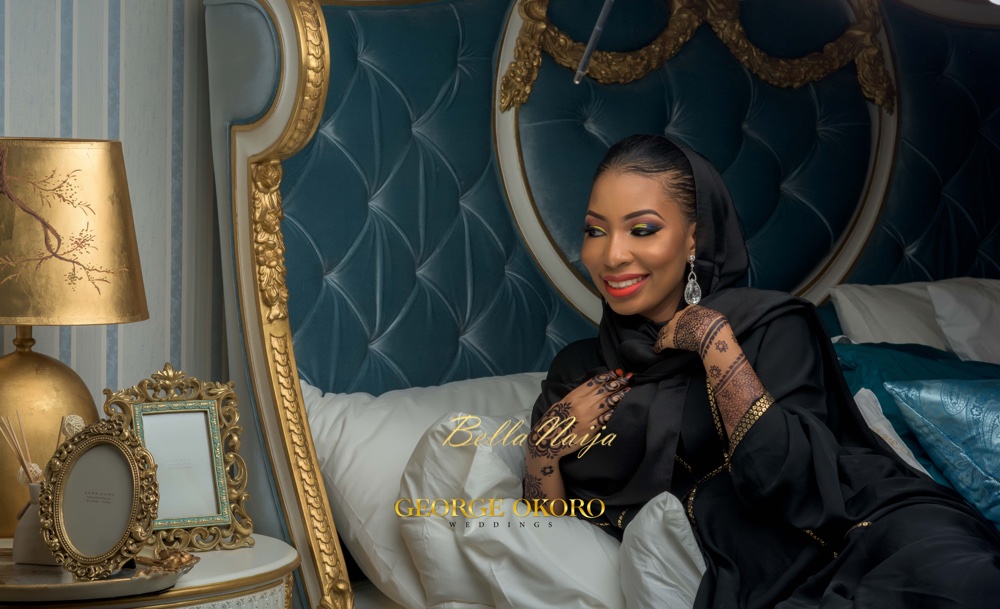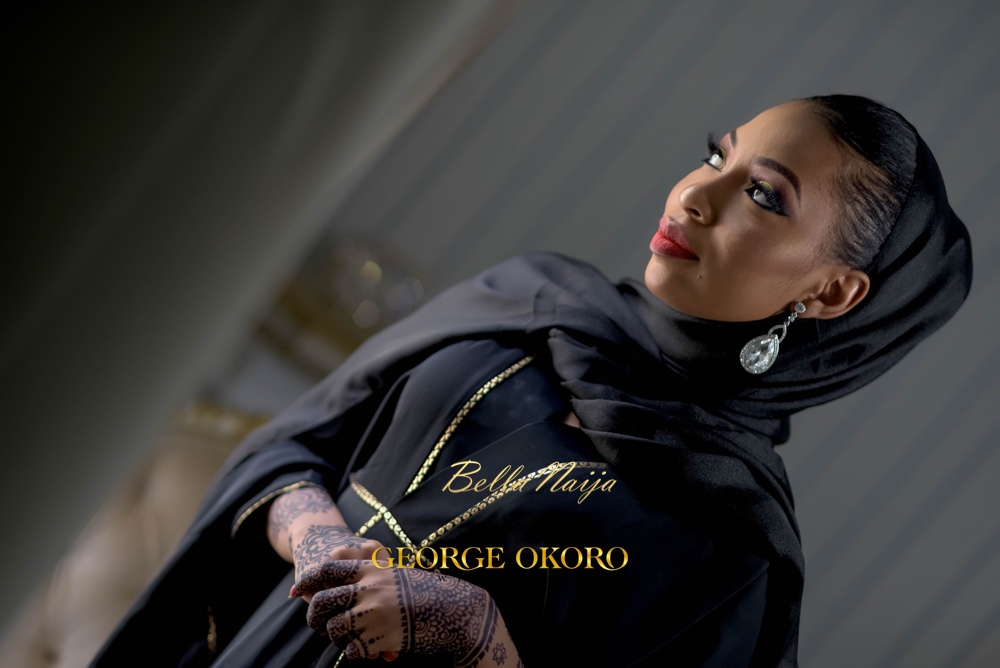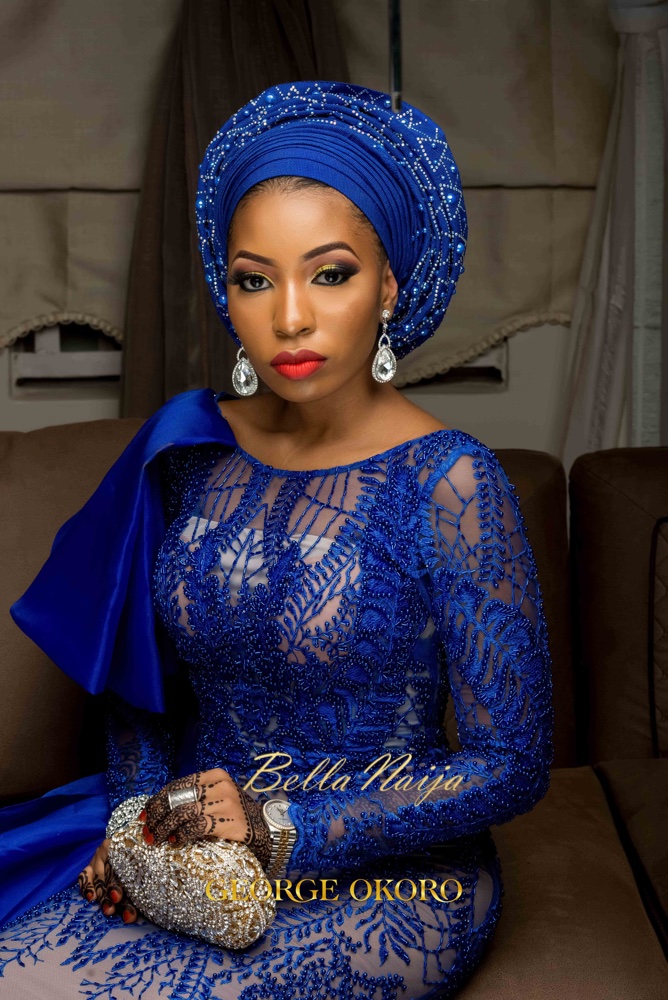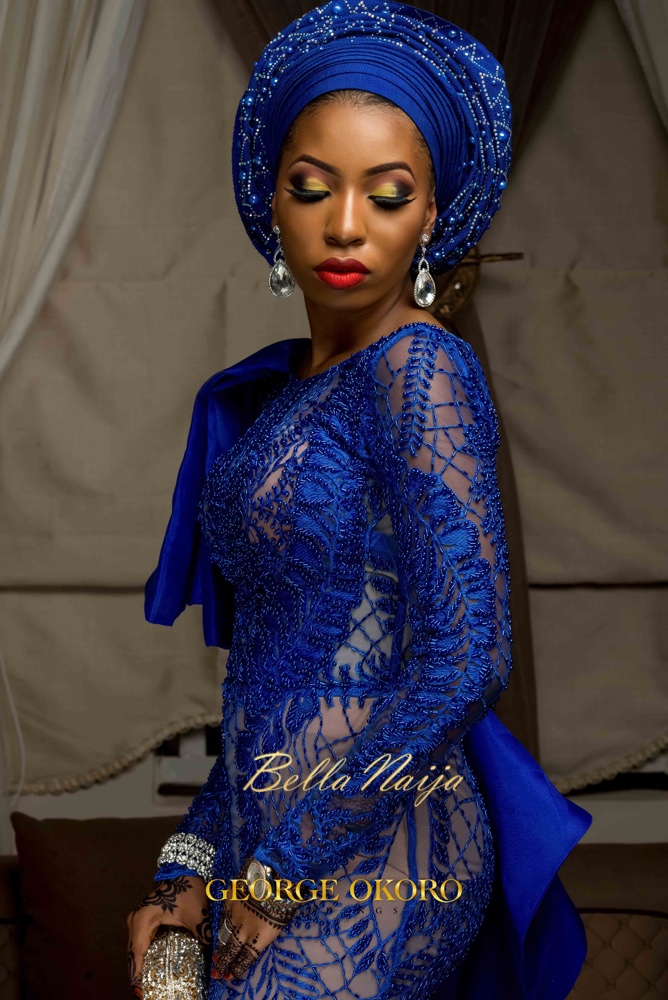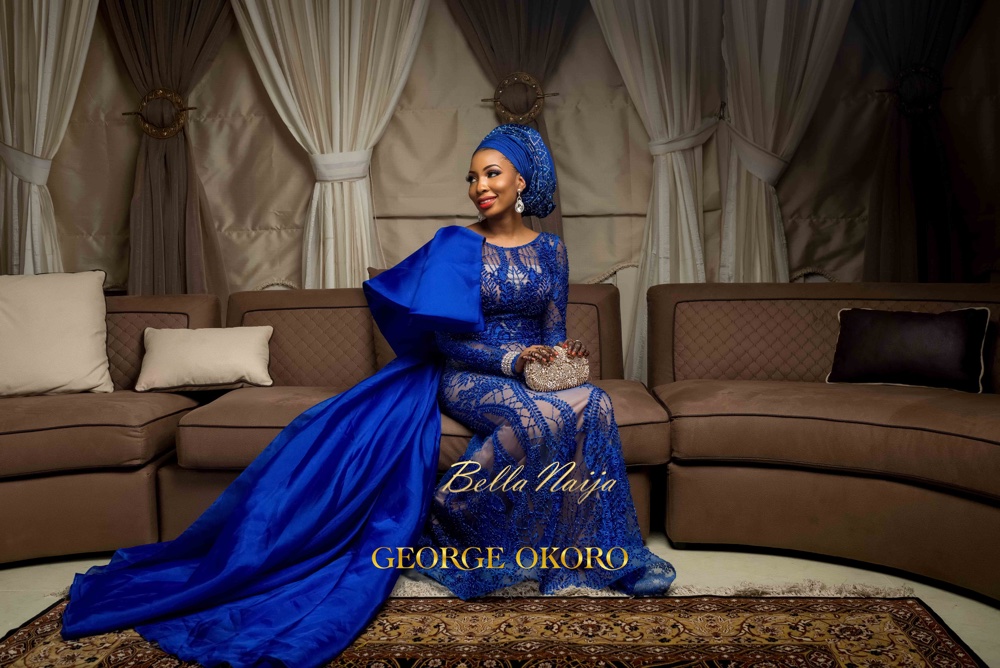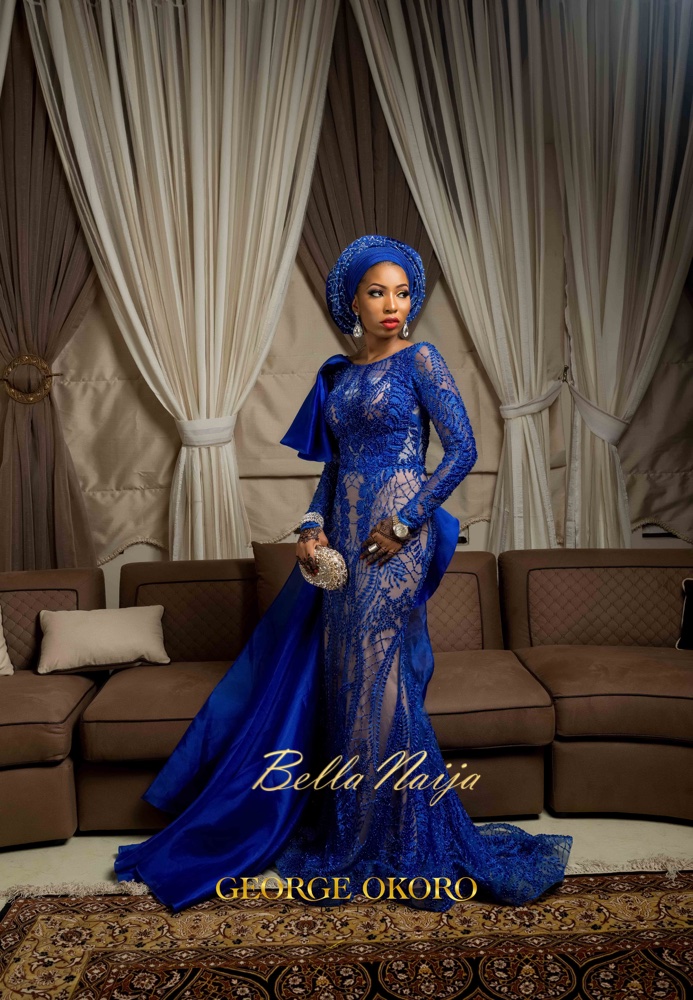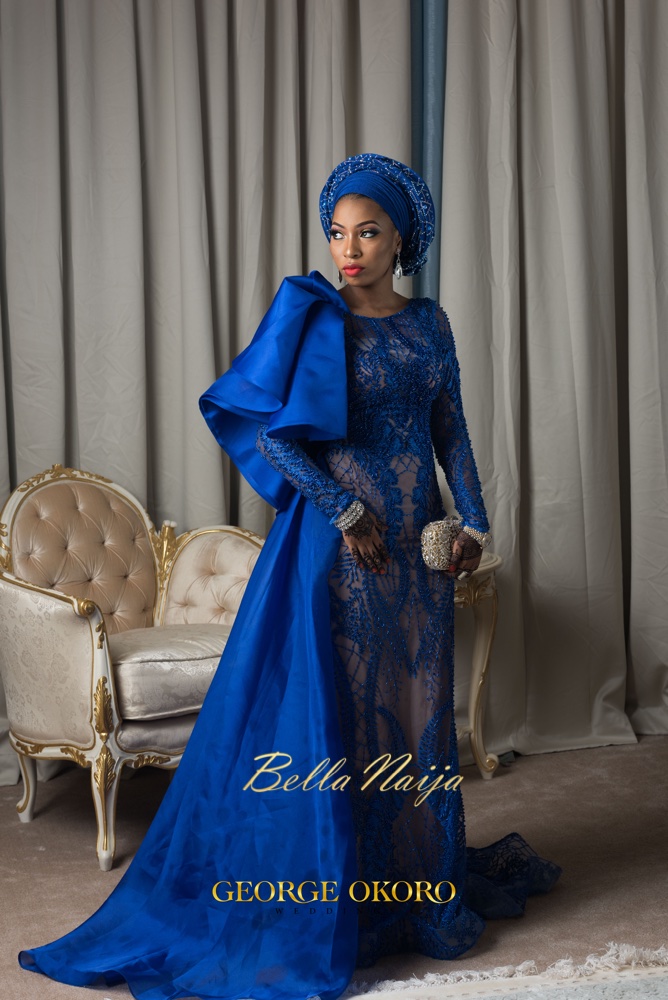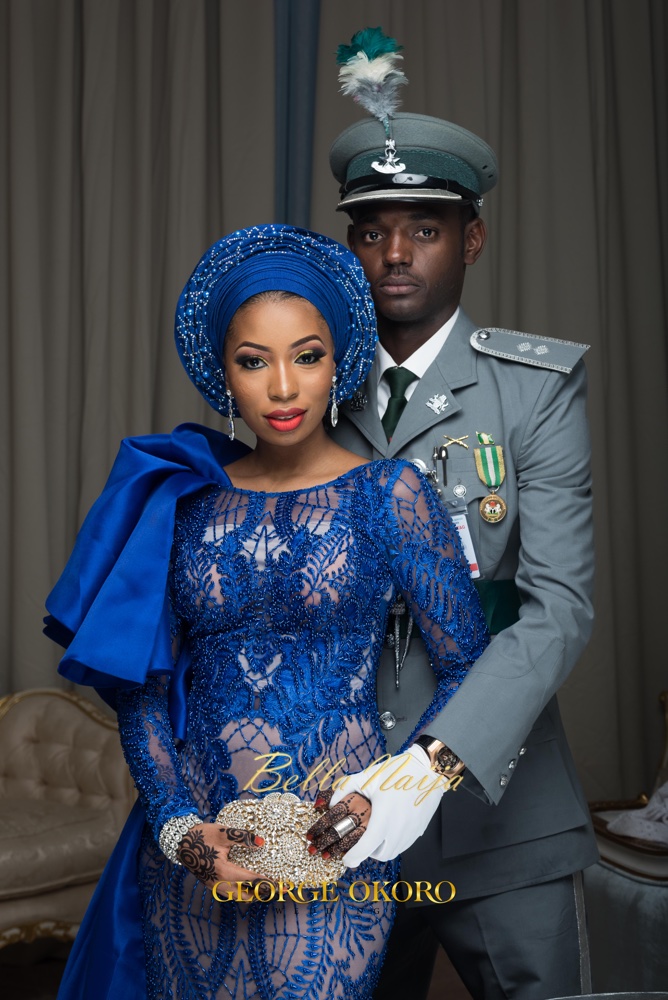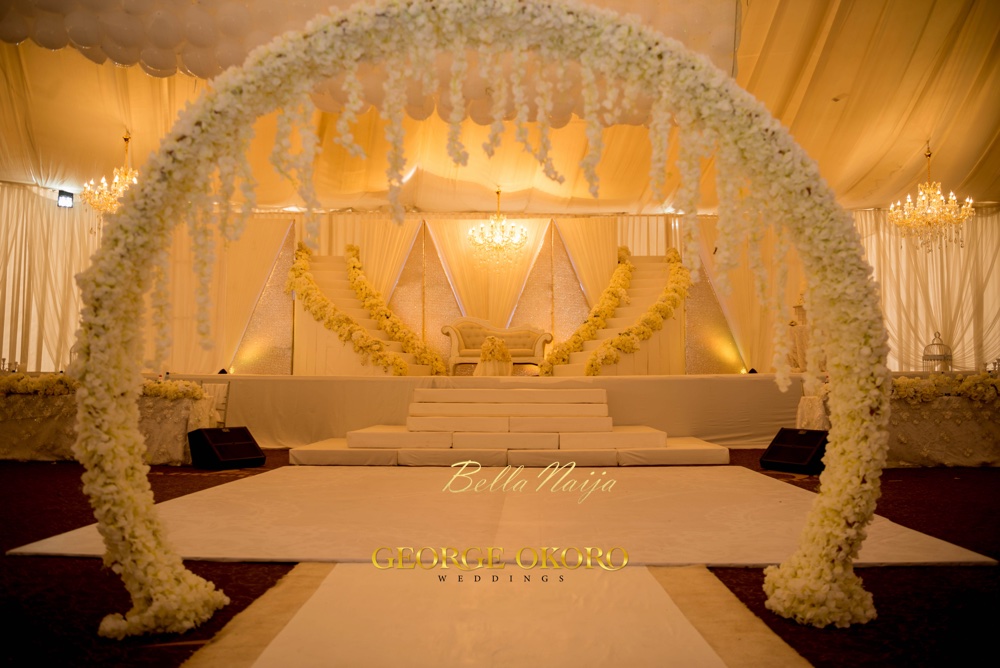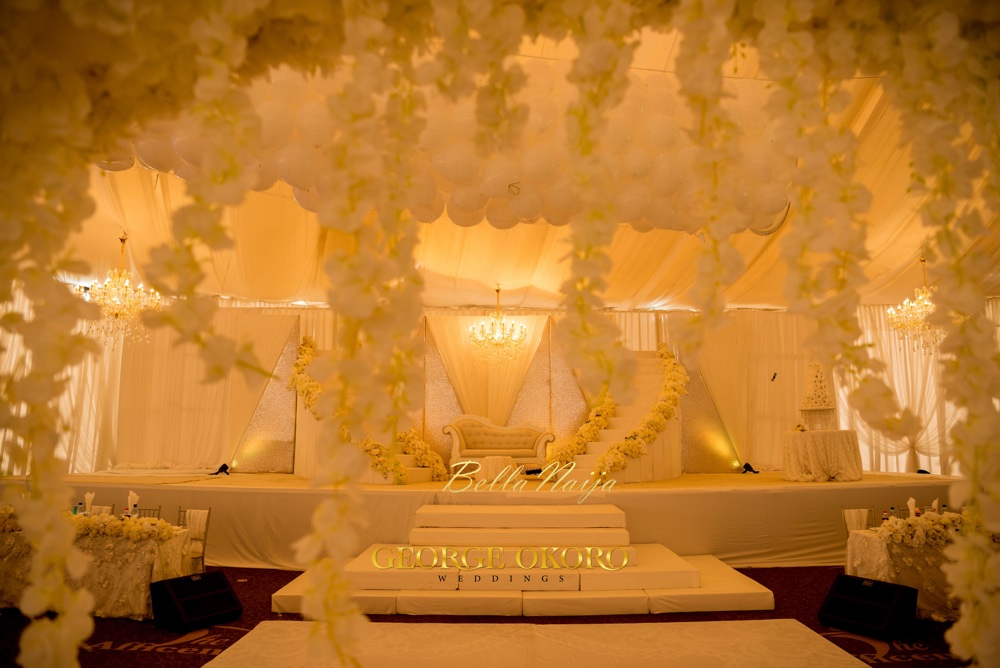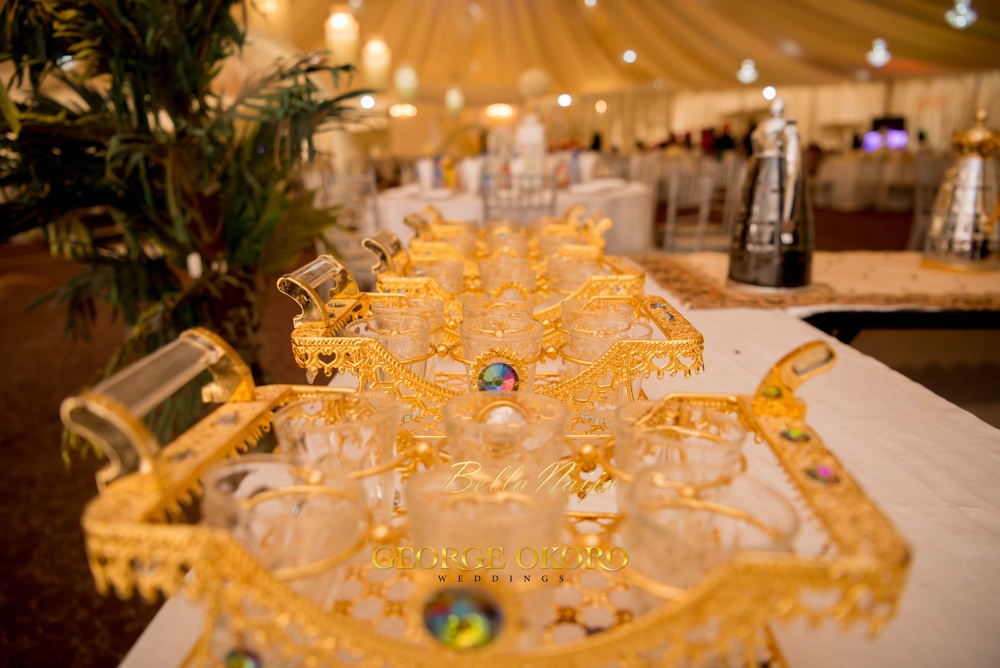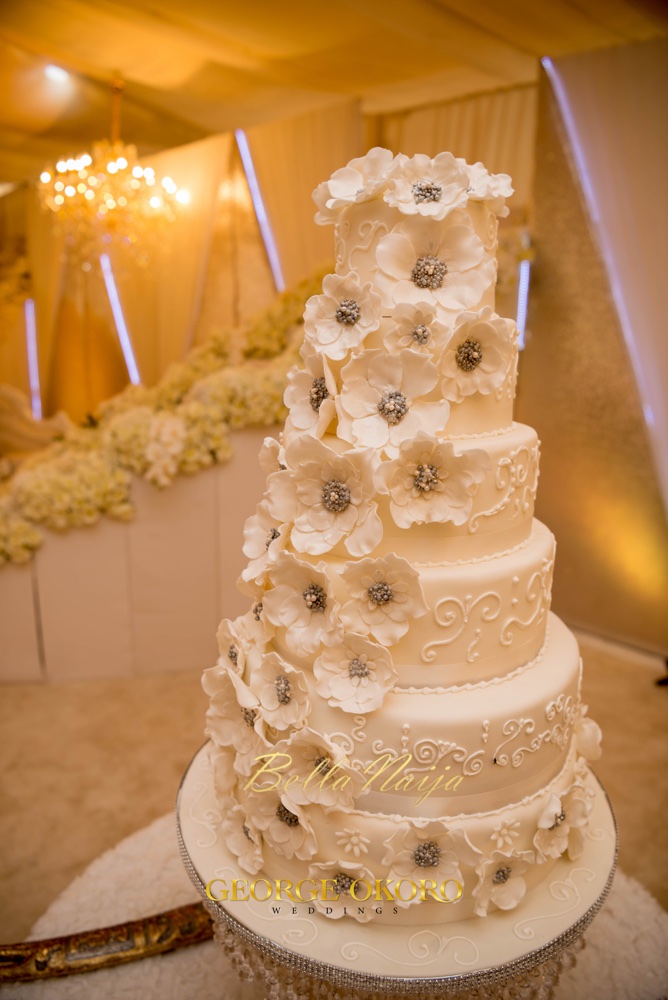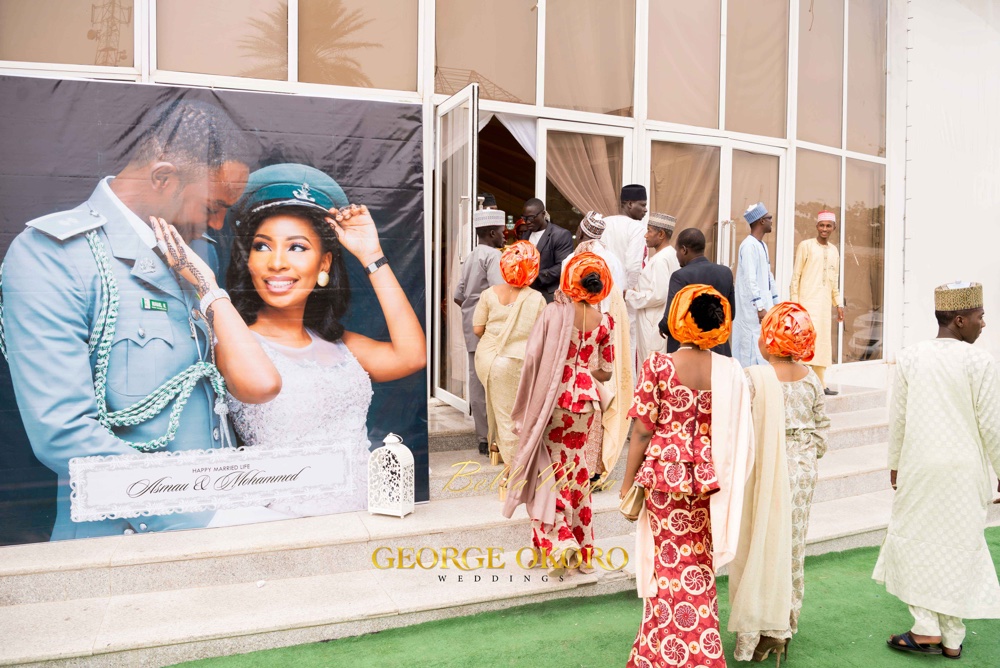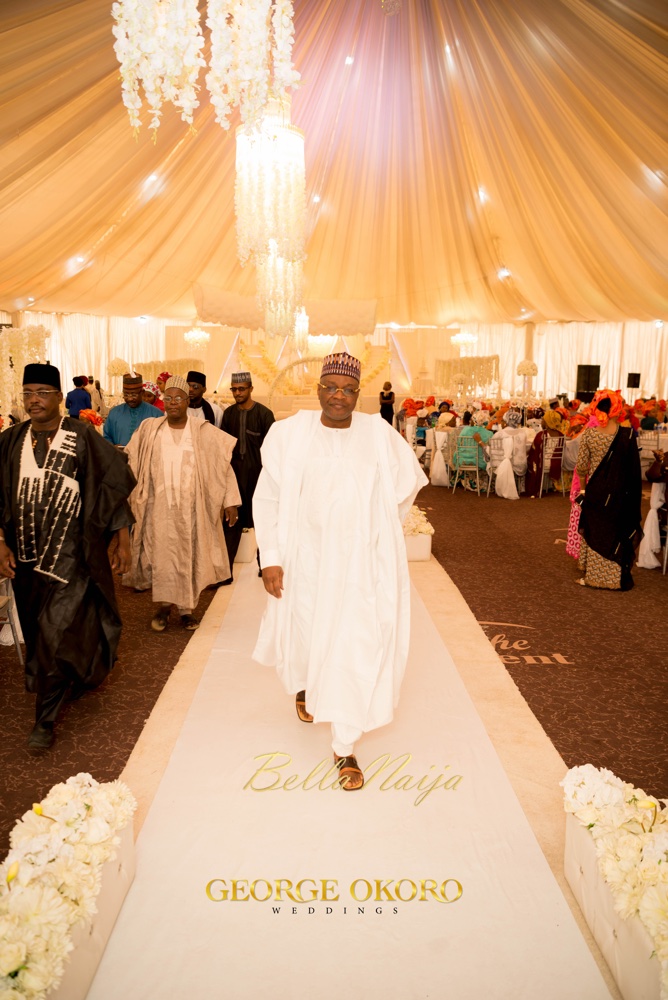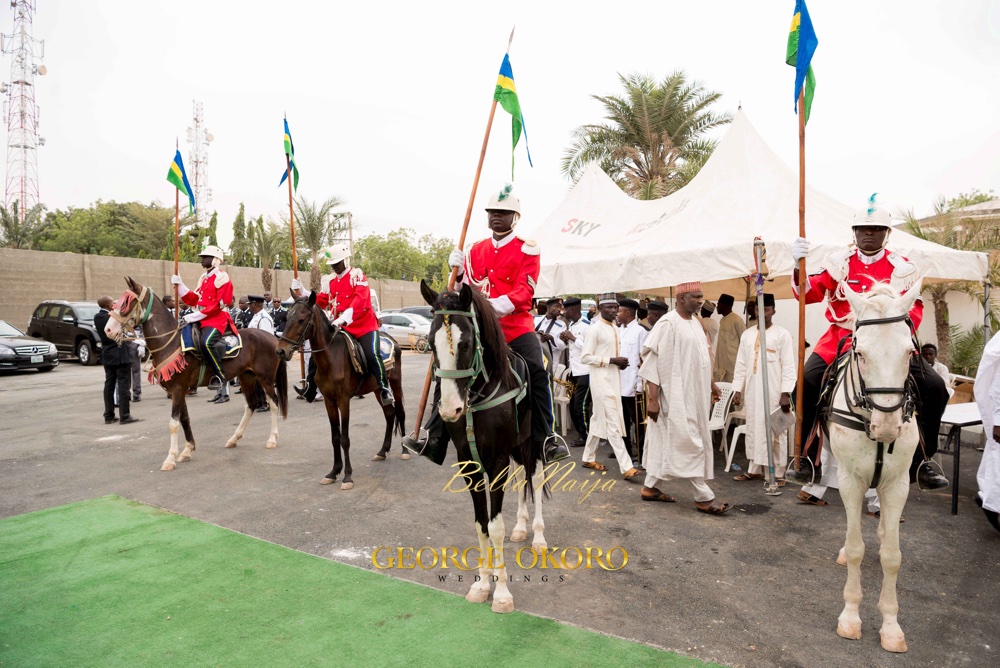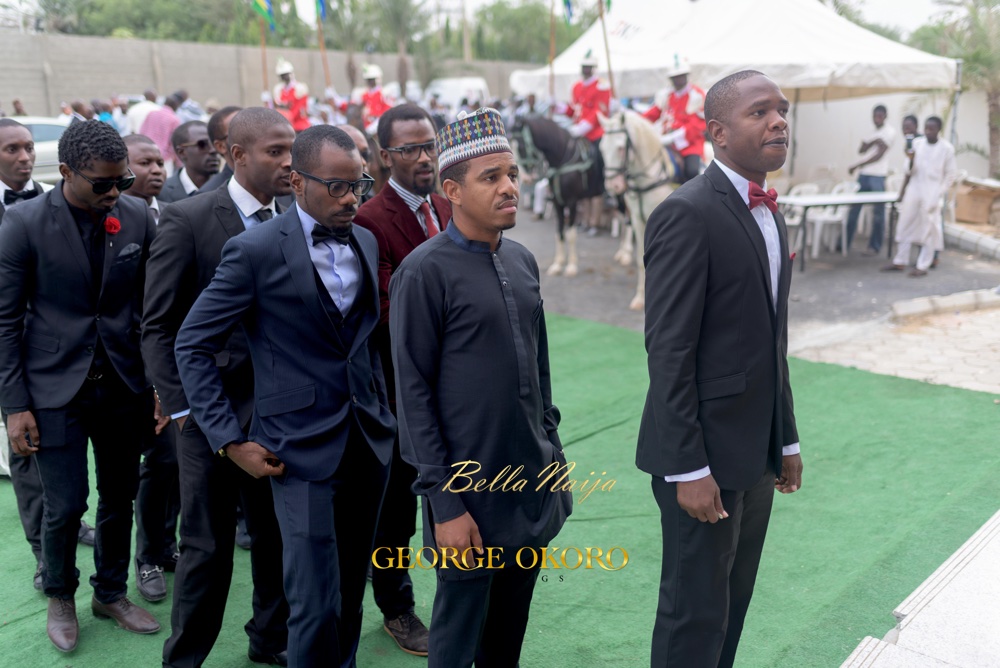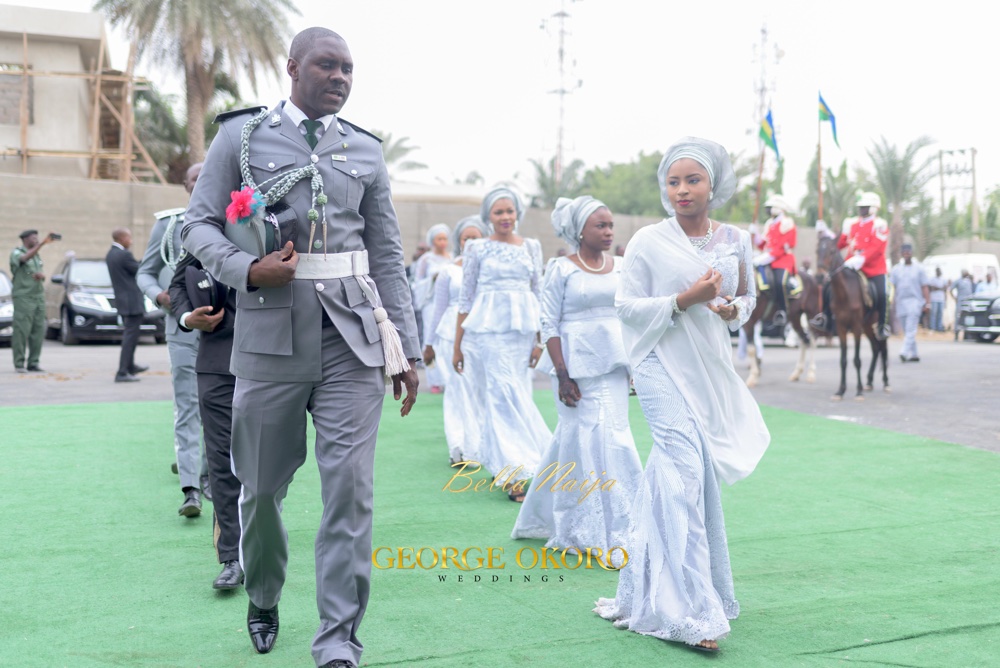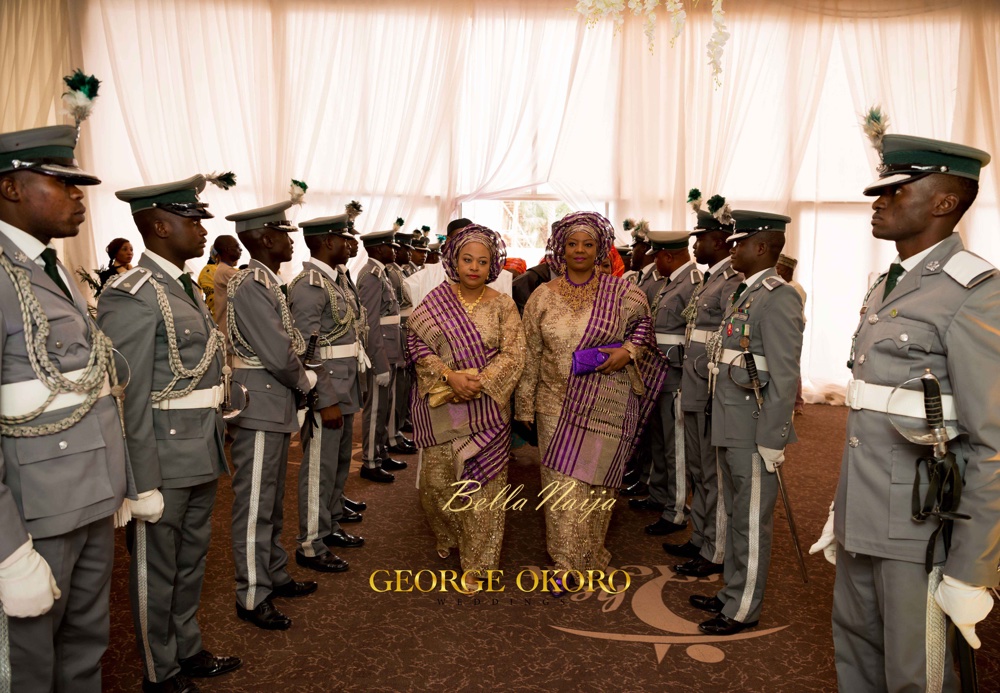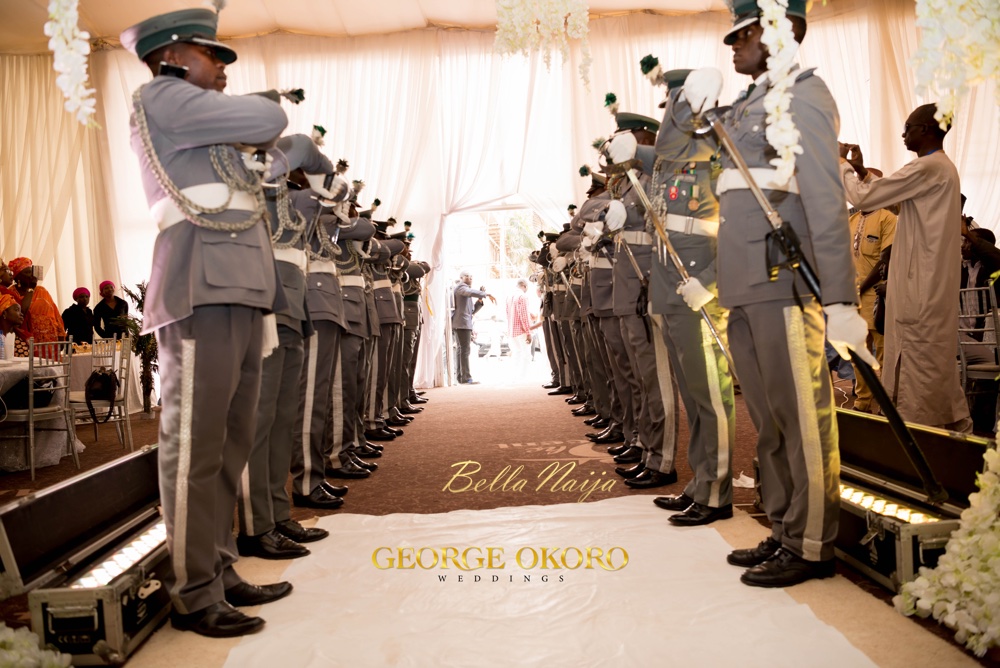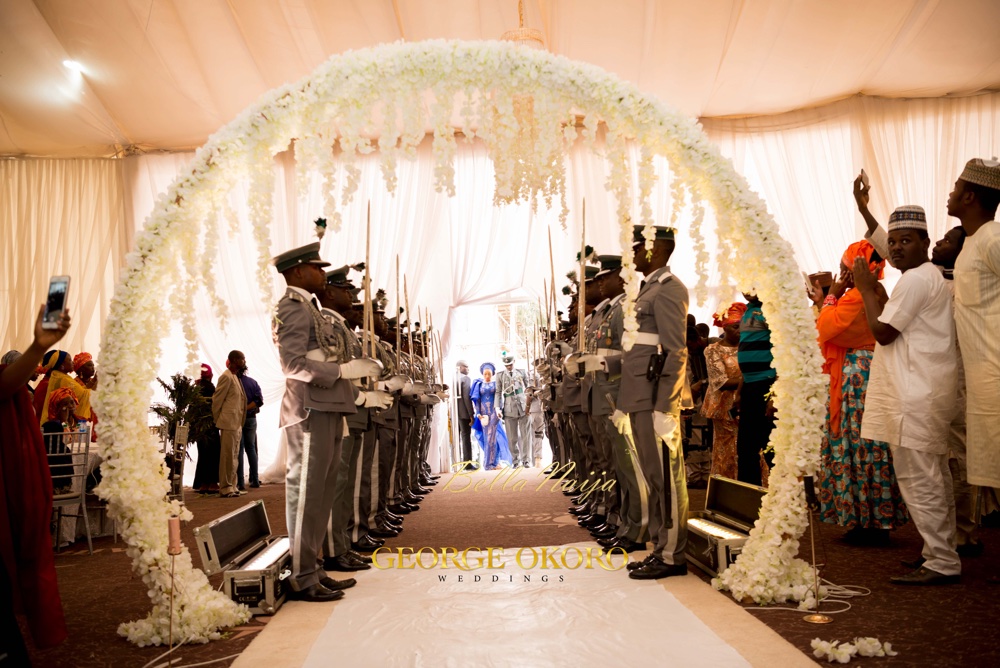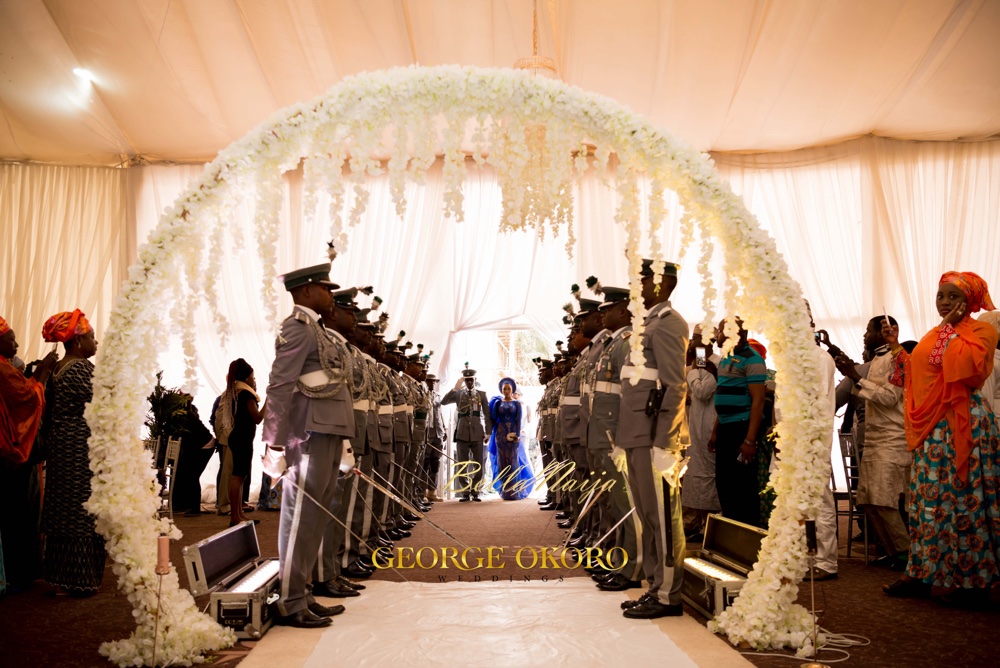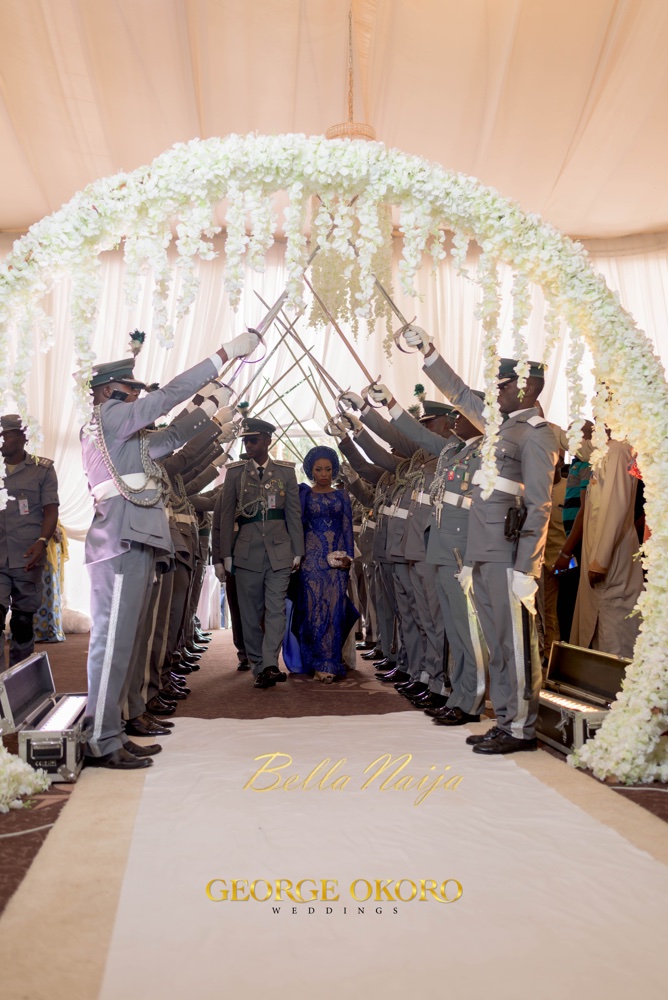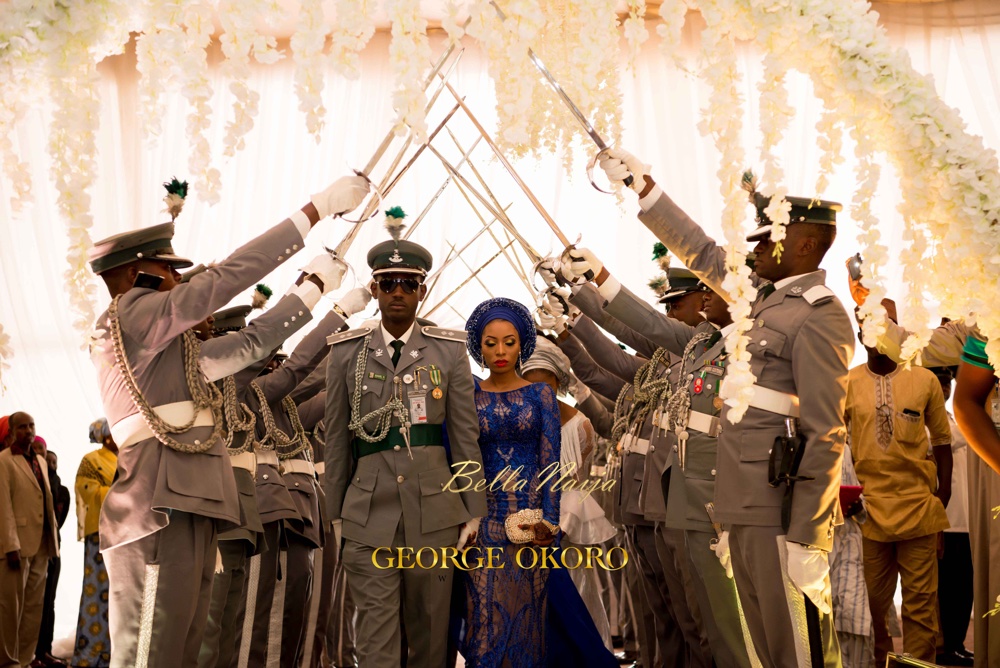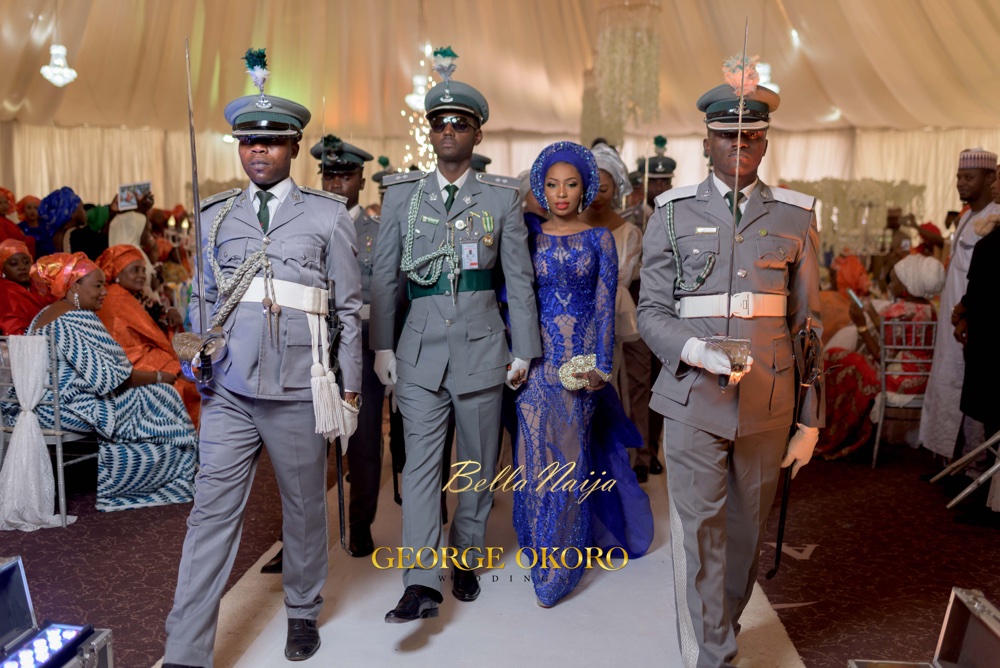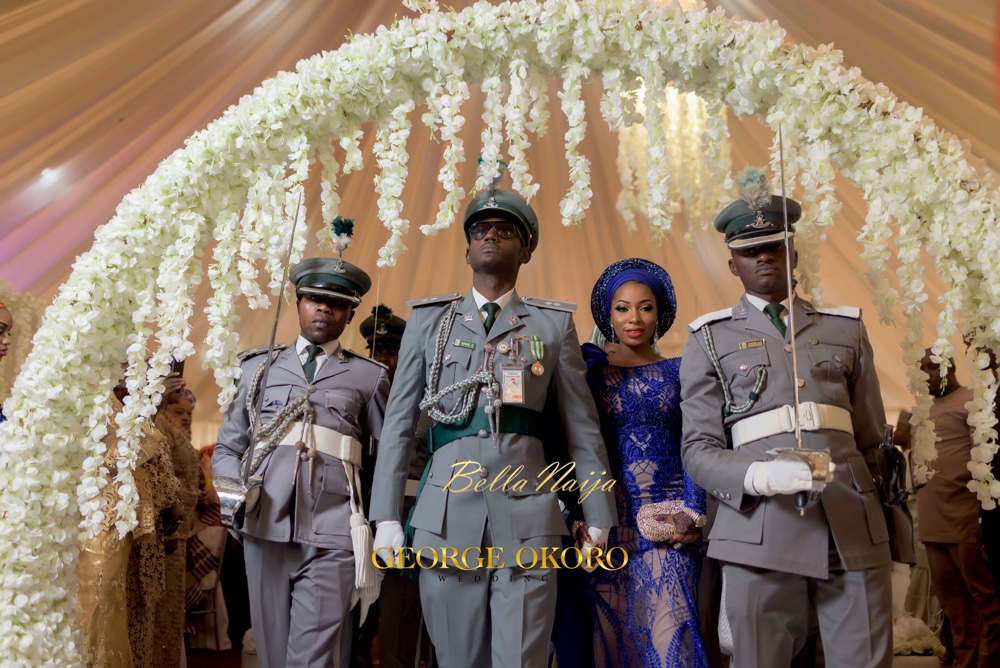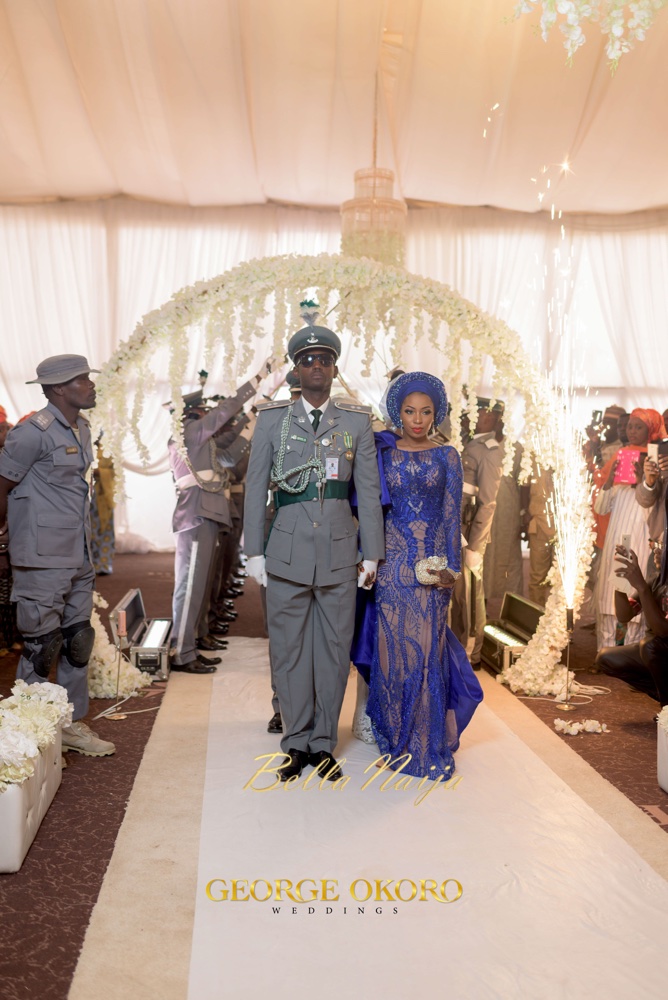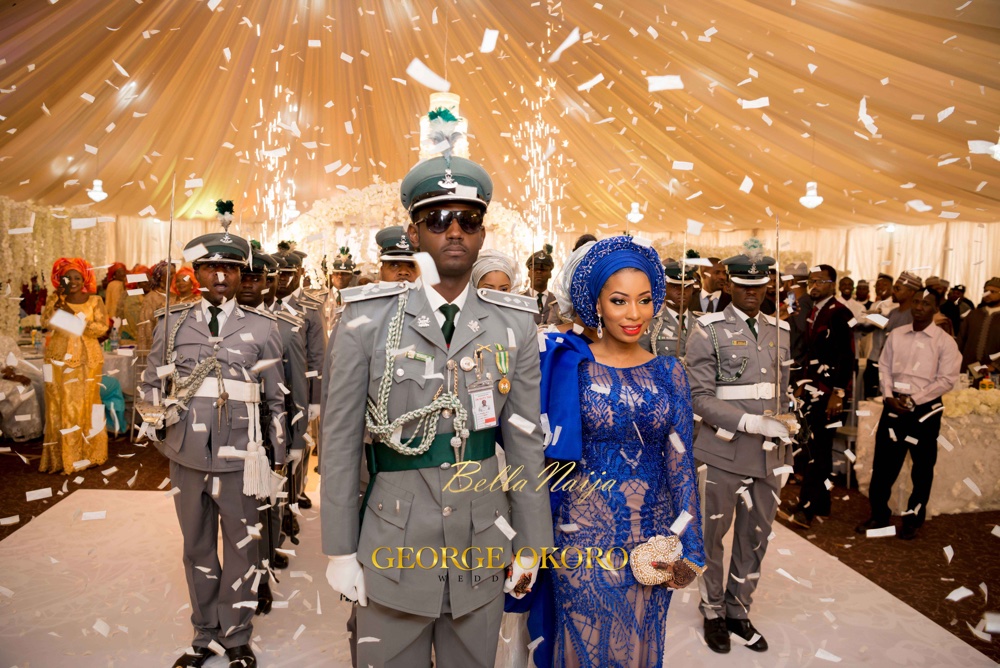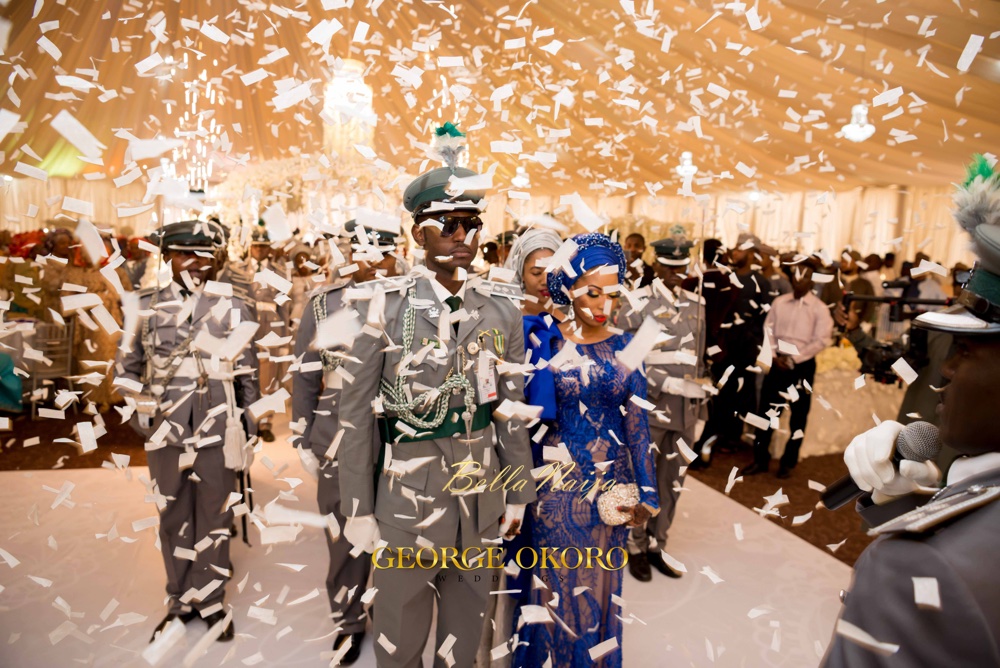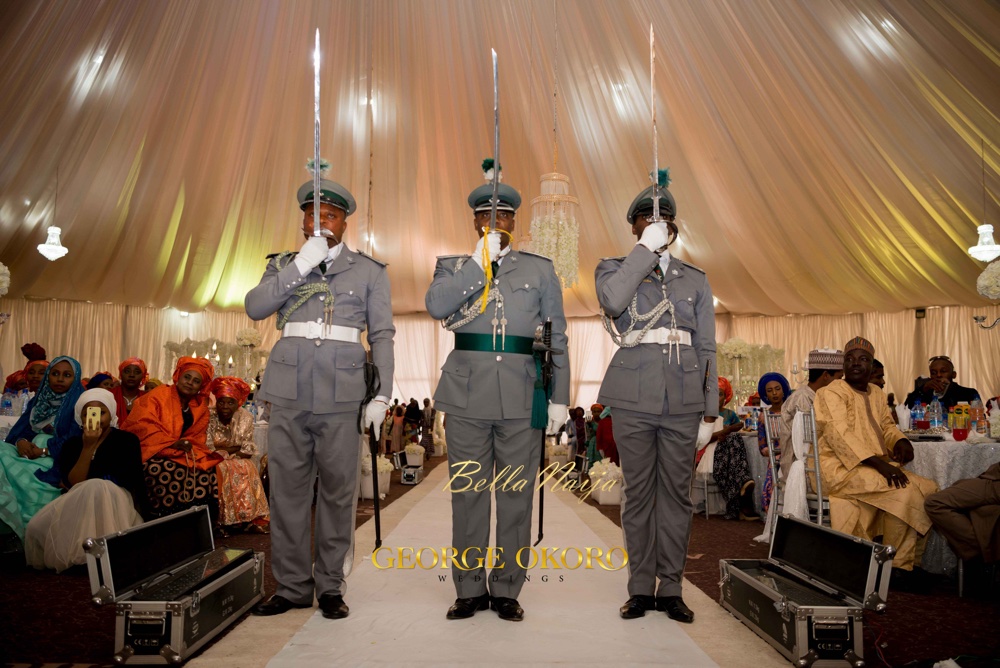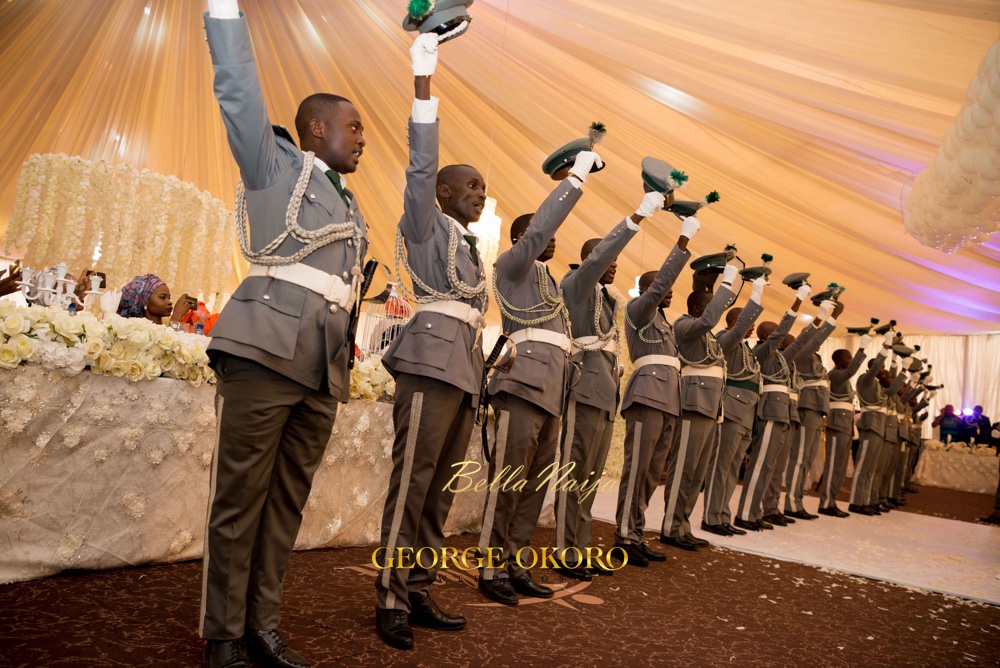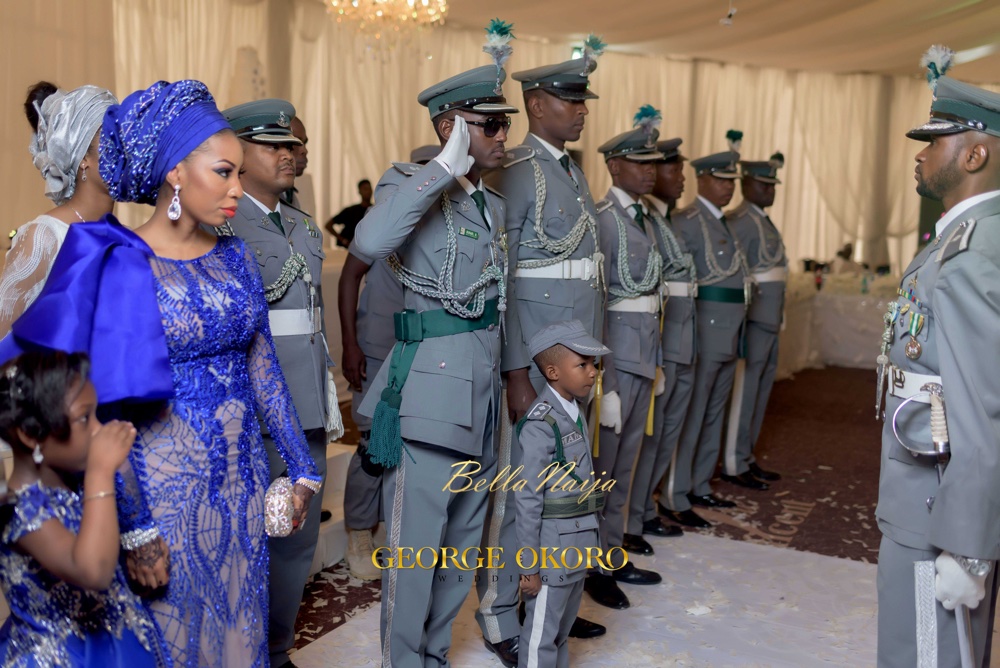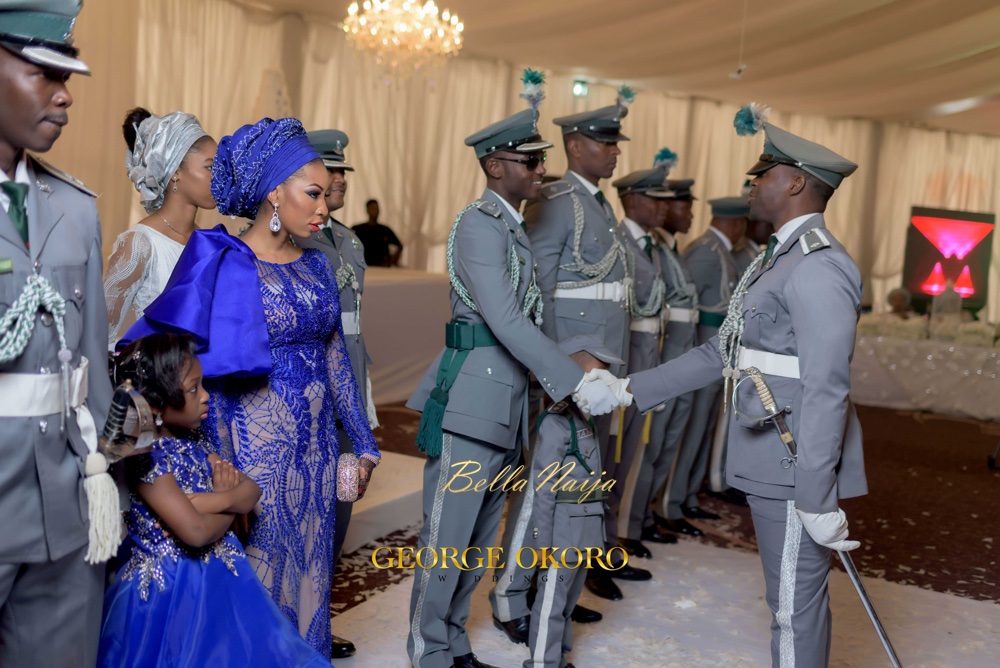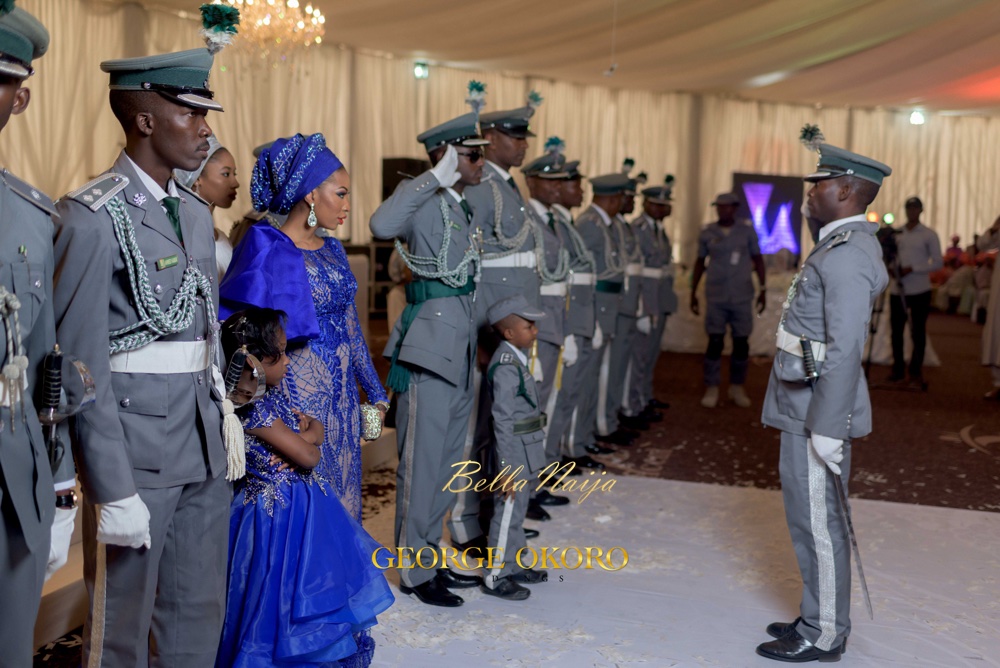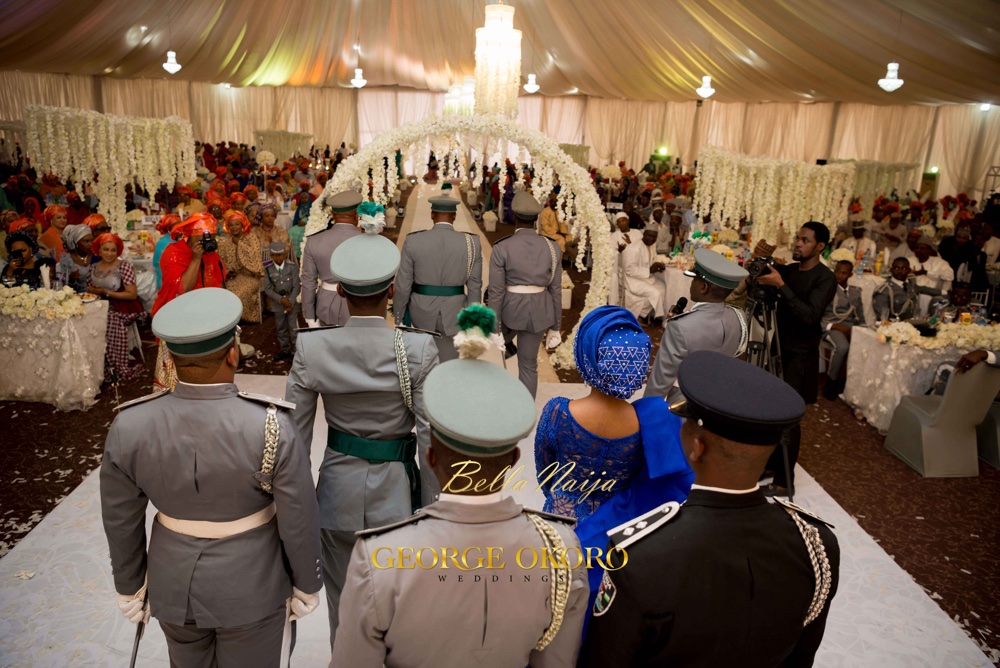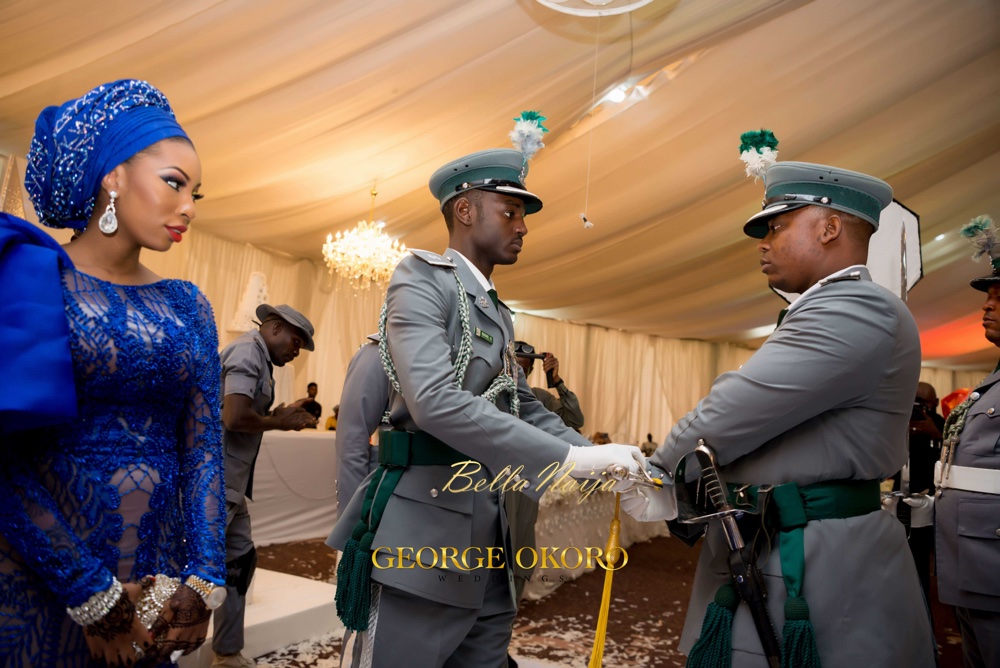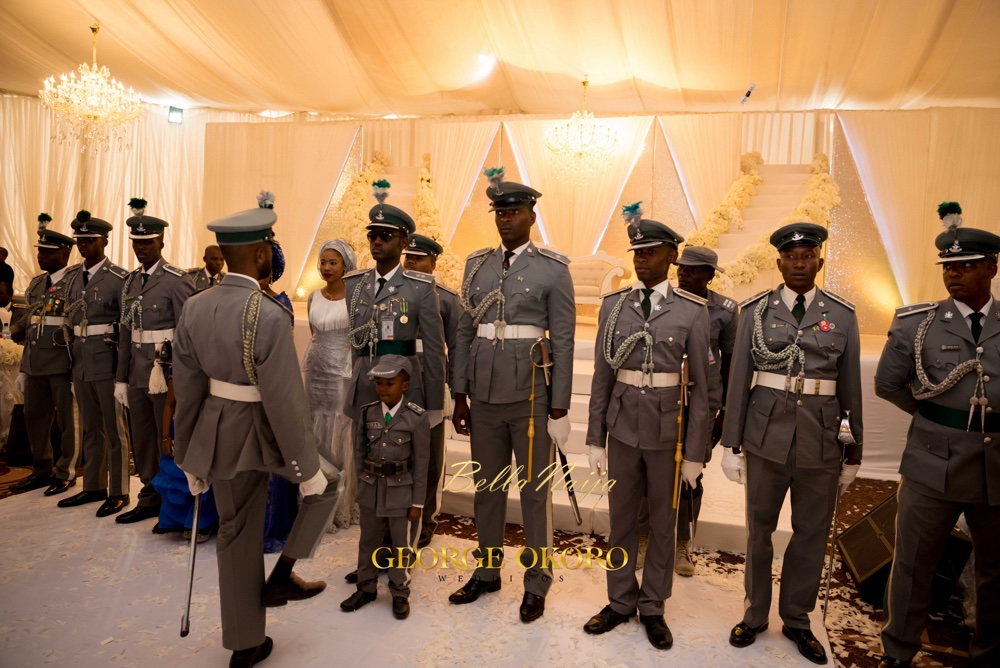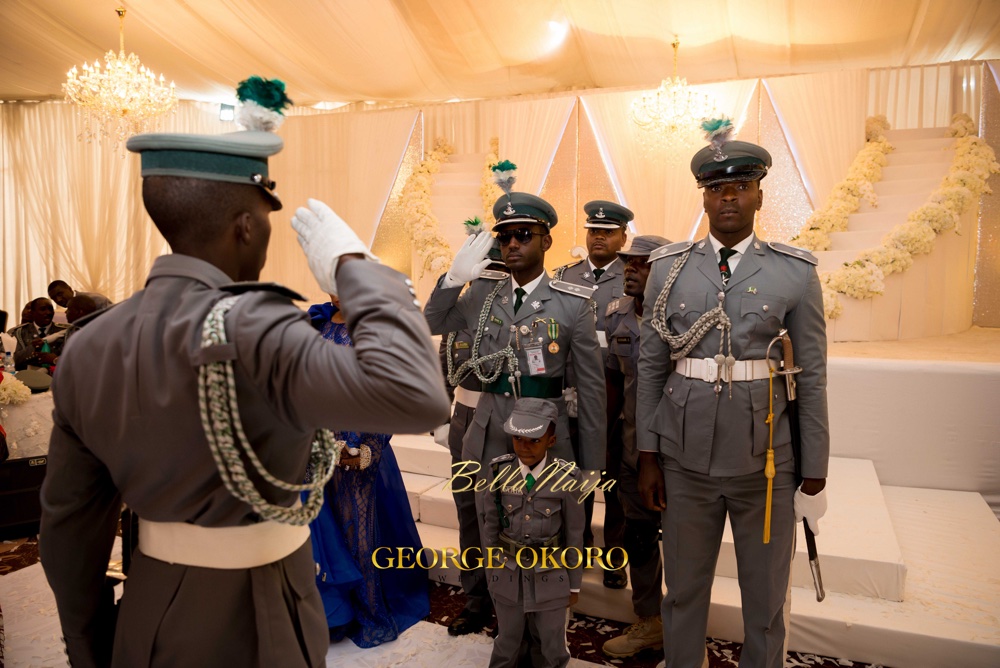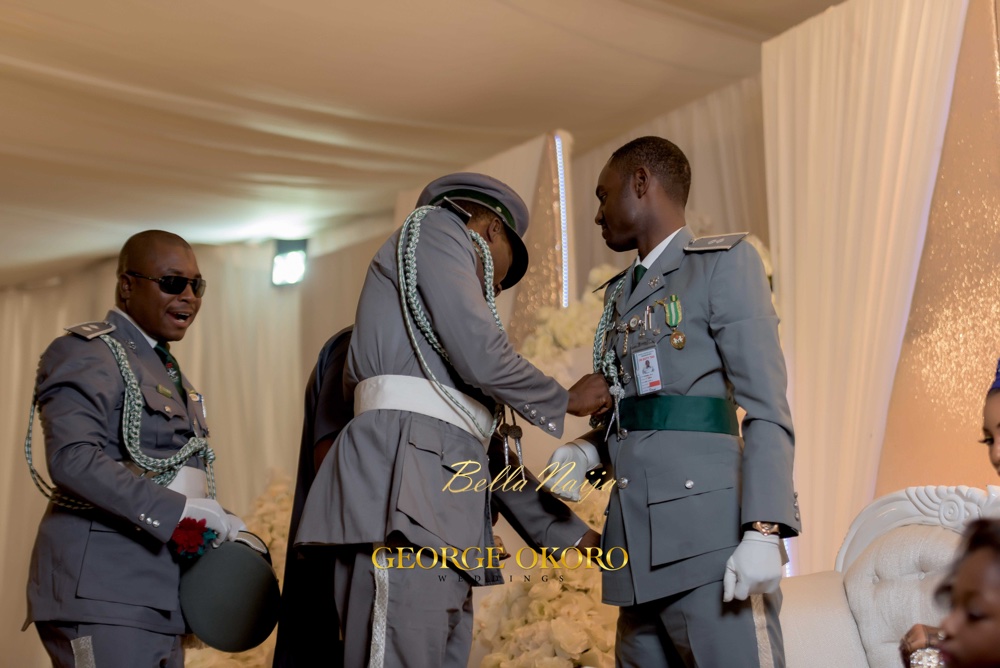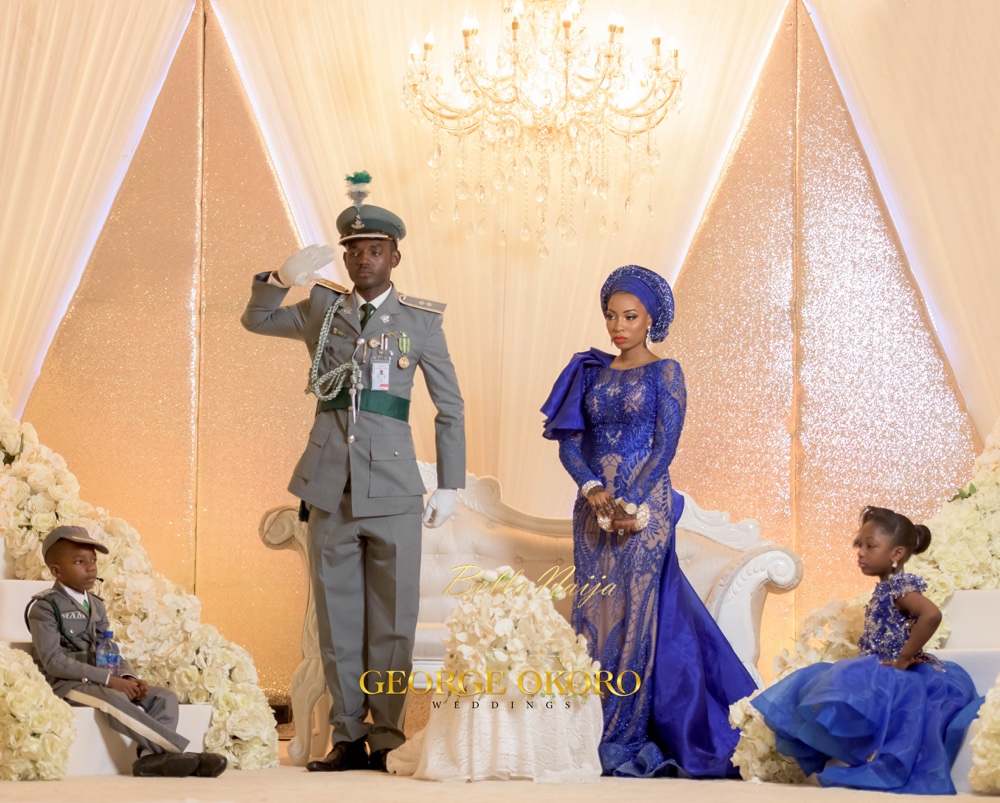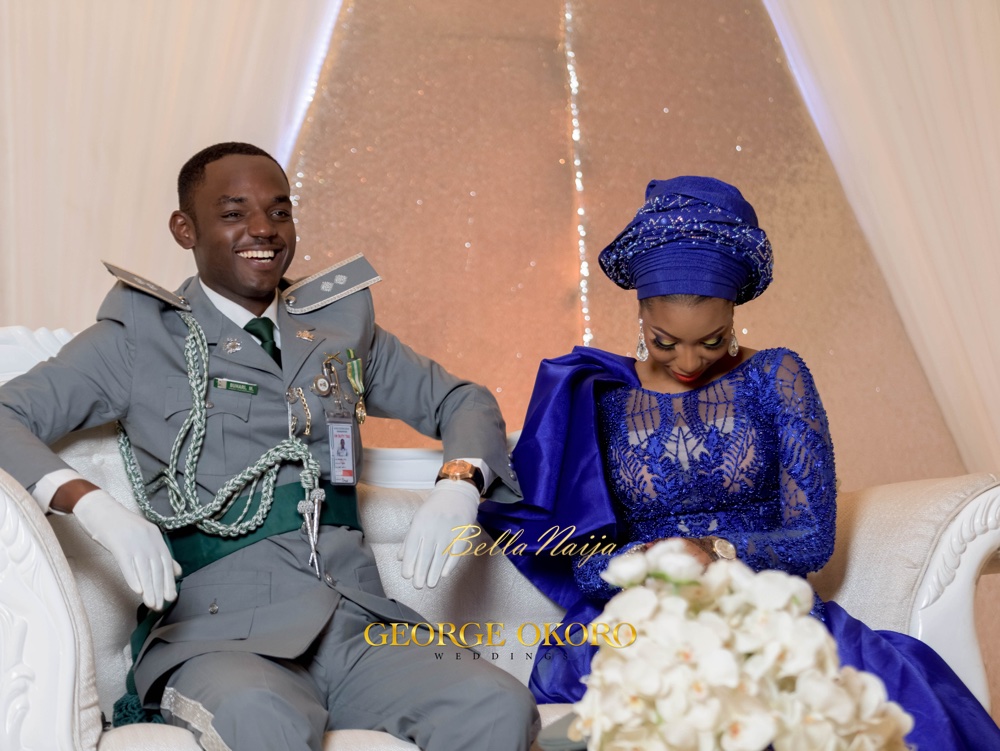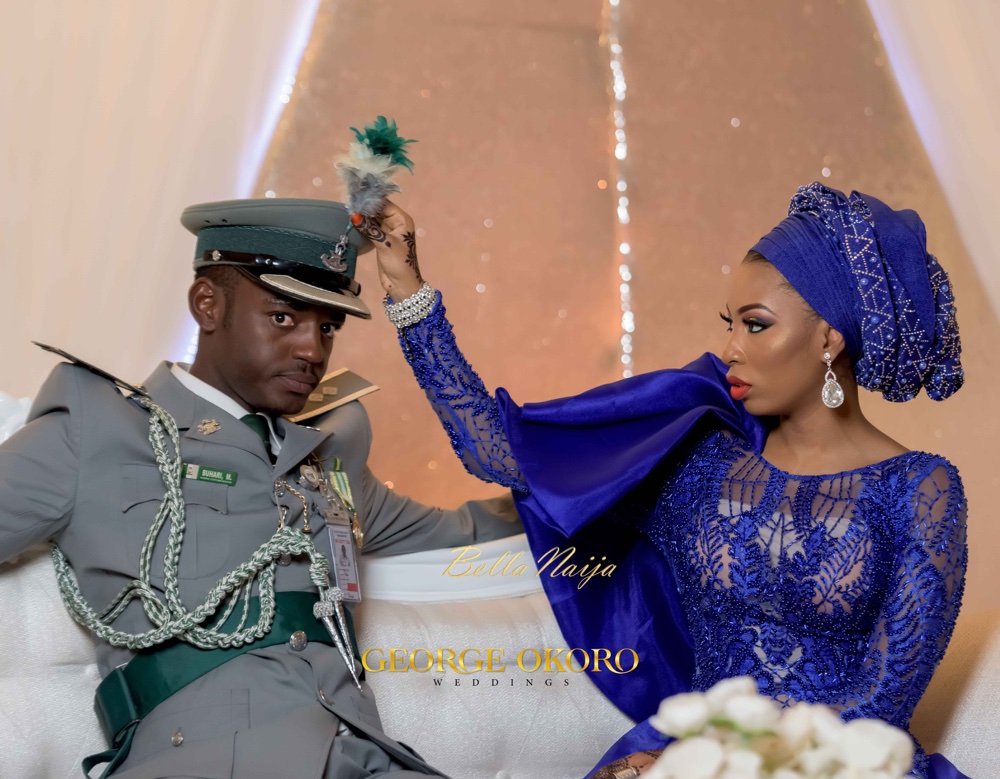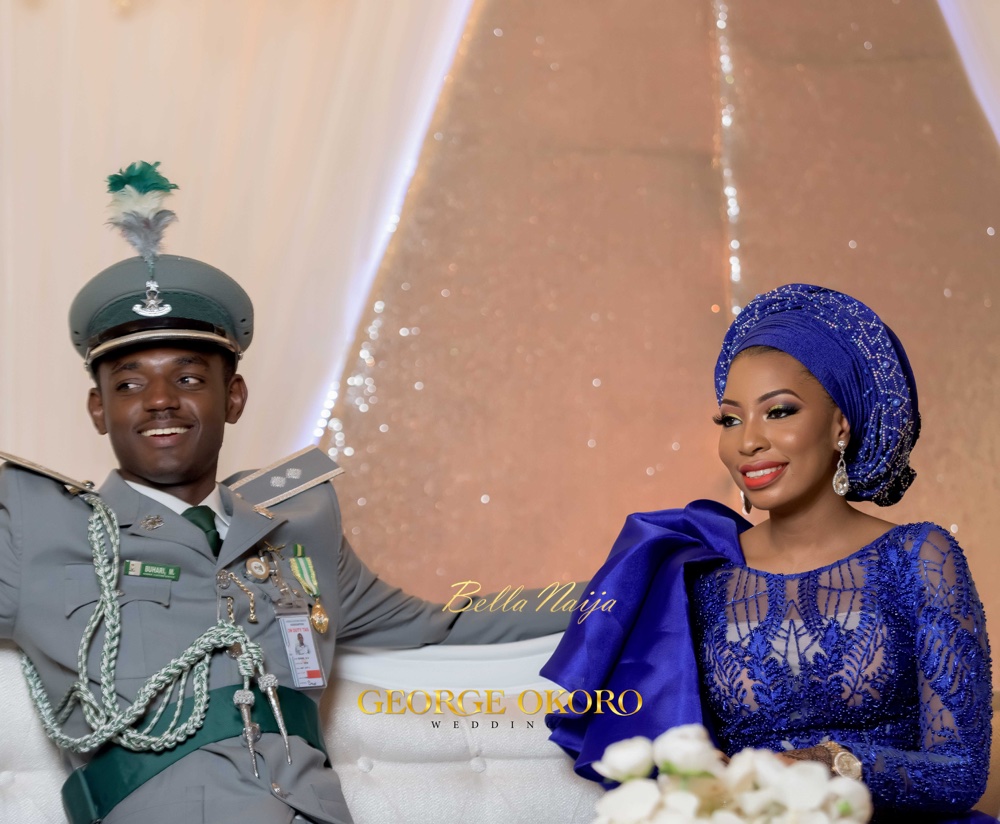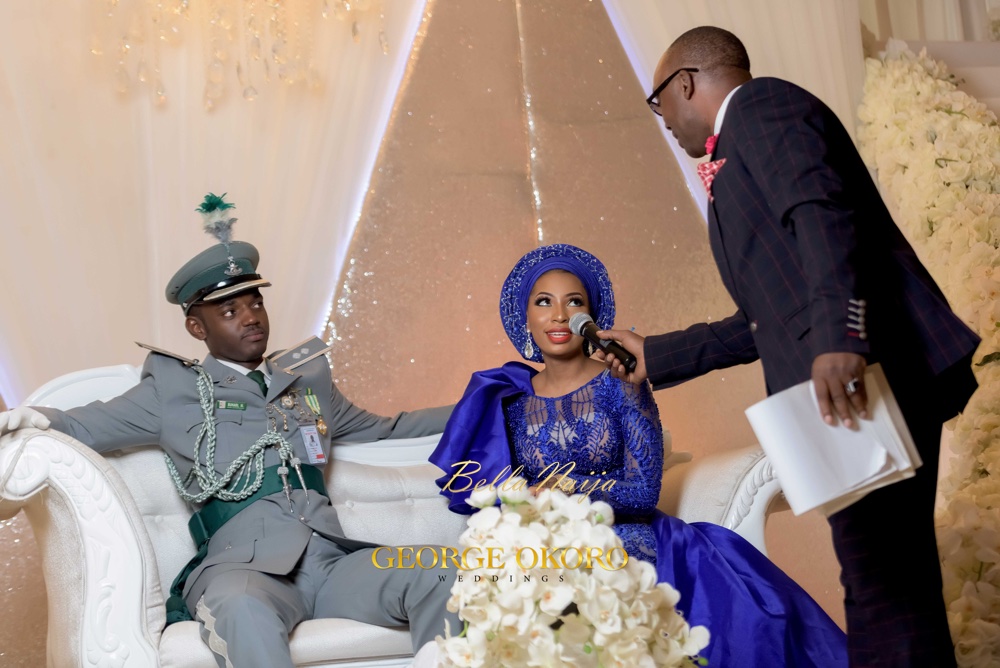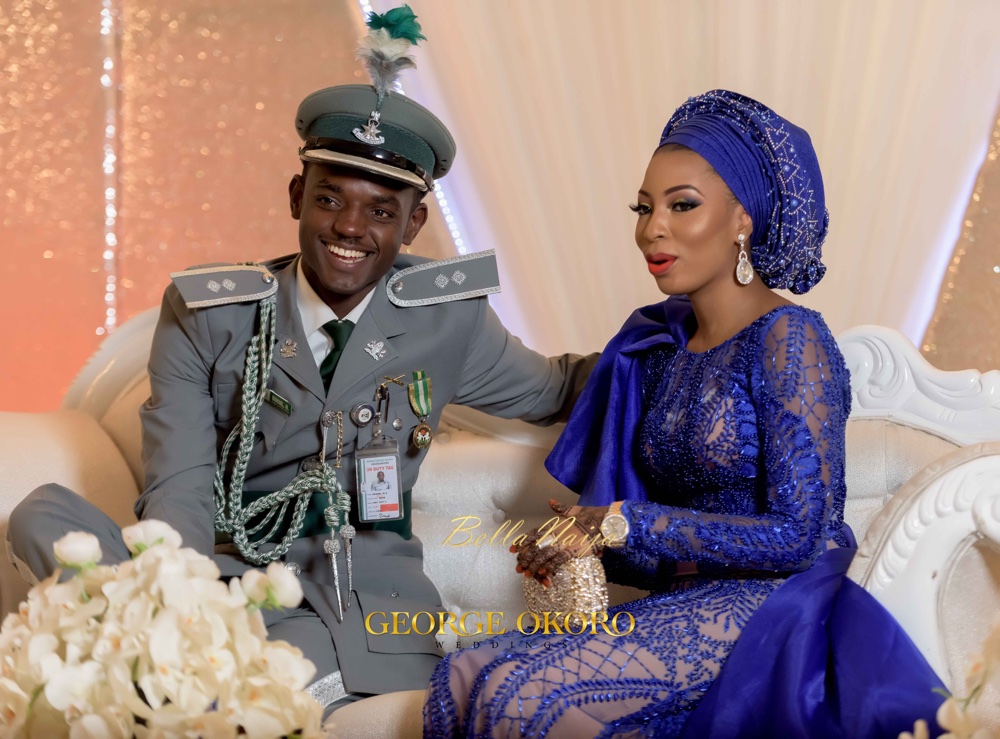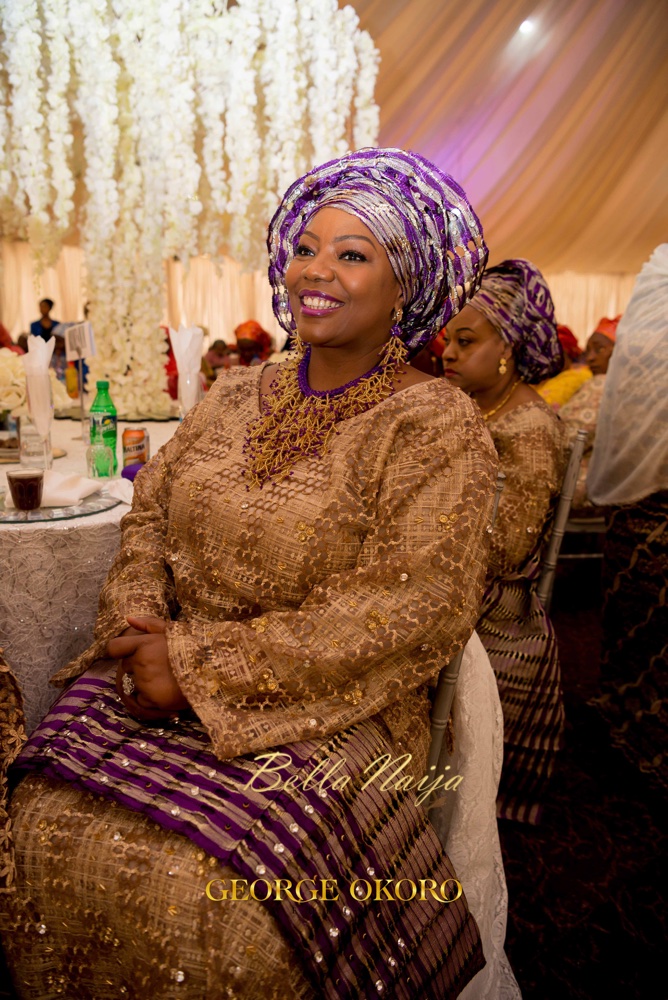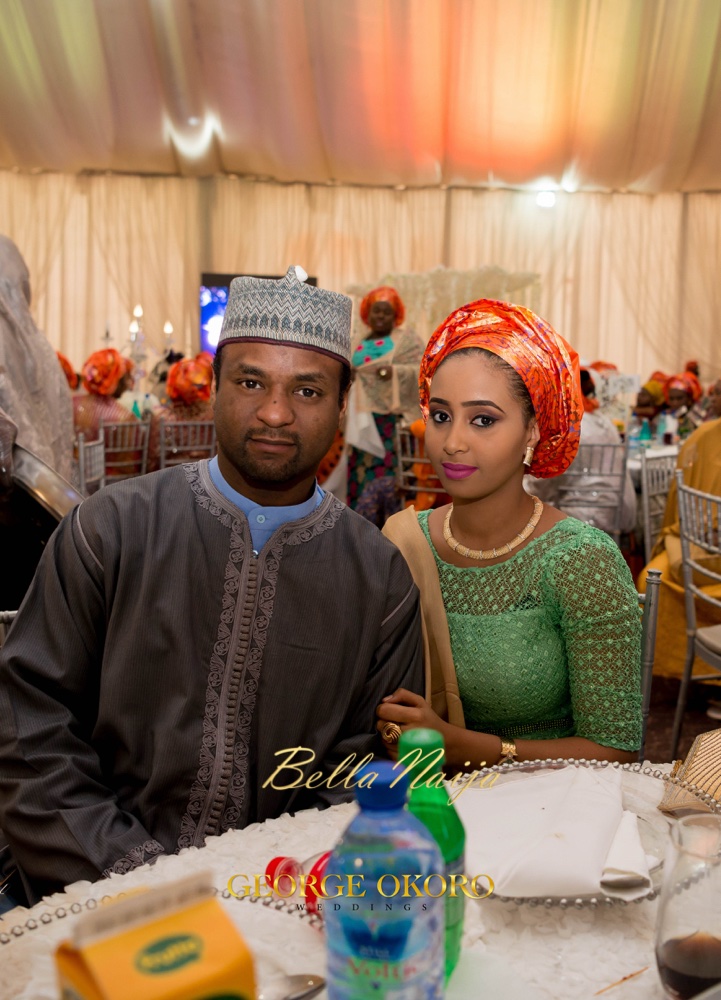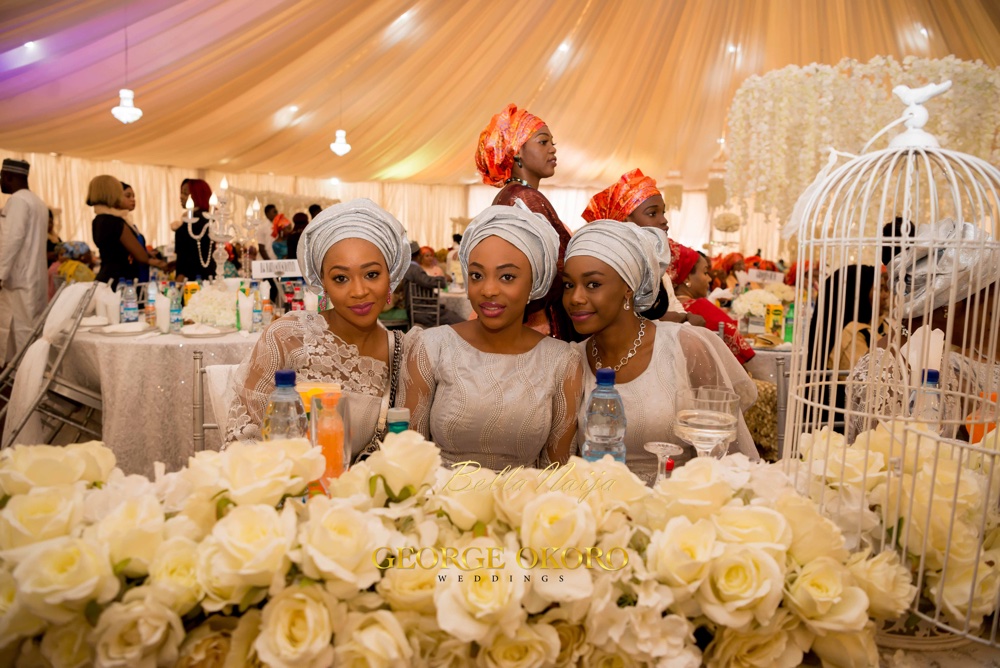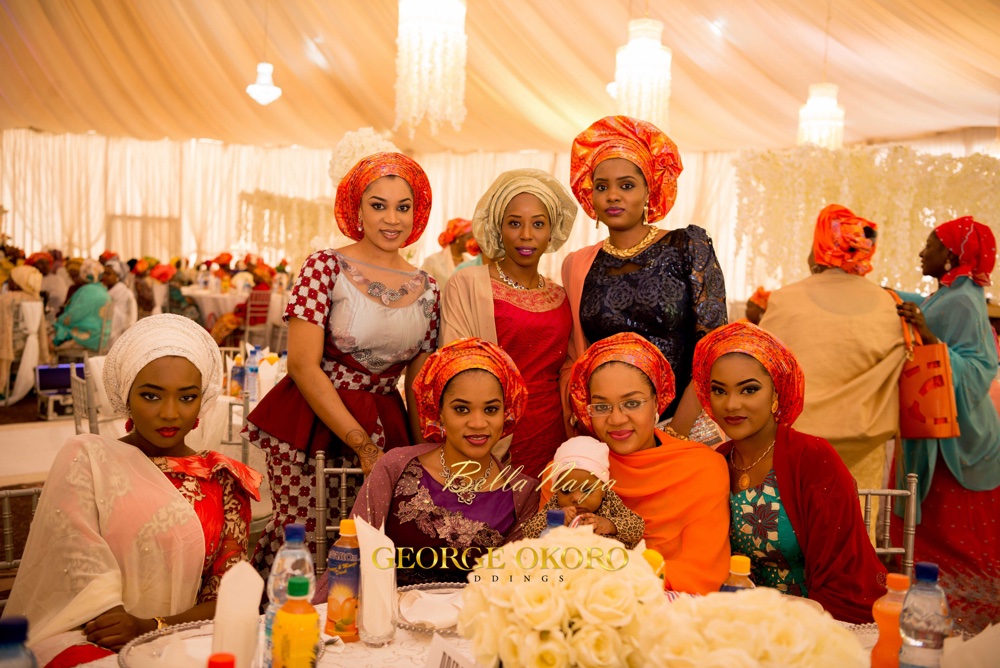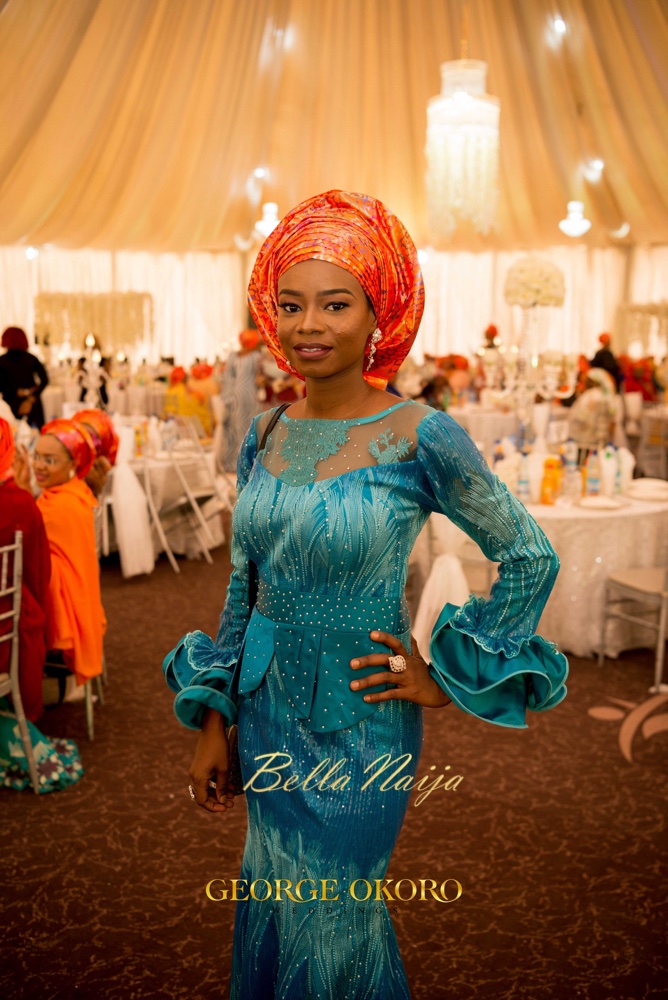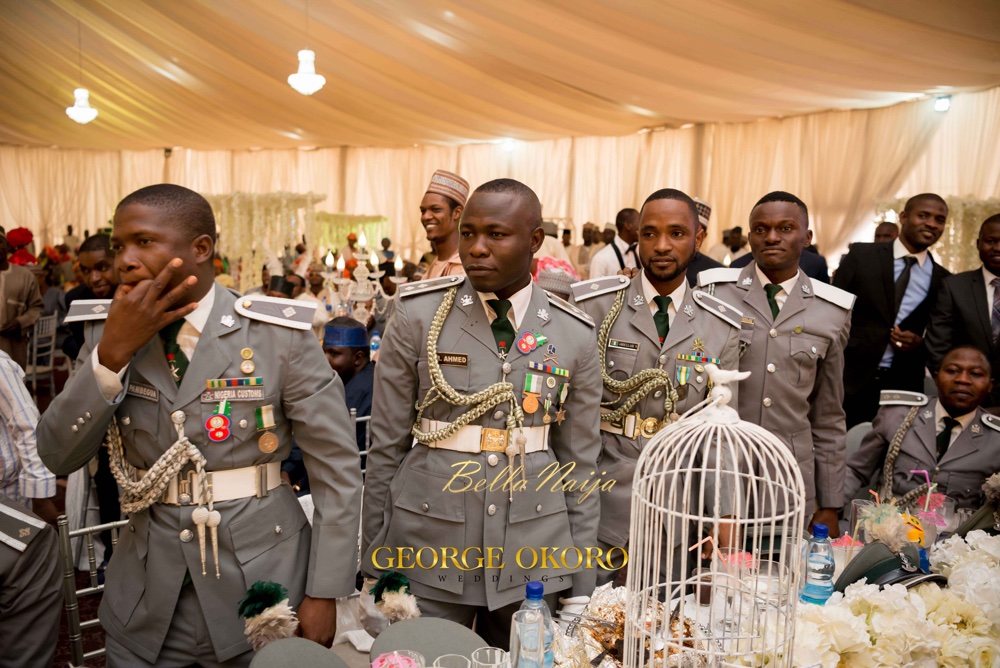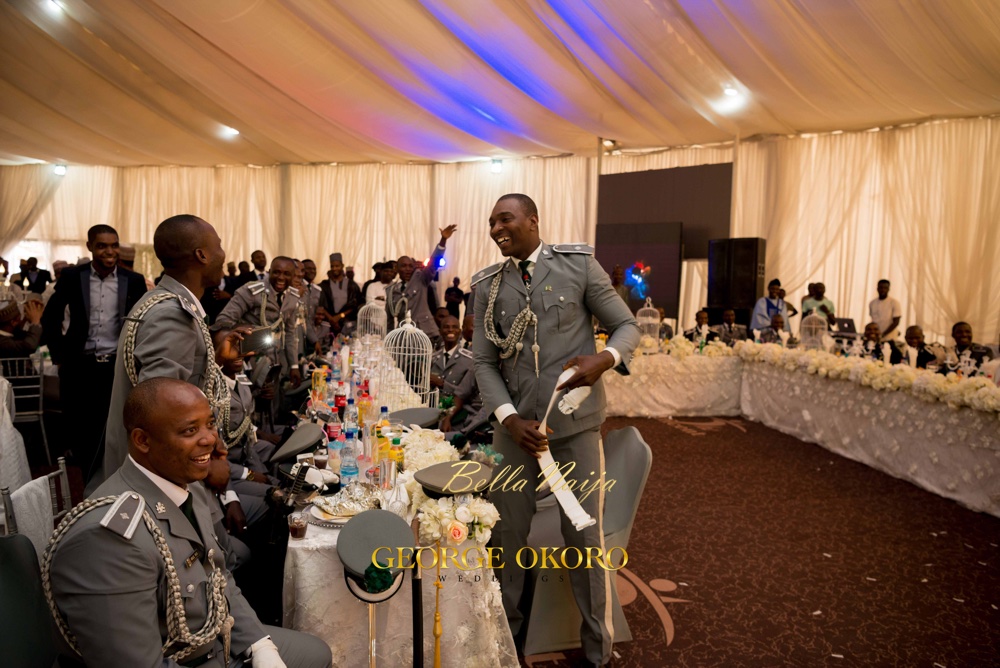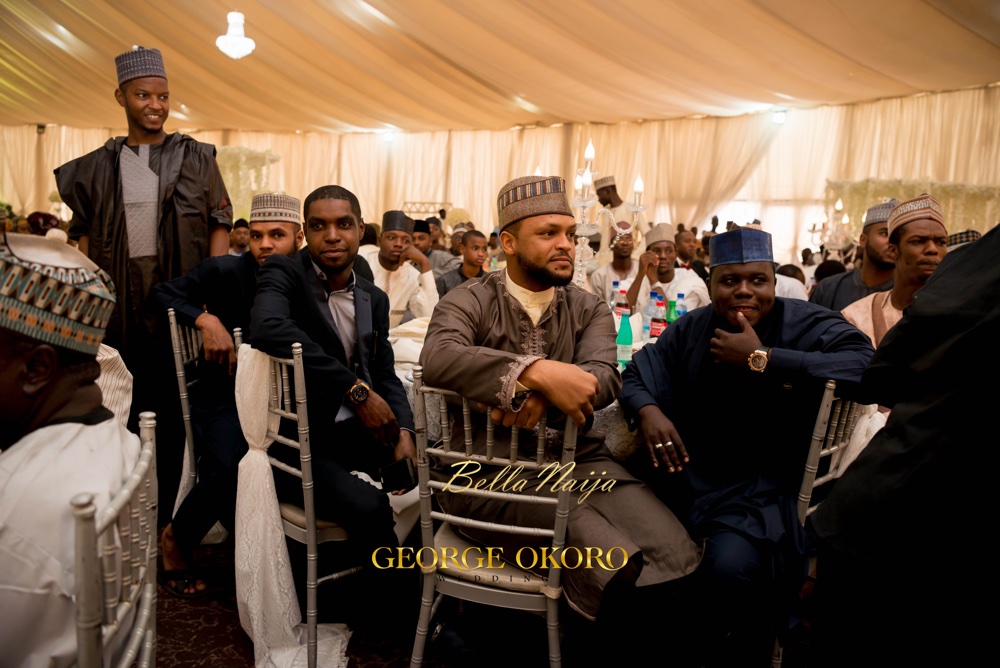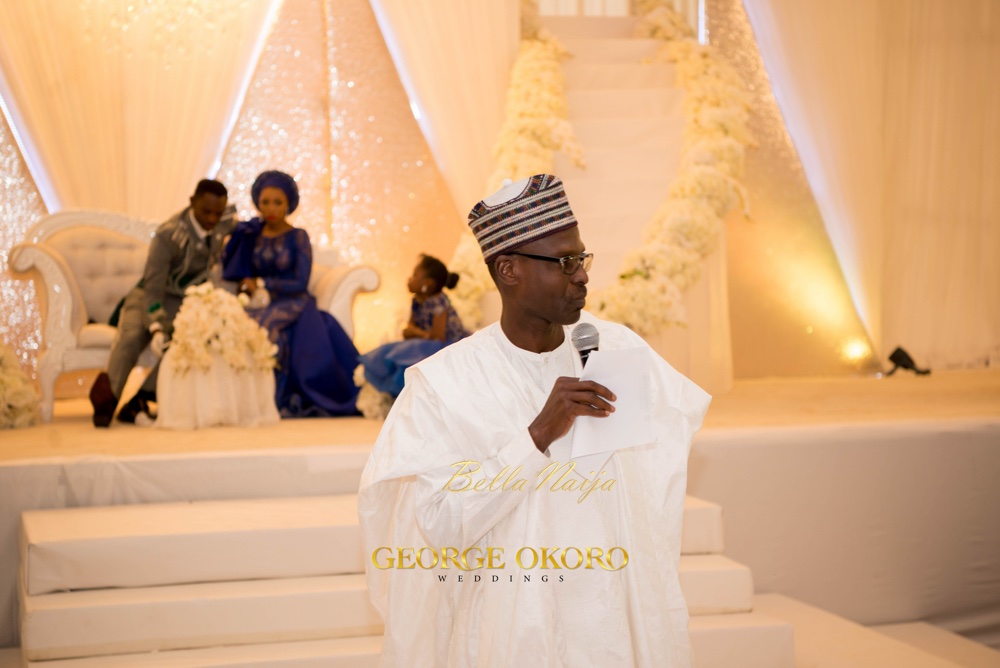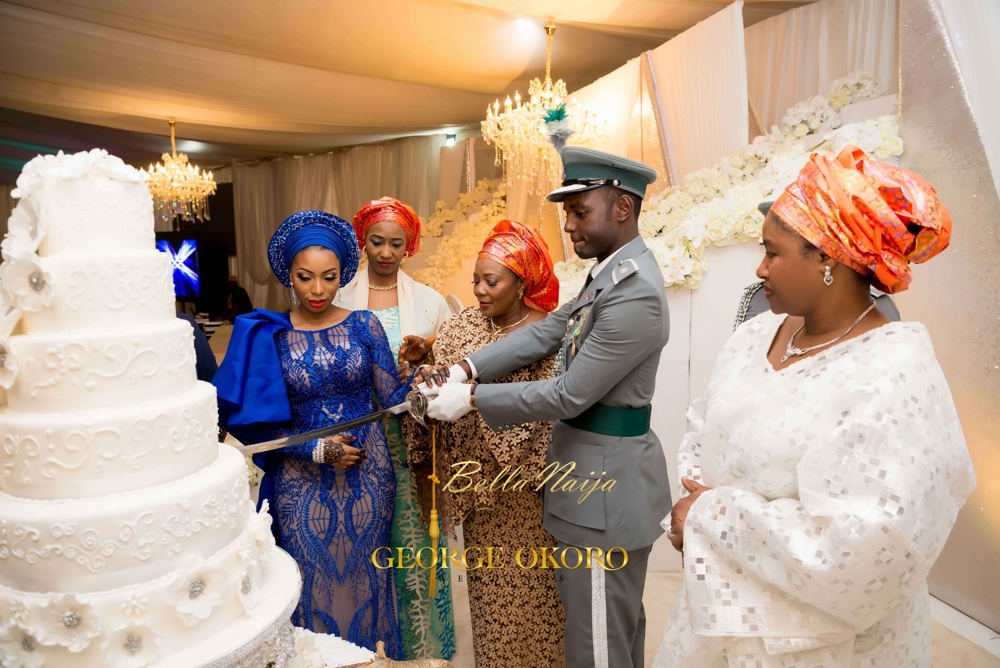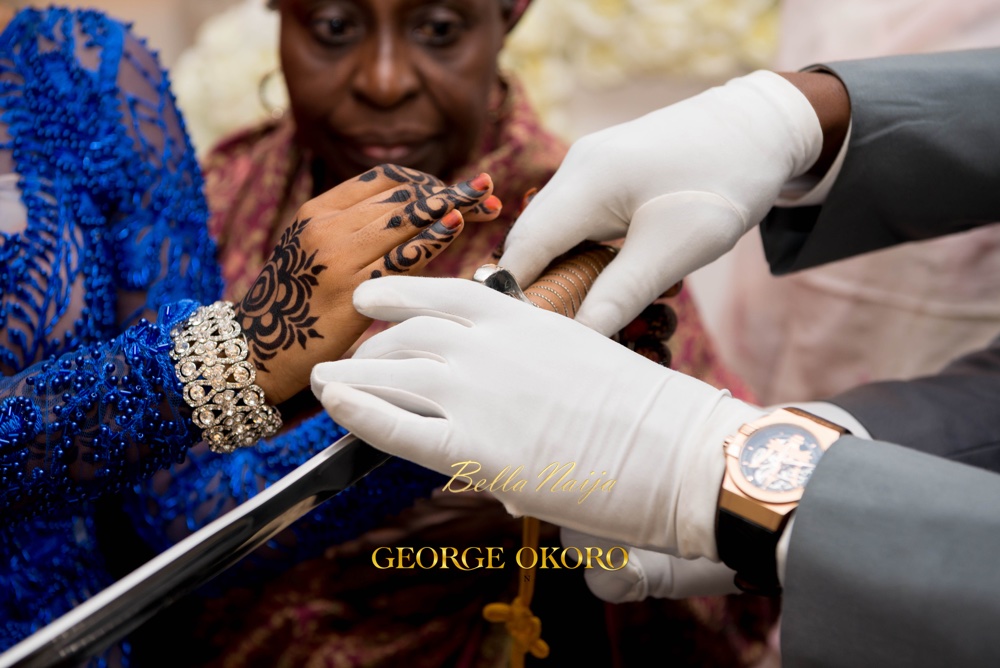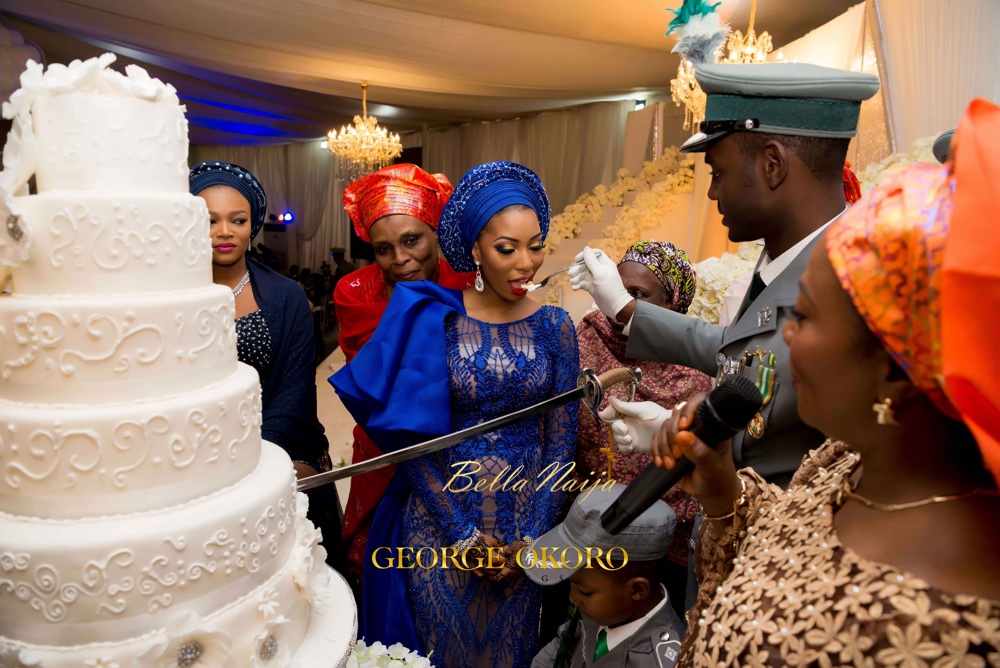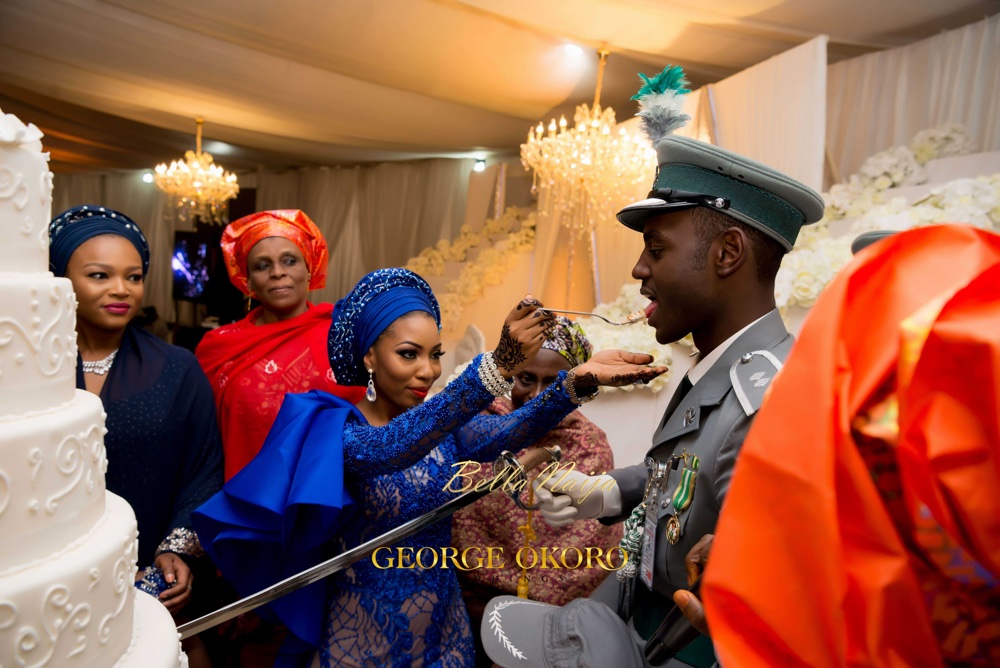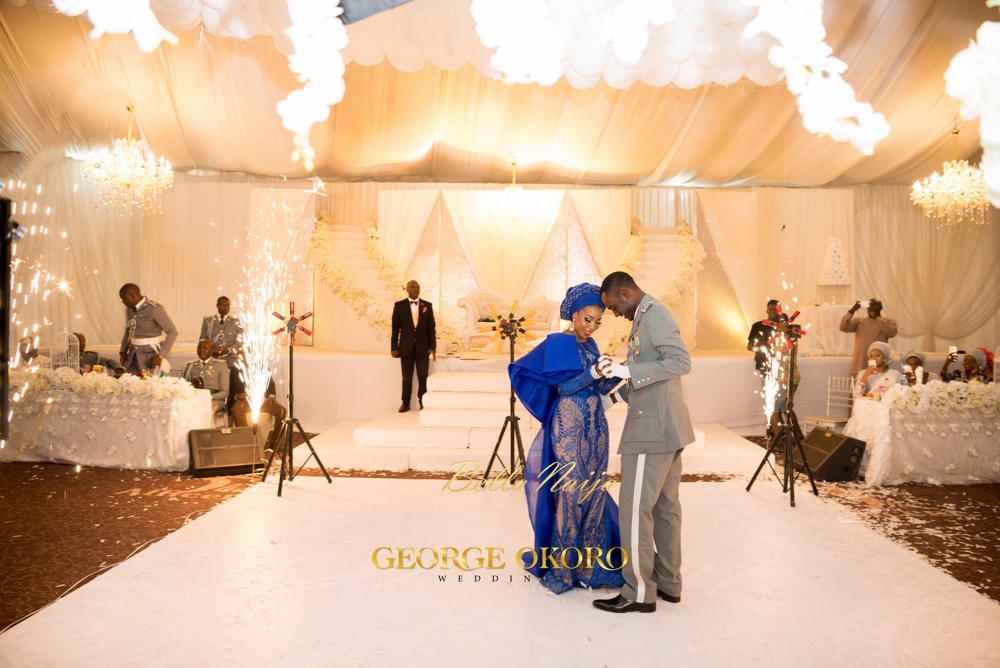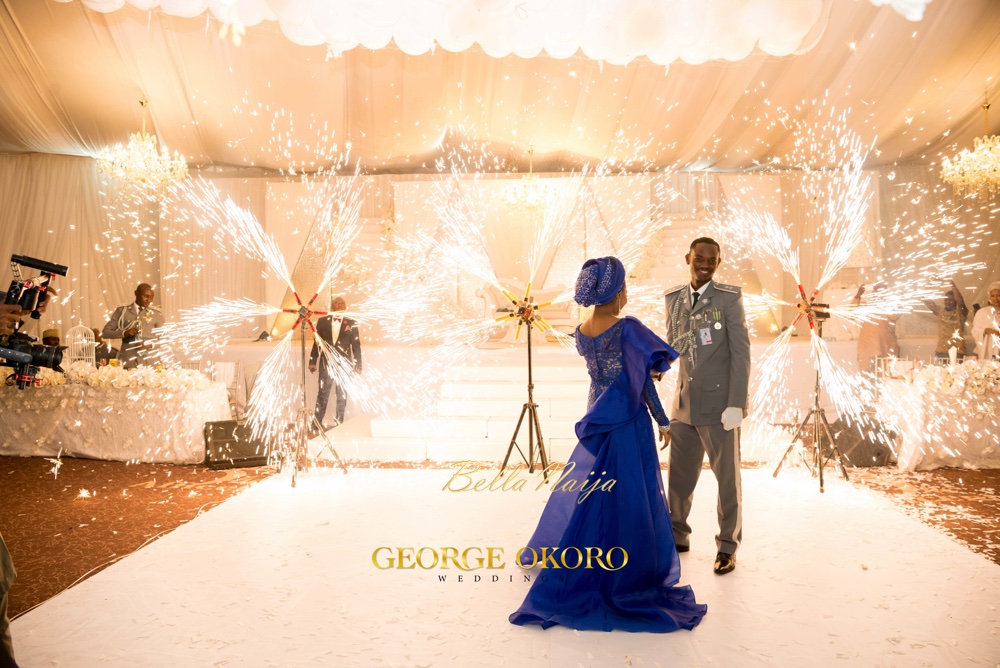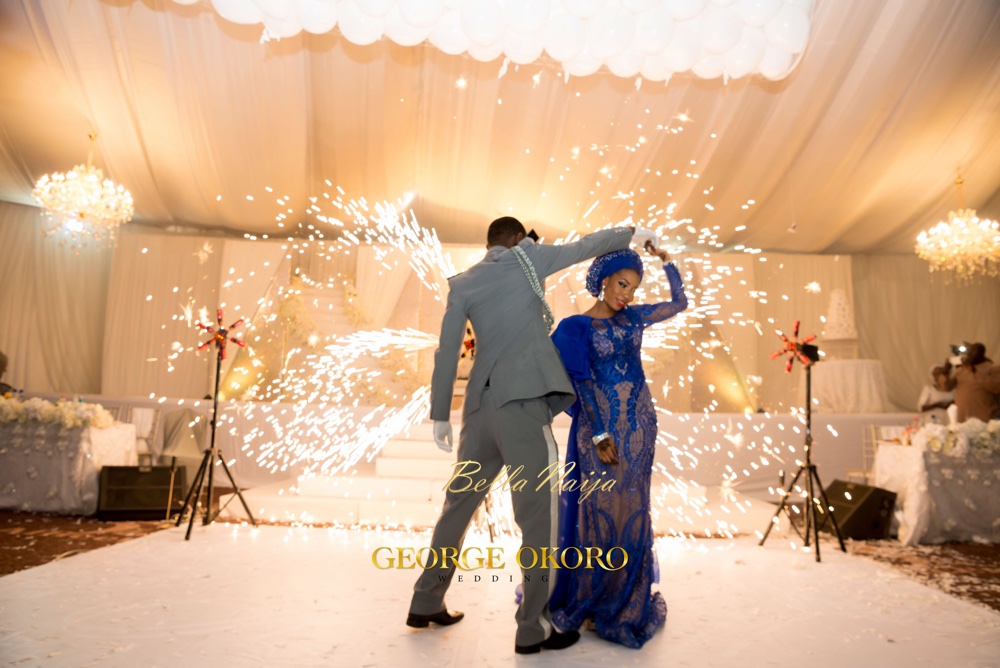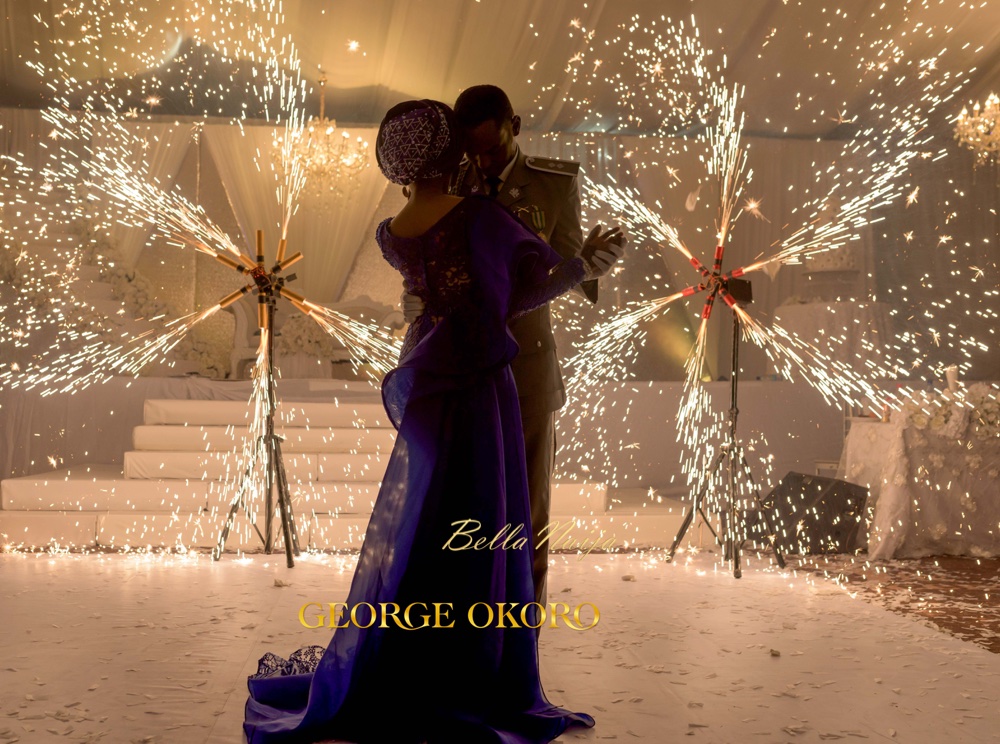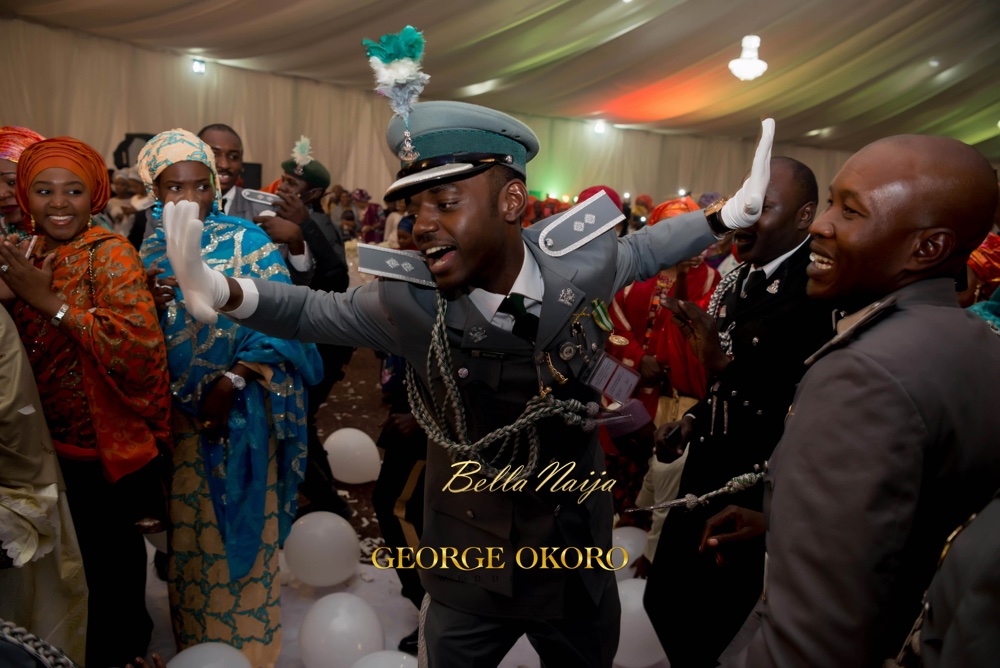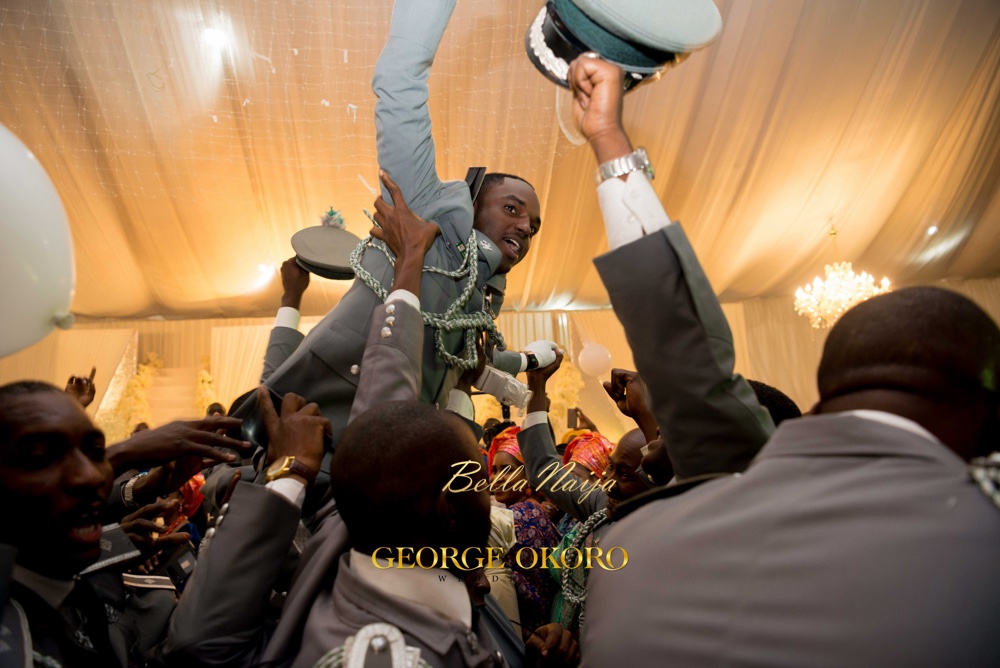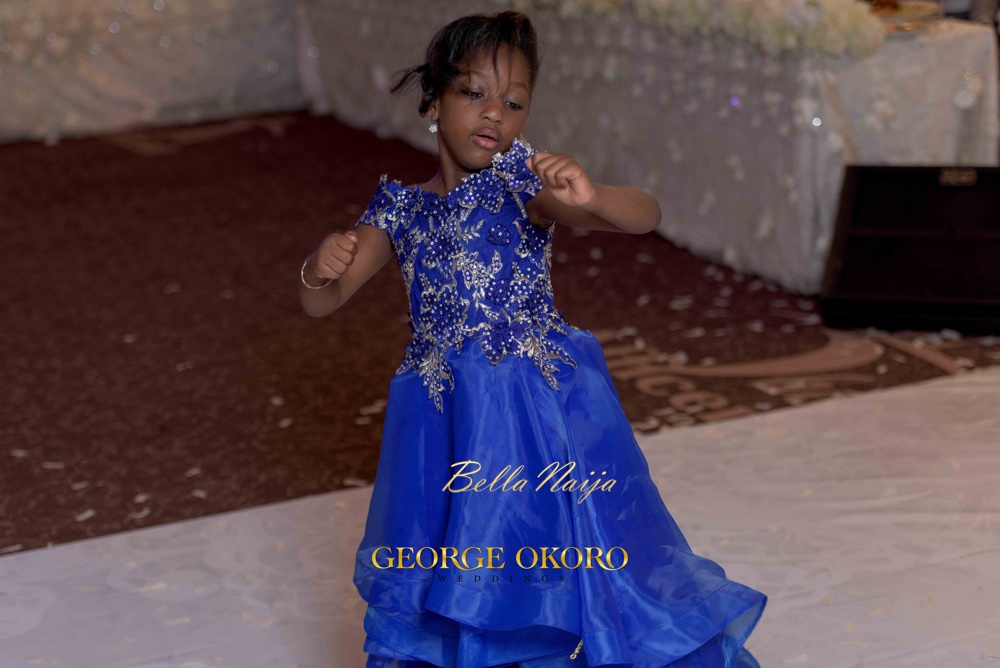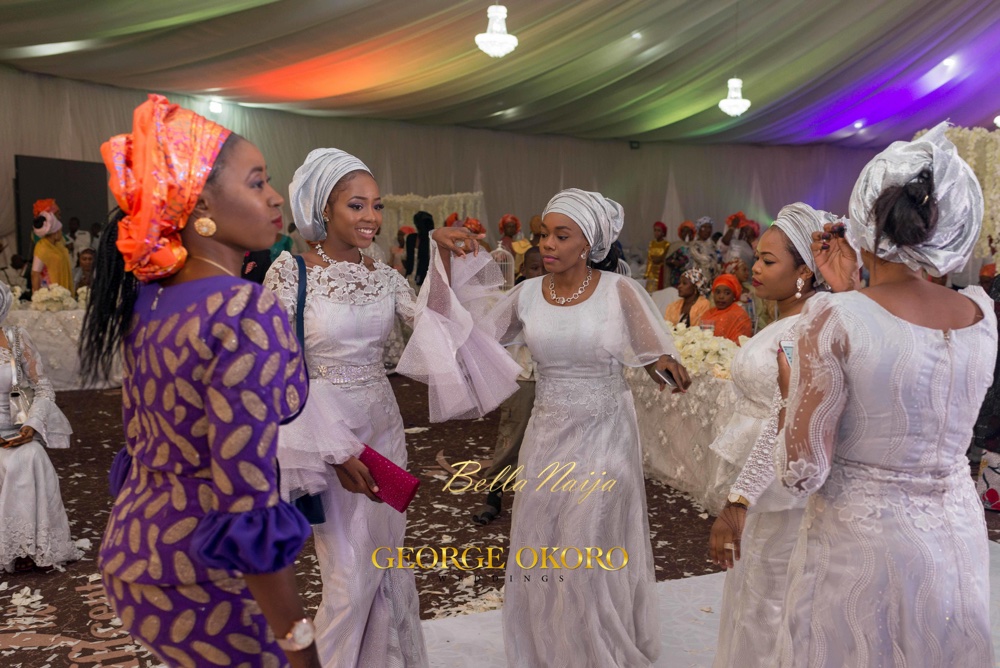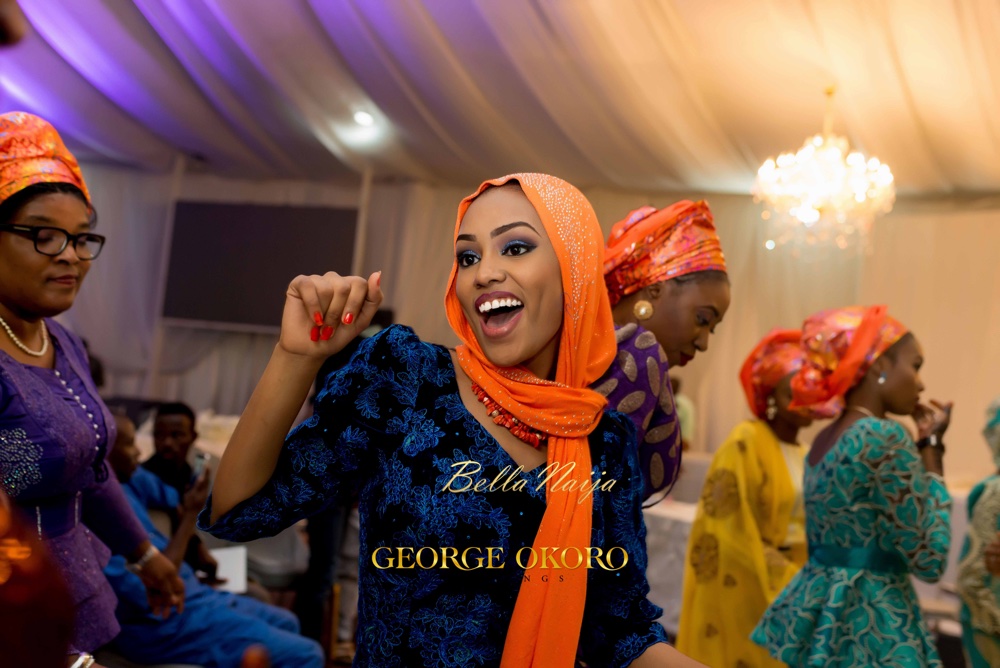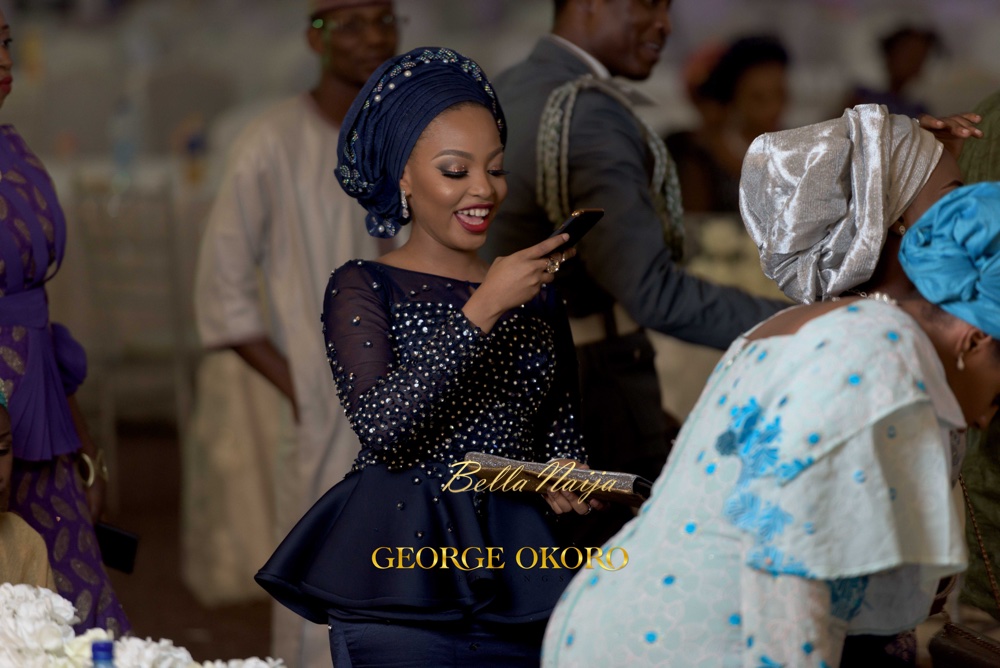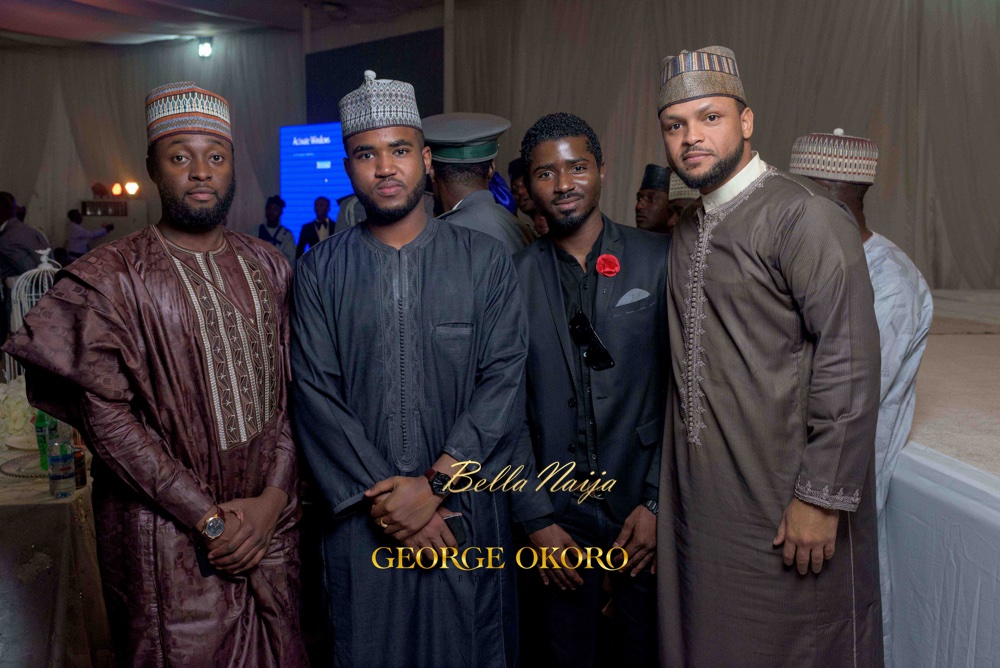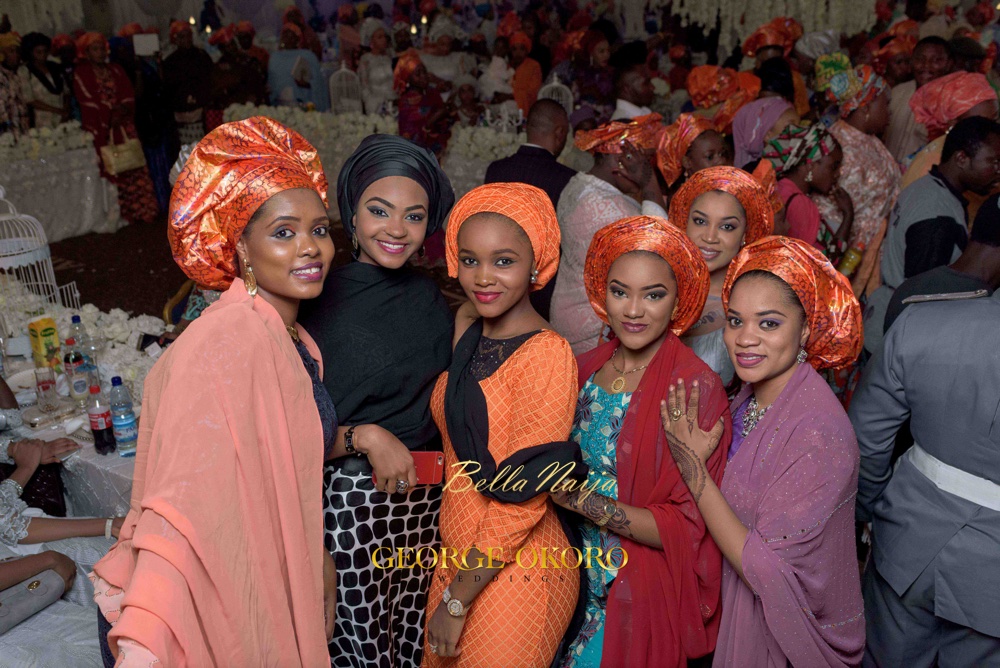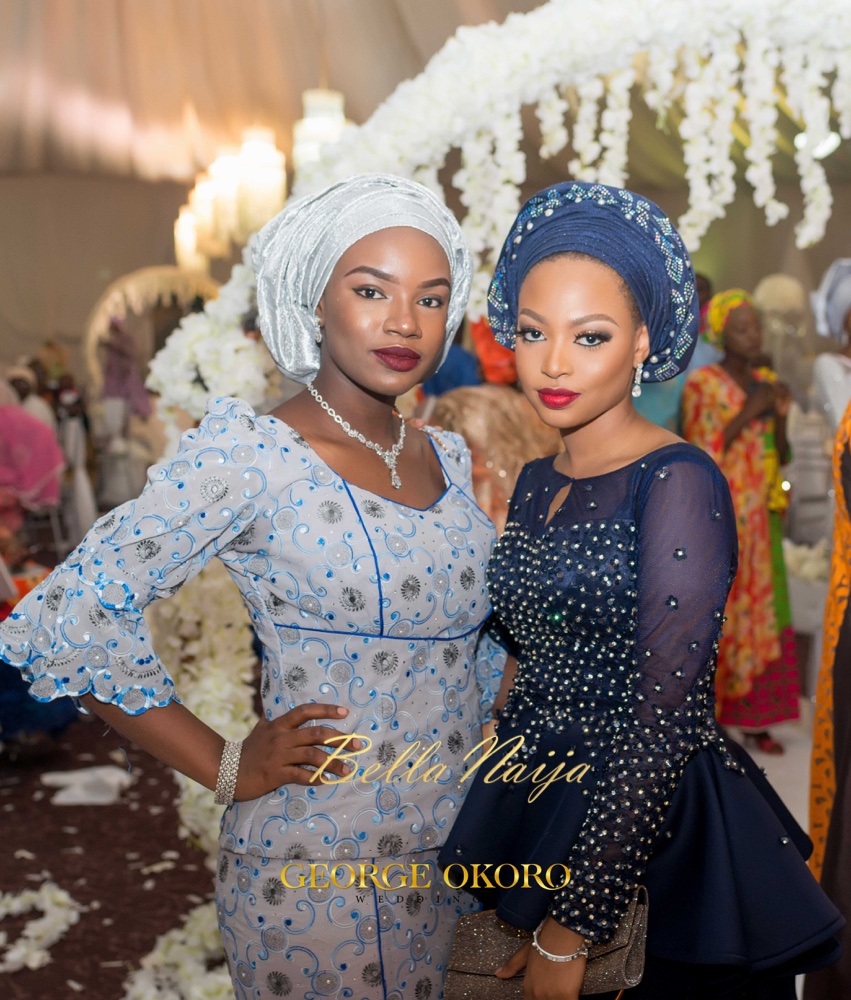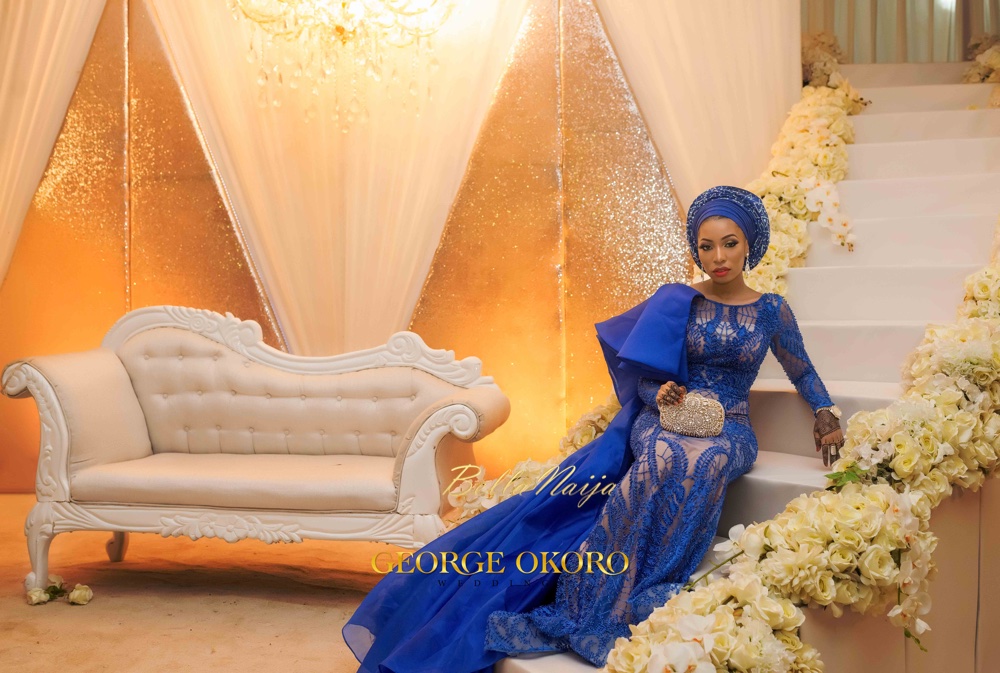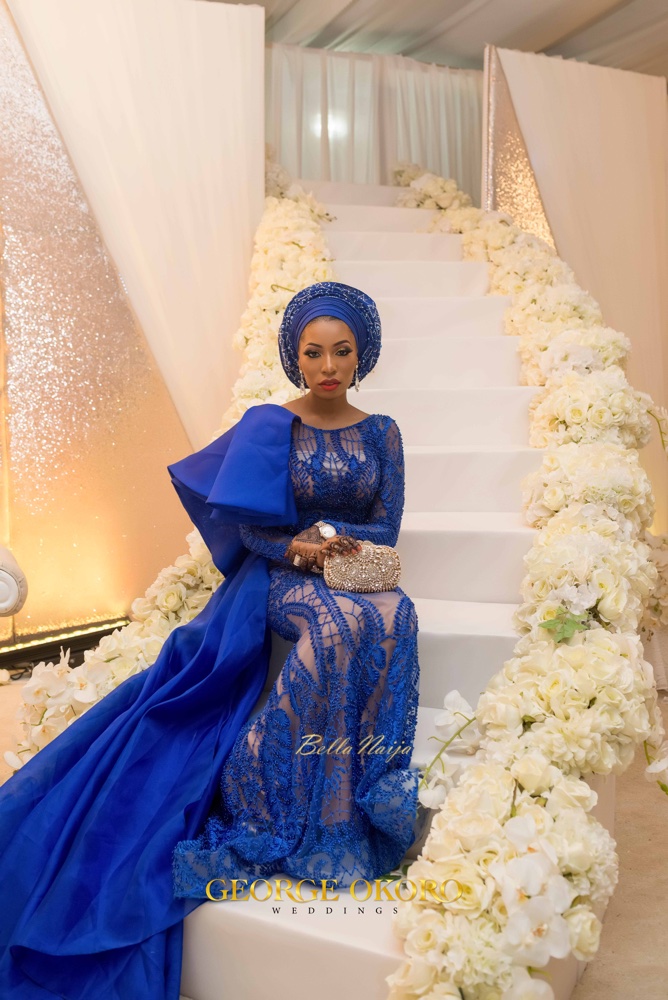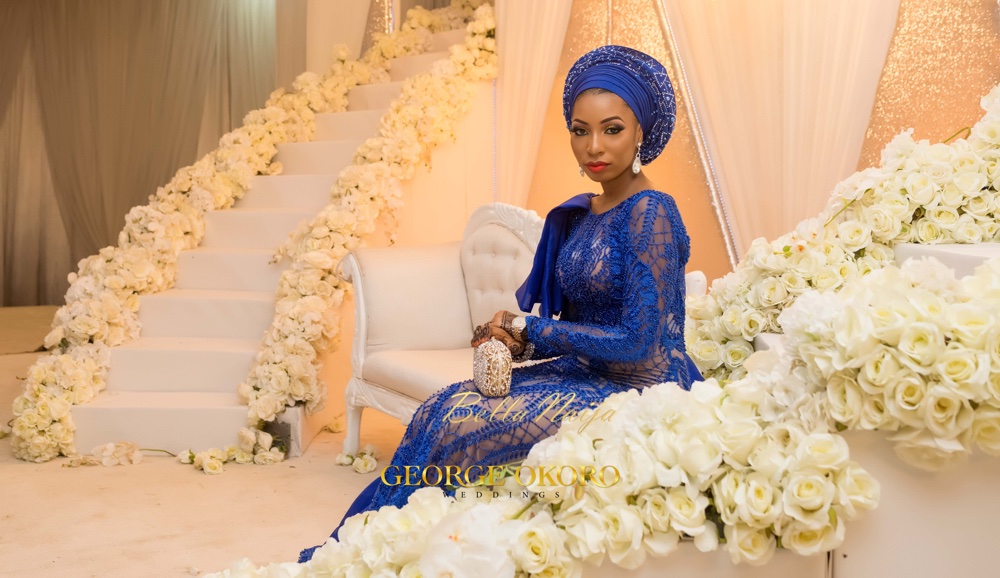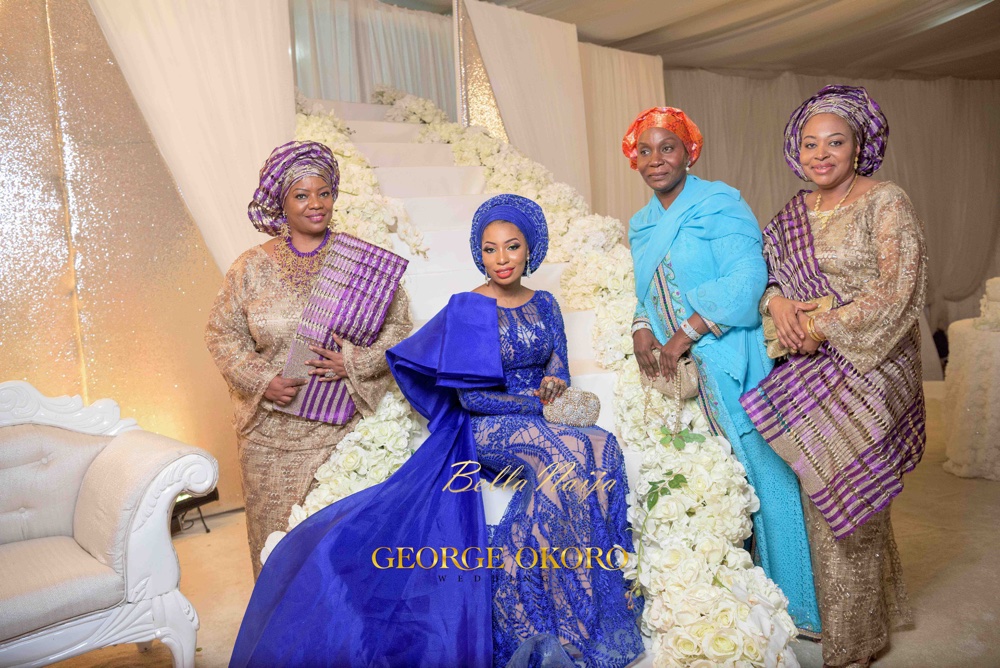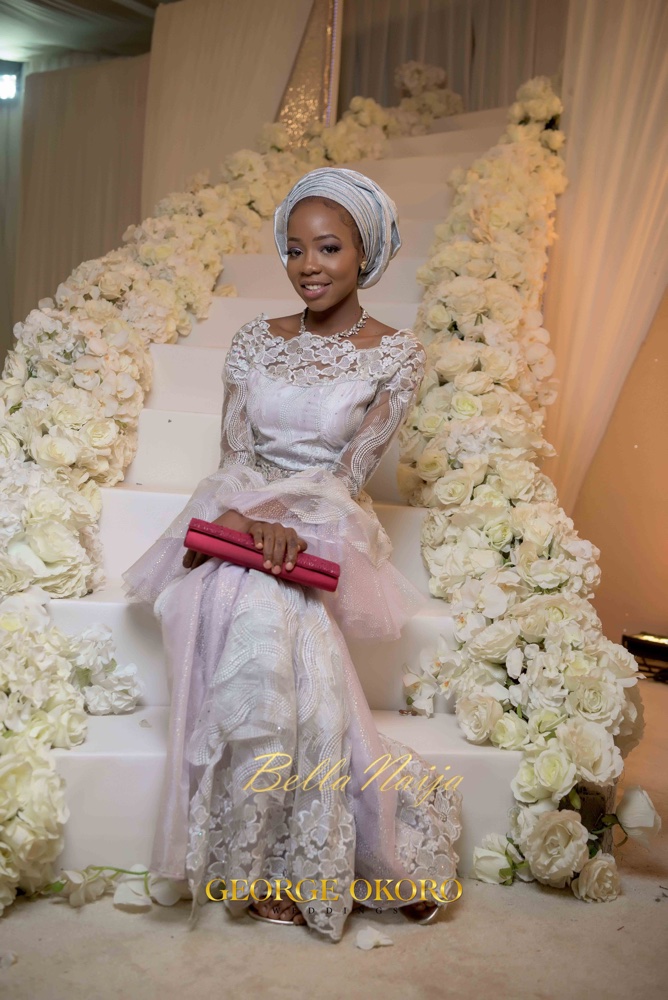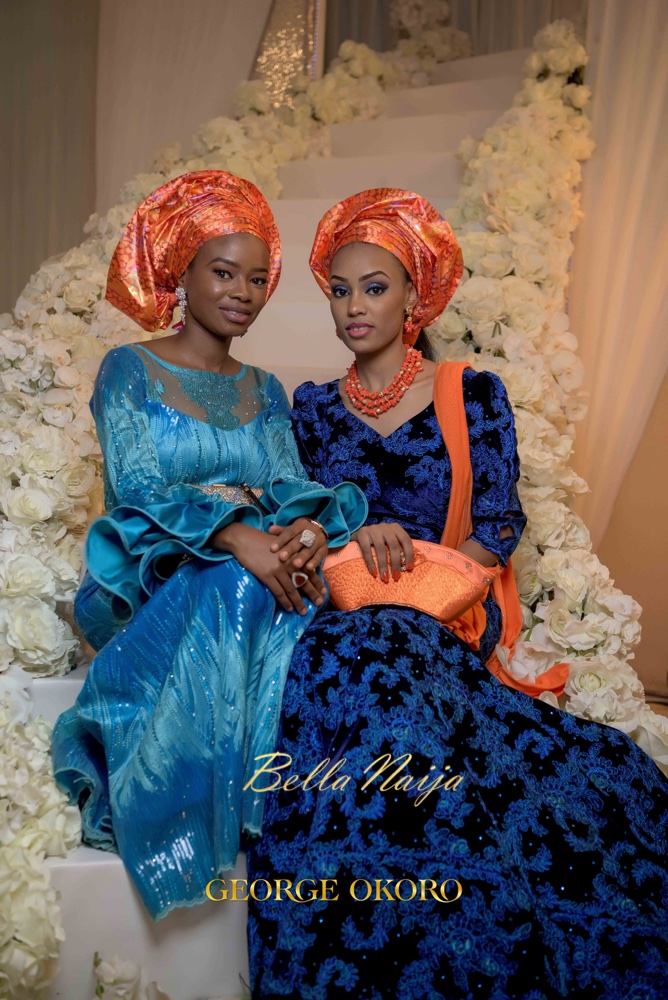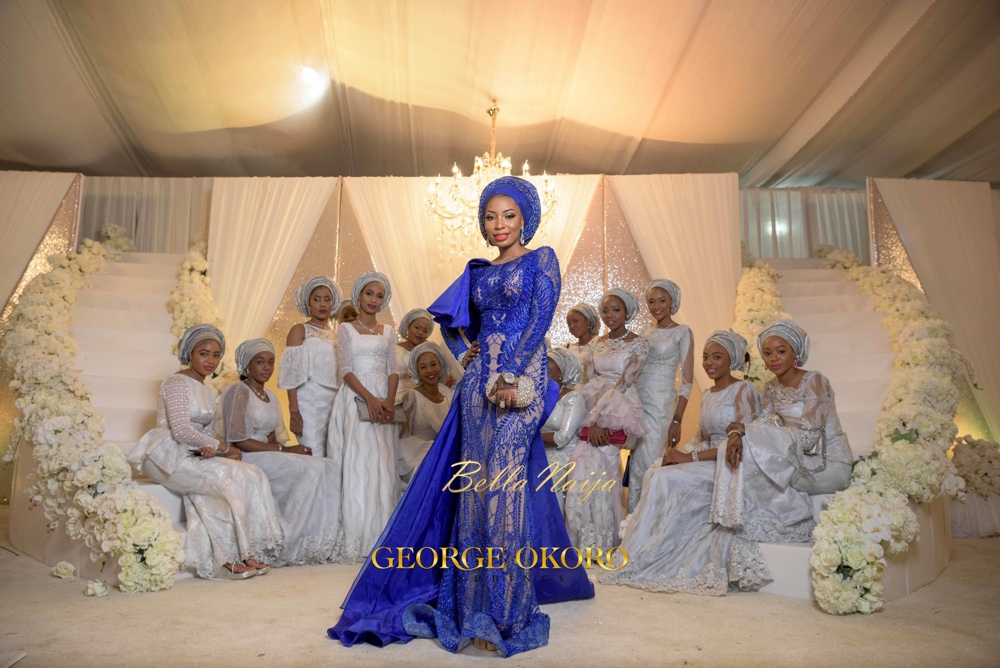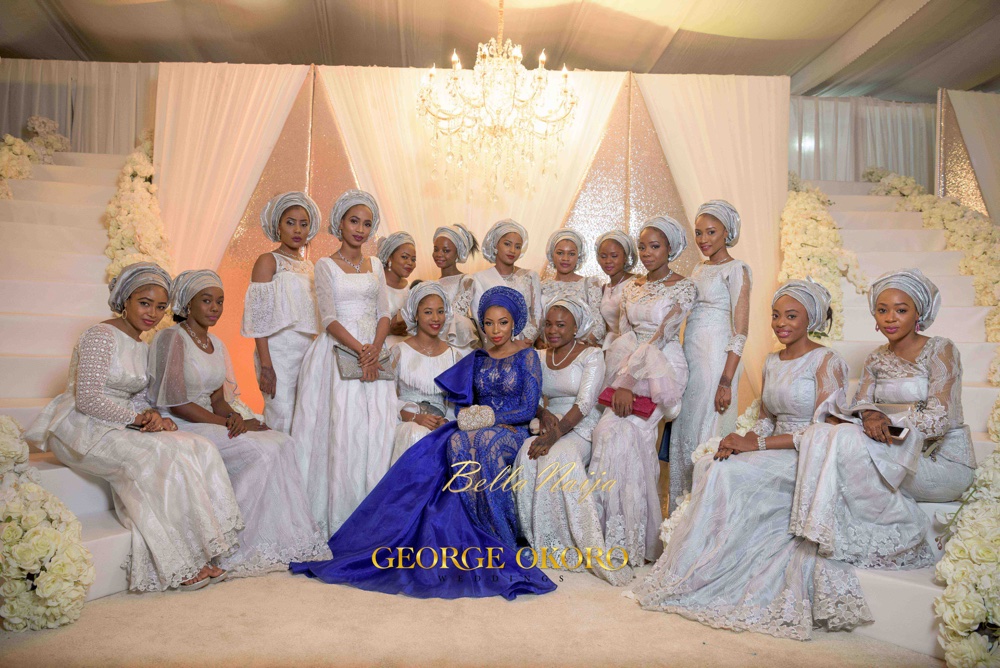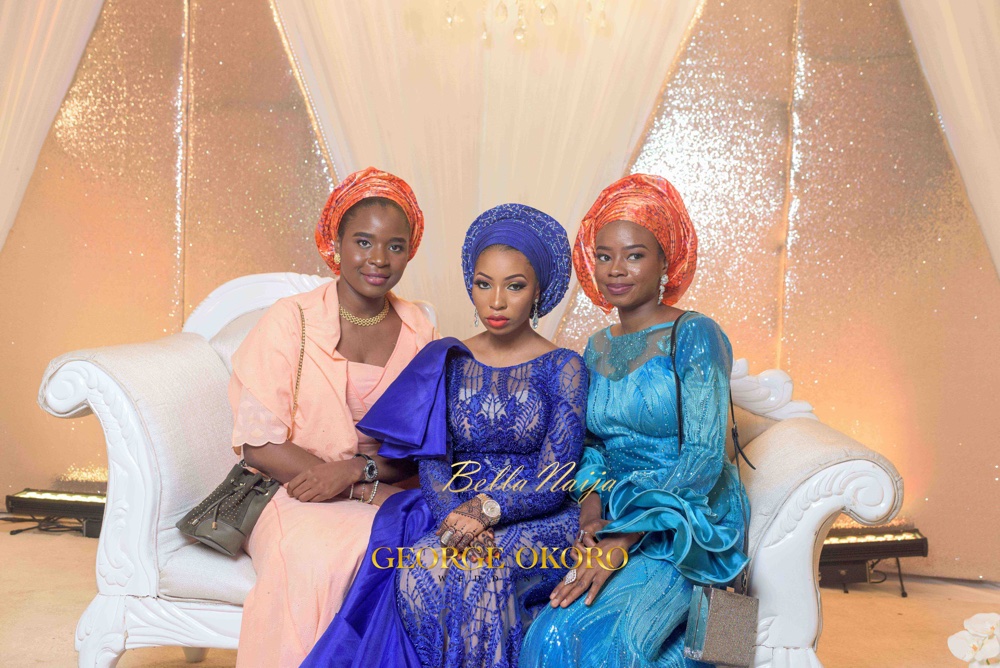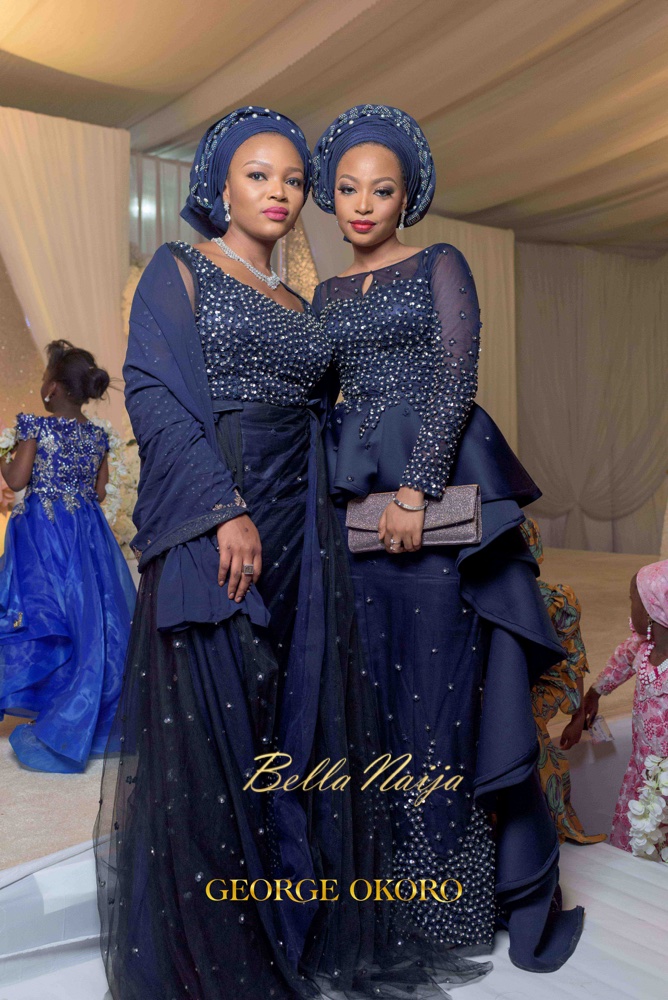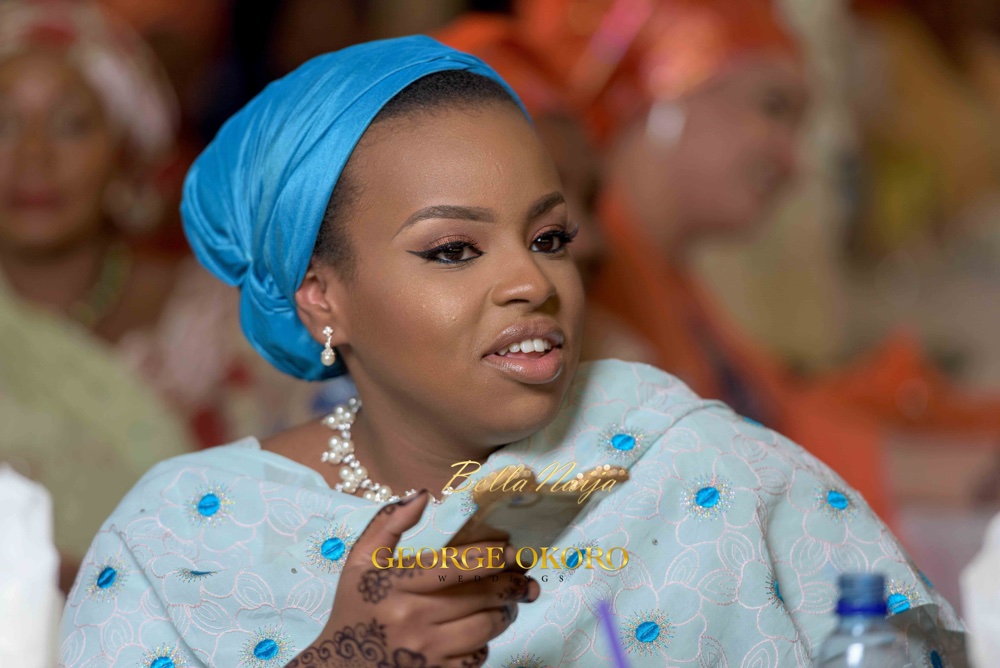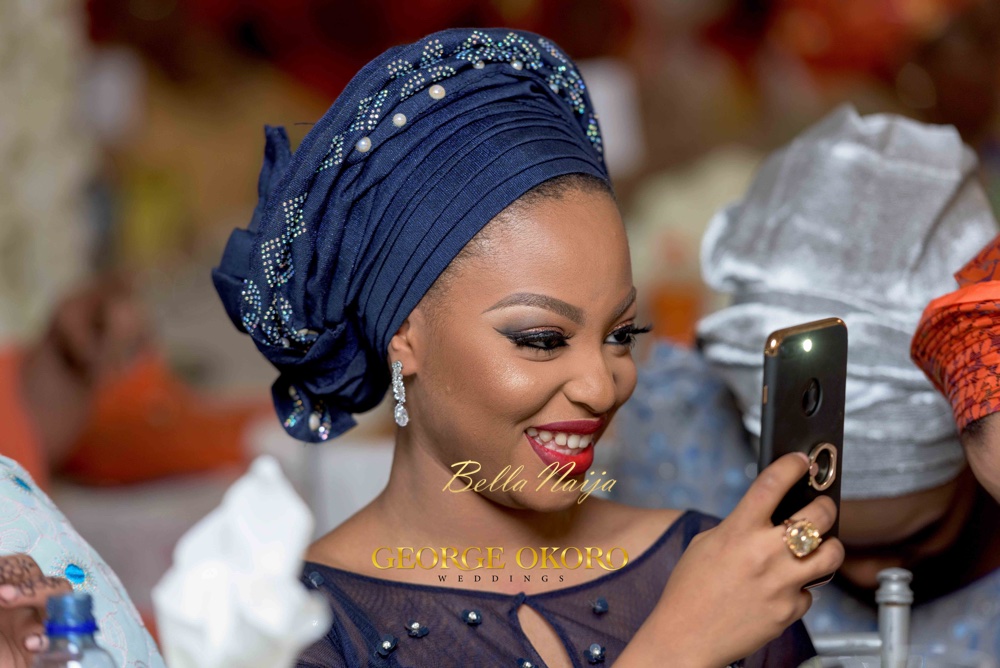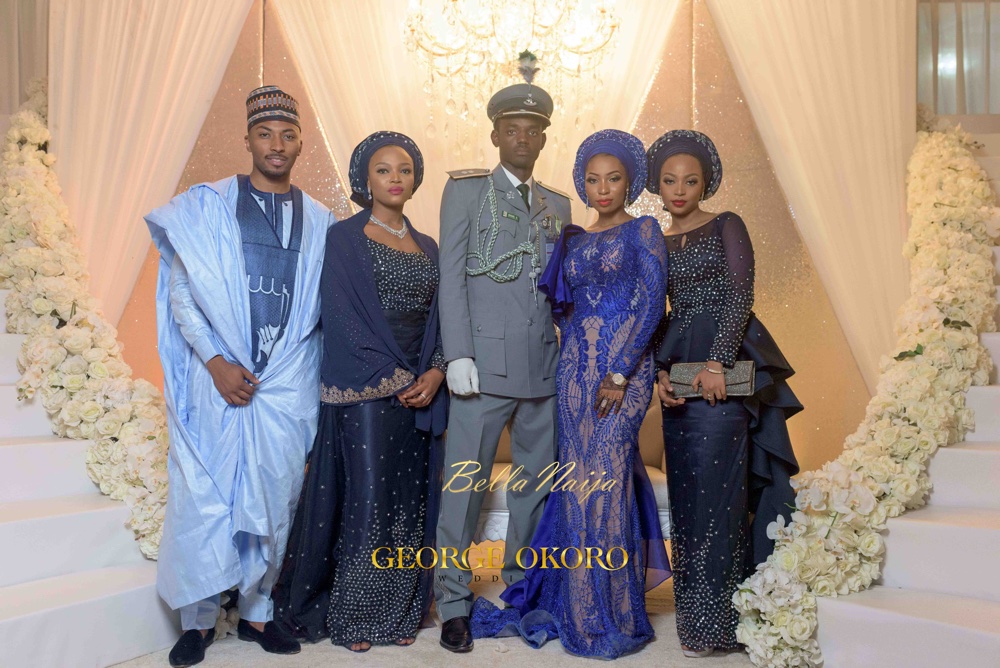 ~ The Durbar: Photography by Maikatanga
A Durbar is an event where the groom, his friends and family (only the guys) ride on horses in colourful attires. Followed by an entourage, they go around the city, and people come out to watch. Meanwhile, I, the bride and the women sit back at the palace in aura, waiting for them to come back. They make their last stop at the palace and here, the bride goes out and sprays money on her prince on a white horse.
The groom wore an Alkebba; a royal cape worn by princes or princesses at royal events.
I wore a pink dress by Hudayya Couture with a pink cape I bought in Hanayen; an abaya shop in Dubai. I chose a cape because this was a royal and took place at the Royal Palace in Daura City, Kastina state.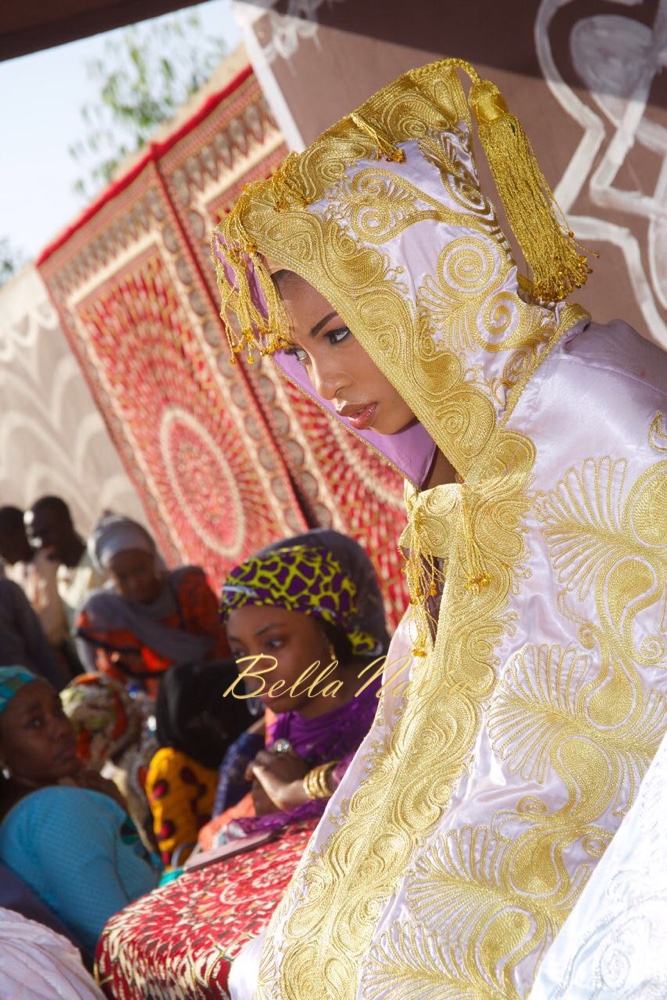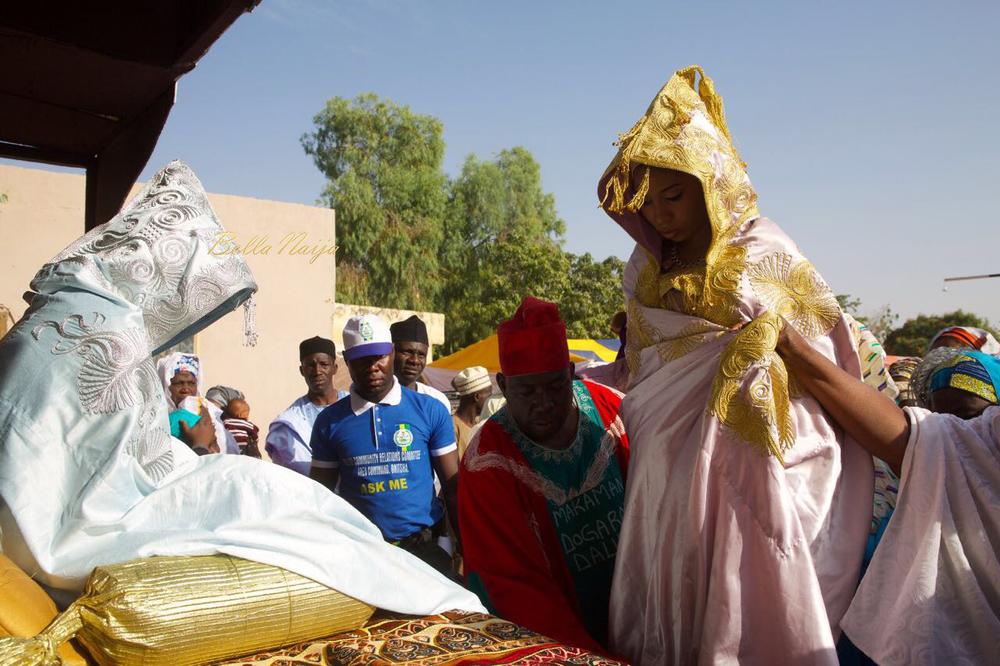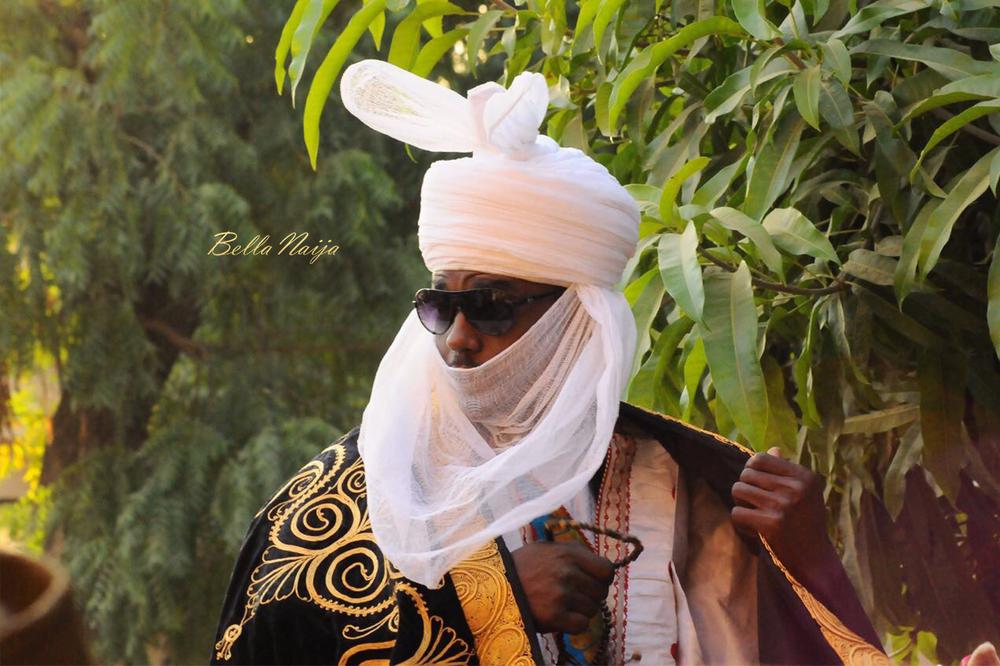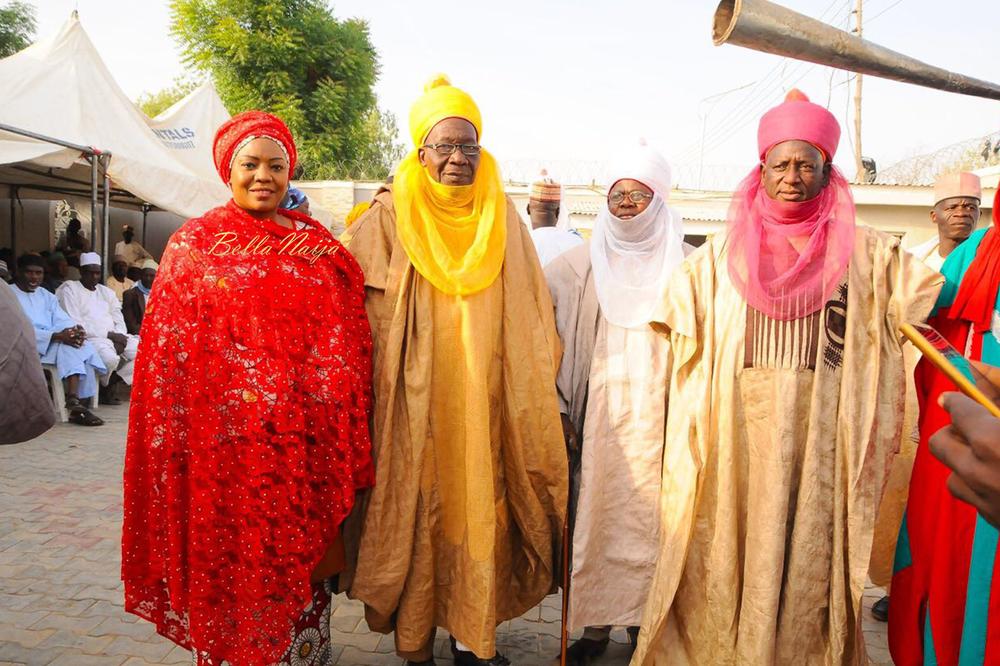 Credits
Kamu:
Photography: Atilary | @atilarystudio
Planner: Farida Dantata (08057757757)
Makeup & Gele: Demi William for BMPro | @bmpromakeup
Asooke & outfit: Deola Sagoe | @deola_by_deolasagoe
Shoes: Giuseppe Zanotti
Clutch: YSL
Decor: Meena | @meenaeventscenter
Pre-wedding Dinner:
Photography: Atilary | @atilarystudio
Planner: Farida Dantata (08057757757)
Makeup & Gele: Demi William for BMPRO | @bmpromakeup
Dress: Mardeni Couture
Gele:  Bimms24 | @bimmms24
Shoes: Christian Louboutin
Clutch: Louis Vuitton
Jewellery: Swarovski
Bridesmaids outfit: Indulgence by Husnagro | @Indulgence_by_husnagaro
Fabric: Anko by Hajjo | @anko_by_hajjo
Decor: Blue Velvet Marquee | @bluevelvetmarquee
Wedding Fatiha:
Photography: Big H Studious | @bighstudios
Makeup & gele: Mamza beauty | @mamzabeauty
Dress: Hudayya Couture | @hudayya
Veil: Hudayya Couture | @hudayya
The Crossing of the Sword:
Photography: George Okoro | @georgeokoro
Planner: Fatima Adamu (08186615207)
Makeup & gele:  Mamza Beauty | @mamzabeauty
Dress: Anaz | @anazofficial
Gele: Bimms24 | @bimmms24
Shoes: Christian Louboutin
Jewellery: Swarovski
Decor: The Wedding Guru | @theweddingguruu
Durbar:
Photography: Maikatanga | @maikatanga_photography
Makeup & gele: Dazeita | @dazeita
Dress: Hudayya Couture | @hudayya
Cape:  Hanayen Abaya
Bouquet: Aisha zawiya
Pre-wedding Photography: George Okoro | @georgeokoro
Videography: Storm Blast Media | @stormblastmedia
Cake: Linda
Drinks: Mezra Cocktails
Invitations: Rahwanji Cards Dubai
Desserts: Swirls & Pearls Cupcakery
Food: Kubi's Catering
Venue: All events took place in my hometown in Kano State expect for the durbar which took place in Daura city in Katsina state.