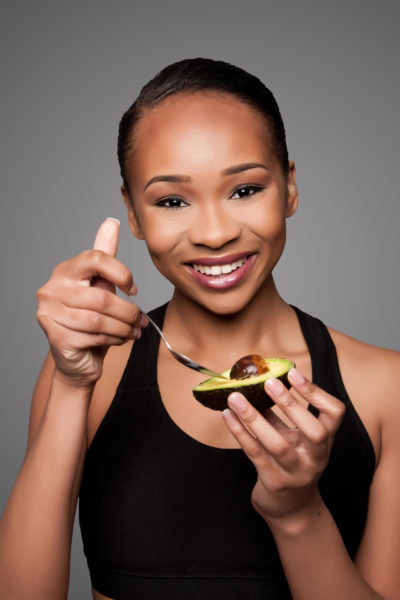 From as early as primary school, Nigerian teachers teach children the importance of eating a healthy, balanced diet that contains the main food components including carbohydrates, proteins, fats, vitamins and minerals. However, when looking to lose weight, you may need to disregard that advice and go on a diet that either excludes some of these main food nutrients or allows them in very minute quantities. This is because some of these nutrients, carbohydrates to be precise, make you more likely to gain weight than others, as they are usually high in calories.
Carbohydrates include simple carbohydrates(sugar) and complex carbohydrates (starch). Simple carbohydrate which is found in natural food sources such as fruits, vegetables, and milk as well as processed food are actually bad as they are digested and absorbed very quickly. They introduce a large amount of calories to your system over a very short period of time, which if not burned off as soon as possible, will be stored as fat and will lead to weight gain.
The Complex carbohydrates, on the other hand, found in foods such as white bread, cakes, pasta e.t.c take longer to break down. They are a better choice to the simple carbohydrates when dieting as they allow you to use the calories over a longer stretch of time, also avoiding any sort of fat storage. The starches are high in fiber which also actually help you eat less, promoting weight loss.
A majority of meals unique to Nigerians constitute of carbohydrate, and so to be able to lose weight, while still consuming them, you will definitely need to regulate your calorie intake. Normally, women between 19–51 years old are expected to consume about 1,800–2,400 in a day; Men between 19–51 years old, 2,200–3,000; and children/ adolescents between 2–18 years old, 1,000–3,200. Of course, other factors may come into play like your metabolism rate, health conditions e.t.c.
It is always good to use a calorie calculator to know your unique calorie requirement. Once you discover your calorie level and you want to commence dieting for weight loss, you may want to subtract about 500 calories (with the advice of a nutritionist of course) from your intake to allow for about a pound per week weight loss.
To give you a head start, find below five Nigerian foods you may want to eliminate from your diet if you are looking to lose weight.
Carb staples: Amala, Akpu, Pounded yam and Eba (garri)
How can you say you are a true Nigerian if you do not enjoy at least one kind of swallow? Right? The truth, however, is that most of these swallows are very heavy in carbohydrate and continuous excess carbohydrate consumption results in an increase in weight gain. For instance, 130 grams of Ola-ola – Pounded Yam contains 470 calories, 130 grams of carbohydrate and 6 grams of fat. This is excluding the carbohydrates and calories in the soup you plan to eat it with. Besides overall body weight gain, these swallows are not good for your waistline, it increases your risk of diabetes increase and your life expectancy decreases as well. It is advisable to cut these swallows out completely. If you must swallow, go for the something healthy like coconut Fufu or cabbage Eba.
Local Snacks: Ipekere, Chin Chin, Puff Puff, and Kokoro
When you feel peckish, you don't always want to eat a full meal so, you opt for snacks. Nigerians are blessed with a variety of snacks among which are Kpekere, Chin chin, Puff puff, and Kokoro. The snacks, however, are culprits as they can easily sabotage your dieting efforts. This is because it is very easy to consume them, neglecting to put to mind their calorie count. Just 100grams of chin-chin, for instance, conatins 350 calories,55grams of carbohydrate and 15 grams of sugar. Instead of going for these high-calorie snacks, opt for healthier snacks like almond nuts, crunchy cucumber slices e.t.c
Banga Soup or any soup that requires high volumes of palm oil
If you probe some Nigerians, they will argue that the palm oil in the soup is what makes it sweet. This is possibly why, from Afang soup to Egusi Soup, Eforiro, and Edika Ikong, almost every Nigerian soup/ stew/ food is prepared with a lot of palm oil. Banga soup/Ofe akwu which are made from the palm nut in itself is a favorite also because of this.
While palm oil has been proven to have more of the antioxidant carotene than tomatoes or carrots, and even have zero cholesterol, it contains lots of calories and does not encourage fat loss. Just 1 table spoon of palm oil contains 120 calories and 14grams of fat. 100grams of Banga/Ofe Akwu Soup, on the other hand, contains 450 calories, 36grams of fat, 13 grams of carbohydrate and 40grams proteins. Rather than use palm oil, you should opt for coconut oil or extra virgin oil in your soups. They still taste nice when prepared with these safer oils.
Frozen Fish, Chicken and Turkey
Nigerian do not like to eat live chicken anymore. Buying frozen chicken and/or turkey from cold stores cuts out the stress of plucking and cleaning the birds. Also, frozen one taste better as that raw intestinal smell and taste is no longer lingering on the meat. Unfortunately, manufacturers often load frozen meals with sodium, a natural preservative, and sodium is in no way good for weight loss. While sodium in itself does not have calories, it still leads to temporary weight gain as it causes the body to retain water. Also, it bloats you up making sure you don't look and feel your best. When dieting, avoid frozen meats and look for point-and-kill points where you can pay a little extra for the plucking and cleaning.
Dodo a.k.a Fried Plantains
While a number of nutritionists will advise that you opt for boiled unripe plantains as a source of carbohydrate when you are going on a diet, they will so warn against dodo a.k.a fried plantains. Just 100g of Dodo contains 309 calories, 12 grams of fat, 29grams of carbs and only 2 grams protein. It may seem average in Calories but you want to control your intake of this food when you are dieting for weight loss.
*All statistics were gotten from http://www.myfitnesspal.com
Photo Credit: Dreamstime| Paul Hakimata