Here's Why Melania Trump's White Hat is Trending
Today, French President Emmanuel Macron and First Lady Brigitte Macron paid a visit to the White House, but at the traditional state arrival ceremony, Melania Trump stole the spotlight because of her oversized, wide-brim hat.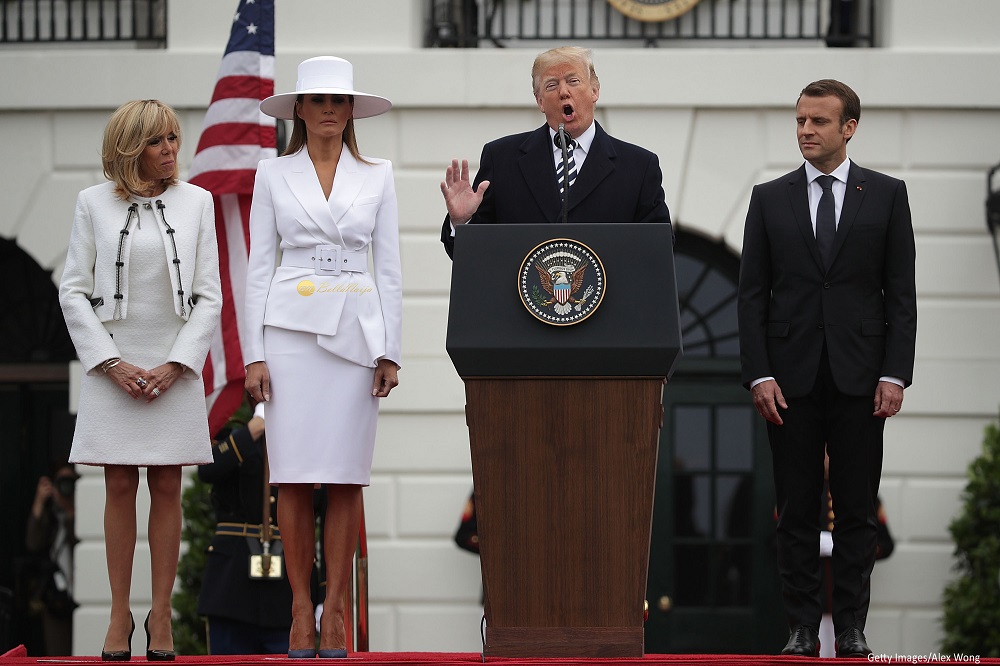 As Melania officially welcomed the Macrons to the White House alongside her husband, President Donald Trump on Tuesday morning, the First Lady was unmissable in what is reportedly a $2,195 Michael Kors collection crepe blazer and skirt suit which she paired with a matching Hervé Pierre wide-brimmed hat. Pierre has acted as a personal stylist for the first lady in the past; he designed her inaugural gown.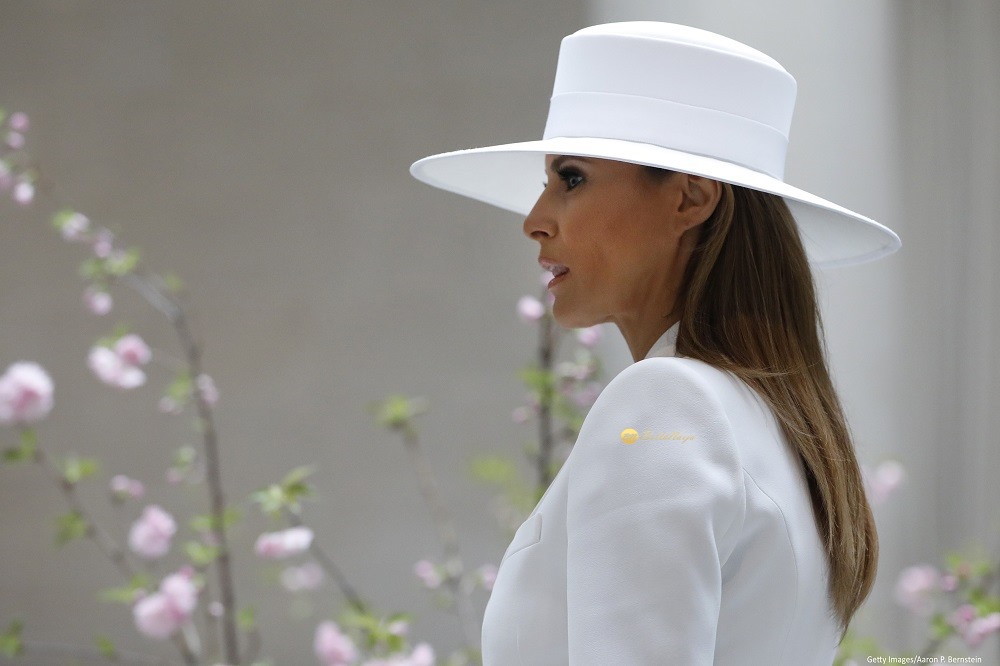 Unsurprisingly, the white hat caught the Internet's eye, and Twitter users are comparing it to Beyonce's black ensemble she wore in Formation video, as well as one of Olivia Pope's all-white look in the TV series Scandal.
Someone's been talking to @Beyonce? ? #upgraded #MelaniaTrump #Beyonce #slay pic.twitter.com/ARXaAVmAVT

— Mike Ybarra (@RecruiterMY) April 24, 2018
Well done, Natasha. Olivia Pope and Associates will be working on your extraction momentarily. Gladiators, you know what to do! #B613 #MelaniaTrump #WhiteHatSignal #itshandled pic.twitter.com/Z6P2iAV0T5

— Courtney Gallipo (@CourtneyGallipo) April 24, 2018
Who wore it better #Beyoncé or #melaniatrump #thathat pic.twitter.com/gb1IzzhaT4

— Andrea Raglione (@ARaglione) April 24, 2018
Ok, Melania lets get in Formation! She put on her #Lemonade hat…that's a statement! You better call Stormy with the good hair! #melaniatrump #beyonce #formation #flotus pic.twitter.com/qFIQ3ETuos

— Bianca V. Sillas (@SillasBianca) April 24, 2018
Whether or not the First Lady took inspiration from these leading ladies, we have to admit she looked really chic!
Photo Credit: Getty Images/ Aaron P. Bernstein/Alex Wong