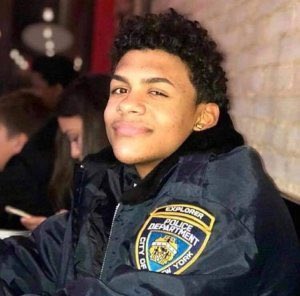 The funeral for 15-year old Lesandro Guzman-Feliz also known as "Junior" held today in The Bronx, New York amidst tears.
Junior, an aspiring police detective was murdered by five men who dragged him out of a grocery store and attacked him with a knife and machete.
Junior was part of the NYPD Explorers, a program for high school students.
They reportedly thought he had leaked a sex tape of one of the gang members' relatives, CBS news reports.
The traumatic moment was captured by CCTV. Videos of the aftermath surfaced on social media, showing Junior walking to the hospital located a block away, where he died.
A relative of the deceased told CBS News that the gang members believed to be responsible for the murder said it was a case of mistaken identity. The station said a gang member sent the apology via Snapchat.
"They're just saying it wasn't for Junior, it was somebody else but they confused them and they said sorry and they apologize and they send their condolences. But he's gone. That doesn't change anything," the relative said.
Eight suspects have now been arrested, police say. Police got help from social media users who protested with the hashtag #JusticeForJunior  and gave details of gang members.
Celebrities like T.I, Cardi B, and Jennifer Lopez are calling for justice for the slain teen.
A GoFundMe page has been set up for Junior's family and has raised almost $300,000.
Our condolences to Junior's family.