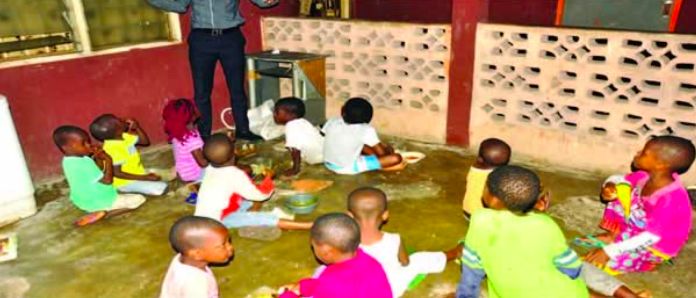 The Edo orphanage where a toddler who went missing at a Lagos church was found has been shut down by the state government for flouting the rules guiding operation of orphanages in the state, Punch is reporting.
Elo Ogidi, now 5, was found at the orphanage which accommodated 15 other children, by someone who saw her there and notified the parents who had publicised her kidnap on social media.
On why the orphanage – God's Own Orphanage – was sealed, Edo state Commissioner for Women Affairs and Social Development Magdalene Ohenhen, who lead a team to the centre, said in a statement:
During the operation, the commissioner and her team also discovered that the orphanage had three other children who were not documented with the ministry as required by law.

There are rules and regulations guiding the operations of orphanages, but the management of God's Own Orphanage did not abide by these rules which are why we have shut it.

The procedure is that before you accept a child into an orphanage in the state, the operator of the home must inform the state government through the state's Ministry of Women Affairs and Social Development.

The home did not inform us about the child who was reported missing in a church in Lagos before accommodating the child in the home.
The owner of the centre, located at 25, Davies Street, off Siluko Road, Benin City, Kehinde Imarigbe said she registered the orphanage with the state government, adding that it has been in operation for 4 years.
Imarigbe was arrested by the police after the discovery.
Photo Credit: Punch