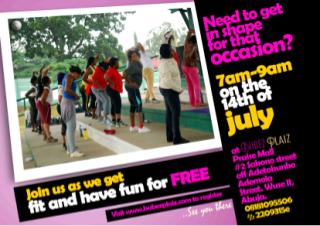 Do you need to get in shape for that occasion? Come join in the fun and stay fit this weekend at an aerobics class for FREE!
Bubez Plaiz is organizing an aerobics class for free in Abuja on the 14th of July.
To be a part of it, simply login to www.bubezplaiz.com. Go to "never miss a sale/register for aerobics" and sign up. The gate pass is your email address. Alternatively, you can subscribe to receive blog posts and voila! You are qualified to come and join in the fun.
There would be free t-shirts for the first five people to register. Don't worry about water, it would be provided for you!
Date: Saturday 14th July 2012
Time: 7AM – 9AM
Venue: Praise Mall, No. 2 Sakono street, off Adetokunbo Ademola Street opp Poly/AP Plaza Wuse 2 Abuja
Contact: For more info and general enquiries, call 08181095506 | add BB Pin 2209315E | Twitter @bubezplaiz | Log on to their website http://bubezplaiz.com/
__________________________________________________________________________________________
Sponsored Content