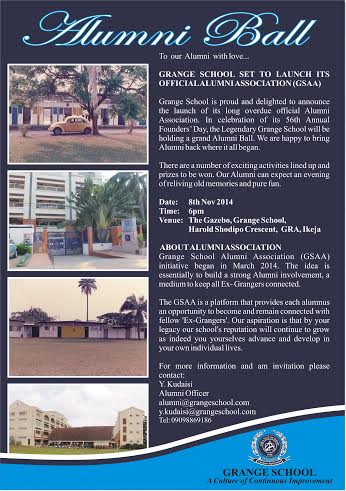 Hey Grange School Alumni! The Grange School is proud to announce the launch of its official Alumni Association – GSAA – in celebration of its 56th Annual Founder's Day.
The GSAA launch event is set to hold this November and the Grange community is excited to invite all their Alumni to the place where it all began.
They promise the launch will be filled with reliving old memories, fun and prizes to be won. Be sure to attend!
Date: Saturday 8th November 2014
Time: 6PM
Venue: The Gazebo, Grange School, Harold Shodipo Crescent, GRA, Ikeja, Lagos
Contact: For more Information Please contact Y. Kudaisi, Alumni Office by sending an e-mail to: [email protected] or [email protected]
______________________________________________________________
Sponsored Content