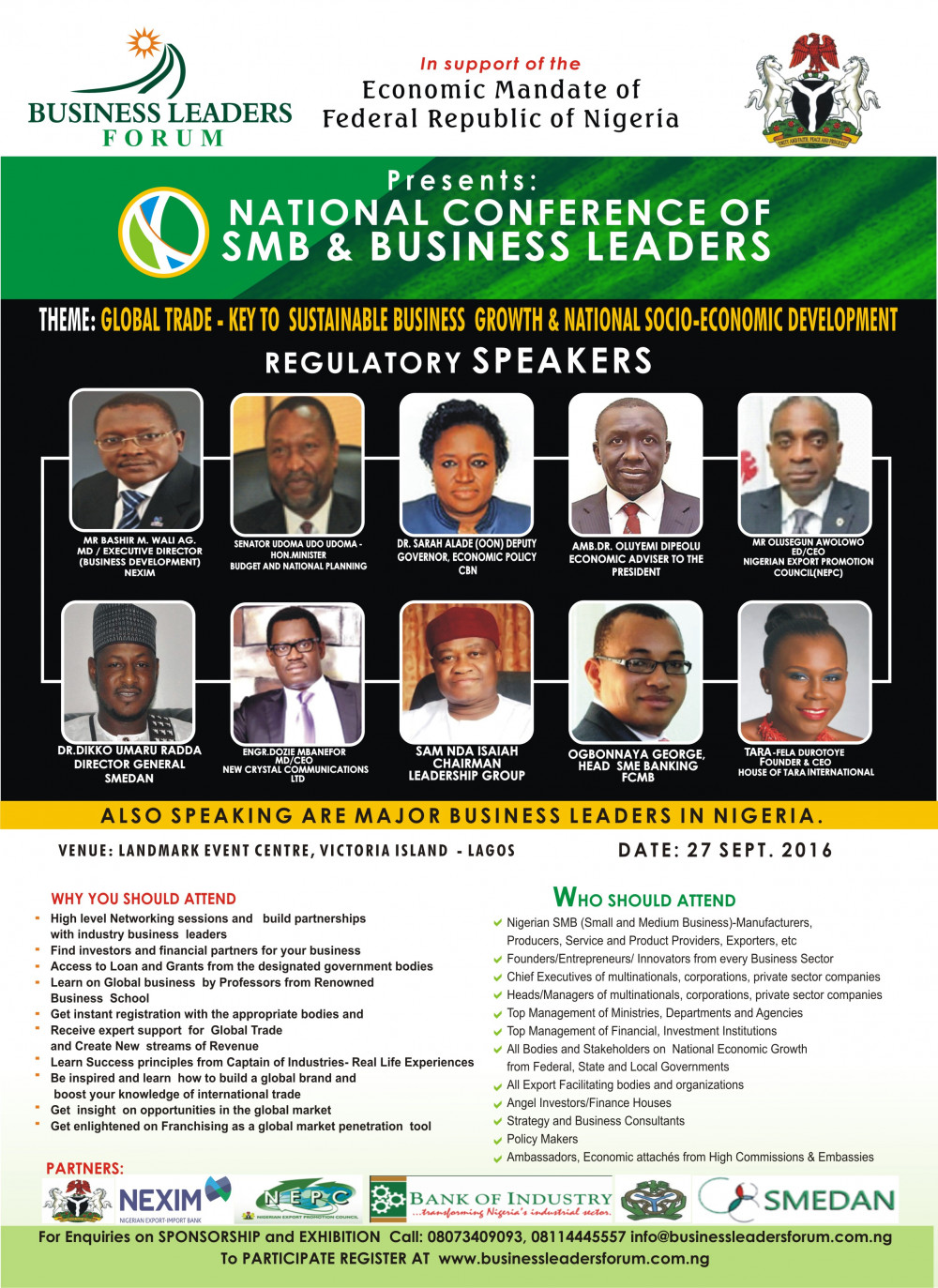 This National event will provide an unparalleled combination of business leaders, influencers and global thinkers to be deeply engaged in Knowledge procreation under one roof, inspiring one another to produce robust business end to end solutions for an improved Nigerian economy.
The Conference is a gathering of SMEs and Business Leaders with the purpose of sharing knowledge and best practices with global and local perspectives, structures and ethical leadership to ensure long term sustainability of businesses in Nigeria. The conference is a platform for creating strategic partnership with other businesses, gain support from government bodies mandated to finance businesses and a ground for knowledge procreation to position businesses to take advantage of the global market.
The Conference will ultimately bridge the communication gap between the businesses and the governments understanding of these economic influencers.
Date: Tuesday, September 27th, 2016.
Venue: Landmark Event center, Victoria Island, Lagos.
Conference theme: Global trade – Key to sustainable business growth & national socio-economic development.
Why You Should Attend:
High level Networking sessions and build partnerships with industry business leaders
Find investors and financial partners for your business
Mentorship with a Business Leader in your Industry
Access to Loan and Grants from the designated government bodies
Get educated on Global business by Professors from Renowned  Business School
Get expert support from appropriate government body for International business
Learn Success principles from Captain of Industries- Real Life Experiences
Be inspired and learn how to build a global brand
Get insight  on opportunities in the global market
Understand the Government policies within you Industry
Get enlightened on Franchising as a penetration tool to global market
Understand quality and packaging standards
Who Should Attend:
Nigerian SMB (Small and Medium Business)-Manufacturers, Producers, Service and Product Providers, Exporters, etc
Founders/Entrepreneurs/ Innovators from every Business Sector
Chief Executives of multinationals, corporations, private sector companies
Heads/Managers of multinationals, corporations, private sector companies
Top Management of Ministries, Departments and Agencies
Top Management of Financial, Investment Institutions
All Bodies and Stakeholders on National Economic Growth from Federal, State and Local Governments
All Export Facilitating bodies and organizations
Angel Investors/Finance Houses
Strategy and Business Consultants
Policy Makers
Ambassadors, Economic attachés from High Commissions & Embassies
Register for free at www.businessleadersforum.com.ng
_____________________________________________________________________
Sponsored Content