There you have it…midi skirts are in!
For the "Great Lengths" Fashion editorial in Glamour Magazine's February 2014 issue, Dominican model Arlenis Sosa shows us how to rock one of this year's go-to trends- the midi-skirt with some African designs.
Featuring African design labels Maki Oh and Edun among other labels like Donna Karan, Jill Stuart and Manolo Blahnik, the images shot by Chad Pitman, and styling tips give us an inside look on how to rock the midi skirt in labels you should definitely watch out for in the months to come.
Check it out.
Styling Tip from Glamour Magazine – "Now this look is a heart breaker. A polished jacket, an effortless tee and and a leggy skirt – all with a hint of sparkle? Sold"
Styling Tip from Glamour Magazine – "Let's be honest – you could wear anything with a skirt this gorgeous; but the juxtaposition of the baseball  shirt is particularly cool and quirky."
Styling Tip from Glamour Magazine – "There is a hint of the fifties in this picnic tablecloth print. but the proportions make it fresh. Top off a waist clinching skirt with a boxy crewneck for balance"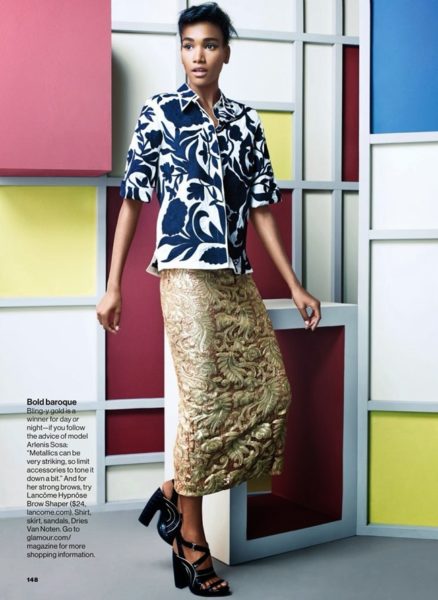 Styling Tip from Glamour Magazine – "Bling-y gold is a winner for the day or night – if you follow the advice of model Arlenis Sosa : 'Metallics can be very striking so limit accessories to tone it down a bit'"
Styling Tip from Glamour Magazine – "We love mixing materials especially tough and sweet. A high-waisted pencil skirt is great with a crop top – which you can layer over a tank if you're not feeling showy"
Photo Credit: www.zimbio.com