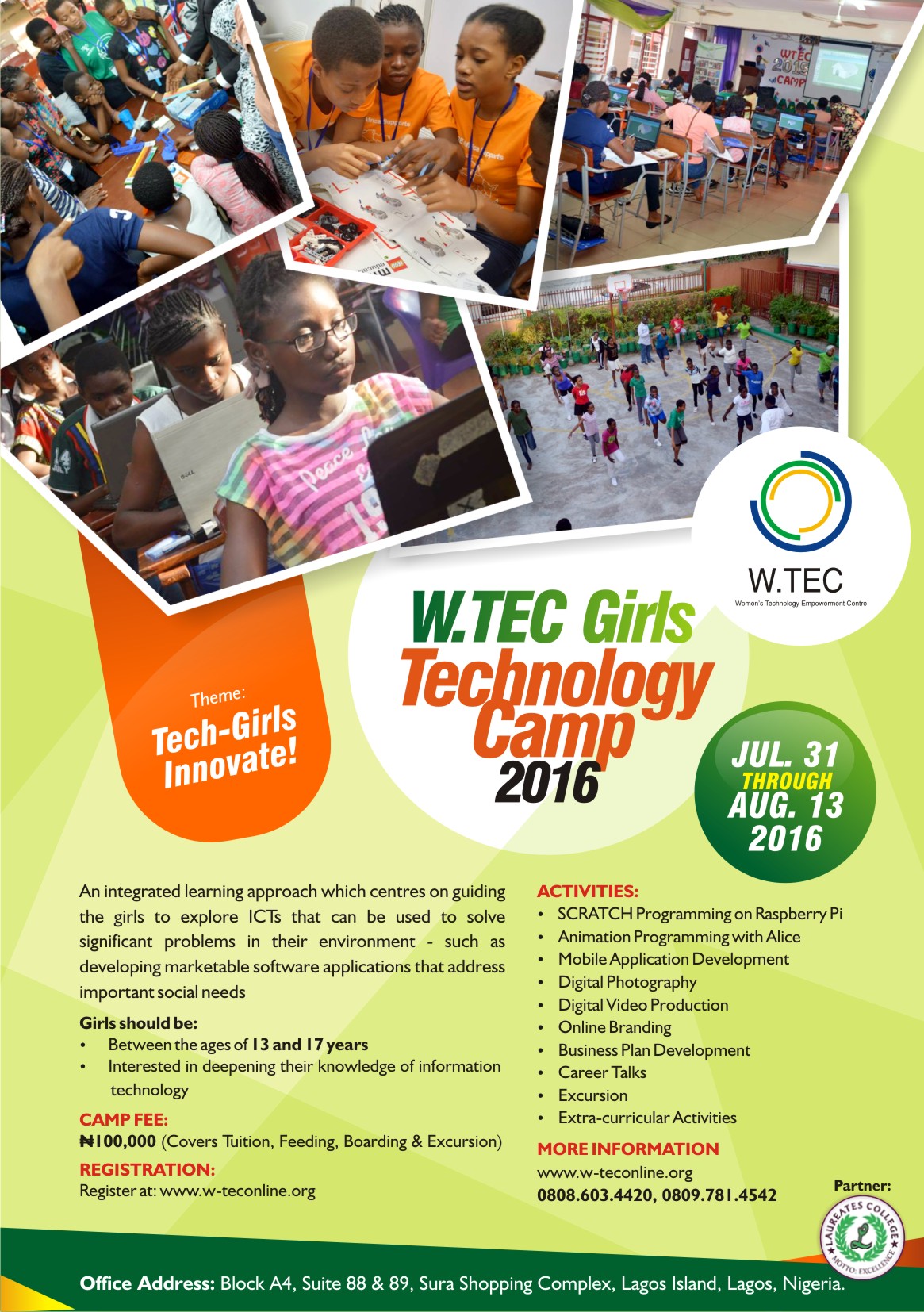 W.TEC Girls Technology Camp is an initiative designed to inspire girls to become more confident in creating digital content as well as developing skills that uses information and communication technologies productively.
The 2-week summer residential camp admits 40 Nigerian teenage girls in secondary schools across the nation between the ages of 13 and 17. The technology camp provides a high quality and exciting atmosphere where the girls learn to create useful technologies for everyday living through mobile application development, graphics designing, film-making and animation programming, as well as learn the importance of taking their products to the marketplace.
The technology camp entails classes and activities such as:
Scratch Programming on Raspberry Pi
Animation Programming with Alice3
Mobile Application Development
Photography/Digital Video Production
Online Branding
Project Business Plan
Career Talks
Excursions
Extra-curricular activities
Selection Criteria:
The girls must be:
Between the ages of 13 and 17 years
In secondary school between JSS 2 – SSS 2
Interested in deepening their knowledge of information technology
Interested in solving social problems in their communities
Available from July 31 – August 13, 2016
The camp is scheduled to hold as follows:
Date: July 31st – August 13th 2016
Venue: Lagos, Nigeria
Registration Fee: N100,000 (Covers tuition fees, boarding fees, meals and educational materials)
Register at: www.w-teconline.org
For further inquiries: Call 0808.603.4420, 0809.781.4542  | Email: [email protected]  | Facebook: wteconlinepage
——————————————————————————————————
This content has been published for free as part of BellaNaija.com's commitment to youth, education, healthcare and community development as part of our corporate social responsibility programme.