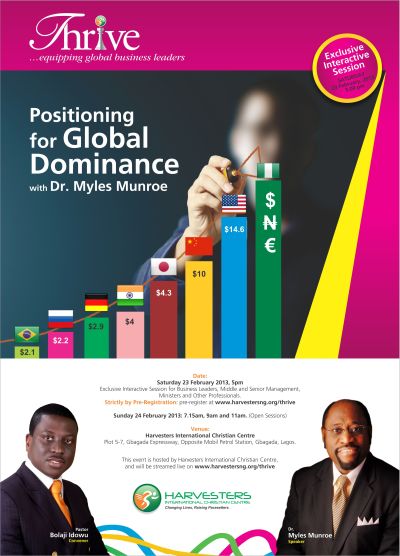 Thrive – an enterprise development platform powered by Harvesters International Christian Centre – hosts renowned author, consultant, lecturer and international leader, Dr. Myles Munroe, right here in Lagos, Nigeria.
According to the convener of Thrive, Bolaji Idowu "Thrive is about raising people who will take the leadership roles in their various businesses" to the global dimension and "dominate their business space". This February, Thrive will be focusing on the theme – "Positioning for Global Dominance."
He further noted that having Dr Munroe at Thrive is a very strategic move. "Digging a little into his life shows that he had a lot in common with the average Nigerian. Starting out in an average large family, Dr. Munroe rose against all odds to become one of the most sought after leader, consultant, author and speaker; consulting for various governments and fortune 500 companies across the globe. There is definitely something for the Nigerian business person to learn in order to effectively take advantage of the available opportunities to play on the global stage."
Interested participants can pre-register at www.harvestersng.org/thrive.
Day 1: Saturday 23rd February 2013
Time: 5PM
Exclusive interactive session for Business Leaders, entrepreneurs, middle and senior management, and other professionals.
Day 2: Sunday 24th February 2013
Time: 7.15AM, 9AM & 11AM
Open Sessions
Venue: Harvesters International Christian Centre, Plot 5-7 Gbagada-Oshodi expressway, Gbagada, Lagos.
About Thrive
Thrive is designed as a platform for entrepreneurs, business executives and other professionals to grow into leaders of reckon in the global sphere. Thrive seeks to do this by building knowledge, information, motivation and spiritual bridges: bridges between ideas and solutions, between dreams and opportunities. Through tactical knowledge and proven insights from experienced minds, Thrive provides a platform for those who desire to fill the gap between their potentials and exponential possibilities.
_____________________________________________________________________________________________
Sponsored Content