Good afternoon BellaNaijarians, it's Thursday.
It's time for Events This Weekend, the slot where we keep you updated on all the most buzzed about events and places of interest to be spotted with  your loved ones this weekend.
From Lagos to Abuja, we've got you covered.
Have fun and keep dreaming BIG.
Ciao!
Women's Film Club presents Reservoir Dogs
Women's Film Club cordially invites you to the screening of Reservoir Dogs at the White Space, Ikoyi, Lagos. The movie stars Harvey Keithel, Tim Roth, Michael Madsen, Chris Penn, Steve Buscemi. Admission is free for all.
Date: Friday 5th April 2013
Time: 6 PM
Venue: White Space, 58A Raymond Njoku, Ikoyi, Lagos
___________________________________________________________________________________________________
SmartMark Limited presents Levi's 50% Sale
SmartMark Limited, the exclusive distributor of the Levi's brand in Nigeria and Ghana has announced a massive 50% price slash on selected Levi's merchandise from now till Tuesday 30th of April 2013 at all FastForward stores in major cities in Nigeria and Accra, Ghana.
Date: Thursday 4th April 2013 – Tuesday 30th April 2013
Venues Adeniran Ogunsanya Shopping Mall, Surulere, Lagos | Murtala Mohammed Airport, Terminal II, Ikeja, Lagos | 27, Allen Avenue, Ikeja, Lagos | Ikeja City Mall, Ikeja, Lagos | The Palms Shopping Mall, Lekki, Lagos | Ceddi Plaza 264, Tafawa Balewa Way, Central Business District, Abuja | 107, Aba Road, Port Harcourt, Rivers | G38, Accra Mall, Tetteh Quarshie, Accra, Ghana
Contact: For more info and general inquiries, call 0814838314
__________________________________________________________________________________________________
SmartMark Limited presents Nike's 50% Sale
SmartMark Limited, the exclusive distributor of the Nike brand in Nigeria and Ghana has announced a massive 50% price slash on selected Nike merchandise from now till Tuesday 30th of April 2013 at all FastForward stores in major cities in Nigeria and Accra, Ghana.
Date: Thursday 4th April 2013 – Tuesday 30th April 2013
Venues Adeniran Ogunsanya Shopping Mall, Surulere, Lagos | Murtala Mohammed Airport, Terminal II, Ikeja, Lagos | 27, Allen Avenue, Ikeja, Lagos | Ikeja City Mall, Ikeja, Lagos | The Palms Shopping Mall, Lekki, Lagos | Ceddi Plaza 264, Tafawa Balewa Way, Central Business District, Abuja | 107, Aba Road, Port Harcourt, Rivers | G38, Accra Mall, Tetteh Quarshie, Accra, Ghana
Contact: For more info and general inquiries, call 0814838314
__________________________________________________________________________________________________
Now Muzik presents Crystals Elevated Club Tour
Budding new music band Crystals will promote their Elevated album with a club tour across Lagos. The tour kicked off yesterday at Sub Lounge, Magodo and will take place from today till Saturday. Admission is free for all.
Date: Thursday 4th April 2013 – Saturday 6th April 2013
Venue: Thursday – Ember Creek, Ikoyi, Lagos | Friday – Embarssy Lounge, Akoka, Yaba, Lagos | The Place, Lekki, Lagos
___________________________________________________________________________________________________
The Future Awards presents The Nigeria Symposium for Young & Emerging Leaders
The Future Project has announced its subsequent edition of the The Nigeria Symposium for Young & Emerging Leaders. The annual event focused on high level leadership building capacity for the new generation of Nigerian leaders is scheduled to hold this weekend in Ekiti State. To attend, register at www.TheFutureNigeria.com/Symposium
Date: Friday 5th April 2013 – Sunday 7th April 2013
Venue: Ikogosi Springs, Ekiti
___________________________________________________________________________________________________
Peers Academy's Free ICT/Telecoms Training for the less privileged 
You are invited to take part in Peers Academy's organized free ICT/Telecoms training for the less privileged in the society. The objective for this training is to help orphans and less privilege to develop a means of livelihood as well as build a career track that they can pursue for a lifetime. This week, attendees will be taught on graphic designs. Admission is free for all.
Date: Friday 5th April 2013 – Saturday 6th April 2013
Contact: For more info and general inquiries, call 08033462964 | e-mail tundepeers@gmail.com
___________________________________________________________________________________________________
Grey Velvet 1st Anniversary
Fashion concession store Grey Velvet invites you to celebrate its first anniversary with the launch of yet another store in Lekki Phase 1, Lagos. The store stocks pieces by Odio Mimonet, Nkwo, Nikki Khiran, Eki Orleans, CLAN, Re Bahia, Kiki Kamanu, Alter Ego, Isi Brown. Admission is free for all.
Date: Saturday 6th April 2013
Venues: L34 Ikeja City Mall, Alausa, Ikeja, Lagos | Centro Lekki Shopping Plaza, Admiralty Way, Lekki Phase 1, Lagos
___________________________________________________________________________________________________
Out on a Limb
You are invited to an awareness walk for and with child amputees; Out on a Limb. This initiative is organised by The Irede Foundation. Over 500 people are expected to attend. A minimum of N 2, 500 per individual for T-shirts,; all proceeds will be used for child amputees. Admission is free for all
Date: Saturday 6th April 2013
Time: 7: 30 AM
Venue: From Obafemi Awolowo, Road, Ikoyi, Lagos
___________________________________________________________________________________________________

Zumba Fitness Dance Class
Are you looking to improve your cardiovascular system, lose weight, improve your coordination or simply boost your mood, then Zumba Dance Fitness may be the right choice for you. Join the fun dance fitness class today for more fitted and energized 2013.
Date: Saturday 6th April 2013
Time: 9 AM
Venue: The BMS Spa, 3 Magbon Close, off Macpherson Avenue, Ikoyi, Lagos
Fee: N 2,000
___________________________________________________________________________________________________
Watersworth Art Brokers
Encourage your child's creativity by registering them now for Watersworth Art Brokers' training in art. Drawing inspiration from the works in the gallery's collection students will create hands on projects while the master artists help them in learning and creating their own works in different media and styles. Registration fee is N 10,000 while adults will pay the sum of N 20,000.
Date: Saturday 6th April 2013
Time: 9:30 AM
Venue: Watersworth Gallery, 3B Unity Close off Africa Lane, Lekki, Lagos
Contact: For more info and general inquiries, call 0809999092 | 07030799683 | e-mailinfo@watersworthart.com
___________________________________________________________________________________________________
Watersworth presents Fit, Fun & Flair
Do you love to dance and are you looking for a fun and fab way to lose weight? Then Fit, Fun and Flair is for you. Watersworth Art Gallery in conjunction with Gbenga Yusuf of Maltina Dance All competition, presents you dance classes that will make all the difference. The offer package/fee is N 15,000.
Date: Saturday 6th April 2013
Time: 9:30 AM
Venue: Watersworth Gallery, 3B Unity Close off Africa Lane, Lekki, Lagos
Contact: For more info and general inquiries, call 0809999092 | 07030799683 | e-mailinfo@watersworthart.com
___________________________________________________________________________________________________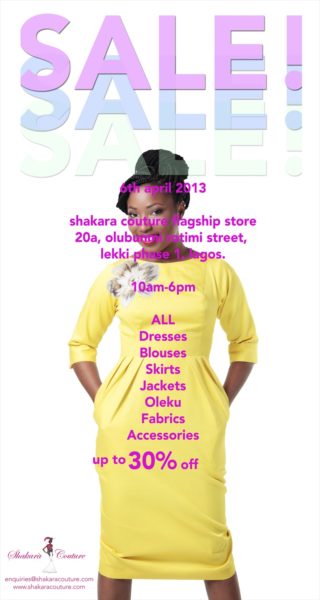 Shakara Couture presents its 30% Sales
This Saturday, Nigerian design label Shakara Couture presents its 30% sale on its luxe dresses, blouses, skirts, jackets, oleku outfits, fabrics and accessories at its flagship store in Lagos. Admission is free for all.
Date: Saturday 6th April 2013
Time: 10 AM – 6 PM
Venue: Shakara Couture Flagship Store, 20A Olubunmi Rotimi Street, Lekki Phase 1, Lagos
Contact: For more info and general inquiries, e-mail enquiries@shakaracouture.com | like their Facebook page
___________________________________________________________________________________________________
1401 Renovations & Interior Design Seminar Series 1
The 1401 Renovations and Interior Design presents its first series of a seminar for aspiring interior designers and decorators. The event is aimed at educating these business minded individuals on how to structure their business professionally. Attendees will be taught on skills & tools of the trade, how to create a formidable business plan and portfolio, marketing services and more. The seminar will also help interior decorators and designers prepare to start their businesses and remain relevant in the market. There will be freebies like detailed documents on how to run a structured business and run it professionally among many other attractions.
Date: Saturday 6th April 2013
Time: 11 AM – 5 PM
Contact: For more info and seat reservation, call 08026069839 | Add BB Pin 2A58B377
___________________________________________________________________________________________________
41Luxe Store Launch
An upscale concession fashion lounge 41Luxe Store Launch will officially open this Saturday in Wuse II, Abuja. The retail store caters to women of their 20′s and 40′s. It promises to be fun and interesting. Admission is free for all.
Date: Saturday 6th April 2013
Time: 12 Noon
Venue: 41A Libreville street, Wuse II, Abuja
Contact: For more info and general inquiries, call 08096561133 | 08171361736 | e-mail info@41luxe.com
___________________________________________________________________________________________________
Sights & Sounds presents White Sensation
Are you trying to network, promote and market your brand or just looking to shop, party and mingle? Then you have to be at the Sights and Sounds' White Sensation Easter Fair, one of the Biggest Easter BBQ parties in Lagos. There will be lots and kits of food with everything from Suya, Shawarma, Burgers, Hotdogs, Frozen Yogurt. Admission is free for all.
Date: Saturday 6th April 2013
Time: 3 PM – 10 PM
Venue: Fantasy Land, Ikoyi, Lagos
Contact: For more info and general inquiries, call 07033788057 | 08104623528 | e-mail sightsnsoundsng@gmail.com
___________________________________________________________________________________________________

The orange butterfly synonymous with the Sixth Sense brand is on the move . As they open their brand new flagship store. Admission is free. Be inspired, indulge and update your living space.
Date: 6th April, 2013
Time: 10AM
Venue:18 Durosimi Etti Street, Lekki Phase 1.
_______________________________________________________________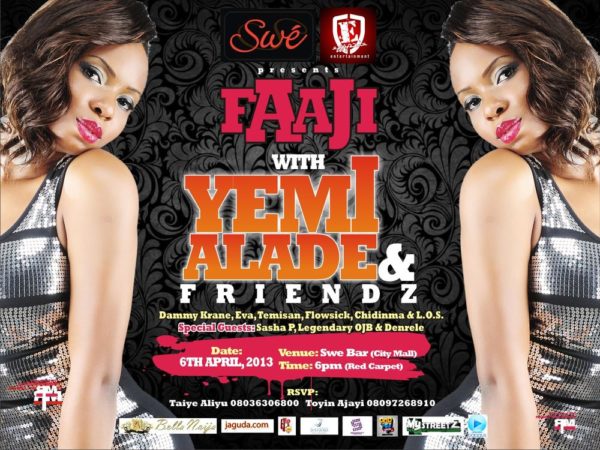 Swe presents Faaji with Yemi Alade & Friendz
Faaji with Yemi Alade and Friends is an intimate concert for friends and fans of the Effyzzie Music recording artiste Yemi Alade accompanied by her "Ghen Ghen Groove" band. There will also be musical performances from Eva, Flowssick, Chidinma, Dammy Krane, L.O.S and Temisan. Hosted by Dizzy, the event will also see Denrele, Sasha P and OJB Jezreel in attendance. Admission is free for all.
Date: Saturday 6th April 2013
Time: 6 PM
Venue: Swe Bar & Lounge, 2nd Floor, City Mall, Onikan, Lagos
Contact: For more info and general inquiries, call 08036306800 | 08097268910
___________________________________________________________________________________________________
L'Espace presents Beauty & the Brunch
This Sunday, fashion and lifestyle retail store L'Espace will host guests to an event tagged Beauty & the Brunch to launch its Beauty bar and cafe. Hosted by EZ of Beauty in Lagos, the event will feature a master class session at 2 PM, beauty help desk managed by House of Tar and a make-up tutorial session for guests at 4 PM. There will be a special brunch buffet for N 2000, fashion cocktails for N 1500 and free make-up trails all day. Admission is free for all.
Date: Sunday 7th April 2013
Time: 10: 30 AM – 8 PM
Venue: L'Espace, 19 A Olosa Street off Karimu Kotun, Victoria Island, Lagos
___________________________________________________________________________________________________
Talents @ Gidi
Talents @ gidi (t@g) is an event organised by G.R.I.P.time. It is a platform to showcase live music, poetry, spoken word, comedy and majorly network with like minds. All artistes will be supported by a live band. There will be lots of side attractions including wine tasting, free cocktails, free gifts and coupons. The event is sponsored by La Mango and Kola Kuddus Couture. Admission is free every Sunday in April.
Date: Sunday 7th April 2013
Time: 6 PM
Venue: La Mango Restaurant & Bar, 2 Adekunle Fajuyi Way, GRA, Ikeja
__________________________________________________________________________________________________________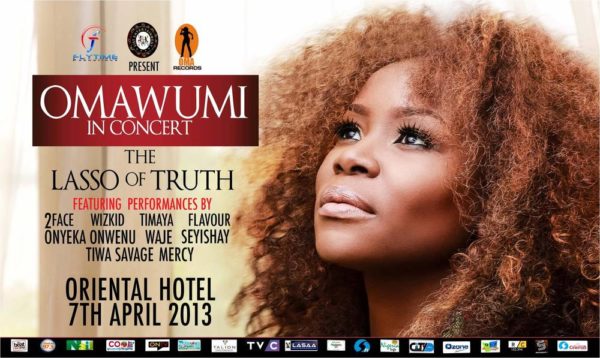 Omawumi in Concert: The Lasso of Truth
Nigerian songstress Omawumi's anticipated concert "Omawumi in Concert: The Lasso of Truth" will take place this Sunday at the Oriental Hotel, Lagos. The concert will feature performances by 2Face Idibia, Wizkid, Timaya, Flavour, Onyeka Onwenu, Waje, Seyi Shay, Tiwa Savage and Mercy from Nigerian Idol.
Date: Sunday 7th April 2013
Time: 7 PM
Venue: Oriental Hotel, Victoria Island, Lagos
Ticket Prices: Regular N 5,000 | VIP N 25,000 | Table 2* (seats 10, from 3rd row) N 500,000 | Table 1* (seats 10, rows 1-2) N 1,000,000
__________________________________________________________________________________________________________
Cocktails, an MBA Networking Event
Do you wish to apply for a Masters in Business Administration abroad? Then Cocktails, an MBA networking event is the one for you. Attendees will interact with young business professionals and focus on schools in Europe, North America and across the Asia Pacific. There will be complimentary drinks as well as free copies of recently published MBA-curriculum business books. To attend, register HERE
Date: Tuesday 9th April 2013
Time: 6: 30 PM – 9 PM
Venue: La Mango, 2 Adekunle Fajuyi Way, off Mobolaji Bank Anthony Way, Ikeja, Lagos
_____________________________________________________________________________________________
BellaNaija.com is not responsible for the organization or further promotion of these events, neither do we have a stake in their sales or popularity. Inclusion in "Events This Weekend" is Free. Contact – adsales (at) bellanaija.com on or before Wednesday every week if you will like your event to be included. Note that BN reserves the right to choose which events are featured. "Pay to attend" parties attract a fee