Hello BellaNaijarians, it's Thursday!
Happy Holiday. As you know it's time for another edition of Events This Weekend – the slot where Africa's pace setter for all things entertainment, fashion, lifestyle, music and more – BellaNaija.com, keeps you updated on all the most buzzed about events and places of interests to be spotted with your loved ones.
We've got you covered all through this weekend. Enjoy.
See you all next week.
Ciao!
Toju Foyeh & Big 60 presents Fashion's Night Out
You are invited to the Toju Foyeh and Big 60's Fashion's Night Out Soiree this Saturday at a White Space, Ikoyi, Lagos. Come and party and shop for Toju Foyeh pieces at 50% off, play dress up in Big 60's photo booth and order some delicious dishes. The TF Experience cocktail will be sold for N 1,000. Admission is free for all.
Date: Saturday 26th January 2013
Time: 4PM – 12PM
Venue: A White Space, 58 Raymond Njoku, Ikoyi, Lagos
_________________________________________________________________________________________________
The Konica Minolta Digital Print Solutions Exhibition
Konica Minolta, one of the leading digital print solution experts in Nigeria is giving you a chance to be a part of their exhibition tagged "Digital Printing, Possibilities and Profitability". There will be lots of exciting attractions at the exhibition including a special discount on any machine bought at the venue and a free sample brochure printing at the venue. You also stand the chance to win a Konica Minolta Printing Machine with each purchase. Admission is free for all but requires registration at SkySatNG.com
Date: Thursday 24th January 2013
Time: 10 AM – 5 PM
Venue: The Syrian Club, No 41 Alhaji Ribadu Road, off Awolowo Road Ikoyi, Lagos
Contact: For more information and general inquiries, log on to their website
_____________________________________________________________________________________
Toju Foyeh Diffusion Line Sale
Shop for maxi dresses, cocktail dresses and more this weekend at the Toju Foyeh Diffusion Line Sale, where attendees will get up to 10-50% discount off fab pieces. Admission is free for all.
Date: Thursday 24th January 2013 – Saturday 2nd February 2013
Time: 10 AM – 7 PM
Venue: Toju Foyeh Flagship Store, 31 Adeola Odeku Street, Victoria Island, Lagos
_______________________________________________________________________________
SmartMark Limited presents NIKE 50% Sale
SmartMark Limited, the exclusive distributor of the NIKE brand in Nigeria has announced a 50% price slash on selected NIKE merchandise from now till Sunday 10th March 2013 at all FastForward stores in major cities in Nigeria.
Date: Thursday 24th January 2013 – Sunday 10th March 2013
Venues: Adeniran Ogunsanya Shopping Mall, Surulere, Lagos | Murtala Mohammed Airport, Terminal 2, Ikeja, Lagos | Ikeja City Mall, Ikeja, Lagos | The Palms Shopping Mall, Lekki, Lagos | Ceddi Plaza 264, Tafawa Balewa Way, Central Business District, Abuja | 107, Aba Road, Port Harcourt, Rivers
Contact: For more info and general inquiries, call 0814838314
_______________________________________________________________________________
The Body Alchemist 6 Week After Burn Boot Camp
If you are looking to take your workouts to the next level and achieve maximum results in 6 weeks, the Body Alchemist "After Burn" boot camp is just right for you. This high intensity circuit training workout will raise your metabolism and keep you burning fat all day long. Tony Ekaidem (The instructor) guarantees you will not be disappointed with the results. The fee is N 35,000, please contact them for payment information.
Date: Thursday 24th January 2013 – Friday 22nd February 2013
Time
5:30 AM – Fun Factory, Lekki Phase 1, By Phase 1 Gate on Admiralty Way, Lekki, Lagos
6:30 AM – Fun Factory, Lekki Phase 1, By Phase 1 Gate on Admiralty Way, Lekki, Lagos
7:45 AM – Astrotruf 2000, Ikoyi, By Osborne Road, Lagos
Contact: For more info and general inquiries, call 07045885120 | 07045885121 | e-mail [email protected] | log on to the official website
____________________________________________________________________________________________
Open Mic Night at Bogobiri
You are cordially invited to this edition of the Open Mic Night at Bogobiri. It is the perfect place to meet individuals with passion for the arts. Admission is free for all.
Date: Thursday 24th January 2013
Time: 7 PM
Venue: Bogobiri House, 9/11 Maitama Sule Street off Awolowo Road, Ikoyi, Lagos
____________________________________________________________________________________________
The Opening & Food Tasting of Unusual Cuisine
A new restaurant, Unusual Cuisine will hold its official opening and food tasting event this Friday. Compered by Buchi, the event which promises to be fun will see celebrities including Don Jazzy in attendance. This event is strictly by invitation.
Date: Friday 25th January 2013
Time: 5 PM
Venue: 46 Saka Tinubu, Victoria Island, Lagos
______________________________________________________________________________________________________
Oritse Femi LIVE in Ikorodu
Poka Records presents the Orise Femi LIVE in Ikorodu. The event will also feature performances by Black Solo, K01 Oba Abinibi, Larry B, Function, Promzy Jackson, DJ Poka, DJ Femix, DJ Clatiny. Comedy will be provided by MC JoeJoe and MC Floor.
Date: Friday 25th January 2013
Time: 5 PM
Venue: Miami Inn & Bar, Foursquare Junction, Isawo Road, Agric Bus-Stop, Ikorodu, Lagos
Ticket Prices: Single N 1,500 | Double N 2, 500 | VIP N 3,000
Contact: For more information and general inquiries, call 08034726285 | Add BB Pin 22547FEC
_____________________________________________________________________________________
BheerHugz is ONE
BheerHugz Cafe located at Ikeja City Mall will celebrate its first anniversary this Friday. The event will feature performances by some of Nigeria's most loved artistes and appearances by Chidinma, Reminisce, Dipp, El Emcee, Shaapera, Yemi Black, Ese Peters, Yemi Alade, Terry tha Rapman and Overdose. Admission is free for all.
Date: Friday 25th January 2013
Time: 6 PM
Venue: BheerHugz Cafe, Upper Floor, Ikeja City Mall, Alausa, Ikeja, Lagos
_____________________________________________________________________________________
Fuse Cafe at Bogobiri: Live Music & Comedy
This edition of Fuse Cafe at Bogobiri will take place this Friday and will be hosted by Ejike of Cool FM. It promises to be a night of authentic unplugged live music and comedy.
Date: Friday 25th January 2013
Time: 7 PM
Venue: Bogobiri House, 9/11 Maitama Sule Street off Awolowo Road, Ikoyi, Lagos
Fee: N 1,000
_____________________________________________________________________________________________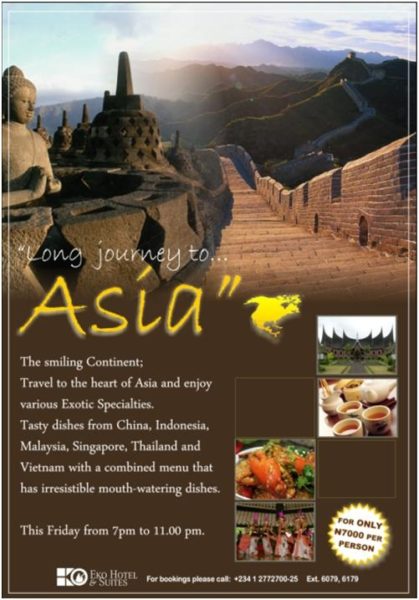 Long Journey to Asia
Be a part of Eko Hotel & Suites' exotic theme night this Friday. Tagged "Long Journey to Asia", attendees will be treated to the best of dishes from China, Malaysia, Singapore, Indonesia, Vietnam and Thailand. The event promises to be a fun evening with melodious music.
Date: Friday 25th January 2013
Time: 7 PM – 11 PM
Venue: Eko Hotel & Suites, Victoria Island, Lagos
Fee: N 7,000
________________________________________________________________________________________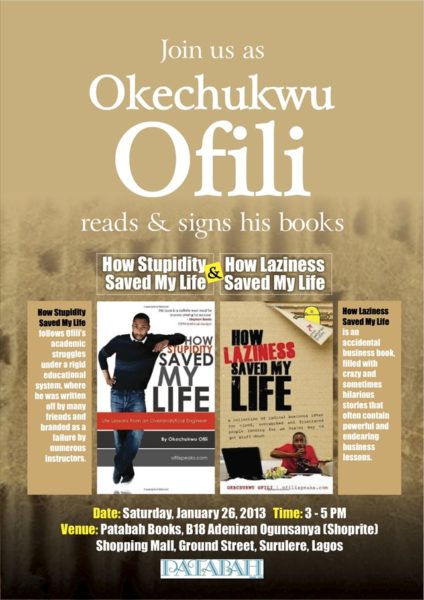 Okechukwu Ofili Booking Reading & Signing Event
Join Patabah Books this Saturday as they present a book reading with Okechukwu Ofili. He will be reading from and signing his insightful and incredibly funny books – How Stupidity Saved My Life and How Laziness Saved My Life. Admission is free for all.
Date: Saturday 26th January 2013
Time: 3 PM – 5 PM
Venue: Patabah Books, B18 Adeniran Ogunsanya (Shoprite) Shopping Mall, Ground Street, Surulere, Lagos
Contact: For more information and general inquiries, call 017307640 | 07090485129
____________________________________________________________________________________________
Path to Possibilities Night Market
Come and enjoy live entertainment, open mic, spoken word at the Path to Possibilities Night Market. There will be various stalls stocked with arts and crafts, fashion pieces for men and women, books and more. There will also be a raffle to be won. To attend, register by sending your e-mail to [email protected]
Date: Saturday 26th January 2013
Time: 6 PM
Venue: MIC Hotel, 81-103 Eustin Street, London NW1 2EZ, UK
____________________________________________________________________________________________________
IRep Good Music Events presents Shutdown Nite with Knighthouse Live and Serengeti Music
Stutdown Nite, an event to support young and fast rising artistes in the Nigerian music industry will hold this Saturday at Club N-Tyce, Victoria Island, Lagos. The event will feature performances by Threat King, Casey Kerry, Samad, Eclipse, Patoranking while D Lee of Star FM will be on the wheels of steel. The event, according to the organizers is to support the future. Admission is free for all.
Date: Saturday 26th January 2013
Time: 8 PM
Venue: Club N-Tyce, 1310 Karimu Kotun off Akin Adesola, Victoria Island, Lagos
___________________________________________________________________________________________________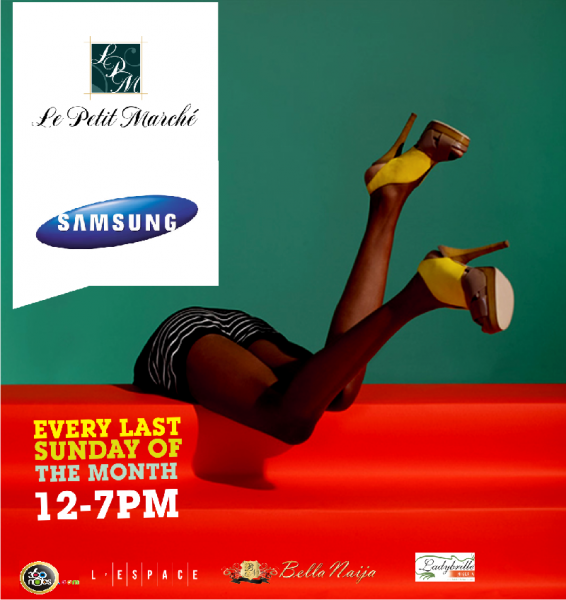 LPM January 2013
The January 2013 edition of Le Petit Marche is here! If you didn't have a chance to buy something last month, some of the amazing vendors will be back including Femme Fatale with her fabulous handbags, Literati with their most wanted T-Shirts, Kenny Couture with stylish ankara outfits and of course, a lot more. Admission is free for all.
Date: Sunday 27th January 2013
Time: 12 Noon – 7 PM
Venue: Get Arena, Oniru, Lagos
________________________________________________________________________________________________________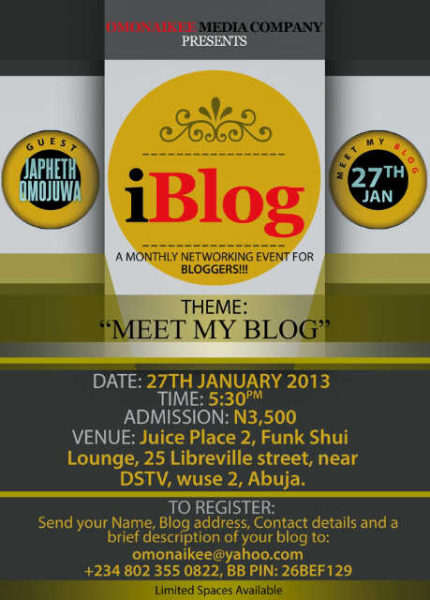 Omonaikee Media Company presents iBlog
iBlog is a monthly networking event for bloggers by Omonaikee Media Company. Themed "Meet My Blog", the event is aimed at improving the content, graphics, branding, traffic, ads, popularity and impact/influence of blogs. The fee is N3, 500.
Date: Sunday 27th January 2013
Time: 5:30 PM
Venue: Juice Place 2, Funk Shui Lounge, 25 Libreville Street, near DSTV, Wuse II, Abuja
Contact: For more information and general inquiries, call 08023550822 | Add BB Pin 26BEF129
_____________________________________________________________________________________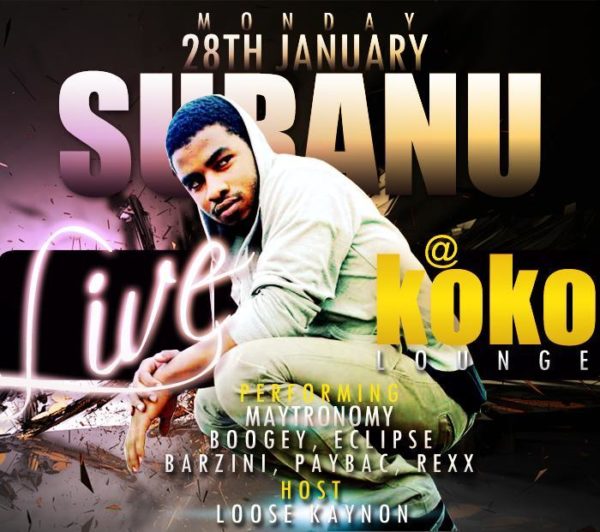 Suranu LIVE at Koko Lounge
Join Suranu this Monday at Koko Lounge as he promotes his mix tape Life+Times of Erving Ejango. Hosted by Loose Kaynon, the event will feature performances by Suranu himself as well as Maytronomy, Boogey, Rexx, Eclipse, Paybac and Barzini. It promises to be a night of great music and a showcase of talents. Admission is free for all.
Date: Monday 28th January 2013
Venue: Koko Lounge, 1-11 E-Commercial Avenue, Yaba, Lagos
___________________________________________________________________________________________________
BellaNaija.com is not responsible for the organization or further promotion of these events, neither do we have a stake in their sales or popularity. Inclusion in "Events This Weekend" is Free. Contact – adsales (at) bellanaija.com on or before Wednesday every week if you will like your event to be included. Note that BN reserves the right to choose which events are featured. "Pay to attend" parties attract a fee