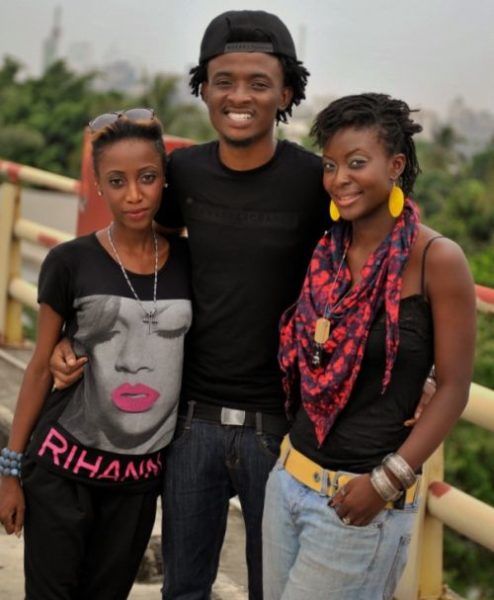 The excitement is on, nerves are tensed as the count down to the announcement of the winner of the MTV Base VJ Search gets down to just 24 hours. On Friday 25th January 2013, the winner of the keenly contested competition will be announced and the ultimate victor will win a contract with MTV Base worth 10million Naira plus a brand new car and other exciting prizes.
The journey started with an audition where hundreds of people turned out. The contestants were later shortlisted to 32. Now, three finalists Ada Ogunkeya (26), Ehizojie Okoeguale (25) and Kemi Owatemi (22) are jostling for the chance of a lifetime as the MTV Base VJ.
BellaNaija's Adeola Adeyemo chats with the three finalists in this exclusive interview where they share their expectations, their fears and details of their journey to this point.
____________________________________________________________________________________________
Ada strikes me as intelligent. She is a fast talker and spews out more words under a minute than the other two but is very passionate about youth, change and advocacy. She believes she can make a change in her society and when I ask how she wants to do that on a music show, she says "for me, it's the perfect platform". It came as no surprise when she said she was a trained Lawyer. 
Let's talk about your journey to this point, Ada.  First, what is your academic qualification?
I'm a Lawyer by training. I've been reading most of my adult life. I have about four degrees all in Law. I have my regular Law degree from University of Wales, then I have an LLM from Bristol University. I qualified as a Solicitor in London and when I moved back, I went to Law School in Nigeria.
Having gotten so far with your qualification as a Lawyer, why did you decide to leave the Law practice?
I practiced for about 6 to 8 months as a Lawyer here in Nigeria right after Law school and I wasn't very happy. It wasn't what I thought it was going to be. Ordinary life in Lagos is tough as it is and when you're in a profession that is supposed to be organized, it just wasn't working out. It was very tough for me because I was actually working with my Dad in his Law firm so when I made the decision to quit my job, obviously there was a lot of friction. I had no job, no plans of what I was going to do.
So what happened next?
I started making skin and hair care products because I wanted to do things that would help people which is encouraging women to be proud of their hair and skin. I turned natural about two years ago and that was my way of positively affecting people. While I was looking for jobs, I travelled to Warri for a friend's birthday and I had an incredible experience. I wanted to put together a video about Nigeria so that people would know they could travel and see different places. Someone told me to go to Inspiration FM and share my ideas with them and one of the OAPs there, Sola Thompson asked me to do a small demo. After that, he said we should have a conversation on the radio and that is how it started. I co-host with Dan Foster and sometimes with Sola Thompson.
What emotions are running through you at this stage of the competition?
I'm nervous. Sometimes you want something so much you're afraid, you're like, what would I do if I don't get it? But also, I have it in mind that it is an opportunity. Whether or not I win, I've made such good friends with the other finalists. There is a lot of excitement, a lot of nerves and I'm grateful. The feedback that I got, especially from my family, has been amazing.
What special qualities do you have that you think would make you stand out?
I try very hard to understand people; I try to see what they need and I try to fill that because at the end of the day, it is a job and you have to be adding value to people's lives in whatever it is you're doing. So instead of just getting on TV and talking about music, I could talk about it in the best way possible – do my research, understand what the artiste is about, understand what their musical influences are. You have to be conscious because there are younger people looking up to you and when you do things that aren't respectful or do things that doesn't show that you care, it impacts the next generation. For me, I feel that is my outlook. I want to be positive about everything that I touch so whether or not I win, I'm just grateful that I had this platform.
____________________________________________________________________________________________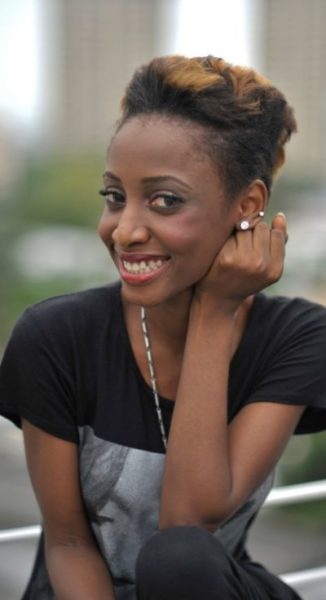 Don't be fooled by her petite size, "great things come in small packages" Kemi says proudly about herself. She is smart and witty and has a clear vision of where she wants to go and has been working towards her dreams since the age of 10. She loves Rihanna, loves music and has a captivating smile. The graduate of English from University of Lagos is indeed a charmer and is in no way the 'least' of the finalists.
What do you do currently?
I have a radio show at City FM 105.1. It's an independent show where I talk about night life in Lagos. I interview club and lounge owners and sometimes I have artistes come on the show and I interview them also. Sometimes I talk about funny topics like 'Girls and Guys: who cheats more?' and people call in and say what they think about it. I play music and I like to goof around. Plus I do amebo gist.
Why do you want to make a transition from Radio to TV?
I've always wanted to be on TV. I was on TV when I was about 10 years old on a show called Kiddies Island on MITV. It was also an independent show where we shot outside the TV station and took it to them to air it. I always wanted a job where I can be having fun doing what comes naturally to me and still have a legal job. It's a plus that I get to meet celebrities and have fun.
What was your experience like at the auditions?
Oh my God! When I watch movies, I used to wonder why people puke when they are scared. For the first time in my life, I actually understood. My tummy was messed up. It kept getting squeezed, I was nervous. I didn't have anything to eat because I didn't want to puke on the judges. I knew I could do it but it's so hard having people judge you. It's easier when it's a mirror. The experience was awesome, I got to meet new people and I'm here now so cool.
Imagine you were in front of a live audience or hosting your own TV show, how would you connect with the people watching you?
I always have a smile on my face. I have a very wide smile, I think I have a joker smile. My smile is bigger than my face and I think they have to see me look happy. My excitement is infectious so if you can feel that I'm actually happy doing what I'm doing, then you'd be happy watching me. There is this connection, it keeps people glued and they probably want to listen to what I have to say.
Why do you think you should be chosen as the next MTV Base VJ?
Because it has always been my dream. This is the biggest opportunity I've ever had in my life and it is the closest step I've had to fulfilling my dream. And you don't find a girl like me every day, I'm sorry if it sounds cocky but it is just me being confident. Great things come in small packages. I'm really tiny, and I can talk, and I do what I do and I do it well so the whole package just kinda works.
____________________________________________________________________________________________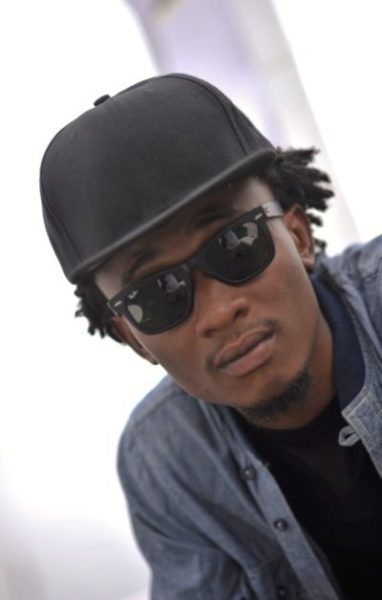 He seemed to be the most outgoing of the three, a natural performer and easily got people around him laughing. He is a trained Engineer but says he knows nothing about Engineering and has a zeal for standing in front of people and talking. Ehiz calls himself a "people person" and easily connects with people  around him. The profile of the Lead City University graduate however read "job seeker".
Your profile describes you as a job seeker. That might be about to change.
Apparently every youth in Nigeria is a job seeker. When you're done with school and you serve the country, you practically have nothing to do. I won't say I'm a job seeker, I'd just say I'm just a nice Nigerian youth looking for a job.
Have you had any work experience either in the entertainment industry or in other fields?
I once worked for the company that makes Chelsea Dry Gin in the Computer Electronics department. I worked with Rhythm 94.7 in Abuja while I was at the University. We went on a long vacation and I had an opportunity to work as a co-host on the Morning Show.
How did you discover your passion and what platform have you had to nurture it?
Sometime in 2006, I found out I had the zeal for standing in front of people and talking. I've hosted a lot of shows. When I was in school, I hosted the school awards and other independent shows.  One of them is a show in Ibadan where 2Face Idibia came to perform. It was the biggest thing I've ever done, I got to introduce 2Face. Then the next year, that same show, they brought Naeto C and I hosted the show.
Why did you apply for the MTV Base VJ Search?
MTV Base is like food to me you cannot survive without it. Channel 322, you kinda like want to watch it because you always want to know what is new and hot. My Mum actually told me about it. So I went like every other person and I got this far so I guess Oluwa is involved.
What emotions are running through you as we get closer to the announcement of the winner?
I am so so excited and I am very nervous. You don't really know what to expect. My life has changed so far. I'm so optimistic because trust me, this job seeker status is going to change. The God wey I dey serve, e no dey sleep. I'm here now, I'm looking forward to the next step, hopefully I will make it, I don't know what will happen so….
If you make it, what difference would you make at MTV Base?
If I make it, MTV Base would be the most watched TV in Africa.
How do you intend to achieve that?
I intend to bring myself  to Africa practically. I'm never the kind of person that will be around dull people. You can't be dull. Even if you are, I'd probably look for something to make you laugh. I'm not a comedian but I can get you going.
How do you feel being the only guy among the two ladies?
I'm scared as hell. You can never battle with women. At the same time, I'm very confident because I made it this far. I hope it turns out good.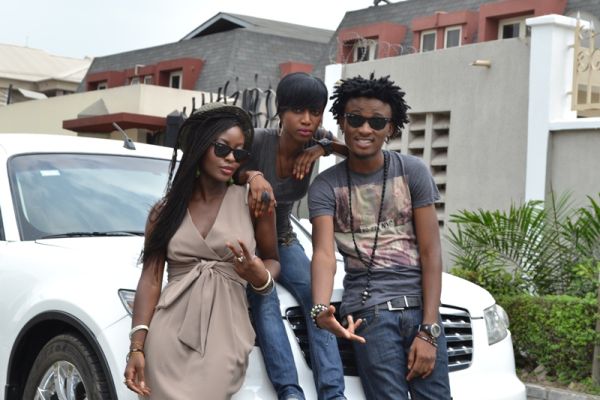 Now that you know the finalists better, what d0 you think about them? Who do you think will win the competition and why?