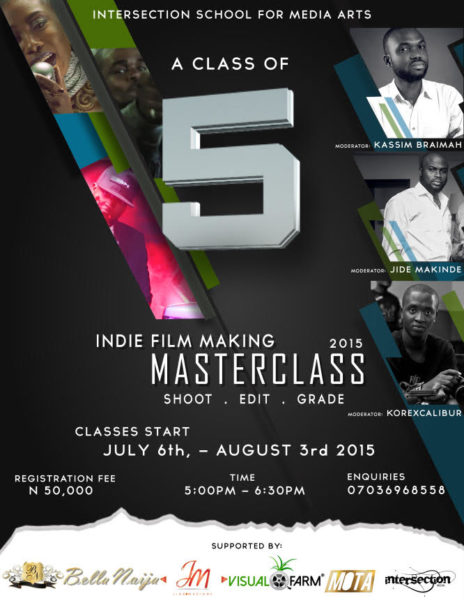 Class of 5 is an educational, arts and capacity building initiative developed by Korede Taiwo, founder and CEO of Intersection Media Limited. head moderator for the Class of 5 series.
The Film Making Masterclass 2.0 is the sixth class being taught in the series. It is a comprehensive course that will equip all participants with key first class understanding in the filmmaking production process.
In this course, you will learn to shoot videos (understand the tricks and shortcuts to getting amazing shots), edit (understand the interfaces employed at the beginning of the post-production) and grade (understand applications for TV and different genres of film).
This edition will be moderated by Korexcalibur, Kassim Braimoh and Jide Makinde. The moderators are young, indigenous and noted professionals in the media and videography industry in Nigeria, and are passionate about the industry and establishing a standard of excellence in it.
Date: Monday 6th July 2015 – Monday 3rd August 2015
Time: 5 PM – 6 PM
Contact: For more info and general enquiries, call 07036968558, e-mail [email protected]
Registration Fee: N50,000
Contact: For registration, sponsorship, and general inquiries contact 07036968558 | e-mail [email protected]‎ | Twitter (@korexcalibur @fluis10) Instagram (@korexcalibur @fluis7)
__________________________________________________________________________________________________________
BellaNaija is a media partner with Class of 5