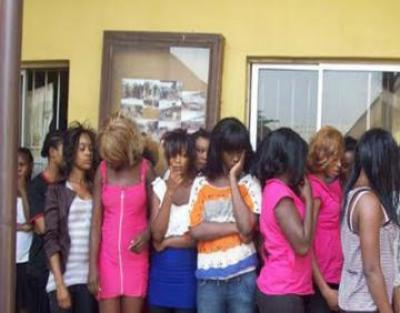 We often hear stories of young Nigerian girls being forced to work as commercial sex workers in other countries and sadly, the practice still thrives. Young girls are lured away from their homes under the pretence of getting them good jobs and an opportunity for a better life elsewhere. These girls are eventually exposed to a host of problems including the risks of catching sexually transmitted diseases, unwanted pregnancies and so on. This is not forgetting the emotional and psychological trauma they face as a result of being forced to work as sex workers.
That is why we are glad to hear news of the rescue of some girls who had been in such situations.
On Saturday 15th September, 2012, the National Agency for the Prohibition of Traffic in Persons and Other Related Matters (NAPTIP) announced the rescue of ten Nigerian girls, who had been forced to work as commercial sex workers in Abidjan, Cote d'Ivoire.
The girls, who arrived Abuja in two batches, hail from Edo, Delta, Rivers and Benue states respectively, with Edo topping the list with six girls.
The Executive Secretary of NAPTIP, Beatrice Jedy-Agba told Daily Times that the rescue operation was carried out based on a tip-off that several Nigerian girls were in sex bondage in Cote d'Ivoire. The operation was done in collaboration with the regional bureau office of Interpol in Abidjan, and an Abidjan based Non-Governmental Organisation, Family Essan for Protection and Promotion of Human Rights (FEPDH).
The rescued girls are already undergoing medical screening and counselling with NAPTIP operatives, after which they would commence rehabilitation.
Photo Credit: Daily Times