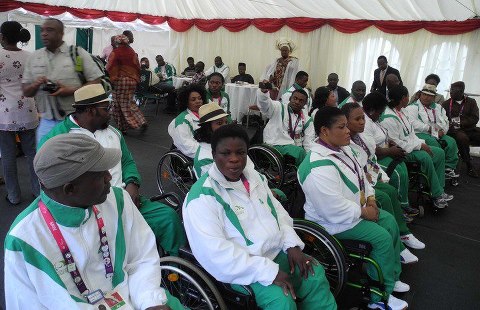 The Federal Government on Saturday 15th September 2012 announced that cash gifts would be given to the victorious Paralympics athletes who represented Nigeria at the London 2012 Paralympics Games. The Female Under 20 footballers, Falconets and their coahes and handlers were also given cash gifts.
President Goodluck Jonathan announced this during a reception at the Presidential Villa, Abuja last night. He said that each Falconet will  get  N1m,  while their coaches will receive N1.2m each.
The Paralympians who won Gold medals would receive N5m each,  Silver medalists would  receive N3m each, while the Bronze medalists would receive N2m each. Their officials will receive a cash award of N2.5 million each. In addition, each of the six paralympic Gold winners will be conferred with the national honour of Member of the Order of the Niger (MON) on Monday September 17th.
He also added that each member of the team who represented Nigeria but didn't win a medal would receive N500,000 each.
In a report published by Punch, the President said he was committed to sports development in the country. He also commended the athletes for their glorius outing. "You have done well and we are indeed grateful," he said.
Team Nigeria returned from the London 2012 Paralympic Games with 13 medals – 6 Gold, 5 Silver and 2 Bronze. The Falconets made it to the Semi-Finals of the Female Under 20 World Cup in Japan but lost their third place match.
The Minister of Sports, Mallam Bolaji Abdullahi, said that although the Falconets did not win any medal, they won the hearts of many.
What are your thoughts on the cash rewards given to the athletes?