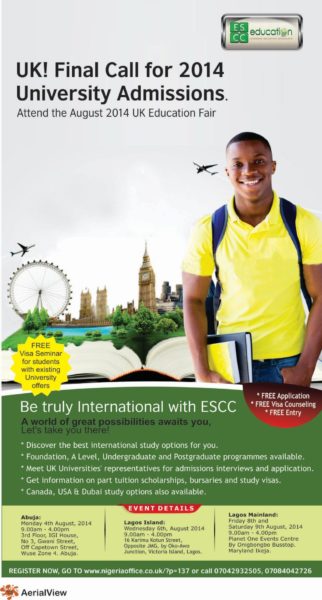 You are invited to attend the 2014 ESCC Education Fair this August and discover great international study options, courses and institutions available to help you get started.
From Foundation & A-Level to Undergraduate & Post Graduate courses – they're are all available.
There will be free entry, free application processing and free Visa guidance so be sure to attend.
What to Expect at the Fair
• Meet UK Universities' representatives for discussions and interviews. Exciting study options in the USA, Canada and Dubai are also available.
• Start your application process
• Get information on part tuition scholarship and bursaries
• Get student VISA advice from experts and more.
• Foundation, A Level, Undergraduate and Postgraduate programmes available
To register, visit www.nigeriaoffice.co.uk/overseas-education-fair-pre-registration/ or call 07042932505.
Event Details
Abuja
Date: Monday4th August 2014
Time: 10AM – 4PM
Venue: ESCC Education – 3rd Floor, IGI Building, No 3, Gwani St, Off Cape Town St., Wuse Zone 4, Abuja
For more information, please call 09 2913317, 08074535747 or 07042932504 | Send an e-mail to [email protected]
Lagos, VI
Date: Wednesday 6th August 2014
Time: 10AM – 4PM
Venue: ESCC Education – Plot 16, Karimu Kotun Street, Opposite JMG. By Oko-Awo Junction, Victoria Island, Lagos
For more information, please call 07042932505 or 07084042726 | Send an e-mail to [email protected]
Lagos, Ikeja
Date: Friday 8th & Saturday 9th August 2014
Time: 10AM – 4PM
Venue: Planet One Event Centre – By Onigbongbo bus- stop, Maryland, Ikeja, Lagos
For more information, please call 07042932505 or 07084042726 | Send an e-mail to [email protected]
To register now, visit www.nigeriaoffice.co.uk/overseaseducationfairpreregistration
______________________________________________________________________________
Sponsored Content