If you missed out on the previous days you should click here. The #Emilinks #MyDoorStory N3,ooo,ooo Giveaway is still on where 10 people will be getting N10,ooo each day for the next 30 days.
Thank you so much for participating as we love the creative turn your short stories are taking and your creative photos. Please keep sending them in, it might be your turn to win today!
Emilinks is a global manufacturer of world class finishing and furnishing products such as doors, beds, kitchens, dining sets, wardrobes and shelves for homes, offices, hotels, royal palaces, presidential lodge, honeymoon suites and luxury villas. Emilinks uses a variety of innovative techniques blended with exclusive designs to build premium quality products.
With a record of excellence in all areas, Emilinks wants to empower Nigerians over the next 30 days!
MD/CEO of Emilinks Limited, Solomon E. Nwadiogbu, a very patriotic Nigerian is standing his ground to see that fake and substandard products are totally eliminated in Nigeria. He pioneered a campaign to eliminate fake and substandard products by crashing the prices of doors, wardrobes, kitchens and other furniture products in Nigeria.
We may have realized that doors play a huge part in our everyday lives. Ever wondered why there are so many philosophical sayings which include "Doors", now is your time to reflect on the role doors play in your life!
Enter the Emilinks presents #MyDoorStory giveaway
Over the next 30 days, 10 Nigerians will WIN N10,000 Daily!
Meaning a total of N3,000,000 will be WON.
How to participate
Take a clear photo of yourself featuring a beautiful door of your choice
Share a story about doors and their importance in your life and/or the society
We are looking out for creative, interesting, inspiring, intellectual and funny stories!
Creatively linking in the Emilinks brand will be a plus. The key word is CREATIVE.
Submit your entry via Twitter, Facebook, Instagram or onwww.bellanaija.com/tag/emilinks
For entries on BN, simply leave a comment on the post of the day. e.g Day 1
Remember to add the hashtags #Emilinks and #MyDoorStory to your post on social media or comment on BN
Unfortunately, we cannot view social media entries via private accounts and DMs will not be accepted
10 winners will be selected daily to win N10,000
Enter each day!
Be sure to find out more about Emilinks and explore the brand via the following channels.
Website – www.emilinks.com
Twitter – @emilinksng
Facebook – EmilinksNG
Abbreviated Terms & Conditions
Participants can enter as many times as possible
Entries reset each day at 10AM West African Time, therefore a new entry is required each day
10 Winners will be Chosen per Day
For social media entries, no Direct Messages permitted, only via Open/Public pages
For entries on BellaNaija, ensure you include an active email address in the email box
Winners will be chosen by an in-house judging panel
Assessment will be based on the photo and/or the story
Participants can only win ONCE during the 30 Day period
There is no entry fee for participation
Participants must be over 18 years old at time of entry
Winners can be based worldwide, however MUST have a valid Nigerian bank account
Money will be paid via local bank transfer
For due diligence, list of participants names confirmed via bank account will be kept on record
List of winners' social media handles and BN usernames will be published
Winners are encouraged to share news of their win via social media
****
Here's the list of our 10 lucky winners! You will be contacted today
Website:
1) Azor David Blaise – MISSION IMPOSSIBLE
As I walk through death path, I met a man, he used to be a dangerous and smart criminal, he breaks into any room he wants, steal all he wants without being caught, I stopped seeing or hearing of him, I never knew he was dead until now, so I decided to dialogue with him.
Me: Good day, sir.
Him: What is good about the day? Mtchew (he hisses)
Me: Sir, I know you, you are 'Dapadapa' the smartest criminal, I have heard of you, you are even better than the recent 'Sapicaco' that was killed two days back.
Him: (looks surprise) Is 'Sapicaco' dead?
Me: Yes, ooo
Him: How did he die?
Me: He was caught trying to break into a room.
Him: chaii!!! (He laments) Sapicaco my boy, I no you would go back to get that money.
Me: What do you mean by that?
Him: The same mission that killed me has also killed 'Sapicaco' my best boy.
Me: How were you killed sir?
Him: (He moves to and fro) my death came on a very bad day, I came in contact with a door, behind the door was excess money and treasures, I tried for hours to break in but I couldn't, I never wanted to let go because I was seduced by the content of the room, I did everything within and beyond my reach but it was a MISSION IMPOSSIBLE, when I looked at my watch it was almost dawn, on lifting my head up a flashlight was on my face, I looked around and discovered the end of the road has come for me, I was beaten to death by the mob that surrounded me without my notice…
Me: That was the exact way 'Sapicaco' died.
Him: I wonder the kind of highly secured door people fix this days.
Me: It is no other door than #Emilinks premium doors, it …
Him: (Interrupts) Exactly, that is the product, #Emilinks premium door, now I remember.
Me: That door makes any robbery mission impossible and if everyone resort to using it there will be no more cause for alarm.
(FROM A DISTANCE WE SAW SAPICACO COMING)…
#mydoorstory. #Emilinks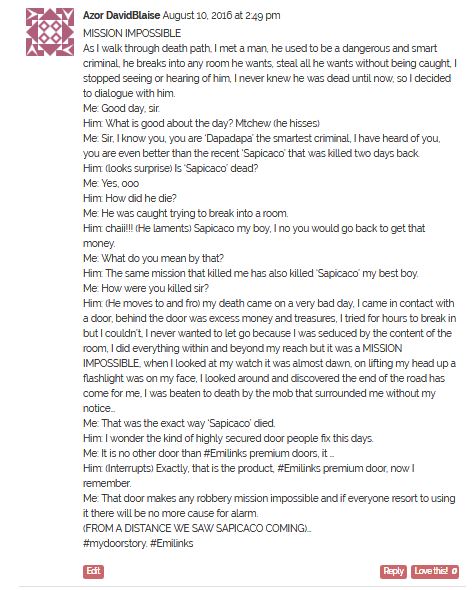 2) Jumoke Dada –  @bellanaija #Emilinks♡ #day3
SUBSTANDARD DOORS ARE SIMPLY DISASTEROUS! #MY DOORSTORY. Front door my father would always say is your personality. maybe that was why he had overlooked the cringing backdoor. i can remember washing our front door with soap water n sponge but who cares abt the back door #abeg i no get time# i will say to myself.
"Everybody on the floor!" i snapped back my head to the super story i was watching thinking the voice came from the scene. no one could have screamed like that if not from the Tv. "i said lay down flat or i will bust your head" this time i was sure its from our flat. the armed gang had entered into our flat! from the backdoor!!! all hell broke loose as my gramma was knocked on the floor hitting her bombom on the hard floor. the last thing i can remember was my dad been hit on the belly b4 everything went black. i was told i had been knocked on the head 4 stubbornly seating on the chair but then i was in shock.
Every door is very important. and every lifes as well. Emilinks knows this and they are keeping it real! #team Emilinks! lets say no to substandard doors!!!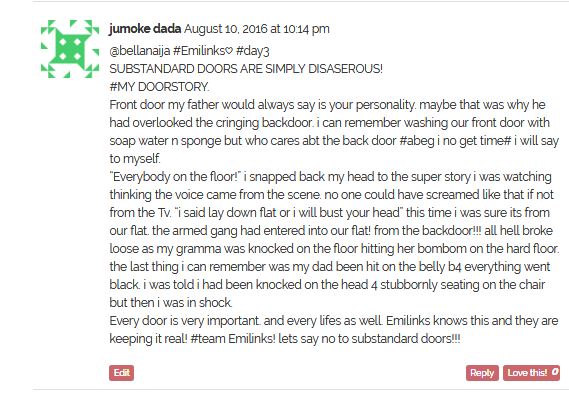 Instagram:
3) @ebyugwuaji – #Emilinks #MyDoorStory Years back when I was in primary three, a boy in primary five wanted to beat me up at school during break period, meanwhile my house is at the back of our school, I thought of how to escape the beating, I remembered that my Mom was at home that day, I ran home so that my Mom will save me, little did I know that she has left home but luckily for me, she left the door open, I ran inside and locked the door, that is how my door saved me from being beaten up.A door is a moving structure that block off or allow access to entrance of a building. A building can never be complete and secure without a door. Emilinks Doors are of quality and standard. It beautifies your building and make it stand out………… You want a good door?……… Go for Emilinks ………………[email protected]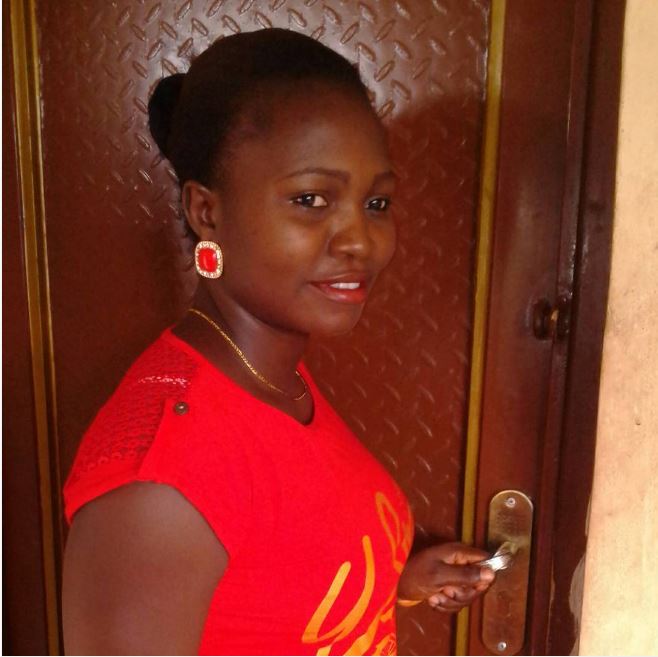 4) @ufashions_blog – #MyDoorStory Everyone was asleep that faithful night, till we heard a noise coming from the sitting room. We got up from the bed but no one left the room. We tried to figure out what was happening then we realised robbers had jumped into the compound and they were trying to open the door forcefully! Immediately we began to panic and tried calling the estate security. It took the security about 20 minutes to get to the apartment, and still the robbers didn't succeed in breaking in! A house can be beautiful, an organisation can look beautiful, but with terrible doors the beauty is as good as nothing. Good doors give us the security we all need. Emilinks doors can give your home or organisation that security and the beauty too! #Emilinks #MyDoorStory @bellanaijaonline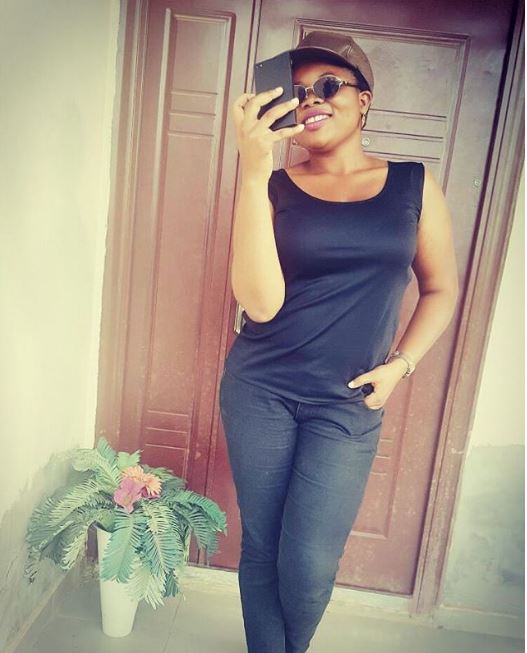 5) @rainz_b – One of my favorite doors is the kitchen door, for out of it cometh wonderful aromas that makes me salivate and many wonderful meals that keeps my stomach happy!?? #Emilinks #MyDoorStory Day 3 @bellanaijaonline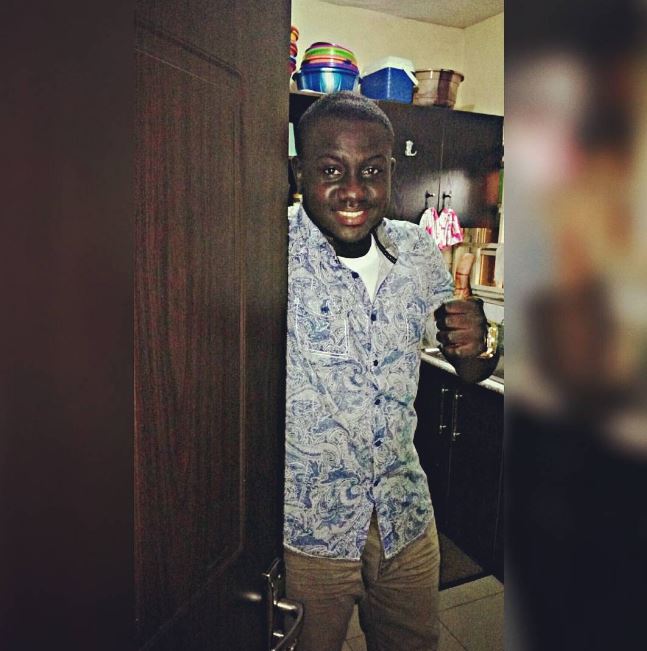 Facebook:
6) Ada E. – #Emilinks#MyDoorStory#Day3.
The story of my bathroom door is one I will share until it opens more doors of greater opportunities.The importance of good doors in the house can not be overemphasised.
An incident happened with this door right here, yes my bathroom door. I went into the bathroom and locked the door and the handle broke because of the poor quality. I was stuck in the bathroom with no one to let me out. I had to alert my landlady's son through the window who called my sister on the phone and she rushed down to the house with her spare key and let me out.
What an embarrassment! If my bathroom door is an #Emilinks product, that wouldn't have happened.
I made myself a promise on that day that when I make money and build my own house, I will use only #Emilinks quality, world class doors even in my bathroom. My dream is coming to reality now that Emilinks magnanimously made all their quality doors affordable.
Emilinks, Built to last!
#Emilinks#Bellanaija #Mydoor story#Day 3.
7) Original S. – It's no breaking news that Ikorodu area of Lagos state was a den of kidnappers and pipeline vandals.On Sunday the 17th July, 2016 at around 08:45PM, some of the militants stormed my street in Isawo, Ikorodu.
On getting to a house (their primary target), they were faced with a huge obstruction, an iron door. They tried all they could to gain entrance into the building but to no avail. They shot at the iron door, still it gave no way. They also axed the iron door but all they could achieve was to destroy the handle and create some holes, still the door did not give in.
While going through all these strenuous activities, the man of the house had escaped through the back door. Determined to gain entrance, the militants resulted to going in through the roof. Though they succeeded in entering the house through the roof (not the door) but the extremely strong iron door gave the man of the house the opportunity to escape thereby preserving his life.
To punish the man for making them go through the difficult task, the militants kidnapped two of his children, but thanks to God, our security agencies were able to rescue them the following day. Had they met him in the house, they would definitely have killed him because that's what they do to the men of the houses they attack.
All thanks to a very strong and LOYAL (#Smiles) door For those who may think this is a fabricated story, please check my twitter profile @ORIGINAL_SAMUEL to see the pictures I uploaded on the 17/18 of July 2016. #Emilinks Bella Naija Emilinks #MyDoorStory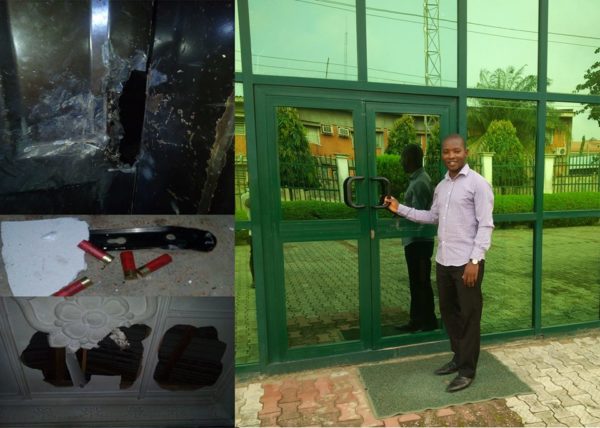 8) Tolulope W. – #MyDoorStory #Emilinks Day 3
Behind every door, there is a story, i needed an apartment for rent, i got an agent contact, i decided to check out the property he has but i wasn't satisfied with the ones he showed me.First impression matters,he never got tired until he was able to present my type i describe to him.Checking out the property,my first impression was the kind of door the property has #Emilinks door,Smiles light up my face seeing #Emilinks door.The door wowed me by its quality & assurance of maximum security,second impression didnt cross my mind because i love what am seeing.I made payment instantly.The door add value to the beauty of the house, protecting me &family from harsh weather effects.Everybody needs to go for Emilinks Door: Durability guranteed, Quality & Elegance.A dream come true with Emilinks Doors cos they are "Champion in Style"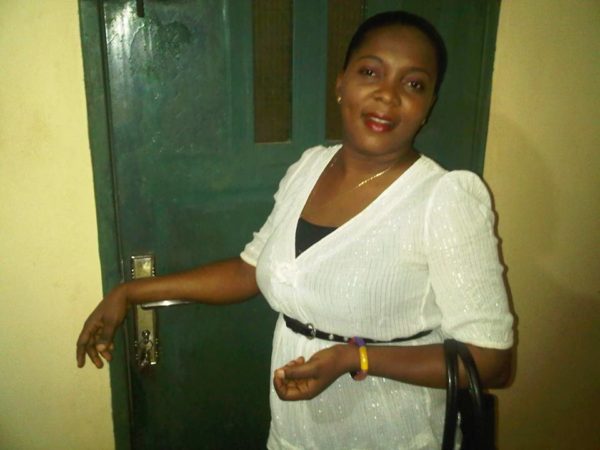 9) @AdekoyaAdepeju1– Day 3: Doors keeps us safe, but with @EmilinksNG Doors gives maximum security. #Emilinks #MyDoorStory @bellanaija
10) @odunayoemmanuel – Peace of mind is when u know no one is breaking into your home. You get that wt @EmilinksNG #MyDoorStory #Emilinks