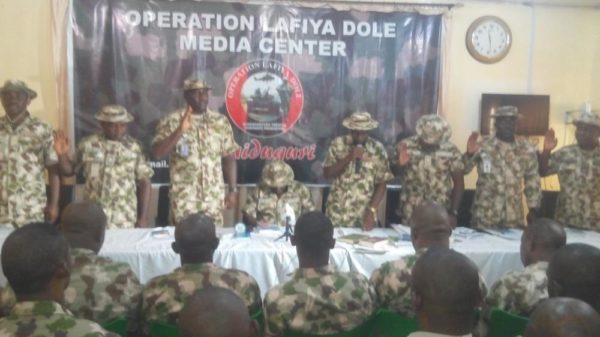 The Nigerian Army has court-martialed 4 officers and 16 soldiers for various offences allegedly committed within the theatre command of Operation Lafiya Dole against Boko Haram insurgency in the North-East sub-region of the country, The Citizen NG reports.
The acting General Officer Commanding (GOC), 7 Division of the Nigerian Army, Brig. Gen. Victor Ezugwu, inaugurating a seven-member General Court Martial (GCM) on Wednesday at the Maiduguri media centre, said it was established to try offences committed by personnel within Operation Lafiya Dole theatre of operations.
Brig. Gen. Olusegun Adeniyi was appointed as the president of the GCM.
Ezugwu said that the court martial will be expected to achieve timely and quick dispensation of justice within the framework provided in relevant statute books.
"Therefore, it is important that both the prosecution and the accused persons or their counsels are mindful of this fact and strive to shun all forms of antics such as request for frivolous adjournments which could lead to delays in the trial process. It is often said in the legal parlance that justice delayed is justice denied," he added.
Speaking to the accused, Ezugwu said: "Be assured that you are all presumed innocent until this honourable court finds otherwise. Your rights to fair hearing and other fundamental human rights would be adhered to throughout this trial".
He, however, noted that the accused persons could appeal for verdicts passed by the GCM at the Appeal and Supreme Courts.
Speaking to journalists after the inauguration, Ezugwu said that some of the accused were involved in criminal activities, which included murder, crimes against civilians, and illegal sales of firearms.
Photo Credit: The Citizen NG