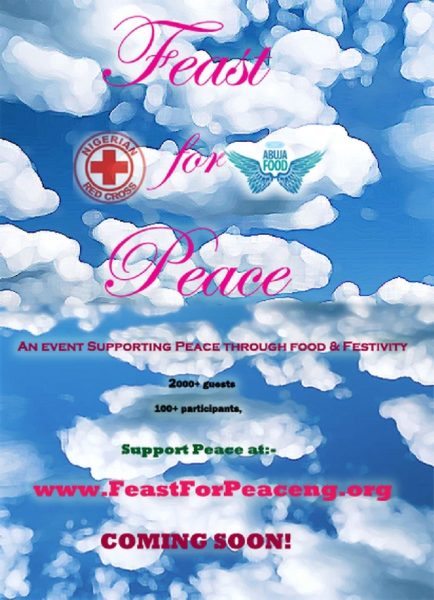 The Nigerian Red Cross Society and AbujaFood.com presents the first annual "Feast For Peace", a food festival calling for peace and bringing awareness to the emergency relief activities of the Nigerian Red Cross.
The Feast for Peace will aspire to unite Nigerians along the lines of unity, peace, humanitarianism, and good food.This non-profit event, will create a light hearted context where Nigerians from all backgrounds and walks of life can unite for an important and urgent cause; to condemn tribalism, factionalism and violence.
Guests at the Feast for Peace Festival can eat food from all their favorite Abuja restaurants and caterers. Family friendly activities will be available to keep children entertained and an interactive exhibition of the activities of the Nigerian Red Cross Society will feature.Funds raised will be donated to the Nigerian Red Cross Society to support their humanitarian endeavors, particularly towards those families displaced by communal clashes.
Rahima Gambo, the Managing Director of Abuja-focused lifestyle magazine and interactive business directory, www.Abujafood.com, says  "Across the world there is a general consensus among cultures that eating together increases love and harmony between individuals and people. The act of eating together unites us, creating bonds and establishing relationships through a much loved daily ritual. Organizing an event focused on food takes us back to the universal basis of what it means to be human- sharing and caring. 
And he also added that "Nigeria is a diversified nation of over 150million people. It is beyond a doubt a complicated and multifaceted entity, but one thing that unites us is our food culture.
From the North to South, you will definitely find the much loved grilled meat suya, also experience families gathering around a meal of rice and stew. The Feast for Peace will create a light-hearted yet fitting atmosphere to forget where we are from and remember who we are Nigerians. It is a chance for each of us to take individual responsibility to stand behind national peace and unity."
Activities For The Day
The Feast- A presentation of food, drinks and snacks by Abuja's favorite restaurants, caterers, food related businesses, individuals and organizations. Stalls will be provided for participants to sell their food. Fun activities and games for children, goody bags, tasters, discounts and freebies for guests.
The Exhibition- The Nigerian Red Cross Society and our partner charities will showcase their humanitarian and social endeavours.  First aid exercises and emergency simulations will be demonstrated.
Go to www.feastforpeaceng.org to start supporting Peace!
Date: Saturday 10th December 2011
Time: 12 Noon – 7 PM
Venue: Durban Neighborhood Park (River Plate Park), Ahmadu Bello Way, Opp Abia House, Abuja
________________________________________________________________________________________________
Sponsored Content