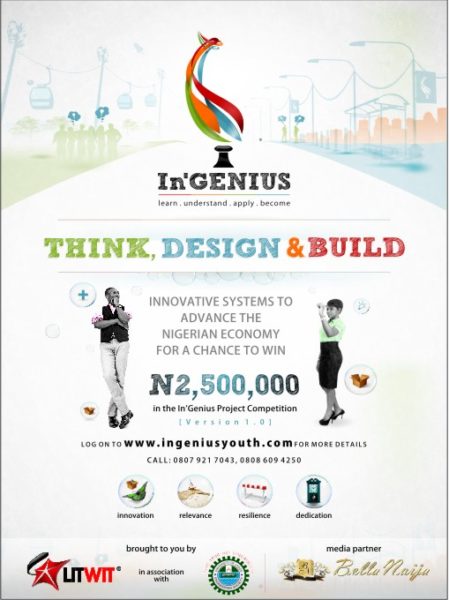 On Tuesday 1st May 2012, In'Genius – a movement that provides opportunities for ingenious individuals to present their solutions to problems in developing nations and receive funding for execution, began accepting applications from innovative Nigerian youths around the world for the first edition of its In'Genius Youth Competition.
The competition billed to take place in July 2012 at Moshmood Abiola University of Lagos is a medium through which young idea generators can express themselves intellectually while identifying the problems in the nation and providing the solutions.
The individual with the most inventive idea will receive a monetary award of N 2,500,000 (2.5 Million Naira) while the first runner-up and the 2nd runner-up will be awarded a cash prize of N 1,500,000 (1.5 Million Naira) and N 750,000 respectively. The top ten finalists will not be left out as they will all wine and dine with government officials and captains of the industry while the top 20 finalists will be featured in In'Genius' debut magazine.
Until Wednesday 20th June 2012, the competition's first round will be open to ideas from various fields of study. After that first round, there will be two more rounds through which judges and the internet public will choose the smartest ideas by casting votes. Prospective applicants must submit ideas in any of these six solution areas;
Alternative power supply
Alternative transportation
Affordable communication systems (Hardware or Software)
Cost effective mechanization systems for agriculture
Technological systems for effective tax management in Nigeria (Hardware & Software)
Relevant designs for tourist attractions (Monuments & Virtual Systems) in Nigeria
So do you have that great idea that will move the nation forward? Then log on to www.InGeniusYouth.com/Competition to apply. You also stand the chance of winning an Apple iPad or a Blackberry phone by registering for their In'Genius Challenge on their website Winners will be announced weekly and invited to a special gala dinner with top Nigerian CEO's. Please note that this competition is open to only Nigerian graduates and undergraduates between the ages of 18 and 35. You can also stay up-to-date with In'Genius by liking their Facebook Page – www.Facebook.com/IngeniusYouth.
Watch the Promo Ad!

Remember to click back and comment if you win.
________________________________________________________________________________________________
BellaNaija.com is an official media sponsor of the In'Genius Youth Competition