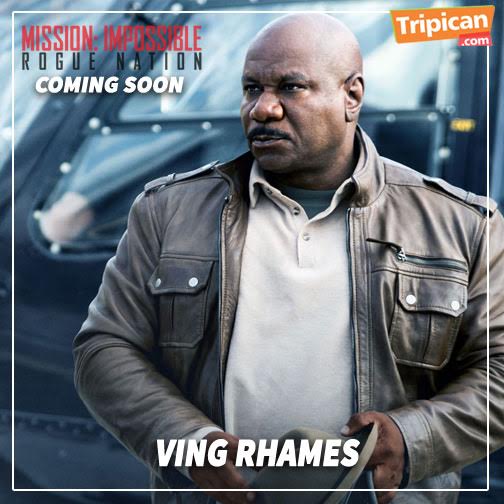 We are still very much excited about Mission Impossible: Rogue Nation hitting cinemas this Friday. So to get you in on all the excitement we are giving you some serious scoop on some of the members of the IMF (Impossible Mission Force).
We kicked off this min-series yesterday introducing (or should we say re-introducing) you to 2 members – William Brandt (played by Jeremy Renner) and Benjamin "Benji" Dunn (played by Simon Pegg).
Today, we get to meet Luther Stickell (played by Ving Rhames). Enjoy!
***
Luther Stickel
Status: Alive
Nationality: American
Profession: IMF
Played by: Ving Rhames
First Appearance: Mission Impossible
Last Appearance: Mission Impossible: Rogue Nation
Luther Stickell joined the Impossible Mission Force (I.M.F.) at an unknown time and was the force's computer specialist. The only agent who has been around since inception (Mission Impossible, 1996), Luther would later become a disavowed agent and went into the shadows against his former employers.
After Ethan Hunt learned there was a mole in the IMF and the NOC list was faked, he needed a team of operatives off the grid to clear his name. Hunt enlisted disavowed agents Luther and pilot Franz Krieger alongside Jim Phelps' wife Claire.
Stickell is involved in as cyber-ops, due to his reputation as a well-known hacker and phreaker. Reluctant at first, Luther is baited into the hack when Ethan played to Stickell's ego, selling the job proposal as "The Mount Everest of hacks". Posing as a team of firefighters putting out a small blaze within the building, the rogue IMF group breaches the CIA and infiltrates the main computer mainframe via a remote computer terminal at CIA Headquarters at Langley, Virginia. In order to gain access to the floor with the NOC List, Luther hacks into the building's computer-controlled electrical system, triggering the fire alarm on that floor. In the end, with Stickell's help, Hunt brings down the mole, Jim Phelps, who was working with his wife Claire.
With the success of this mission, the CIA drops their case against Hunt and reinstates him, along with Luther.
Luther goes on to partner with the team, more importantly Ethan Hunt, in all other installments of the Mission Impossible franchise, and we are sure his presence in Mission Impossible: Rogue Nation is one to look out for.
Mission Impossible: Rogue Nation opens in cinemas on Friday 7th August 2015. Be sure to get your tickets on www.tripican.com.