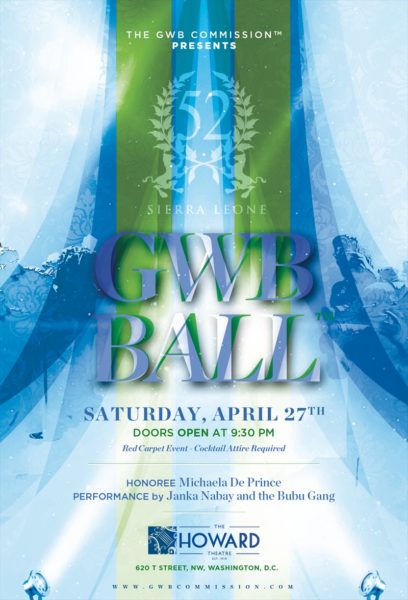 Mark your calendars for April 27th, 2013 as The Green White and Blue Commission bring you their annual ball celebrating Sierra Leone's 52nd Independence.
This night of cultured elegance will feature upbeat sounds provided by DJ Lebbie and DJ No Name as well as live performances by international artist Janka Nabay and the Bubu Gang; African media mogul, Farai Gundan will serve as the event's Mistress of Ceremonies.
Last year's ball was a smashing success with a theme of "Going Back to Our Roots"; at this year's ball patrons will have the opportunity to grace the red carpet and put on full display their elegant attire. "Every year we aim to outdo ourselves. It is our 5th year and our ultimate goal is to host an extravaganza that will have our guests fully entertained and anxiously awaiting GWBB6," says founder and co-chairwoman Mariama Jalloh-Heyward. The vibrant and sophisticated event will highlight Sierra Leoneans making laudable efforts in the community; this year's honorees include international ballerina Michaela DePrince, Olympic track and field star Ola Sesay and humanitarian Liesel Renner of the Visao Foundation. Partial proceeds from the 5th Annual Green, White, and Blue Ball will benefit the Throne Room Orphanage and Educational Center (www.troec.org), a Fairfax Virginia based non-profit organization that assists youth who were orphaned during Sierra Leone's 11-year civil war.
For the 5th Annual Green, White, and Blue Ball alongside The GWB Commission's parent company Abstracts Events, partners include:Bella Naija, Face2Face Africa, Applause Africa Magazine, Prince Zamira Photography, Runaworks Studios, Restycle, African Lime Light, and Miss Dunnie O.
Sponsors for this year's event include: Face2Face Africa Magazine, Arik Air, Miss Jessie's, and Jabs Group Incorporated.
Date: Saturday 27th April 2013
Venue: Howard Theatre, 620 T st NW, Washington, DC 20001
For ticket sales please Visit: greenwhiteandblueball5.eventbrite.com |
For more Information on sponsorship and media partnership please Contact: sarran@gwbcommission.com or mariama@gwbcommission.com