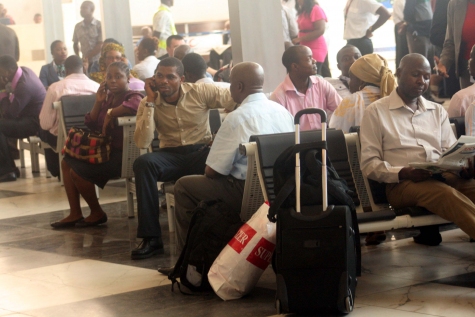 Yesterday, evening while on my regular Twitter patrol, I stumbled upon some tweets about Arik Air.
How does an airline keep people at the airport from 9pm till 7am? Arik Air should not be flying international routes.

— Akin (@AO1379) July 25, 2013
@AO1379 @toluogunlesi …Is it only International?..they have become synonymous with flight delays..

— aa sadiq (@aasadiq) July 25, 2013
Displaced People Misplace their Talents to produce Disgraceful Results. 3pm Arik flight delayed till 6.30pm wt no apology.

— Fela Durotoye (@feladurotoye) July 7, 2013
@toluogunlesi 2 Sundays ago the people that drove from Owerri to Abuja got home long before the ones that flew Arik. 7 hours delay.

— Dame Jayla Peperempe (@Miss_Jayla) July 24, 2013
So, this morning, when my friend Tayo told me that he was at the Warri airport waiting to board the Arik plane to Lagos I hurriedly called him to inform him of what had transpired the night before as my friend Deji narrated to me. I asked him if there was an alternative airline he could use. "No. Arik is the only airline that runs the Warri-Lagos route. I don't have a choice so I'll manage".
That conversation took place at 9.10am this morning. Tayo left the Warri airport around 3pm.
The problem with service in this country has gotten to a head. It is so bad that even when you have paid your money for a service you are not guaranteed delivery. I don't understand how an airline can keep passengers at the airport for over 8 hours with no explanation or compensation. How can an airline still be allowed to perpetrate such acts in a country where there's a regulatory body?
In May, Onos O and I were on a flight from South Africa and the pilot detected some heat coming from the engines. They turned the plane around and we went back to Johannesburg. The airline made provision for us to be comfortable and we were given meal vouchers. It was not an issue up for debate. The airline kept apologizing for the delay.
So what exactly is our problem in Nigeria? Are we just complacent? Have we allowed some things to go on for so long that we have accepted them as the norm?
What are we going to do to stop these things from happening? How do we stop these service providers from taking us for granted? It's the same way bar tenders expect you to NOT ask for extra ice. I don't understand it. We need to find a sustainable solution to these seemingly little things.
Let's discuss!
Photo Credit: ynaija