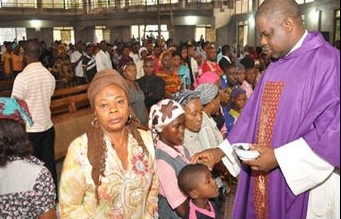 In the aftermath of foiled bombing attempt on Winner's Chapel in Imo State, churches in Enugu have begun to take pre-cautionary measures to guard against potential attacks from Boko Haram insurgents.
For instance, the Catholic Diocese of Enugu conducts thorough screening of members before allowing them to enter church on Sundays, Vanguard reports. In addition, the church has reportedly banned women from carrying handbags into church.
Also, some Pentecostal churches in the state have acquired bomb-detecting equipment with which they screen all vehicles driven by worshippers into the premises. Some churches have also reportedly constructed iron barricades to stop insurgents from hitting church buildings with their vehicles. 
The recent arrest of over 400 alleged  insurgents in Abia State, further heightened Church leaders' determination to beef up security in their respective churches. 
Photo Credit: Vanguard