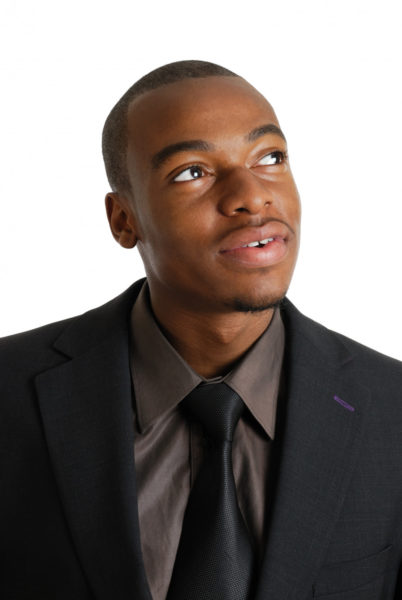 Change, and the fear of it, shapes our behaviour -even in marriage and relationships. A typical man marries a wife praying that she would not change; and that's why most men are terrified of marriage. Girlfriends and mistresses are likely to stay the same mostly. Wives are more likely to let themselves go or become naggy, grabby, protective, comfortable – stop trying hard etc.
Many females go into marriage or relationships with the hope that they can somehow change or mold the chap to who/what they want – from party rocker to a family man, from a mummy's boy to a protector; from a lay-about to a provider. This is why females are more likely to marry a chap with "prospects" and guys mostly like "ready-made" hotties. Shallow… I know, but don't shoot the messenger.
Nigerians, like most humans, are scared shitless of change. We hate uncertainties, even though we are a country of wild, frightening uncertainties. Nigeria is a place where who you know propels you faster than what you know. For a while, the only thing constant was that pure water cost N5 – and even that changed later.
Every January, I tell myself that that that year would be Nigeria's year. Maturity has made me realize that we need to self-assess first before we talk of our communities. You cannot build a nation without first constructing your moral character – the first step towards change.
So I have decided to start the evolution of self, and outlined the areas I hope to address and I enjoin you all to try it with me starting right now. Every little helps.
Have more respect for human life
No, you do not have to be a reformed Boko Haram disciple to make this kind of change in your life. I find that in the past few years the average Nigerian has become numb from seeing so many barbaric deaths in the media – with victims of bomb blasts, accidents, mass lynching, plastered on the pages of popular blogs with their twisted and mangled limbs and innards.
Sometimes we just flip the page or click on to the next fashion article to ignore the horrific sight. The faces of terror no longer surprises after a while, and it makes for grim statistics that over 15,000 Nigerians have perished due to terrorist acts since 2009. Boko Haram has killed more people since 2009 than Ebola did.
I am trying to retain my ability to be shocked anew. That is how you maintain your humanity and compassion. If you get shocked enough, you may be able to do something about it. Just might. Every Nigerian life should and does matter. From the most corrupt Abuja politician with an inflated ego, bloated bank account and pot belly to the most destitute beggar scrapping for a living in a remote village in the North East.
My other plan is to cut off people who do not seem to respect my safety. Some years ago, before the Lekki toll roads came onboard, I "boarded" an iron-horse in Victoria Island and asked him to convey me to Ajah. The okada rider was a speed-demon with the death-wish of a drunk Molue driver reversing against traffic. We took off like a rocket with the rider maneuvering past and overtaking cars at a break-neck speed while narrowing scraping their side mirrors. It was like the Biker Mice from Mars. I held on to my helmet for dear life.
Then at full blazing speed, this dude's phone rang with the most ironic ringtone: "Vrooom, Vrooom!! Fire the ninja! Area father….." A Charlie Boy ring tone? Yekpa!
We were now blitzing past Civic Center, which infamously faces an accident-prone area where a side road from 1004 flats meets Ozumba Mbadiwe. This blood-clot dude proceeded to reach into his dashiki and attempt to pull out his Nokia, while trying to delicately balancing the handlebars of the okada with one hand. I cautioned him immediately: "Aboki, abeg nor answer ya handset for main road o. Make you face road, biko"
Biker-man did a chameleon-esque 360 turn with his head; as he faced me like the Exorcist while daring me to do my worst, like FFK on crack "I dey craze? Wetin consine me?" Wow, I have never had someone abuse me before in the first person.
Dang, believe you me, this rider still managing to maneuver through gridlock traffic while turning to face and yell at me. My heart sank to my stomach. It stayed there till we got to Ajah.
Key note – stay away from products, services and situations that do not make your safety and wellbeing a priority.
Be less selfish
The negligence of our government has made us self-sufficient individual fiefdoms who generate our own power, provide our security and look out for only our own. 2015 is the year Esco decides to take a better and genuine interest in people I meet in the ordinary course of life, starting with remembering people's names. As soon as I am introduced to people, sometimes my mind wanders off. In Nigeria, it is especially difficult as we usually do not relate to anyone outside our peers on a first name basis, so sometimes remembering a person's name may be difficult. You call your boss or senior "oga, egbon, sir, your Excellency". Even when we reprimand, we do not use first names : "Mr. Man, please revise this your stupid car away from here."
Give to the less privileged
If you are the less privileged, give to the hopeless and downtrodden. If you are the latter, don't forget to say your thanks. Give to charity. Heck, form a charity. It does not matter what the cause is, as far as it is noble and moral. Like Movement for the Preservation of the Agama Red Lizard. Or, the Say No to Boko Haram Coalition. Or SARGE (Society Against Runz Girls Exploitation).
Listen more, talk less
My new thing now is "keep your mouth shut Esco". Shine your eyes and ears. Look for physical cues in others – communication is 90% body language, 5% verbal, and 5% winch. You will be surprised what you learn when you listen especially in a country like ours where people love to prattle on and get their point across. Listening builds patience and perception and knowledge. One day when NEPA takes power, try switching off your phone, sit in the dark and listen. Can you hear that too?
While you are at it Esco, write more. Or no?
Eat healthy, exercise and stay healthy
Many foodies profess to have a sweet tooth. I have a carbon one, as I LOVE carbohydrates – rice, pasta, yams, pastry. Nigerian food is known for calorie content or portions. The average plate of rice served in our country has more grains than the sands of the Kuramo Beach. I hear a dieting trick for portion control is to divide a portion into two parts and eat half so that you eat less. Well that doesn't work for me, as sometimes I buy 2 meat-pies instead of one.
I formulated another trick lately. This is where you eat the healthy fraction of a meal and discard the other part, so you do not feel you are missing out on what you love. It is more sustainable. For example with Gala, I eat the beef filling and throw away the canda (pastry). Same with a plate of pounded yam and Affang soup, I just eat all the meat, fish, periwinkles and soup, and disregard the poundo. You should try it. Nigeria needs you healthy and functioning for 2015 and beyond.
Exercise. Trek.. instead of using your car when you can. Exercise caution too. Not everywhere is safe for trekking.
Learn everyday
Try something that takes you out of your comfort zone. A new software or computer program no matter how difficult. Or a different language like say Abiriba Igbo or Tiv or Norwegian or Mongolian. Or Lekki-British. Take a module or course or subject that looks difficult or would otherwise disinterest you, like Further Mathematics, or Philosophy 101. Visit a new clime. Like Ewekero or Afikpo or Ugbomiri, or your mother-in-law's maternal village. Travelling abroad? Opt for somewhere rather than the typical Nigerian staples of Canada, USA, Dubai or UK. My friend suggested spinning a globe and stopping it with a finger and going where the finger landed. Do not heed if it points to Isiala Ngwa, Chibok or Syria. Nigeria needs you alive and healthy for 2015 and beyond.
Break the cycle of monotony. Embrace new cultures and new ways of doing things. This is the year we try to escape living a lifeless ordinariness. I have often heard that you something annually that scares you. Scratch that – try something that scares you anally. Last year I overcame my discomfort with public speaking. I just focused on the huge forehead of a front member of the audience and avoided eye contact like crazy, while gesticulating with my hands wildly. I also didn't field questions from hecklers. Yep, I ignored critics like Doyin Okupe.
I, Esco promise to do something this year that bloody frightens me – something not unlike confronting my flaunting corrupt local government chairman about the source of his wealth even if he rolls with armed thugs. Or fly Bellview airlines internationally. Or take up Nollywood acting classes to learn Jim Iyke's method acting. Or undertake a road trip through the 36 states of Nigerians ala the Bako family in that famous Primary School English textbook (but after the election, and depending on who wins), or challenge Asari to a debate about GEJ's tenure..
What will you change about you this year so that you become a better Nigerian?
May Nigeria and its citizenry thrive beyond 2015 and beyond!
Everybody wants to eat, but they won't do the dishes!
Cormega, Home (2014)
"As human beings, our greatness lies not so much in being able to remake the world – that is the myth of the atomic age – as in being able to remake ourselves." Ghandi
Photo Credit: Dreamstime |  Kadettmann