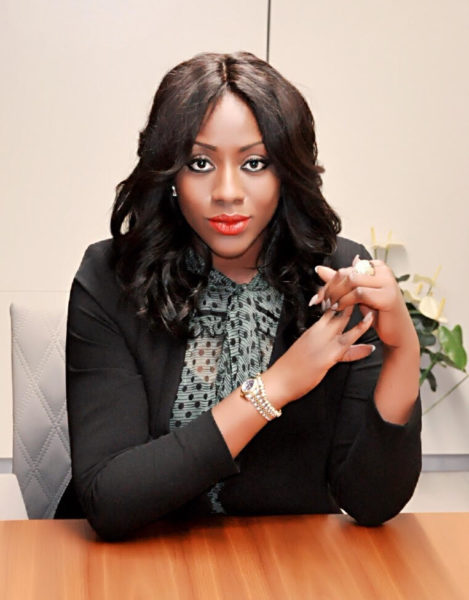 A friend of mine came over last night. She didn't come to visit me, she came to lament, whine and moan, with a bit of crying in between.
I should have known something was up when the gateman called me to say there was one lady outside waiting for me. I asked who the person was, and when he mentioned my friend's name I asked him to park her car beside my car.
The gate man then says: "Aunty, na leg she use waka come"
I was confused. This my friend lives down the road, but because "Nigeria is hot and I don't want to be dark" she avoids the sun with a passion. She does not walk anywhere; she believes it is odd for a "hot chic" to be walking randomly on the streets, often saying, "do you want to scatter my packaging?".
So for my gate man to tell me that she had walked from her house to mine in this heat was simply baffling. Immediately I asked her "babe how far na, is everything ok?". After she had finished, I understood where she was coming from… because I had been in exactly the same position. I had only just managed to secure petrol for my gan and car sufficient for the next week; after which the hustle continues and I would have to start the search from scratch.
(I'm sure the only reason she decided to visit me and chill at my house for a few hours was because she didn't want to sit in her hot apartment nor put on her gen to burn petrol – which now seems to be a sacred commodity…)
Petrol scarcity
For readers not resident in Nigeria, "petrol Scarcity" occurs where there is a discrepancy between the quantities of petrol available for sale and the public demand for said petrol. Unfortunately for many Nigerians, we operate an economy which is heavily reliant on petrol. An epileptic power sector has caused many homes, offices and even public institutions to be heavily dependent on personally generated power, in the form generators. Someone recently pointed out that Nigeria is one of the only places in the world where "just because NEPA has brought light every night between 9pm and 6am for the last 2 years does not mean there will be light tomorrow night". The issues with the attempted privatisation of the Nigerian power sector appear to be due to the involvement of government and deserves an entire article dedicated to it… no be gist for today.
Over the last few months Nigeria has seen what now appears to be a never ending petrol scarcity. It hit an epic high last year April/May, where even banks and mobile phone networks had to scale down operations due to a lack of fuel for their operations. Now, almost a year later, things have still not returned back to normal. We have all seen the queues at petrol stations, sometimes there are long queues and sometimes there are short queues, but there are always queues. This must be the longest stretch of petrol scarcity in the history of Nigeria, and irrespective of several claims being thrown around, the end does not seem to be insight.
DPR's Ban on Sale of Petrol in Jerry Cans
In the height of the petrol scarcity, the Department of Petroleum Resources ("DPR") advised petrol stations to desist from sale of petrol in jerry cans. In the usual Nigerian way, people were able to give the station attendants "gifts" in exchange for sales in jerry cans hidden in the back seats of their cars, and where the station attendants did not like the proposed "gifts", we have seen instances of people carrying their actual generators to the petrol stations in order to purchase petrol.
However, recently purchasing petrol in jerry cans has gone from difficult to almost impossible. Just last week I understand that the DPR fined several stations for continuing to heed to the begging of the Nigerian masses and illegally selling them petrol in jerry cans to fuel their generators, against the DPR directive. The DPR has further gone on to warn that stations caught selling petrol in jerry cans will be liable to being shut down.
But wait oh……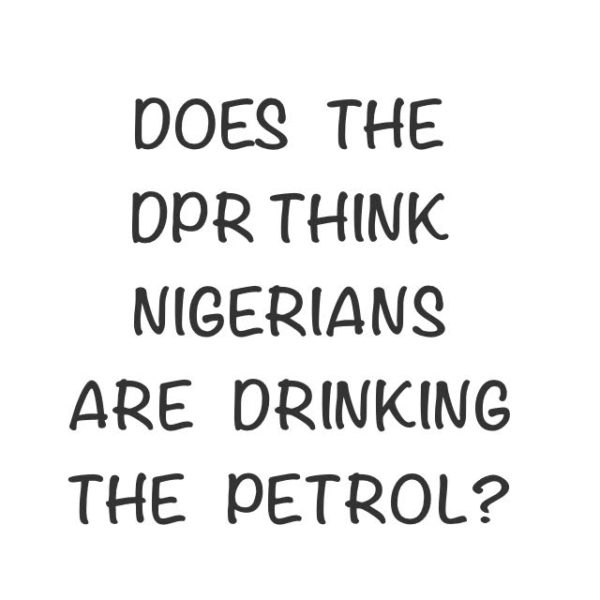 Imagine if the effort (and money) being expanded on sending secret surveillance operatives to petrol stations, in the name of making sure sales were not being made in jerry cans, was spent on ensuring that the supply sufficiently aligned with the demand. All of the issues associated with sales being made in jerry cans would be significantly reduced, if not totally eradicated…if there is simply sufficient supply to meet everyone's demand. Or better still give everyone a power sector, which may be compared to neighbouring African countries (I do not even want to go far and say England or America).
Sales in Kegs vs Hoarding/Black Market Sales
I understand that aside from the potential risks associated with hoarding and black market sales, the logistics of sales into jerry cans for most petrol stations causes major issues, with said sales adding to the time one can purchase petrol for cars and also causing general mayhem at the stations. However, in a country where many manufacturers, small scale businesses and millions of families rely heavily on generators, spending a combined average of N3.5 trillion yearly to power said generators, it is a case of the lesser of two evils. It is my view that a unilateral ban definitely does not solve the issue, but rather adds to the stress and suffering being inflicted on a population who are undeserving of such treatment and who have suffered enough. Is it when people start killing themselves that the DPR will understand that having peace of mind when resting in one's home is vital to efficient productivity?
Conclusion
When I was younger my grandfather always used to lament that common sense is far from common. I was living in the UK at the time, and so did not understand what he meant. I used to just think "this baba don old sha, what the heck is he talking about". Upon moving to Nigeria I now have a better understanding of the system. In soo many instances we have seen our leaders behave in a way seemingly devoid of all rational, and it just makes one wonder….
The most painful part about this whole situation is knowing categorically that the gas at the top who make these ill-thought decisions have not used small petrol operated generators for several years, and so are not even caught in the hardship that is being caused by their decision.