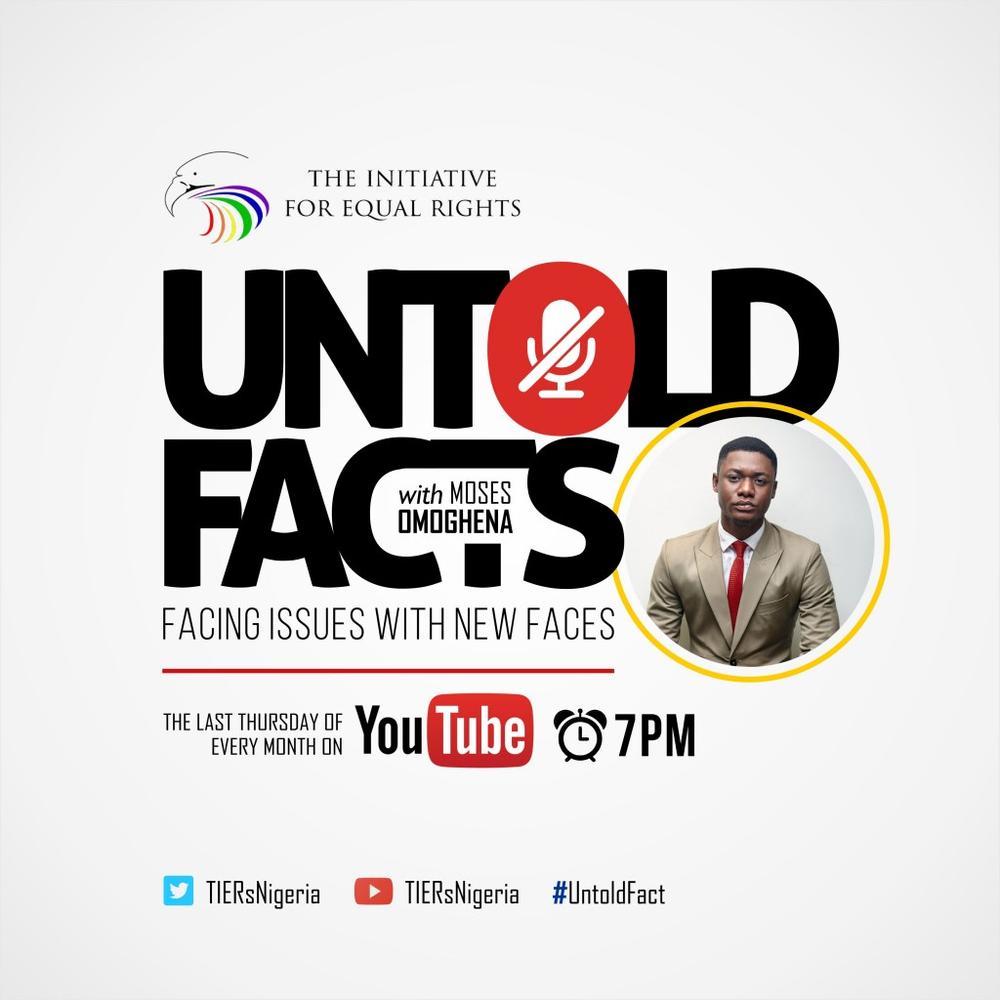 Watch the first episode of discussion series, "Untold Facts" by The Initiative for Equal Rights – @TIERsNigeria.
The show anchored by Moses Omoghena featured guests on the show were Kehinde 'Kenny' Badmus aka Brandmuse Kenny, a brand expert and advocate for social change; Doyin Olaniyan, a blogger, traveler and TEDx speaker; and Mike Akanji, sexual health and rights advocate.
The team discussed "coming out" from a personal perspective and  telling others about their sexual orientation.
According to Kehinde
"coming out is a process that starts with the individual, a personal truth and a journey that never ends."
Sharing his personal experience, he said one of the things which scares members of the LGBT community from coming out is the way the society has been positioned through teachings from the Bible, Qur'an and cultural elements around us. He added that not coming out to oneself and loved ones can be really deceptive. He mentioned how disappointed his ex-wife was when he told her he was gay and how actions she took made him lose many contracts.
Doyin made it clear that it is not necessary for someone who is gay to come out publicly in a ceremonial way, but advised that it's important to discover oneself. She identified challenges that such a person will face coming out in a country like Nigeria.
Mike contributed by saying,
"You don't owe the world an explanation for being who you are, the only person you owe an explanation is yourself."
Also describing the coming out process, he advised members of the LGBT community to first consider the implications of telling their loved ones and also study their reactions to things around such issues first.
Watch
About TIERs
The Initiative for Equal Rights (TIERs) is a Nigeria-based registered non-for-profit organisation working to protect and promote the human rights of sexual minorities nationally and regionally. We're committed to bringing about a society that is free from discrimination and harm on the grounds of sexual orientation and gender identity. We work towards this goal through education, empowerment and engagement with the many publics in Nigeria. We were founded in 2005 as a response to the discrimination and marginalisation of sexual minorities in both HIV prevention programming and mainstream human rights work. We currently have 11 full time members of staff and over 50 volunteers peer educators.